Trumpeting the Superpower Status Quo
President Obama's 'Defense Strategic Review' is old sauce in a new bottle—and the country's worse for it.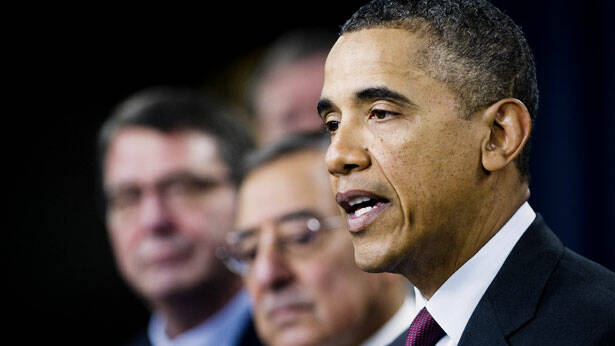 If you blinked at 11 a.m. on Jan­u­ary 5, you may have missed the unveil­ing of a new, post-Iraq, post-Afghanistan strate­gic pos­ture for the Unit­ed States. Speak­ing from the Pen­ta­gon and sur­round­ed by the Sec­re­tary of Defense, the Chair­man of the Joint Chiefs of Staff, the civil­ian armed ser­vice sec­re­taries and the uni­formed ser­vice chiefs of staff, Pres­i­dent Oba­ma intro­duced the ​"Defense Strate­gic Review."
There [was] no acknowledgement that the military we have—large, expensive, general purpose, unilaterally-oriented, provocative—is the opposite of the military we need.
It was a polit­i­cal event, aimed at Con­gress and vot­ers, pos­ing as a non­po­lit­i­cal defense and for­eign pol­i­cy event; and it was a bud­getary moment, aimed at stanch­ing crit­i­cism of inevitable defense bud­get ​"cuts," pos­ing as a strate­gic moment. Despite the orches­trat­ed imagery of duti­ful mil­i­tary lead­ers stand­ing by their com­man­der in chief, it exem­pli­fied civil­ian sub­ju­ga­tion to the mil­i­tary. It was an unimag­i­na­tive bow to sta­tus-quo­ism pos­ing as trans­for­ma­tive redirection.
As pre­am­ble, the pres­i­dent gave obei­sance to the usu­al plat­i­tudes of untruth: ​"The Unit­ed States of Amer­i­ca is the great­est force for free­dom and secu­ri­ty that the world has ever known." ​"We've built the best-trained, best-led, best equipped mil­i­tary in his­to­ry." ​"We've end­ed our war in Iraq." ​"We've dec­i­mat­ed al-Qaeda's lead­er­ship… [and] put that ter­ror­ist net­work on the path to defeat." ​"We've made impor­tant progress in Afghanistan." ​"We've restored America's glob­al leadership."
Three sub­stan­tive themes dom­i­nat­ed this unveil­ing, all guar­an­tees of mind-numb­ing sta­sis in the years ahead.
The first is geo­graph­ic focus: a turn to the Asia-Pacif­ic region (read: Chi­na, with a dash of North Korea) and a con­tin­u­ing con­cern with the Mid­dle East (read: ter­ror­ism, with two dash­es of Iran). Chi­na becomes the new Sovi­et Union, a mod­ern­iz­ing com­peti­tor that pro­vides the self-jus­ti­fy­ing mir­ror-image pre­text for a new Cold War and an esca­lat­ing arms race of inde­ter­mi­nate dura­tion. U.S. inter­est in the Mid­dle East ensures the con­tin­u­a­tion of the Clash of Civ­i­liza­tions between the West and Islam, a fear-induced cri­sis men­tal­i­ty and the asso­ci­at­ed hijack­ing of Amer­i­can val­ues and civ­il soci­ety (through con­cen­trat­ed exec­u­tive pow­er, steroidal secre­cy and the ero­sion of civ­il liberties).
The sec­ond theme of this pro­to-strat­e­gy is a decou­pling of the U.S. mil­i­tary from the types of con­tin­gen­cies it has nev­er liked – coun­terin­sur­gency and sta­bil­i­ty oper­a­tions – and a reaf­fir­ma­tion of its pre­ferred way of war. Pres­i­dent Oba­ma referred to ​"the end of long-term nation-build­ing with large mil­i­tary foot­prints." For the mil­i­tary, this reaf­firms its super­nal sense of self: prepar­ing for and wag­ing unlim­it­ed, con­ven­tion­al war.
A third and relat­ed theme is the belief that what the mil­i­tary ought to do is fight and win wars. So Sec­re­tary of Defense Leon Panet­ta speaks of the need to ​"deci­sive­ly pre­vail in any con­flict" and ​"be capa­ble of suc­cess­ful­ly con­fronting and defeat­ing any aggres­sor and respond to the chang­ing nature of warfare."
Miss­ing is recog­ni­tion that the pur­pose of the mil­i­tary is not to pre­pare for and wage war, but to pre­serve and secure the peace. There is no admis­sion that the wars of today – wars of choice, not neces­si­ty – aren't winnable in any objec­tive sense; or that the pre­ferred Amer­i­can way of war bears lit­tle rela­tion­ship to the wars we wage – asym­met­ric wars against asym­met­ric adver­saries. There is no acknowl­edge­ment that the mil­i­tary we have – large, expen­sive, gen­er­al pur­pose, uni­lat­er­al­ly-ori­ent­ed, provoca­tive – is the oppo­site of the mil­i­tary we need.
There is no seri­ous talk of denu­cleariza­tion as a nec­es­sary pre­con­di­tion for last­ing glob­al peace or of elim­i­nat­ing weapon sys­tems that per­pet­u­ate old-war think­ing – like tanks, sub­marines and inter­con­ti­nen­tal bal­lis­tic mis­siles. Such think­ing is too rad­i­cal to pen­e­trate pre­vail­ing intel­lec­tu­al and bureau­crat­ic orthodoxies.
Add to all this the increas­ing preva­lence of covert spe­cial oper­a­tions, drone strikes and pro­lif­er­at­ing over­seas bases, and the path ahead for the Unit­ed States seems clear: The con­tin­ued mil­i­ta­riza­tion of our for­eign pol­i­cy, a parochial mil­i­tary-cen­tric con­cep­tion of secu­ri­ty and a self-serv­ing con­ven­tion­al war-fight­ing approach to defense. All of which will pro­long the desul­to­ry, reac­tionary pseu­do-strug­gle on secu­ri­ty mat­ters that has, at the country's expense, divid­ed Repub­li­cans and Democ­rats for so long.
Gre­go­ry D. Fos­ter
is a pro­fes­sor at the Indus­tri­al Col­lege of the Armed Forces, Nation­al Defense Uni­ver­si­ty, Wash­ing­ton, D.C. The views expressed here are his own.