An Obama-Era Rule Has Held McDonald's Liable for Labor Abuses. The GOP Is Close to Undoing It.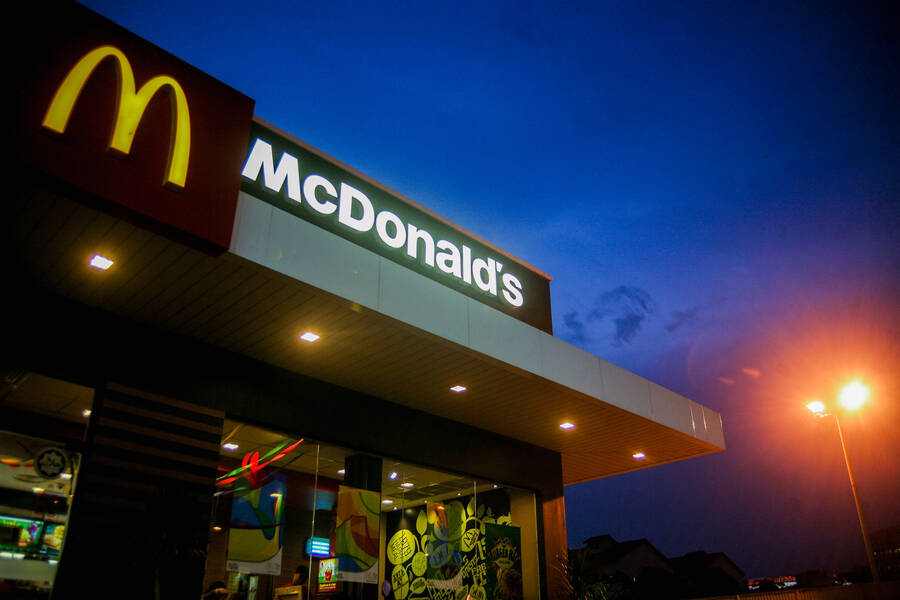 In what was hailed as a major vic­to­ry for labor unions, the Nation­al Labor Rela­tions Board (NLRB) in 2015 rede­fined what con­sti­tutes a ​"joint employ­er," rul­ing that any com­pa­ny that has ​"indi­rect" con­trol over a busi­ness can be held respon­si­ble if that busi­ness vio­lates labor law. In prac­tice this has meant that a cor­po­ra­tion such as McDonald's can be held liable if its fran­chis­es are ille­gal­ly with­hold­ing pay to employ­ees or oth­er­wise break­ing the law. Now, a new bill could reverse that deci­sion and make it much hard­er to hold large cor­po­ra­tions accountable.
On Octo­ber 4, the Save Local Busi­ness Act (H.R. 3441), was advanced out of com­mit­tee by the House Edu­ca­tion and the Work­force Com­mit­tee, and is set to go before the full House for a vote.
Rep. Bradley Byrne (R‑Ala.), who intro­duced the bill, explained after the leg­is­la­tion advanced that it would return legal stan­dards to what they were pri­or to the NLRB's 2015 joint employ­er rul­ing. ​"H.R. 3441 sim­ply restores the com­mon­sense joint employ­er stan­dard that work­ers and employ­ers relied on for decades." Byrne said.
What the bill would actu­al­ly do, how­ev­er, is much more far-reach­ing. In order to be con­sid­ered a joint employ­er, work­er advo­cates would have to prove that a com­pa­ny ​"direct­ly, actu­al­ly and imme­di­ate­ly exer­cis­es sig­nif­i­cant con­trol over essen­tial terms and con­di­tions of employ­ment," includ­ing every­thing from hir­ing and fir­ing to sched­ul­ing and ​"day-to-day super­vi­sion of employ­ees." The cur­rent stan­dard does not require com­pa­nies to have this kind of direct, dai­ly super­vi­sion and con­trol to qual­i­fy as a joint employer.
"It's real­ly disin­gen­u­ous and not truth­ful to say that what this bill does is undo [the NLRB's] deci­sion," Sharon Block, exec­u­tive direc­tor of the Labor and Work­life Pro­gram at Har­vard Law School, tells In These Times. ​"What it does is change the law in such a rad­i­cal way. It doesn't go back to sort of what the sta­tus quo was before. It cre­ates a stan­dard for joint-employ­ment that's almost impos­si­ble to meet."
Such a stan­dard would allow many of the nation's largest cor­po­ra­tions to avoid respon­si­bil­i­ty for the actions of their fran­chis­es and con­trac­tors. If Burg­er King loca­tions aren't giv­ing employ­ees lunch breaks or pay­ing them over­time? Not Burg­er King's prob­lem. The bill could have a sweep­ing effect, leav­ing work­ers across the coun­try with lit­tle recourse when fac­ing ille­gal work conditions.
"It could have a dev­as­tat­ing effect on employ­ees being able to, pos­si­bly, hold any employ­er account­able for wage, hour and [Nation­al Labor Rela­tions Act] vio­la­tions," Block says, not­ing that such a change would be unprece­dent­ed in labor law.
While work­ers could still hold their indi­vid­ual fran­chise account­able, these small busi­ness own­ers have few resources and often vio­late laws due to pres­sure from their par­ent com­pa­nies. Fur­ther­more, many times these labor vio­la­tions are sys­temic with­in a cor­po­ra­tion, which means they're big­ger than indi­vid­ual businesses.
For his part, Rep. Byrne has already received $5,500 in cam­paign con­tri­bu­tions this elec­tion cycle from the Inter­na­tion­al Fran­chise Asso­ci­a­tion — an orga­ni­za­tion that rep­re­sents fran­chis­ers — which would ben­e­fit from the new law by being able to evade cul­pa­bil­i­ty for the actions of their franchisees.
A giant step backward
In 2016, fol­low­ing the NLRB's joint employ­er rul­ing, McDonald's set­tled a law­suit with fran­chise work­ers for the first time in the company's his­to­ry. The com­pa­ny was forced to pay $3.75 mil­lion in dam­ages to cov­er back pay and legal fees to Cal­i­for­nia fran­chise employ­ees who claimed labor laws had been vio­lat­ed at one of its loca­tions. Such law­suits would have no chance in court if this bill becomes law.
While Repub­li­cans in Con­gress often talk about how much they care about work­ing peo­ple, Block says this type of action demon­strates they're far more inter­est­ed in pro­tect­ing the most-wealthy Amer­i­cans. Trump and Repub­li­cans in Con­gress are ​"tak­ing work­ers' pro­tec­tions back at a time when they need them more than ever," she says.
Judy Con­ti, fed­er­al advo­ca­cy coor­di­na­tor at the Nation­al Employ­ment Law Project (NELP) tells In These Times that this bill would be ter­ri­ble for small busi­ness own­ers, because it ​"will leave small­er busi­ness­es respon­si­ble for all lia­bil­i­ty even when their con­trac­tors force con­di­tions upon them that lead to vio­la­tions in the first place."
If suc­cess­ful, the bill would mark a his­toric shift in labor law. Mil­lions of low-wage work­ers across the coun­try would be direct­ly impact­ed, los­ing a key mech­a­nism to pro­tect their rights on the job, while cor­po­ra­tions which reg­u­lar­ly escape lia­bil­i­ty would gain protections.
"The Con­gres­sion­al attempt to gut the decades-long pro­tec­tions of the joint employ­er doc­trine is a trans­par­ent attempt to pro­tect large com­pa­nies that out­source their work in uneth­i­cal ways from lia­bil­i­ty for those actions," Con­ti says. ​"It's a lose-lose for small busi­ness and work­ers. Only those employ­ers with cof­fers large enough to employ cor­po­rate lob­by­ists will ben­e­fit if this bill is signed into law."