From Whole Foods to Amazon, Invasive Technology Controlling Workers Is More Dystopian Than You Think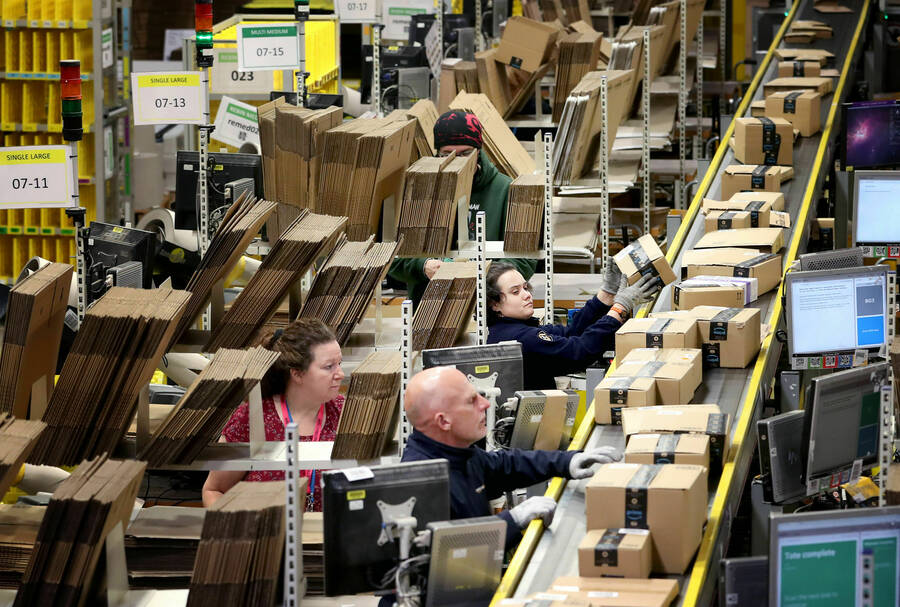 You've been fired. Accord­ing to your employer's data, your facial expres­sions showed you were insub­or­di­nate and not trust­wor­thy. You also move your hands at a rate that is con­sid­ered sub­stan­dard. Oth­er com­pa­nies you may want to work for could receive this data, mak­ing it dif­fi­cult for you to find oth­er work in this field.
That may sound like a sce­nario straight out of a George Orwell nov­el, but it's the future many Amer­i­can work­ers could soon be facing.
In ear­ly Feb­ru­ary, media out­lets report­ed that Ama­zon had received a patent for ultra­son­ic wrist­bands that could track the move­ment of ware­house work­ers' hands dur­ing their shifts. If work­ers' hands began mov­ing in the wrong direc­tion, the wrist­band would buzz, issu­ing an elec­tron­ic cor­rec­tive. If employed, this tech­nol­o­gy could eas­i­ly be used to fur­ther sur­veil employ­ees who already work under intense supervision.
Whole Foods, which is now owned by Ama­zon, recent­ly insti­tut­ed a com­plex and puni­tive inven­to­ry sys­tem where employ­ees are grad­ed based on every­thing from how quick­ly and effec­tive­ly they stock shelves to how they report theft. The sys­tem is so harsh it report­ed­ly caus­es employ­ees enough stress to bring them to tears on a reg­u­lar basis.
UPS dri­vers, who often oper­ate indi­vid­u­al­ly on the road, are now becom­ing increas­ing­ly sur­veilled. Sen­sors in every UPS truck track when dri­vers' seat­belts are put on, when doors open and close and when the engines start in order to mon­i­tor employ­ee pro­duc­tiv­i­ty at all times.
The tech­nol­o­gy com­pa­ny Steel­case has exper­i­ment­ed with mon­i­tor­ing employ­ees' faces to judge their expres­sions. The com­pa­ny claims that this inno­va­tion, which mon­i­tors and ana­lyzes work­ers' facial move­ments through­out the work day, is being used for research and to inform best prac­tices on the job. Oth­er com­pa­nies are also tak­ing inter­est in this kind of mood-observ­ing tech­nol­o­gy, from Bank of Amer­i­ca to Cubist Phar­ma­ceu­ti­cals Inc.
These devel­op­ments are part of a larg­er trend of work­ers being watched and judged — often at jobs that offer low pay and demand long hours. Beyond sim­ply track­ing work­er per­for­mance, it is becom­ing more com­mon for com­pa­nies to mon­i­tor the emails and phone calls their employ­ees make, ana­lyz­ing per­son­al traits along with output.
Some com­pa­nies are now using mon­i­tor­ing tech­niques — referred to as ​"peo­ple ana­lyt­ics" — to learn as much as they can about you, from your com­mu­ni­ca­tion pat­terns to what types of web­sites you vis­it to how often you use the bath­room. This type of pri­va­cy inva­sion can cause employ­ees immense stress, as they work with the con­stant knowl­edge that their boss is aware of their every behav­ior — and able to use that against them as they see fit.
Lewis Malt­by, pres­i­dent of the Nation­al Workrights Insti­tute at Cor­nell Uni­ver­si­ty, tells In These Times that the lev­el of sur­veil­lance work­ers are fac­ing is increas­ing exponentially.
"If you look at what some peo­ple call ​'peo­ple ana­lyt­ics,' it's pos­i­tive­ly fright­en­ing," Malt­by says. ​"Peo­ple ana­lyt­ics devices get how often you talk, the tone of your voice, where you are every sin­gle sec­ond you're at work, your body lan­guage, your facial expres­sions and some­thing called ​'pat­terns of inter­ac­tion.'" He explains that some of these devices even record what employ­ees say at work.
Accord­ing to some experts, this high lev­el of employ­ee sur­veil­lance may actu­al­ly harm the com­pa­nies that use these techniques.
"In gen­er­al, peo­ple expe­ri­ence more stress when they feel that some­one is look­ing over their shoul­der, real or vir­tu­al," Michael Childers, direc­tor at the School for Work­ers, tells In These Times. ​"There is a large body of research doc­u­ment­ing that stress­ful work­places can poten­tial­ly lead to many prob­lems that reduce com­pa­ny prof­its, includ­ing increased turnover, more sick days used, high­er work­place com­pen­sa­tion costs, and iron­i­cal­ly, even low­er productivity."
Richard Wolff, a pro­fes­sor of eco­nom­ics emer­i­tus at the Uni­ver­si­ty of Mass­a­chu­setts, tells In These Times that this type of sur­veil­lance ​"deep­ens the antag­o­nism, mutu­al sus­pi­cion, and hos­til­i­ty of employ­er rel­a­tive to employ­ee. It degrades work­er morale and will prob­a­bly fail — lead­ing employ­ers to con­clude not that such sur­veil­lance is a bad idea, but rather than they need to auto­mate to get rid of work­ers altogether."
While this lev­el of work­er sur­veil­lance may be alarm­ing, it has so far gone large­ly unchecked. Con­gress has nev­er passed a law to reg­u­late employ­ee sur­veil­lance, Malt­by says, and he doesn't think it will any time soon. How­ev­er, he says that either Con­gress or the Supreme Court could final­ly decide that employ­ers have gone too far when they start track­ing employ­ee move­ment dur­ing a worker's time off.
"The fight we're gear­ing up for is [track­ing] behav­ior off duty," Malt­by says. ​"Every cell phone in Amer­i­ca has GPS capa­bil­i­ties baked into it," along with cam­eras and micro­phones. Malt­by wor­ries that employ­ers could soon begin using this tech­nol­o­gy to track the behav­ior of their employ­ees out­side of work. If this were to hap­pen, Malt­by believes U.S. law­mak­ers could be com­pelled to step in.
One the of the fears that labor and pri­va­cy advo­cates hold is that, over time, work­ers could get used to these types of inva­sions, and begin accept­ing them as a nor­mal part of the job.
"The first time peo­ple hear about the newest pri­va­cy inva­sion, they get extreme­ly angry, but even­tu­al­ly they just get used to it," Malt­by says. For exam­ple, at many jobs drug tests are now seen as stan­dard, despite the fact that they invade employ­ees' pri­vate lives by mon­i­tor­ing their behav­iors out­side of work.
At a time of soar­ing inequal­i­ty, low-wage work­ers are bear­ing the brunt of efforts to increase pro­duc­tiv­i­ty and prof­its. The rise of these new track­ing tech­niques show that com­pa­nies are mov­ing toward increas­ing their con­trol over the lives of their employees.
While work­ers at the bot­tom of the wage scale may be the first to face such dystopi­an work­ing con­di­tions, oth­er indus­tries could soon embrace them. If we don't want to live and work under the con­stant super­vi­sion of a far-away boss, now is the time to speak up and push back.