The Trump Administration Just Put Ronald Reagan Alongside Eugene Debs In Its Labor Hall of Honor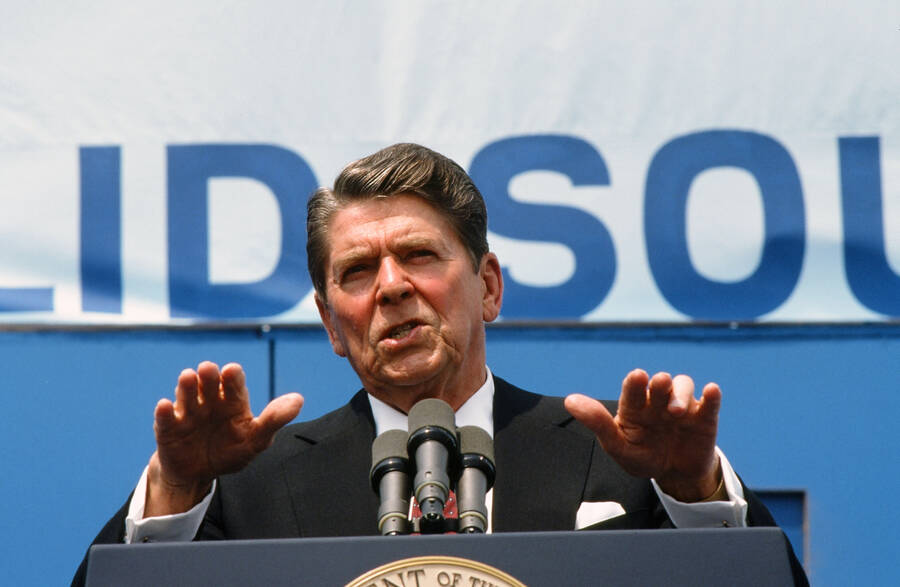 On Thurs­day, Labor Sec­re­tary Alexan­der Acos­ta announced that for­mer Pres­i­dent Ronald Rea­gan will be enter­ing the Labor Depart­men­t's Hall of Hon­or, join­ing the ranks of lumi­nar­ies rang­ing from Moth­er Jones to Eugene Debs.
In his announce­ment, Acos­ta cit­ed Rea­gan's tenure as the pres­i­dent of the Screen Actors Guild, along with a series of per­son­al anec­dotes, to explain that the Gip­per was a friend of the work­ing class. How­ev­er, one does not have to be a his­to­ry schol­ar to under­stand that Rea­gan was in fact an ene­my of orga­nized labor through­out his presidency.
To start, we can look to his fir­ing of over 11,000 air traf­fic con­trollers in 1981. ​"More than any oth­er labor dis­pute of the past three decades, Reagan's con­fronta­tion with the Pro­fes­sion­al Air Traf­fic Con­trollers Orga­ni­za­tion, or Pat­co, under­mined the bar­gain­ing pow­er of Amer­i­can work­ers and their labor unions," Joseph A. McCartin, a pro­fes­sor of his­to­ry at George­town Uni­ver­si­ty, wrote for the New York Times in 2011.
Rea­gan was enraged after thou­sands of air traf­fic con­trollers walked off the job — the result of the Fed­er­al Avi­a­tion Admin­is­tra­tion refus­ing to meet the bar­gain­ing demands of the Pro­fes­sion­al Air Traf­fic Con­trollers Orga­ni­za­tion. The union want­ed a wage increase for con­trollers and a slight­ly short­er work­week. Rea­gan respond­ed by fir­ing the con­trollers when they refused to return to work.
Richard Wolff, a pro­fes­sor of eco­nom­ics emer­i­tus at the Uni­ver­si­ty of Mass­a­chu­setts, Amherst, claims that unions nev­er real­ly recov­ered from the blow Rea­gan deliv­ered in 1981. ​"The labor move­ment until that time had come to believe that it was strong enough that, even if it had a rough bat­tle, it could work a com­pro­mise and sal­vage cer­tain basic safeties, such as not replac­ing peo­ple dur­ing the strike," Wolff tells In These Times. ​"All of these con­ven­tions and assump­tions were smashed."
That was just the begin­ning. Dur­ing the course of his pres­i­den­cy, Ronald Rea­gan became the most pow­er­ful union buster in the world. He stacked the Nation­al Labor Rela­tions Board with offi­cials who vehe­ment­ly opposed unions, caus­ing long-term dam­age to col­lec­tive bar­gain­ing and work­ers' rights in the Unit­ed States.
After the air traf­fic con­troller deba­cle, cor­po­ra­tions became embold­ened and tar­get­ed unions with a new zeal, ille­gal­ly fir­ing work­ers for orga­niz­ing with the knowl­edge that they could large­ly evade pun­ish­ment under Reagan's labor board.
Since the mid­dle of the 1970s, union mem­ber­ship has dropped from 26.7 per­cent of the work­force to just 13.1 per­cent, and Rea­gan played a sig­nif­i­cant role in that decline.
Rea­gan's attacks on unions, along with his pro-cor­po­rate eco­nom­ic poli­cies, also had a major impact on the income of work­ing-class Amer­i­cans. Wages for the bot­tom 70 per­cent of Amer­i­can wage earn­ers have been stag­nant since around the time Rea­gan took office, accord­ing to the Eco­nom­ic Pol­i­cy Insti­tute.
Among oth­er fac­tors, this lack of growth can be attrib­uted to the steady reduc­tion in union mem­ber­ship, as well as anti-work­er trade poli­cies imple­ment­ed under Rea­gan and suc­ces­sive administrations.
Reagan's eco­nom­ic agen­da was focused on pur­su­ing poli­cies that increased the wealth of the rich, includ­ing reduc­ing the top income tax rate from 70 per­cent to 28 per­cent, while increas­ing the tax bur­den on the work­ing and mid­dle classes.
"By weak­en­ing the labor move­ment, Rea­gan cer­tain­ly con­tributed to its inabil­i­ty to do bet­ter than keep stag­nant wages," Wolff says. ​"Where­as before Rea­gan, real wages had risen steadi­ly across a 30-year period."
To por­tray Ronald Rea­gan as a friend of the work­ing class is not only fal­la­cious — it is dan­ger­ous. If the Trump admin­is­tra­tion does indeed see the Rea­gan years as a mod­el for its own poli­cies, as seems to be the case, it's like­ly that income inequal­i­ty will con­tin­ue to rise while U.S. work­ers con­tin­ue to strug­gle for a decent stan­dard of liv­ing and dig­ni­ty on the job.