A Mother's March For Justice
Jena Six mother Tina Jones talks about clearing the reputation of her son Bryant Purvis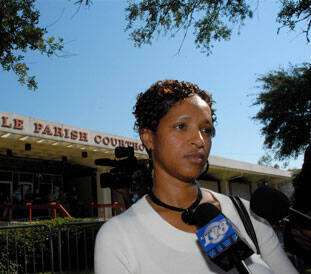 For Tina Jones, life was plen­ty busy before her old­est son became one of the now famous Jena Six. Jones, a nurs­ing assis­tant and moth­er of two boys, Bryant Purvis, 17, and Dyrek Jones, 7, has become a tire­less activist since Dec. 5, 2006, when Bryant was expelled from Jena
High School in Jena, La. Work­ing close­ly with the oth­er Jena Six par­ents, Jones has helped orga­nize a local chap­ter of the NAACP, has reached out to the local and nation­al media, and has worked to speed up her son's hear­ing and trial.
Bryant Purvis, along with five oth­er black stu­dents, orig­i­nal­ly faced charges of attempt­ed sec­ond-degree mur­der and con­spir­a­cy to com­mit mur­der, after school offi­cials alleged that the six boys attacked a white class­mate and beat him uncon­scious. Purvis denies being involved but is now await­ing trial.
It all start­ed when sev­er­al black stu­dents sat under a tree at the high school where white stu­dents nor­mal­ly gath­ered. The next day, three noos­es hung from the tree. Three months of racial ten­sions fol­lowed, cul­mi­nat­ing in a fight on school grounds on Dec. 4, 2006.
Nation­al sup­port for the Jena Six has con­tin­ued to grow. A ral­ly took place in Jena on Sept. 20, with more than 15,000 pro­test­ers march­ing to the cour­t­house with the families.
As In These Times went to press, Purvis was the only mem­ber of the Jena Six yet to be arraigned. If con­vict­ed, he faces 80 years-to-life in prison. One hope­ful sign is that Mychal Bell, the first of the six to be tried, had his con­vic­tion thrown out. He was released on bail on Sept. 27, after 10 months behind bars.
In These Times talked with Jones about the case that has come to res­onate beyond Jena and the respon­si­bil­i­ties she's assumed as a civ­il rights spokesperson.
How would you describe your son Bryant?
Bryant was an hon­or stu­dent through­out his first three years of high school. He also played bas­ket­ball and foot­ball, but his main thing was bas­ket­ball. Hope­ful­ly, he'll get to grad­u­ate and go to col­lege and play bas­ket­ball. If not, he wants to become a coach.
He's also a peo­ple per­son. When peo­ple see his car or some­body finds out he's here, every­body just walks over to visit.
When did you first know that your son might face legal trou­ble because of the events at the high school?
Bryant came home and told me that there was a fight at school and that sev­er­al kids were arrest­ed. Lo and behold, the next day when I get to work, my aunt comes and tells me that Bryant was at the cour­t­house. I didn't think it was any­thing relat­ed to the fight. I thought some­thing else had happened.
I rushed down there and they told me that Bryant had been charged.
You were shocked to hear Bryant was being charged. Was Bryant as sur­prised as you were?
He was very sur­prised, because he wasn't in the fight at all. Bryant wasn't involved in any­thing that led up to the fight.
It took every­body a day or two to get over the shock of what they [local law enforce­ment] were doing to these kids. Then the par­ents of the six stu­dents got togeth­er and looked online, try­ing to find ways to help get them out of this mess. [Local radio host] Tony Brown helped get the word out, and he found sev­er­al lawyers who were inter­est­ed in help­ing with the case. That's how I found my lawyer.
Bryant hasn't even been arraigned, and it's going on a year since he was charged. My lawyer filed motions to arraign Bryant, drop the charges or pro­duce evi­dence. We have a court date set for Nov. 7.
You feel the pro­ceed­ings have been dragged out?
Absolute­ly. My lawyer feels that the author­i­ties feel Bryant had noth­ing to do with the fight and are not bring­ing him to court because they don't have any­thing to work with. We prob­a­bly wouldn't have a court date now if my lawyer hadn't filed these motions. Oth­er than charg­ing him, they haven't done any­thing with the case.
How has the delay affect­ed you?
That's a hor­ri­ble feel­ing, to wake up every morn­ing and know that your son has been charged with attempt­ed mur­der and know that the rest of his life could be decid­ed by a dis­trict attor­ney. All the help and all these peo­ple com­ing in to Jena makes you feel bet­ter. But at the end of the day when you go to bed, or when you wake up the next morn­ing, those charges are still fac­ing you. Until they go away, I'm not going to feel relief.
You have talked wide­ly about your son's expe­ri­ence and the impli­ca­tions it has on civ­il rights. Has the case become a full-time job?
It could be. We just turn down a lot of stuff. I just came back last night from Wash­ing­ton, D.C. The stu­dents' par­ents went to the Children's Defense Fund there. We had a pan­el and a dis­cus­sion on the case. Every­body wants us to come in. They want to hear our sto­ry and have a ques­tion-and-answer session.
There's some­thing that needs to be done every day. I have a 7‑year-old too. I can't be gone all the time. They invit­ed us to the 50th anniver­sary of the Lit­tle Rock Nine [the first nine stu­dents who inte­grat­ed Cen­tral High School in Lit­tle Rock, Ark.]. We are sup­posed to do that this week­end. We were sup­posed to have done the Mon­tel Williams Show this week and Dr. Phil's show. We missed all that because all the fam­i­lies were in Wash­ing­ton. We just can't be everywhere.
Does your younger son under­stand what's going on?
I don't know that he under­stands the sig­nif­i­cance. When I'll talk to him, he'll say, ​"Mom­ma, the Jena Six stuff was on tele­vi­sion, and they were talk­ing about you." I don't sit down and talk to him about it. He's only 7 years old. Maybe when he's older.
After we had the ral­ly [on Sept. 20], every­body start­ed get­ting these threat­en­ing phone calls. It's kin­da scary. So if somebody's knock­ing on the door, my young son Dyrek looks scared. If the phone rings, he thinks it's one of those phone calls.
How safe do you feel right now in Jena?
I'm not going to say I feel threat­ened, but I am con­cerned. A lot of the calls, I'm sure, are pranks. But at the same time, you don't take that stuff light­ly. I'm aware of my sur­round­ings when I go out and go places. If I feel like I need secu­ri­ty, I will call and have some­one take me where I need to go or fol­low me where I need to go.
Some of us have got­ten hate mail. We're all con­cerned about that. We're all deter­mined to con­tin­ue on until some kind of jus­tice is won.
As of now, Bryant is out on bail and still wait­ing to be arraigned. You've found a lawyer to rep­re­sent him once charges are pre­sent­ed at the hear­ing. What do you expect to come out of the court cases?
With the eyes of the nation on this town, you're always hope­ful. They can't just throw out any con­ve­nient excuse with­out us fight­ing or tak­ing the nec­es­sary steps to have it over­turned. It's going to be a long, drawn-out case. I think that at the end of the day – or the end of tri­al – we should get some kind of jus­tice. But it may take us a long time to get there.
When we first start­ed this, I nev­er dreamed in a mil­lion years that it would get this kind of atten­tion. We were just reach­ing out for help. To have this blow out into a huge, huge, huge, huge, huge sto­ry is beyond me.
Some­times I think, ​"What in the world have I got­ten myself into?" We're all just nor­mal peo­ple work­ing to make a liv­ing and take care of our kids. To be dragged into some­thing that you real­ly hadn't intend­ed to get to this point – it's crazy. I'm hope­ful it will make a dif­fer­ence though.
What impact did the Sept. 20 ral­ly have?
Just to know that thou­sands of peo­ple were with us, sup­port­ing the cause – that was a great feel­ing. I hadn't felt so hap­py since all this hap­pened with my son, until this par­tic­u­lar day.
As we were march­ing up to the school, if you turned around, all you could see was peo­ple. That was a beau­ti­ful sight – to see that many peo­ple behind you. Every­thing seemed pos­i­tive about the whole ordeal.
But then you wake up Fri­day morn­ing after the ral­ly, and peo­ple are call­ing, look­ing for Bryant, threat­en­ing, call­ing you names. That was a set­back for me. It took me a day to get over it. I thought, ​'Oh my God, is it worth this? Is it worth my life?'
Then I real­ized that I'm fight­ing for my son. I know a lot of peo­ple have lost their lives for dif­fer­ent caus­es. At the end of the day, I have to keep fight­ing for my son regard­less of how the sit­u­a­tion turns out. They're not going to run me into a corner.
Is there any­thing you would like peo­ple to know?
Just to stay behind us, sup­port us. When we have court dates, please come out and sup­port us. The more peo­ple we have, the more we feel we're being supported.
If read­ers want to show their sup­port for the Jena Six, Jones sug­gests they con­tact Col­or of Change (www​.Col​o​rOfChange​.org) or the LaSalle Parish NAACP (Cat­ri­na Wal­lace, sec­re­tary, 318−419−6441).