A Push for Workers' Rights in Massachusetts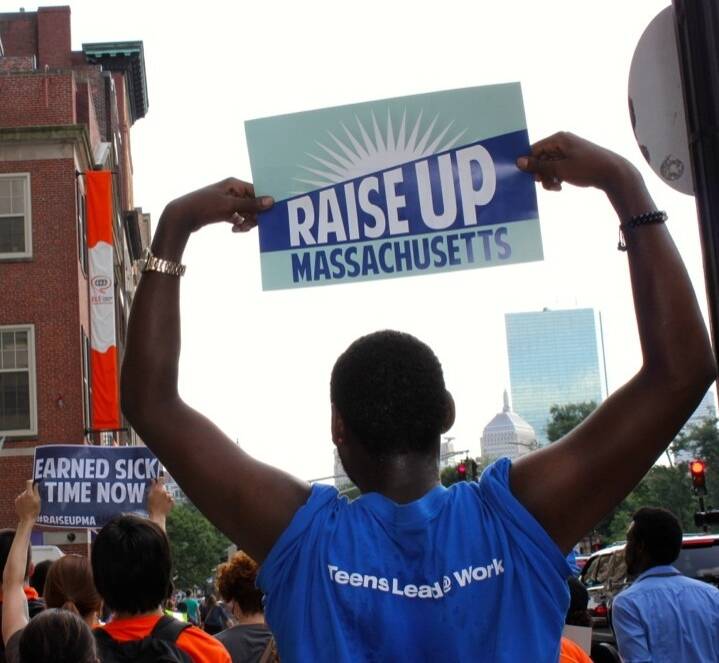 Fred­dy Rayes was chop­ping veg­eta­bles one morn­ing, at the lux­u­ry restau­rant in Boston's South End where he has worked for 14 years, when his knife slipped, cut­ting off the tip of his fin­ger. He says he report­ed the injury to his boss, who told him to keep work­ing. Lat­er in the after­noon, still bleed­ing, he decid­ed to go to Boston Med­ical Cen­ter, where doc­tors were unable to sew the top of his fin­ger back on, due to loss of blood.
That wasn't the end of it. ​"When we tried to get paid sick time, it didn't hap­pen," says his wife, Reina. So Fred­dy took a week off instead of the two his doc­tor rec­om­mend­ed, because he was wor­ried about going with­out income. ​"Now they're say­ing the med­ical insur­ance paper­work isn't going to go through," says Reina. She makes only $10 an hour at her restau­rant job, and wor­ries that she will have to sup­port both of them on her mea­ger salary if Fred­dy los­es his job for speak­ing out against his employ­er about not being paid for his time out of work on a job-relat­ed injury.
There are no laws guar­an­tee­ing earned sick time in the Com­mon­wealth of Mass­a­chu­setts, so it's legal for employ­ers to fire work­ers for tak­ing time off for ill­ness or injury, or to care for sick children.
A cam­paign for earned sick time has been ongo­ing for eight years, and advo­cates are frus­trat­ed with the slow leg­isla­tive progress. A paid sick time bill filed by state Sen. Dan Wolf (D‑Harwich) was referred to the Joint Com­mit­tee on Labor and Work­force Devel­op­ment in Jan­u­ary and has not moved since. The bill would man­date legal­ly pro­tect­ed time off for all pri­vate sec­tor employ­ees, allow­ing work­ers to earn an hour of sick time for every 30 hours worked (with caps based on the size of the busi­ness or at 40 hours of sick time per year).
Efforts for a min­i­mum wage increase have also stalled in the state. Despite years of con­tin­ued lob­by­ing, the Mass­a­chu­setts min­i­mum has been $8 an hour since 2008. A bill to raise it to $11 is also await­ing a vote in the Joint Com­mit­tee on Labor and Work­force Devel­op­ment; there has been no action since a June 11 hearing.
So on Wednes­day, a coali­tion of advo­ca­cy groups, unions, leg­is­la­tors and faith lead­ers for­mal­ly launched a new bal­lot com­mit­tee called Raise Up Mass­a­chu­setts with the aim of tak­ing both ques­tions direct­ly to vot­ers through a bal­lot ini­tia­tive. Mem­bers of the Nation­al Asso­ci­a­tion of Social Work­ers, the AFL-CIO, the Mass­a­chu­setts Teach­ers Union, the Chi­nese Pro­gres­sive Asso­ci­a­tion, New Eng­land Unit­ed for Jus­tice and oth­er advo­ca­cy groups attend­ed the ral­ly and spoke in favor of the coalition.
The coali­tion will first try to push the bills through the leg­is­la­ture before August 7, the dead­line for fil­ing bal­lot ini­tia­tive paper­work. If that fails, the coali­tion says it will launch a sig­na­ture dri­ve to add two ini­tia­tives to the 2014 statewide bal­lot: one push­ing for 40 hours of earned sick leave a year and one for a min­i­mum-wage increase to $11 per hour.
There's ample need for a boost in the state min­i­mum wage, which is high­er than the min­i­mum wage, but low­er than six oth­er states, not includ­ing Wash­ing­ton, D.C. Accord­ing to the U.S. Depart­ment of Labor, states like Ohio and Ari­zona that index to infla­tion will soon over­take Mass­a­chu­setts and have high­er min­i­mum wages. Accord­ing to esti­mates by non-prof­it and non-par­ti­san Mass Bud­get, a full-time work­er in the state mak­ing the cur­rent min­i­mum wage of $8 an hour will earn just $16,000 per year. About 94,000 Mass­a­chu­setts work­ers earn min­i­mum wage or very close to it, and near­ly half a mil­lion — 1 in 6 — earn between $8 and $11 an hour.
To put this in per­spec­tive, an annu­al report from the Nation­al Low Income Hous­ing Coali­tion found that the aver­age cost for a two-bed­room apart­ment in Mass­a­chu­setts is $1,251, which would require min­i­mum-wage earn­ers to work a total of 120 hours a week to afford hous­ing, not includ­ing oth­er basic needs. The cost of a two-bed­room apart­ment in cities like Cam­bridge and Boston is much high­er. Many work­ers par­tic­i­pat­ing in the Raise Up statewide day of ral­lies Wednes­day said that they strug­gle to put a roof over their heads, and food on the table.
Sen. Marc Pacheco (D – Taunton), the spon­sor of the cur­rent bill to raise the min­i­mum wage to $11, expressed skep­ti­cism about its prospects for pas­sage in a pri­vate phone inter­view with Work­ing In These Times. ​"Quite frankly, I'm con­cerned about the leg­isla­tive process," he says. ​"The busi­ness lob­by­ists will try to nego­ti­ate a deal where they don't have min­i­mum wage fixed to infla­tion. That's what hap­pens behind the scenes and I reject that ideology."
​"Oth­er states are above where we are right now, and their min­i­mum wages are adjust­ed peri­od­i­cal­ly by gaug­ing infla­tion," he con­tin­ues. ​"No one had a prob­lem doing that with the gas tax passed in the leg­is­la­ture Wednes­day. Cer­tain­ly no leg­is­la­tor is com­plain­ing of his or her salaries being tied to infla­tion rate."
Sim­i­lar­ly, Susan Tou­sig­nant, pres­i­dent of SEIU Local 509 and co-chair of the Raise Up Mass­a­chu­setts bal­lot com­mit­tee, stress­es that the min­i­mum wage increase must be tied to infla­tion. ​"By index­ing the min­i­mum wage, we can ensure wages keep pace with the ris­ing cost of liv­ing so that work­ers can sup­port them­selves and their fam­i­lies. And by pass­ing these ini­tia­tives at the bal­lot box, work­ing fam­i­lies won't have to wait on a pro­longed leg­isla­tive process for action," she said in an interview.
The busi­ness com­mu­ni­ty is split on the impacts of the min­i­mum wage increase. The Nation­al Fed­er­a­tion of Inde­pen­dent Busi­ness (NFIB), which rep­re­sents rough­ly 8,000 Mass­a­chu­setts busi­ness, has come out against a raise. NFIB Mass­a­chu­setts State Direc­tor Bill Ver­non assert­ed last August that if the min­i­mum is raised to just $10, it will cost busi­ness­es $824 mil­lion and ​"the state will lose between 38,000 and 63,000 jobs lost or not cre­at­ed and up to $45 bil­lion in eco­nom­ic activ­i­ty in the next ten years. 56 per cent of these lost jobs will be in the small busi­ness sector."
In an inter­view with In These Times this after­noon, Ver­non added, ​"I would also say that an increase in the min­i­mum wage as pro­posed is prob­a­bly not sus­tain­able as any wage increase must be sup­port­ed by increased pro­duc­tiv­i­ty. In addi­tion, the min­i­mum wage is inef­fec­tive as a pover­ty pro­gram since so many min­i­mum wage work­ers — sea­son­al employ­ees, sec­ond job work­ers, teens, sum­mer jobs — are not liv­ing in poor house­holds. The min­i­mum wage is scat­ter­shot at best in get­ting finan­cial resources to the work­ers who need the assis­tance. An increased low income tax cred­it would be far more effec­tive in reach­ing peo­ple and fam­i­lies that need support."
But in the June hear­ing, Mar­got Dorf­man of the U.S. Women's Cham­ber of Com­merce tes­ti­fied in sup­port of Pacheco's bill, say­ing, ​"I rep­re­sent women busi­ness own­ers in Mass­a­chu­setts, and nation­al­ly, who sup­port rais­ing the min­i­mum wage." The Women's Cham­ber has more than 500,000 mem­bers nation­wide and some 7,500 in Massachusetts.
Dorf­man argues that putting more mon­ey into low-income con­sumers' pock­ets can boost the econ­o­my. ​"Too many peo­ple for­get that work­ers are also con­sumers," she said. ​"Con­sumer spend­ing dri­ves 70 per­cent of our econ­o­my, and we must repow­er con­sumer spend­ing — backed by ade­quate wages rather than unaf­ford­able debt — if we are going to repow­er our econ­o­my. In fact, since most low-wage work­ers work for the major chains, boost­ing the min­i­mum wage means that rather than going to Wal-Mart or McDonald's bank accounts — whether in Ben­tonville or Chica­go or in the Cay­man Islands — more rev­enue from Mass­a­chu­setts cus­tomers will be paid back out to Mass­a­chu­setts work­ers, who will spend it at local businesses."
Many high-rank­ing pub­lic offi­cials offered their sup­port for a wage increase at the statewide day of action yes­ter­day, includ­ing Joint Com­mit­tee on Labor and Work­force Devel­op­ment co-chair Sen­a­tor Dan Wolf, and State Trea­sur­er Steven Gross­man. Both are run­ning in the 2014 guber­na­to­r­i­al elec­tion to take over the seat for retir­ing Gov­er­nor Deval Patrick.
State Rep. Carl Sciorti­no (D‑Medford), a can­di­date for for­mer U.S. Rep. Ed Markey's seat in the fifth dis­trict, said, ​"As a mem­ber of Con­gress I will co-spon­sor and work towards an increase in the nation­al min­i­mum wage. A full time job should­n't leave fam­i­lies liv­ing in pover­ty, and we must increase wages if we are ever going to reverse the grow­ing gap between the rich and poor."
Sen­a­tor Pacheco said at the ral­ly, ​"I want a straight-up vote. Today, I sent a let­ter to the two chairs of the Joint Com­mit­tee on Labor and Work­force Devel­op­ment and asked that it be report­ed favor­ably as soon as pos­si­ble. It has been six weeks. It needs to get to the floors of the House and the Sen­ate so we can vote on it." Accord­ing to an inter­view with the Sen­a­tor lat­er in the after­noon, and dis­cus­sion with orga­niz­ers from the Raise the Wage Coali­tion, this is unlike­ly to happen.
If the two bills don't move for­ward, Raise the Min­i­mum Wage Coali­tion orga­niz­ers plan to sub­mit paper­work for an earned-sick-time and min­i­mum-wage bal­lot ques­tion to Attor­ney Gen­er­al Martha Coakley's Office for review by Wednes­day, August 7. She will then deter­mine if the mea­sure meets con­sti­tu­tion­al require­ments and send it to Sec­re­tary of State William Galvin.
The process of col­lect­ing 70,000 cer­ti­fied vot­er sig­na­tures to put the mea­sure on the bal­lot would begin in October.
Sarah Betan­court
is a Boston-based reporter, focused on the immi­gra­tion and pub­lic pol­i­cy beats. She is a for­mer fel­low at the Sta­bile Cen­ter for Inves­tiga­tive Jour­nal­ism at Colum­bia Uni­ver­si­ty. Fol­low her @sweetadelinevt.