Boston Nurses Are Bringing Back the Strike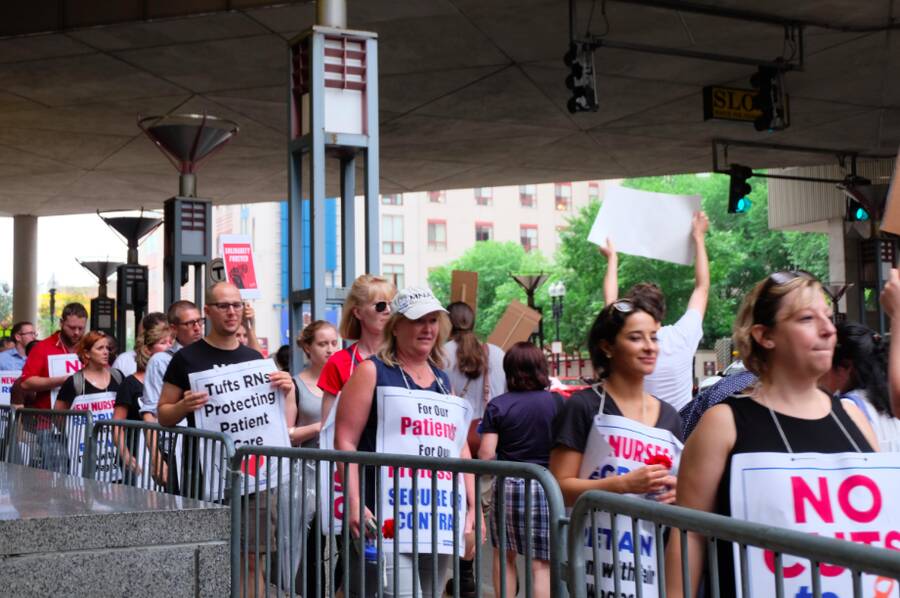 Tufts Med­ical Cen­ter nurs­es went back to work on Mon­day after launch­ing the first Boston nurs­es' strike in more than three decades — to demand bet­ter patient-safe­ty pro­tec­tions and more com­pet­i­tive com­pen­sa­tion. Despite the col­lec­tive action, the rough­ly 1,200 nurs­es who walked out still face bar­ri­ers to a sat­is­fac­to­ry resolution.
On July 12, at least 1,200 Tufts nurs­es, rep­re­sent­ed by the Mass­a­chu­setts Nurs­es Asso­ci­a­tion (MNA) union, waged a one-day strike after more than 30 bar­gain­ing ses­sions with the hos­pi­tal. Nurs­es in the bar­gain­ing unit told In These Times that major points of con­tention includ­ed pen­sions and safe staffing.
Tufts hired 320 U.S. Nurs­ing Corp. tem­po­rary nurs­es, a trav­el nurse staffing agency based in Col­orado, to fill in. Rhon­da Mann, direc­tor of com­mu­ni­ca­tions for Tufts, said in a state­ment, ​"The nurse staffing com­pa­ny that pro­vides replace­ments required Tufts to guar­an­tee those nurs­es with five days of work."
This claim was used to jus­ti­fy management's four-day lock­out of nurses.
Beth Taglieri, 41, has been a Neona­tal Inten­sive Care Unit (NICU) nurse for 18 years, includ­ing four at Tufts. She told In These Times that she was con­cerned about leav­ing her patients with agency nurs­es dur­ing the strike. ​"They don't know our sys­tem, and it's hard to know how they will treat your patients," she said.
Accord­ing to Taglieri, the union has nego­ti­at­ed with the hos­pi­tal admin­is­tra­tion in the past, but the two sides were too far apart this time.
The union cites low­er start­ing wages and poor pen­sion plans as the key bar­ri­ers to Tufts' reten­tion of nurs­es after they are trained. Tufts nurs­es make between $32.50-$63.00 per hour, depend­ing on expe­ri­ence. In con­trast, top-tier nurs­es at Boston's high­est pay­ing hos­pi­tal make $70.27.
The nurs­es rec­om­mend­ed a mul­ti-employ­er ben­e­fit plan that they say could save Tufts $96 mil­lion to spend on staffing and pen­sions. But the hos­pi­tal reject­ed this pro­pos­al, claim­ing it would be more expensive.
Taglieri argues that improve­ments to pen­sions and wages would ulti­mate­ly ben­e­fit the hos­pi­tal. ​"We get that it's expen­sive to run a hos­pi­tal. We're not blind to that," she under­scored. ​"But we've been see­ing more turnover. We need to pro­vide enough nurs­es for the patients we care for. If a mom comes in and deliv­ers a baby three months ear­ly in an emer­gency, we need to be prepared."
Mann denied that Tufts has had high turnover rates over the past two years, telling In These Times, ​"Absolute­ly not. Our reten­tion rate for nurs­es is 94 percent…one of the high­est in the country."
Wages and pen­sions were not the only points of con­tention. The union had pitched a pro­pos­al that the hos­pi­tal main­tain a ratio of one nurse to one patient to com­ply with a 2014 Mass­a­chu­setts law for safe staffing of inten­sive care units, which lim­its sched­ul­ing ICU nurs­es to one or two patients, depend­ing on their severity.
Jen­nifer John­son, spokesper­son for the MNA, told In These Times, ​"It became appar­ent it's hard to achieve because of expense. They with­drew that pro­pos­al, and the union made a major con­ces­sion with that. What we asked for instead was addi­tion­al resources, and improve­ments for charge nurses."
Anne Asci, 56, has been employed at Tufts for 36 years as an intra­venous trans­fu­sion (IV) nurse. She works with oncol­o­gy patients with hard-to-reach veins and out­pa­tients who just need some­one to remove their IVs before going home.
She described her work to ITT as some­times putting in over 30 IV lines a day. ​"We staff two nurs­es for 10-hour cov­er­age from 8:30 a.m. to 7:00 p.m."
Oth­er nurs­es said that once there were 10 to 12 IV nurs­es on a floor at Tufts, but now there are only a hand­ful, and none overnight. To relieve staffing issues, Tufts pro­posed increas­ing charge nurse hours in med­ical and sur­gi­cal units from 32 to 52 hours a week.
Tufts' argu­ment is that mon­ey is tight. Accord­ing to an online post from chief nurs­ing Offi­cer Ter­ry Hud­son-Jinks, the hos­pi­tal is recov­er­ing from a $15 mil­lion loss in fis­cal year 2015.
Yet, Taglieri insists the hos­pi­tal can do bet­ter. ​"We do have pret­ty good staffing with­in the NICU. It's the adult side where we have con­cerns," she said. ​"We don't have a lot of room to absorb new admis­sions. For instance, we've had five or six admis­sions in 12 hours, but if each nurse has patients, who will care for the emer­gency patients in labor? Oth­er hos­pi­tals have more of a cushion."
Some patients backed the nurs­es' col­lec­tive action. In 2010, Shan­non Kit­t­er­ick Deibel's son Brody was trans­port­ed to Tufts with a block­age in his intestines when he was only a few months old. She and her hus­band were wait­ing to hear about a surgery when a nurse stopped into their room. ​"That's when we met our nurse and hero, Ann Marie. She made my hus­band I feel like it was going to be ok." Brody under­went a nine-hour surgery days lat­er to fix his intestines, and stayed in the hos­pi­tal for a month.
Describ­ing her son's release from surgery on a ven­ti­la­tor, Diebel said, ​"The nurse took my hand and held it like it was her own child. Every­one in that unit was not there to just make a pay­check, but to impact anoth­er life."
When asked about her feel­ings toward the nurs­es in light of the strike, Diebel replied: ​"I love them."
Sarah Betan­court
is a Boston-based reporter, focused on the immi­gra­tion and pub­lic pol­i­cy beats. She is a for­mer fel­low at the Sta­bile Cen­ter for Inves­tiga­tive Jour­nal­ism at Colum­bia Uni­ver­si­ty. Fol­low her @sweetadelinevt.