In Massachusetts, Unions Helped Get Out the Vote for Elizabeth Warren (Updated)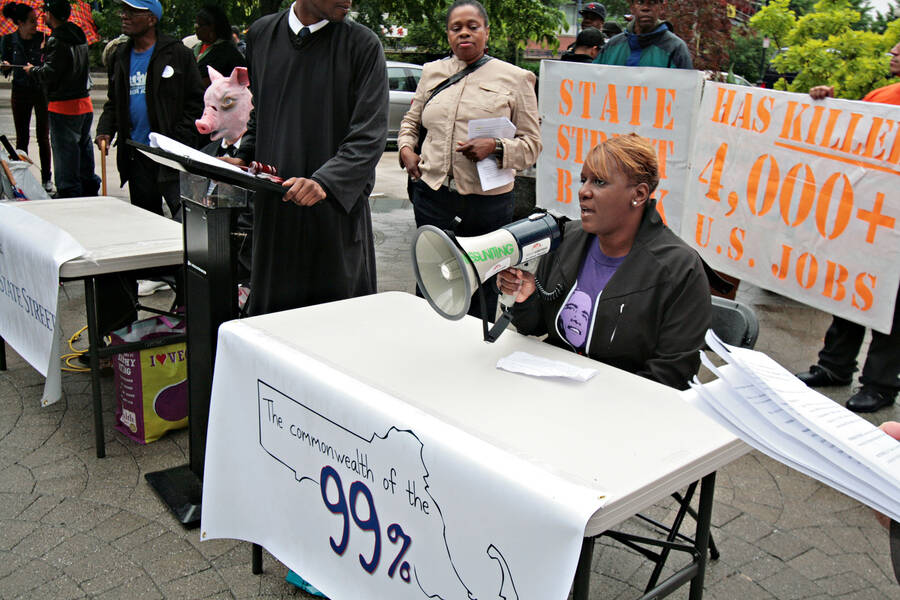 Update: Eliz­a­beth War­ren won a deci­sive vic­to­ry. With 98 per­cent of the precincts report­ing, War­ren led Brown by 8 per­cent­age points, 54 per­cent to 46 percent.
Labor in Mass­a­chu­setts will be cheer­ing Eliz­a­beth War­ren's upset of incum­bent Sen. Scott Brown. The AFL-CIO, Mass­a­chu­setts Teach­ers Asso­ci­a­tion and SEIU – three of the largest labor orga­ni­za­tions in the state – all threw their weight behind War­ren months ago, bring­ing with them the grass­roots sup­port of the 750 local unions affil­i­at­ed with the AFL-CIO, and the near­ly 585,000 work­ing class fam­i­lies rep­re­sent­ed by all three labor organizations.
SEIU recruit­ed 1,000 vol­un­teers to get out the vote for War­ren and Pres­i­dent Barack Oba­ma across the state. The major­i­ty of the vol­un­teers are mem­bers of 1199SEIU, the Boston-based local that rep­re­sents many ser­vice-sec­tors work­ers across the North­east. ​"1199SEIU mem­bers are over­whelm­ing­ly in sup­port of Eliz­a­beth War­ren," says 1199SEIU Exec­u­tive Vice Pres­i­dent Veron­i­ca Turn­er, and mem­bers rec­og­nize that they have to ​"back up their endorse­ments with a strong lev­el of par­tic­i­pa­tion and mobilization."
Leslie Stafford – a sin­gle moth­er of two, per­son­al care assis­tant, and mem­ber of 1199 – is part of that mobi­liza­tion. Though she was laid off from her posi­tion as a patient access rep­re­sen­ta­tive at Boston Med­ical Cen­ter and has not been able to find work since, Stafford has been active in the SEIU com­mu­ni­ty action team for the past few months. When I caught up to her this morn­ing, she was help­ing an elder­ly man into her car to take him to the polls, a job she'd been per­form­ing since 6 a.m.
​"I'm out here to help peo­ple be part of the jour­ney and the change," Stafford says. ​"This is a non-par­ti­san push for get­ting out the vote, but I can tell you from a per­son­al per­spec­tive that Eliz­a­beth War­ren looks out for sin­gle moth­ers, and for wom­en's rights. Scott Brown is anti-union, and has­n't done much for the work­ing class. War­ren under­stands where we're com­ing from. We're just going door-to-door today mak­ing sure every­one is edu­cat­ed about where and when they can vote."
Asked why 1199SEIU sup­ports War­ren, Turn­er says, ​"Eliz­a­beth War­ren has been clear in her sup­port of afford­able, qual­i­ty health­care for all, cre­at­ing good jobs for work­ing fam­i­lies, and of ensur­ing tax fair­ness – sup­port­ing pro­pos­als like the Buf­fet rule – and we're con­fi­dent she will con­tin­ue to empha­size these key pri­or­i­ties if she is elect­ed to the U.S. Sen­ate. So far, Brown's track record on the issues of health­care, jobs, and tax fair­ness are very trou­bling, and seem to be about toe­ing his party's line more than doing what's best for Massachusetts."
What unions find par­tic­u­lar­ly wor­ri­some is Brown's vote against Oba­ma's sec­ond stim­u­lus plan, the Amer­i­can Jobs Act, which would have invest­ed more than $850 mil­lion in Mass­a­chu­setts' infra­struc­ture. They cite an Octo­ber study by the New Eng­land Coun­cil that found 27,000 jobs are cre­at­ed for every $1 bil­lion invest­ed in infra­struc­ture. In addi­tion to Brown stop­ping the cre­ation of 23,000 jobs in the state, unions also cite his vote to fil­i­buster the Teach­ers and First Respon­ders Back to Work Act, which would have pro­vid­ed enough funds for 6,300 edu­ca­tion­al work­ers in the state. They also decry Brown's vote to cut Pell Grants by $5.7 bil­lion, adverse­ly affect­ing 135,000 Mass­a­chu­setts students.
Paul F. Ton­er, pres­i­dent of the Mass­a­chu­setts Teach­ers Asso­ci­a­tion, is blunt in his crit­i­cism of Brown. ​"He's vot­ed the wrong way on the issues," Ton­er says. ​"We invit­ed him to take part of our endorse­ment process for the 2012 Sen­ate cam­paign, but he did­n't take part. It's hard to con­sid­er some­one when they won't even fill in the questionnaire."
As for War­ren, on the eve of the vote, Ton­er says she ​"rep­re­sents the val­ues of our mem­bers the best. She's been to two of our events this year, and our mem­bers just tal­lied up their calls for her over the past two months: 150,000 calls. We hope she'll pre­vail this evening. There are a lot of peo­ple out at the polls. I've nev­er seen any­thing like it in 30 years, except for back in 2008."
Sarah Betan­court
is a Boston-based reporter, focused on the immi­gra­tion and pub­lic pol­i­cy beats. She is a for­mer fel­low at the Sta­bile Cen­ter for Inves­tiga­tive Jour­nal­ism at Colum­bia Uni­ver­si­ty. Fol­low her @sweetadelinevt.