How the Syrian Revolution Went Wrong
With the opposition fracturing, is there still hope for a Syrian Spring?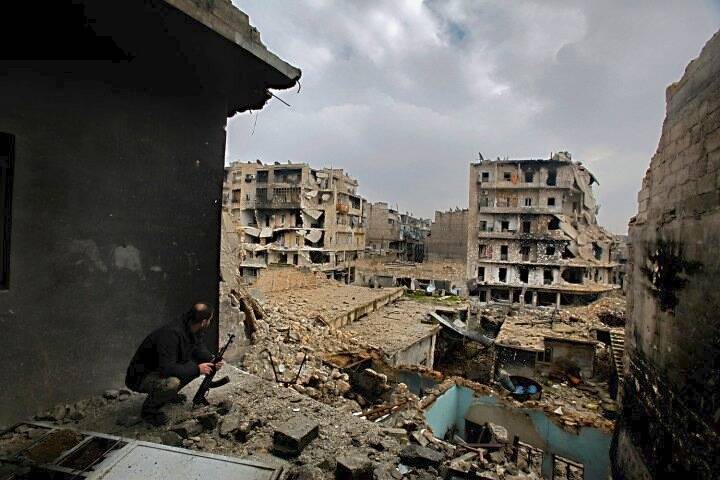 Syria's tragedy over­whelms com­pre­hen­sion. Recent­ly, activist and Emer­son Col­lege schol­ar Yass­er Munif described his vis­it to the north of the coun­try:
It seems extremely unlikely at this point that the revolution will succeed. It was never going to be easy to break away the regime's base, but if it hasn't happened before this point in the struggle, it is less likely to happen now.
Peo­ple are rebuild­ing insti­tu­tions, they are man­ag­ing their cities after the fall of the state and the régime, and it is a very chal­leng­ing task to do because there are no resources, there is no fund­ing, and there are per­ma­nent attacks by the régime. Those areas I'm talk­ing about in the north are lib­er­at­ed: there are no clash­es on the ground. But there are con­stant airstrikes and mis­siles are launched on these cities.

So peo­ple are com­ing up with cre­ative solu­tions: they are cre­at­ing polit­i­cal insti­tu­tions. There are local coun­cils in each one of those cities and they meet on a week­ly basis. They dis­cuss every­thing in the city and they try to solve their problems.
But no good rev­o­lu­tion goes unpunished.
The incip­i­ent rev­o­lu­tion against the Assad régime has been pun­ished by every avail­able means.
It has been pum­meled from the air, mis­siles rip­ping through lib­er­at­ed territories.
It has been ripped to pieces from the ground, well-accou­tered loy­al­ist forces machine-gun­ning desert­ers.
It has been tor­ment­ed with clouds of poi­so­nous gas, which cause vic­tims to die slow­ly and help­less­ly as their bod­ies are par­a­lyzed and breath­ing shut down.
It has buried tens of thou­sands of bod­ies. The UN report iden­ti­fies some 100,000 total killed in a war that has tak­en a bloody toll on all sides. The Syr­i­an Obser­va­to­ry for Human Rights sug­gests a sim­i­lar fig­ure, 21,850 of whom were rebel fight­ers, 40,146 civil­ians and 45,000 régime fighters.
This is a mourn­ful state of affairs for a rev­o­lu­tion­ary move­ment that grew out of the heady promise of the Arab Spring. The Syr­i­an rev­o­lu­tion began as one of a series of demo­c­ra­t­ic upris­ings through­out the Mid­dle East and North Africa in ear­ly 2011. Protests start­ed in the Syr­i­an city of Daraa, over the arrest and tor­ture of stu­dents for graf­fi­ti against the régime, and esca­lat­ed to nation­wide demon­stra­tions after régime forces killed sev­er­al people.
Repres­sion was the default régime response but, as the protests spread, the gov­ern­ment under­took a more com­plex strat­e­gy. It con­tin­ued to repress the upris­ing, but simul­ta­ne­ous­ly offered reforms, such as remov­ing the niqab ban, and lift­ing the ​"state of emer­gency" law, which was a key demand of the pro­test­ers. Yet by this point the oppo­si­tion want­ed far more fun­da­men­tal demo­c­ra­t­ic change, which the régime could not deliv­er. The per­sis­tence of the protests led to an out­right mil­i­tary response on the part of the régime, begin­ning with the deploy­ment of the Syr­i­an army in Daraa on April 25, 2011.
The upris­ing was forced, from this point on, to acquire an armed wing. This it did in a painful­ly slow and syn­co­pat­ed fash­ion, with poor­ly armed local mili­tias form­ing. Final­ly, at the end of July 2011, a group of offi­cers who had defect­ed from the armed forces announced the for­ma­tion of the Free Syr­i­an Army as an umbrel­la group link­ing the armed oppo­si­tion. In prac­tice, how­ev­er, the armed oppo­si­tion has remained frag­ment­ed and polit­i­cal­ly inco­her­ent. The aspir­ing lead­er­ship remained dis­tant, dis­con­nect­ed from the grass­roots. It is this which cre­at­ed spaces in which rel­a­tive­ly mar­gin­al sec­tar­i­an jiha­di groups could begin to get a foothold, and in which region­al pow­ers could begin to look for local auxiliaries.
The upris­ing has sub­se­quent­ly been slow­ly stran­gled in a mesh of client-rela­tion­ships as, ini­tial­ly unarmed and help­less in the face of Assad's forces, its var­i­ous pre­sump­tive lead­er­ships aligned with Turkey, Qatar, Sau­di Ara­bia, France, any­one who would offer lever­age or weapons. It has devel­oped with­in its ranks what looks like a coun­ter­rev­o­lu­tion with­in the rev­o­lu­tion, as sec­tar­i­an jihadis such as Al Nus­ra (mis­lead­ing­ly referred to as ​"Al Qai­da") have tak­en over freed towns and jailed oppo­si­tion activists. The for­ma­tion of a new oppo­si­tion group, fed­er­at­ing eleven Islamist groups in oppo­si­tion to the Nation­al Coali­tion, indi­cates that the jihadis are gain­ing ground. Notably, this alliance includes not just the extant Islamist groups but also sec­tions of the Free Syr­i­an Army.
There is a rev­o­lu­tion, but it is los­ing. It is some­times sug­gest­ed that the revolution's major dif­fi­cul­ty has been a lack of weapons rel­a­tive to the state's over­whelm­ing mil­i­tary strength. If only the rev­o­lu­tion was armed with some­thing oth­er than a few Sau­di or Qatari sup­plied pea-shoot­ers… It's a nice thought, but it's already out­dat­ed. It has tak­en some time and some fran­tic nego­ti­a­tions, but weapons from the U.S. are in fact being deliv­ered to the Syr­i­an oppo­si­tion. France has been involved in train­ing oppo­si­tion fight­ers, and the U.S. has been train­ing a more lim­it­ed num­ber of FSA sol­diers in Jor­dan. The arms are main­ly ​'light' weapon­ry such as machine guns for the moment, although it also includes sophis­ti­cat­ed non-lethal equip­ment to help weath­er attacks and coor­di­nate offensives.
More to the point, there is so much more hold­ing back the rev­o­lu­tion than a lack of weapons. While it doesn't do to wag fin­gers at peo­ple fight­ing for their lives and polit­i­cal free­dom, it is essen­tial to sober­ly recog­nise the lim­its of the rev­o­lu­tion­ary process in Syria.
But first, from an ana­lyt­i­cal per­spec­tive, it is impor­tant not to reify ​"the régime." There is no ​"the régime" in any sim­ple way; as with any state, there is only a set of rela­tions between var­i­ous insti­tu­tions and forces oper­at­ing in and through them. There are diver­gent inter­ests and con­flicts — indeed, this very fact may help explain how a chem­i­cal weapons attack was per­pe­trat­ed on civil­ians while UN weapons inspec­tors were in the coun­try. Had the rev­o­lu­tion suc­ceed­ed in win­ning over a sig­nif­i­cant com­po­nent of the régime's base, it seems very like­ly that more state forces would have bro­ken away than in fact did, and the mil­i­tary sit­u­a­tion would have been decid­ed­ly dif­fer­ent. Pol­i­tics is the dom­i­nant fac­tor here; mil­i­tary con­se­quences follow.
A sig­nif­i­cant fac­tor in the revolution's fail­ure to spread is that the oppo­si­tion has been hope­less­ly divid­ed through­out this fight. The found­ing of the Nation­al Coali­tion for Syr­i­an Rev­o­lu­tion­ary and Oppo­si­tion Forces, (rep­re­sent­ing a fusion of all the major Islamist and sec­u­lar forces, and incor­po­rat­ing the Free Syr­i­an Army (FSA) and the Local Coor­di­nat­ing Com­mit­tees), was sup­posed to have over­come this. Like­wise, the for­ma­tion of the Supreme Joint Mil­i­tary Com­mand was to have over­come the oper­a­tional divi­sions between fight­ing forces. Between them, these two organ­i­sa­tions would form the basis for a post-Assad gov­ern­ment and secu­ri­ty force. In prac­tice, there is lit­tle coor­di­na­tion or polit­i­cal fed­er­a­tion between the forces fight­ing on the ground. Com­mand struc­tures have improved, but remain dis­ar­tic­u­lat­ed, and diverse sources of fund­ing and weapons inhib­it uni­ty. The lead­er­ship in the Nation­al Coun­cil is divid­ed between clients of dif­fer­ent Gulf regimes.
The sec­tar­i­an­ism built into the Syr­i­an state has also under­mined the prospects for uni­ty. The troops, intel­li­gence and police oper­a­tives work­ing for the régime are over­whelm­ing­ly Alaw­ites. The pro­test­ers Assad began by mur­der­ing were over­whelm­ing­ly Sun­ni, and his response to the upris­ing has been to char­ac­terise it as a Sun­ni fun­da­men­tal­ist attack on the Alaw­ite minor­i­ty. This not only vil­i­fied the oppo­si­tion, but also linked the fate of reli­gious minori­ties — above all the Alaw­ites — to the fate of the régime. The tox­ic inter­sec­tion of vio­lent repres­sion and sec­tar­i­an fomen­ta­tion on the part of the state was esca­lat­ed with the deploy­ment of the shabi­ha (loy­al­ist mili­tias dressed in civil­ian cloth­ing), who have car­ried out some of the worst atroc­i­ties. It is patro­n­is­ing to claim that sec­tar­i­an­ism in the oppo­si­tion is just a reflec­tion of the régime's behav­iour. But the régime's divide-and-con­quer strat­e­gy cer­tain­ly fueled the spread of exist­ing sec­tar­i­an­ism and helps to explain — in tan­dem with the man­i­fest weak­ness­es of the extant sec­u­lar oppo­si­tion — how organ­ised sec­tar­i­an forces have come to the fore in the opposition.
Notably, a major point of divi­sion with­in the rev­o­lu­tion is pre­cise­ly the issue of US impe­ri­al­ism. It has been clear for a while that the dom­i­nant oppo­si­tion fig­ures were look­ing for mil­i­tary inter­ven­tion to tip the bal­ance of forces in their favour. The US, respond­ing to the sarin gas attack in a Dam­as­cus sub­urb, recent­ly threat­ened mil­i­tary inter­ven­tion, and, despite the evi­dent reluc­tance of allies to join in a full bomb­ing attack, Oba­ma began expand­ing the US Navy's pres­ence in the Mediter­ranean in prepa­ra­tion for an attack. The ratio­nale for the attack — which has been seem­ing­ly deferred indef­i­nite­ly pend­ing the out­come of U.S.-Russian nego­ti­a­tions — was to ​"pun­ish" the use of chem­i­cal weapons: a more futile argu­ment for war has rarely been offered. ​"Pun­ish­ment" in this con­text is incred­i­bly neb­u­lous: any­thing from break­ing a win­dow to destroy­ing some mil­i­tary instal­la­tions to full-scale inva­sion could con­sti­tute ​"pun­ish­ment." How much ​"pun­ish­ment" is suf­fi­cient? What can be achieved by this that could not be achieved by the usu­al elite nego­ti­a­tions? At any rate, the Syr­i­an oppo­si­tion is divid­ed, with the jiha­di groups posi­tion­ing them­selves as the most hard­ened anti-impe­ri­al­ists. Full-blown war­fare has bro­ken out in the areas freed from gov­ern­ment con­trol between FSA bat­tal­ions and jihadists, who are in turn wag­ing a mil­i­tary strug­gle among themselves.
This rag­ing bat­tle is all the more inca­pac­i­tat­ing giv­en the dis­pro­por­tion­ate role that salafist jiha­di groups have assumed in the armed strug­gle. Despite cer­tain alarmist reports which tend to merge salafist fight­ers with ​'Islamists' in toto, these par­tic­u­lar Islamist groups — who prac­tise a lit­er­al­is­tic and puri­tan­i­cal ver­sion of Islam — prob­a­bly rep­re­sent a minor­i­ty of the total fight­ers. But the salafists are nonethe­less bet­ter organ­ised, accord­ing to the UN com­mis­sion report, they have tak­en part in every major mil­i­tary oper­a­tion of the oppo­si­tion and have led a num­ber of them. Accord­ing to For­eign Pol­i­cy, ​"jihadists are still the rebels' most lethal weapon. Jihadist sui­cide attacks have been respon­si­ble for some of the most impor­tant strate­gic gains recent­ly: Rebel groups besieged Men­nagh mil­i­tary air­base in Alep­po for more than a year, for exam­ple, but were unable to com­plete­ly cap­ture it — until [the jiha­di group] ISIS dis­patched its sui­cide bombers on Aug. 5. The same thing hap­pened at the Hamidiya mil­i­tary com­plex in the north­ern province of Idlib last month." The salafists' dis­pro­por­tion­ate role exac­er­bates sec­tar­i­an­ism and sup­press­es oppo­si­tion activism, retard­ing the devel­op­ment of the revolution.
It seems extreme­ly unlike­ly at this point that the rev­o­lu­tion will suc­ceed. It was nev­er going to be easy to break away the régime's base, but if it hasn't hap­pened before this point in the strug­gle, it is less like­ly to hap­pen now. The sec­tar­i­an dynam­ic which the state has done so much to cul­ti­vate has a feed­back effect in con­sol­i­dat­ing the uni­ty and deter­mi­na­tion of loy­al­ist fight­ers. There appear to be no good out­comes. The Syr­i­an oppo­si­tion may be forced to choose between years of a just war against a régime degen­er­at­ing fur­ther into civ­il war and sec­tar­i­an mur­der with­in a tri­par­tite Syr­ia, and an unjust peace, most like­ly nego­ti­at­ed between the US and Rus­sia as much as between the oppo­si­tion and the Syr­i­an pow­er bloc. Only Syr­i­ans can make that choice; oth­ers are for­tu­nate not to have to.
Richard Sey­mour
is a North­ern Irish writer and own­er of the pop­u­lar blog Lenin's Tomb. He has writ­ten for The Guardian, Lon­don Review of Books, and Al Jazeera and is the author of sev­er­al books, most recent­ly Cor­byn: The Strange Rebirth of Rad­i­cal Pol­i­tics (Ver­so).