The Absolute Buoyancy: Why Corbyn and Labour Are Up and the Conservatives Are Down
The message from recent party conferences was clear: Labour is ascendant, while UK voters are tiring of Theresa May and the Tories.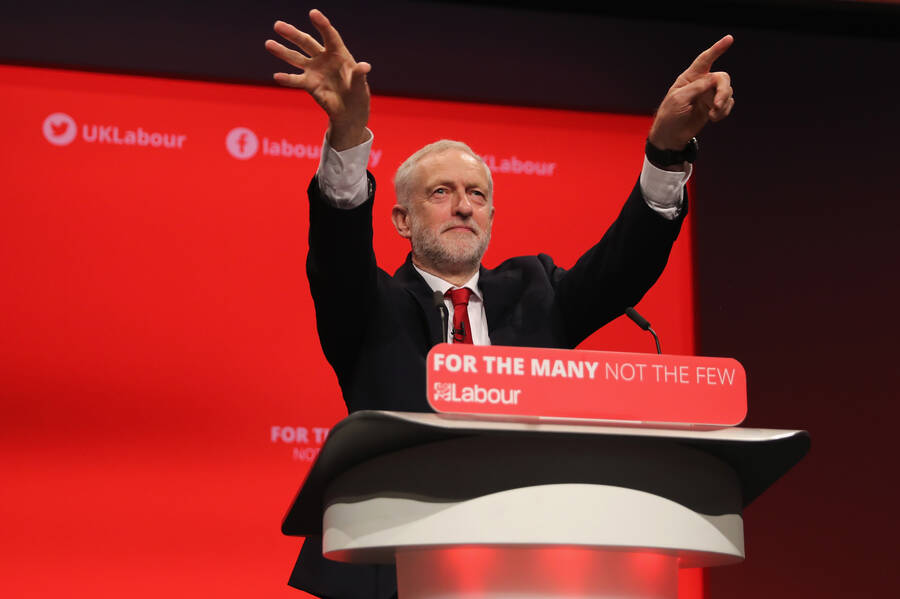 There­sa May's dream, ​"the British Dream" in her words, is turn­ing out to be a night­mare. ​"Like your worst anx­i­ety dream," as the BBC put it, ​"play­ing out for real."
A new poll by BMG research shows that Labour holds a 5-point lead over the Tories among the general public, with voters now preferring Corbyn to May as their choice for Prime Minister.
Fol­low­ing the car­ni­va­lesque atmos­phere of the Labour Par­ty con­fer­ence in late Sep­tem­ber, Prime Min­is­ter May's speech at last week's Con­ser­v­a­tive Par­ty con­fer­ence came off as an extra­or­di­nary come down. The speech may have been writ­ten to recall the lyri­cal cadences of the West Wing's Pres­i­dent Bart­let, but it implod­ed upon May's read­ing. A slo­gan on the conference's set, promis­ing a coun­try that ​"works for every­one," self-destruc­t­ed as she spoke. A pro­test­er hand­ed her a fake P45 notice announc­ing her ter­mi­na­tion. Her voice ground down to a hoarse whis­per, as she coughed and strug­gled through her words.
It wasn't just bad pre­sen­ta­tion, how­ev­er. The Con­ser­v­a­tives appeared trau­ma­tized, as though some­thing had crashed through all their defences, leav­ing them blind­ly tear­ing at one anoth­er. May is drag­ging out her lead­er­ship, seem­ing­ly flaunt­ing her incom­pe­tence in the process. Her rivals are refus­ing to let her stand down, even though they con­tin­ue to sab­o­tage her — for­eign sec­re­tary Boris John­son is effec­tive­ly run­ning an open lead­er­ship cam­paign in the right-wing press. The mutu­al blood-let­ting is the behav­iour of peo­ple unit­ed only by dis­as­ter and the fear of worse to come.
That dis­as­ter, for the Tories, has been Jere­my Corbyn's ascen­dant Labour Par­ty. In the June elec­tion, Labour unex­pect­ed­ly attract­ed mil­lions of new vot­ers and expe­ri­enced its biggest increase in elec­toral sup­port since 1945, destroy­ing both May's par­lia­men­tary major­i­ty and her aura of auto­crat­ic pow­er. A new poll by BMG research shows that Labour holds a 5‑point lead over the Tories among the gen­er­al pub­lic, with vot­ers now pre­fer­ring Cor­byn to May as their choice for Prime Minister.
The June elec­tion wasn't just dif­fi­cult for the Tories. It showed that all the old tru­isms no longer held up. The Left was sup­posed to be une­lec­table. Non-vot­ers were sup­posed to be lost to the vot­ing sys­tem. The reac­tionary press was sup­posed to crush any­one too left-wing, espe­cial­ly if they could be defamed as anti-British, as Cor­byn relent­less­ly was. All the old ver­i­ties were made to walk a tightrope in that elec­tion, and plum­met­ed down to earth, one by one.
Delayed cel­e­bra­tion
For the Tories, the cur­rent night­mare didn't start with this month's con­fer­ence: it has been drag­ging on for months.
A well-attend­ed fringe meet­ing at the Con­ser­v­a­tive con­fer­ence fea­tured a pan­el titled, ​"Is the intel­lec­tu­al ini­tia­tive now with the Left?" The par­tic­i­pants' melan­choly answer, over­whelm­ing­ly, was yes. A sim­i­lar sad­ness has befall­en the so-called ​"Cen­trist Dad" demo­graph­ic, which has been the sub­ject of glee­ful meme mak­ing by Cor­bynistas. There was a time when Labour's cen­ter-right had nov­el­ty, glam­our and ideas, a pro­fu­sion of think-tanks and pub­li­ca­tions sup­port­ing it. It was nev­er a grass­roots move­ment, but it had dynamism. No more.
The cen­ter of intel­lec­tu­al grav­i­ty dur­ing this year's Labour con­fer­ence instead was a rau­cous fringe event, run by the left-wing, Cor­byn-sup­port­ing group Momen­tum, called ​"The World Trans­formed." Meet­ings at the event were packed, fea­tur­ing dozens of high pro­file intel­lec­tu­als and celebri­ties such as Nao­mi Klein and David Har­vey, as well as Labour MPs includ­ing Diane Abbott and Jere­my Cor­byn. Buzzfeed's Jim Water­son report­ed one cen­trist del­e­gate, exit­ing the Momen­tum event, as say­ing, ​"Every­one in there is more attrac­tive and talk­ing about more inter­est­ing things."
The cel­e­bra­to­ry atmos­phere felt like a delayed reac­tion to Corbyn's 2015 elec­tion as Labour leader. At the time, many on the Left had been too wary, too bat­tle-scarred, too wor­ried about the fragili­ty of the gain, to cel­e­brate much. And Corbyn's lead­er­ship was imme­di­ate­ly under attack by a Labour Right deter­mined to see off this inter­lop­er as soon as it could con­ve­nient­ly be arranged.
The dam­age done by this dis­rup­tion, the strength of anti-immi­grant sen­ti­ment sig­nalled by Brex­it and the con­stant media fire from both the Tories and Labour's right-flank all com­pound­ed such ret­i­cence. Since Labour's shock­ing show­ing on elec­tion night, how­ev­er, the sense among the party's hun­dreds of thou­sands of mem­bers has been gid­di­ness and exu­ber­ance, years of inter­nalised defeat giv­ing way to absolute buoyancy.
What comes next
Along with the jubilee of delayed cel­e­bra­tion, those on the Labour Left are also aware they're part of an upward tra­jec­to­ry that comes with con­sid­er­able his­tor­i­cal respon­si­bil­i­ty. Labour's suc­cess isn't due sole­ly to a long-term curve to the left among younger gen­er­a­tions. Since the Gren­fell fire — in which dozens of work­ing-class peo­ple, many of them migrant work­ers, lost their lives — a new pop­u­lar class con­scious­ness has begun to form in Britain.
This mat­ters because Corbyn's analy­sis has nev­er stopped at elec­tions. His mes­sage has always held that Labour has to orga­nize ordi­nary work­ing-class peo­ple, in unions and social move­ments, to defend their inter­ests and look out for one anoth­er. It is this momen­tous task that now faces the Left in Britain. A left-wing Labour gov­ern­ment with­out such an active base would be iso­lat­ed, encir­cled by hos­tile forces.
So it was crit­i­cal that Labour's con­fer­ence didn't focus only on poli­cies and motions. Thanks to Momen­tum, it also took on bold ideas and dif­fi­cult orga­ni­za­tion­al ques­tions — indus­tri­al strat­e­gy, antifas­cism, afford­able hous­ing, fem­i­nist strug­gles — that stand out­side any gov­ern­ing frame of reference.
Yes, Cor­byn and Labour are prepar­ing for the chance to gov­ern. But the move­ments sup­port­ing them are await­ing the chance to change the coun­try, irreversibly.
Richard Sey­mour
is a North­ern Irish writer and own­er of the pop­u­lar blog Lenin's Tomb. He has writ­ten for The Guardian, Lon­don Review of Books, and Al Jazeera and is the author of sev­er­al books, most recent­ly Cor­byn: The Strange Rebirth of Rad­i­cal Pol­i­tics (Ver­so).