Jeremy Corbyn and Labour May Just Upend British Politics from the Left
No matter the outcome, Corbyn has surprised his critics and built a stronger opposition.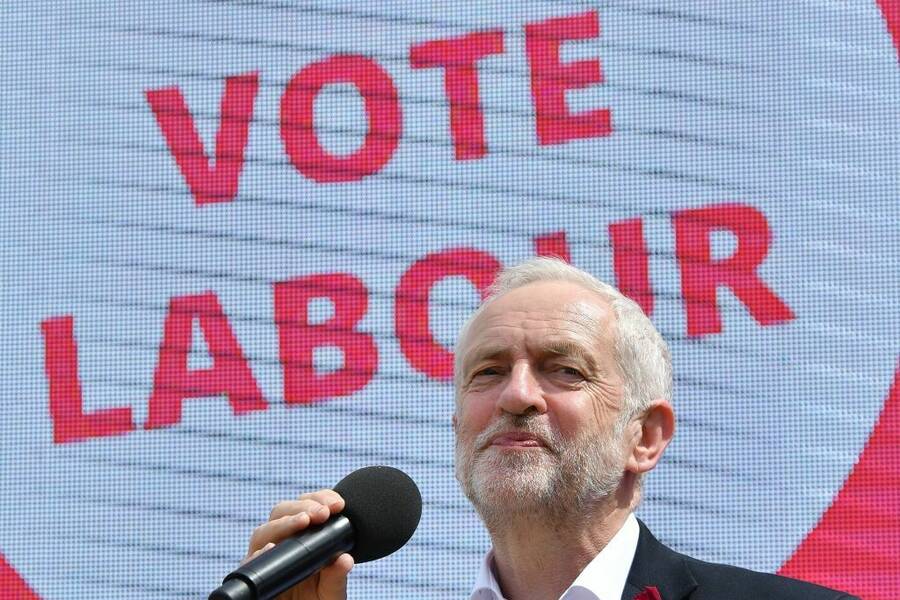 What­ev­er Jere­my Cor­byn has achieved in this elec­tion, he has done so against the odds.
"The language of aspiration no longer belongs to the Right."
Asked about his slim chances of being elect­ed Prime Min­is­ter of Britain ear­ly in the 2017 cam­paign, he replied: ​"In 2015, almost exact­ly two years ago, I was giv­en 200 – 1 as an out­side chance." And just ear­ly last month, polls showed his chances of win­ning look­ing sim­i­lar­ly abysmal.
Today, just one day from the elec­tion, Labour is rid­ing high. Some polls have put Corbyn's par­ty with­in a whisker of 40 per­cent of the vote. Even the least opti­mistic polls have Labour scor­ing in the mid-30s, sug­gest­ing a sur­prise improve­ment from the last gen­er­al elec­tion two years ago.
The Con­ser­v­a­tives are still the strong favorite to win. But how have Cor­byn and Labour come this close? When this snap elec­tion was called in April, Labour was polling at close to a quar­ter of the vote, its low­est scor­ing in decades. Corbyn's approval rat­ings were at rock bot­tom. The Con­ser­v­a­tives were lead­ing by 20 points, buoyed by sup­port from for­mer vot­ers for UKIP — the hard-right par­ty — fol­low­ing the Brex­it vote.
The post-Brex­it uni­fi­ca­tion of the right-wing threat­ened to cre­ate con­ser­v­a­tive majori­ties in sur­pris­ing places, turn­ing for­mer Labour heart­lands over to the Tories.
Ear­ly in the race, some politi­cians from Labour's right-wing — after try­ing to sab­o­tage par­ty lead­er­ship by essen­tial­ly mount­ing a coup — attempt­ed to throw the elec­tion by resign­ing or even call­ing for a vote against Cor­byn. Many pun­dits ques­tioned whether Cor­byn had any chance of remain­ing leader of the par­ty after the election.
The Tories, on the oth­er hand, had a well-financed polit­i­cal machine head­ed by the PR strate­gist Lyn­ton Cros­by, an expert smear mer­chant. Cros­by deter­mined that the ​"wedge" issue most like­ly to split the Labour vote would be Corbyn's past sup­port for Irish repub­li­can­ism, which the Tories con­strued in spin to the press and cam­paign ads as ​"links to the IRA."
These attacks have been part of a larg­er strat­e­gy by the Tories to paint Cor­byn as weak on nation­al secu­ri­ty. With two major ter­ror attacks in the UK this elec­tion sea­son, in Man­ches­ter and Lon­don, one might expect Labour to be run­ning scared.
Not a bit of it. In response to the Man­ches­ter Are­na mas­sacre, car­ried out by a jiha­di des­per­a­do pun­ish­ing young peo­ple for enjoy­ing them­selves, it was Labour who expressed pop­u­lar com­mon sense. Per­haps in the past, the demand for vio­lent ret­ri­bu­tion would have tak­en prece­dence. Corbyn's sup­port for Irish repub­li­can­ism would have proved ruinous for his candidacy.
But the Good Fri­day agree­ment is near­ly 20 years old, and few British vot­ers are still sus­cep­ti­ble to the old ​"Pad­dy Pan­ic." Those of us who grew up in the era of the ​"war on ter­ror" knew it to be bloody and counterproductive.
Corbyn's speech fol­low­ing the Man­ches­ter attack, cri­tiquing the ​"war on ter­ror," improved his stand­ing as a states­man. He railed against an unre­strained mil­i­tary response, call­ing instead for British politi­cians and vot­ers to ​"be brave enough to admit the war on ter­ror is sim­ply not work­ing." Rather than being slammed in the polls, the speech was wide­ly well-received, with 53 per­cent of the pub­lic agree­ing with Cor­byn and only 24 per­cent disagreeing.
Labour has also had a string of pub­lic­i­ty suc­cess­es, includ­ing Corbyn's sur­prise, rap­tur­ous­ly received appear­ance at a per­for­mance by the new­ly reformed rock group the Lib­ertines at the Tran­mere Rovers foot­ball sta­di­um in Birkenhead.
In tele­vi­sion appear­ances, he has come out look­ing much bet­ter than his oppo­nent There­sa May. And Labour has been able to increase the party's appeal to young vot­ers by draw­ing the sup­port of a string of grime artists — a pop­u­lar music genre in the UK — and influ­en­tial music mag­a­zines like NME and Ker­rang!.
Per­haps most impor­tant­ly, Labour's man­i­festo has been instru­men­tal in ener­giz­ing sup­port­ers and con­vert­ing unde­cid­ed voters.
The man­i­festo, report­ed­ly leaked by Corbyn's oppo­nents in Labour to sab­o­tage his cam­paign, has been deci­sive in build­ing sup­port for the par­ty. Polling has shown that its key poli­cies, assailed by the press as ​"unre­al­is­tic," are, in fact, extreme­ly pop­u­lar. These include:
Re-nation­al­iz­ing ener­gy and rail services;
Scrap­ping tuition fees and rein­tro­duc­ing main­te­nance grants for stu­dents, as part of a cra­dle-to-grave, free Nation­al Edu­ca­tion Service;
Address­ing the hous­ing cri­sis by build­ing

100

,

000

afford­able homes a year;
Revers­ing pri­va­ti­za­tion in the Nation­al Health Service;
Rais­ing the min­i­mum wage to £

10

an hour by

2020

and ban­ning exploita­tive zero-hours contracts.
And Labour's solu­tion for pay­ing for these invest­ments? Tax­ing the rich and large corporations.
The lan­guage of ​"oppor­tu­ni­ty" and ​"aspi­ra­tion" has long been asso­ci­at­ed with the Right. This neolib­er­al ver­sion of ​"aspi­ra­tion" holds that the state only gets in the way of indi­vid­ual ini­tia­tive con­cern­ing eco­nom­ic affairs.
But with younger gen­er­a­tions being frozen out of the hous­ing and labor mar­kets, and stu­dents fac­ing a pri­va­tized high­er edu­ca­tion sys­tem dom­i­nat­ed by a British ​"Ivy League" scoop­ing up the best resources, the lan­guage of aspi­ra­tion no longer belongs to the Right.
For a grow­ing num­ber of Britons, our aspi­ra­tions are col­lec­tive, our oppor­tu­ni­ties depen­dent on democ­ra­cy rather than the mar­ket. And this is a fun­da­men­tal rea­son why Labour has gained momen­tum — by appeal­ing to the col­lec­tive rather than the individual.
Final­ly, the Con­ser­v­a­tive cam­paign has been abysmal. It has been imped­ed by May's refusal to attend debates, her pref­er­ence for offer­ing robot­ic poll-test­ed catch­phras­es, rather than answers to ques­tions, and her ten­den­cy to make pol­i­cy deci­sions through a close-knit clique.
The pol­i­cy of mak­ing the elder­ly pay for their own social care through the sale of their home, for exam­ple, was insert­ed into the Con­ser­v­a­tive man­i­festo by May and a small group of advis­ers. Its unpop­u­lar­i­ty forced an undig­ni­fied U‑turn for her campaign.
Cor­byn, as a social demo­c­rat steeped in activism, has dis­played pre­vi­ous­ly hid­den strengths through this cam­paign, con­nect­ing with vot­ers in a way few pun­dits thought pos­si­ble mere weeks ago. May's weak­ness­es, pre­vi­ous­ly buffered by a friend­ly Tory press, have in turn become much more pronounced.
The sit­u­a­tion still favors a Con­ser­v­a­tive win. Post-Brex­it realign­ment, the fear of the unfa­mil­iar among swing vot­ers and a low turnout among Labour sup­port­ers would like­ly point toward a major­i­ty for May.
But after this cam­paign, only a fool would rule out an impres­sive show­ing by Labour. Even if the par­ty falls behind, as most polls pre­dict, by dri­ving up Labour's vote with a strong left-wing cam­paign, Cor­byn will have sur­prised his crit­ics and built a stronger oppo­si­tion ready for future suc­cess. And that is already a tremen­dous achievement.
Richard Sey­mour
is a North­ern Irish writer and own­er of the pop­u­lar blog Lenin's Tomb. He has writ­ten for The Guardian, Lon­don Review of Books, and Al Jazeera and is the author of sev­er­al books, most recent­ly Cor­byn: The Strange Rebirth of Rad­i­cal Pol­i­tics (Ver­so).