Actually, Bernie Sanders Isn't a Crackpot—He Favors Policies the Majority of Americans Want
Despite what corporate Democrats and the Bernie-bashing mainstream media might tell you, Main Street America favors left-leaning policies.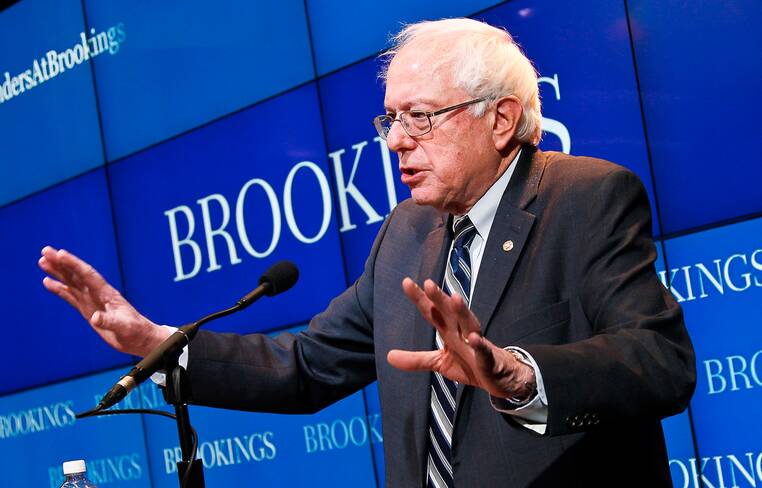 Con­gress­man John K. Delaney, what the hell are you talk­ing about?
If Senator Sanders is a crackpot, so are the majority of Americans. The ideas and policies he espouses have far more public support than the journalist habitués of Capitol Hill and Pennsylvania Avenue would have you believe.
In a recent Wash­ing­ton Post op-ed piece, head­lined, ​"The last thing Amer­i­ca needs? A left-wing ver­sion of the Tea Par­ty," the Demo­c­ra­t­ic con­gress­man from Mary­land scolds pro­gres­sives and express­es his wor­ry ​"about where some of the loud­est voic­es in the room could take the Demo­c­ra­t­ic Party."
He writes, ​"Reject­ing a trade agree­ment with Asia, expand­ing enti­tle­ment pro­grams that crowd out oth­er pri­or­i­ties and a desire to relit­i­gate the finan­cial cri­sis are becom­ing dom­i­nant posi­tions among Democ­rats. Although these sub­jects may make for good par­ti­san talk­ing points, they do not pro­vide the build­ing blocks for a pos­i­tive and bold agen­da to cre­ate jobs and improve the lives of Americans."
Rep. Delaney even implies that a free­wheel­ing, open dis­cus­sion of ​"these sub­jects" could lead to the elec­tion of a Repub­li­can president.
Good grief, John. A trade agree­ment that favors multi­na­tion­al cor­po­ra­tions over work­ing peo­ple? Cut­ting ​"enti­tle­ment pro­grams" such as Social Secu­ri­ty, Medicare, Med­ic­aid, worker's com­pen­sa­tion? Let­ting Wall Street off the hook for crash­ing the econ­o­my and cost­ing mil­lions of Amer­i­cans their jobs and homes? These are Repub­li­can poli­cies, bought and paid for by plu­to­crats. If Democ­rats sim­ply mim­ic them, there would be no need to both­er with vot­ing for a Repub­li­can pres­i­dent; we could can­cel the elec­tion and put the bil­lions saved in cam­paign con­tri­bu­tions straight into the Clin­ton Foundation.
The pro­gres­sive agen­da isn't ​"left wing." (Can any­one using the term even define what ​"left wing" means any­more?) The pro­gres­sive agen­da is America's sto­ry — from end­ing slav­ery to end­ing seg­re­ga­tion to estab­lish­ing a woman's right to vote to Social Secu­ri­ty, the right to orga­nize, and the fight for fair pay and against income inequal­i­ty. Strip those from our his­to­ry and you might as well con­tract Amer­i­ca out to the US Cham­ber of Com­merce the Nation­al Asso­ci­a­tion of Man­u­fac­tur­ers, and Karl Rove, Inc.
At their core, the New Deal, Fair Deal, and Great Soci­ety pro­grams were aimed at assur­ing every child of a decent edu­ca­tion, every work­er a decent wage, and every senior a decent retire­ment; if that's extreme, so are the Dec­la­ra­tion of Inde­pen­dence and the Pre­am­ble to the Constitution.
But such is the lev­el of what pass­es for dis­course inside the Belt­way these days. The cush­ioned polit­i­cal and media elites who eat, drink, and make mer­ry with each oth­er at the annu­al White House Cor­re­spon­dents & Celebri­ty Ball are so cozy up there in the stratos­phere that they dis­miss as the lunatic fringe any voice from below that chal­lenges the sta­tus quo.
And by the way, John, the ​"loud­est voic­es in the room" aren't pop­ulists or pro­gres­sives; they belong to the auc­tion­eers sell­ing our gov­ern­ment to the high­est bidders.
Can you believe this? Rep. Delaney even thinks that pro­gres­sives are too engaged ​"in time-con­sum­ing rhetoric attack­ing banks that has lit­tle chance of pro­duc­ing more finan­cial reform and dis­tracts from far more con­se­quen­tial areas of eco­nom­ic risk…" Yet his words come on the heels of anoth­er round of bil­lions in fines against the big banks for per­pe­trat­ing fraud, an ongo­ing attempt by Repub­li­can Sen­a­tor Richard Shel­by and his Wall Street-fund­ed col­leagues on the Sen­ate Bank­ing Com­mit­tee to evis­cer­ate the reforms of Dodd-Frank, and an updat­ed report from the Uni­ver­si­ty of Notre Dame and law firm Laba­ton Sucharow that says, ​"Near­ly sev­en years after the glob­al finan­cial cri­sis rocked investors' con­fi­dence in the mar­kets and finan­cial ser­vices in gen­er­al, our sur­vey clear­ly shows that a cul­ture of integri­ty has failed to take hold. Numer­ous indi­vid­u­als con­tin­ue to believe that engag­ing in ille­gal or uneth­i­cal activ­i­ty is part and par­cel of suc­ceed­ing in this high­ly com­pet­i­tive field." (And why not, when the chances of going to prison for your bla­tant mis­deeds are vir­tu­al­ly nil?)
But Rep. Delaney seems to think any objec­tion to these behav­iors and oth­er mis­deeds just jams the works and keeps the grownups from tak­ing care of busi­ness. So does for­mer Mitt ("47 per­cent") Rom­ney advi­sor and George W. Bush (slash tax­es on the One Per­cent!) speech­writer Peter Wehn­er, who recent­ly warned in The New York Times that many Democ­rats ​"are plac­ing a very risky bet that there are vir­tu­al­ly no lim­its to how far left they can go."
How about far enough left to reach Main Street?
Just take a look at the ini­tial press reac­tion to Ver­mont Sen­a­tor Bernie Sanders' pres­i­den­tial can­di­da­cy. As Steve Hen­dricks observed in the Colum­bia Jour­nal­ism Review, ​"For not going with the flow, and for chal­leng­ing Hillary Clin­ton, the big fish many elites have tagged as their own, Sanders's entry into the race was greet­ed with sto­ry after sto­ry whose mes­sage — stat­ed or under­stat­ed, depend­ing on the deco­rum of the mes­sen­ger — was ​'This crank can't win.'"
Hillary Clinton's ​"cor­po­ratism," Hen­dricks writes, ​"wed to her social lib­er­al­ism and her impe­r­i­al hawk­ish­ness appeals to those in the mon­eyed Sec­ond and jour­nal­is­tic Fourth Estates who would embrace Repub­li­can­ism but for its misog­y­nis­tic, homo­pho­bic, racist, sci­ence-deny­ing core." And so Sanders was tarred at the out­set as a doomed crack­pot can­di­date, fol­lowed then by arti­cle after arti­cle that fix­at­ed not on ideas and poli­cies but on var­i­ous idio­syn­crasies, Sanders' age and hip­pie past, the ide­ol­o­gy of demo­c­ra­t­ic social­ism, and for heaven's sake, his fly­away hair.
But if Sen­a­tor Sanders is a crack­pot, so are the major­i­ty of Amer­i­cans. The ideas and poli­cies he espous­es have far more pub­lic sup­port than the jour­nal­ist habitués of Capi­tol Hill and Penn­syl­va­nia Avenue would have you believe.
Juan Cole of the blog Informed Com­ment pulled togeth­er some of the figures:
Some 63 per­cent of Amer­i­cans agree that the cur­rent dis­tri­b­u­tion of wealth is unfair. And in a Gallup poll done ear­li­er this month, a major­i­ty, 52 per­cent, think that gov­ern­ment tax­a­tion on the rich should be used to reduce the wealth gap… A major­i­ty of Amer­i­cans oppose the Supreme Court Cit­i­zens Unit­ed rul­ing, one of a num­ber of such rul­ings that have increased the abil­i­ty of the super-wealthy to influ­ence pol­i­tics. A good half of Amer­i­cans sup­port fed­er­al­ly financed polit­i­cal cam­paigns so as to lev­el the play­ing field… Some79 per­cent of Amer­i­cans believe that edu­ca­tion beyond high school is not afford­able for every­one. And some 57 per­cent of peo­ple under 30 believe stu­dent debt is a prob­lem for youth… Accord­ing to a very recent Yale/​Gallup poll, some 71 per­cent of Amer­i­cans believe glob­al warm­ing is occur­ring, and 57 per­cent are sure that human activ­i­ty (emit­ting green­house gas­es like car­bon diox­ide) is caus­ing it…
There you have it: Far from being an out­sider, Sanders is pad­dling his way along the main­stream of Amer­i­can pub­lic opin­ion. Look at the crowds that are gath­er­ing to hear him speak: More than 3,000 in Min­neapo­lis, Min­neso­ta on Sun­day, stand­ing room only in Ames, Dav­en­port and Iowa City, Iowa. Reporters can't help but take notice now. ​"At cam­paign stops in ear­ly states and else­where, the fire­brand from Ver­mont is draw­ing enthu­si­as­tic crowds that are sev­er­al times larg­er than those that gath­er for [fel­low pres­i­den­tial aspi­rant Mar­tin] O'Malley," notes The Wash­ing­ton Post. And The New York Times: ​"The crowds at Mr. Sanders's Iowa events appeared to be dif­fer­ent from the state's famous­ly finicky tire-kick­ers. Many said they had already made up their mind to sup­port Mr. Sanders. They applaud­ed his calls for high­er tax­es on the rich to pay for 13 mil­lion pub­lic works jobs, for deci­sive action on cli­mate change and for free tuition at pub­lic colleges."
Oh, how the mighty trem­ble when they hear such things! The mur­mur­ing crowd is their worst night­mare. So plu­to­crat­ic Repub­li­can apol­o­gists like Peter Wehn­er, the cor­po­rate Democ­rats of Clin­ton, Inc., and killjoys like Con­gress­man Delaney will dou­ble down against Bernie Sanders, just as they have against all those in pol­i­tics before them who cham­pi­on bot­tom-up democ­ra­cy. If that means turn­ing ​"left," so be it. For Democ­rats, it's the way home. They would do well to remem­ber that apoc­ryphal say­ing, usu­al­ly attrib­uted to Gand­hi: ​"First they ignore you, then they laugh at you, then they fight you, then you win."
This sto­ry first appeared at Bill​Moy​ers​.com.
Bill Moy­ers is man­ag­ing edi­tor and Michael Win­ship is senior writer of the week­ly pub­lic affairs pro­gram Bill Moy­ers Jour­nal, which airs Fri­day night on PBS.