Washington's Revolving Door: As Old as Lincoln
But these days, it's swinging faster.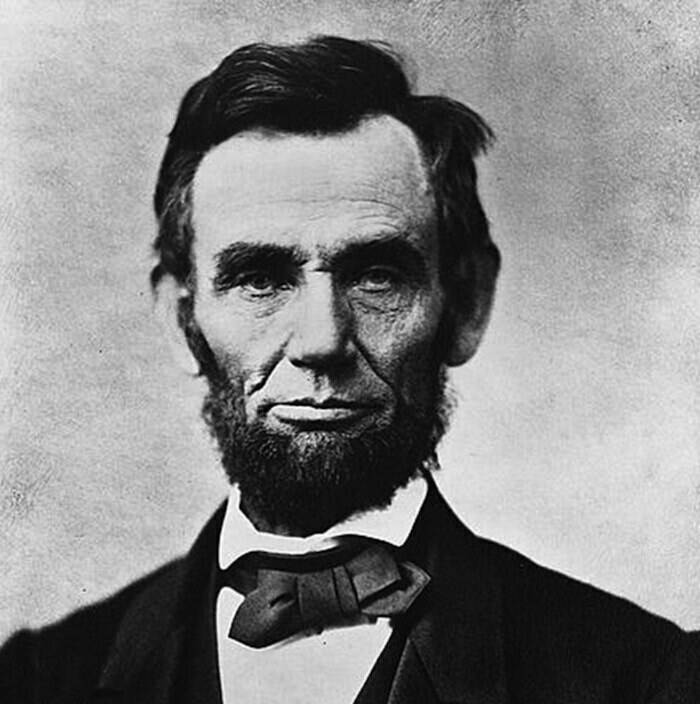 Last week, we talked about the infer­nal revolv­ing door between gov­ern­ment and big busi­ness and how one per­son in par­tic­u­lar, Liz Fowler, has spun through it so many times she may need to take some­thing for motion sick­ness. Which makes it a good thing that she's going back to work as a lob­by­ist for the health care indus­try, where pre­sum­ably she can get a pre­scrip­tion filled.
Of the 119 members of Congress who left after the 2010 elections, roughly a third wound up in the lobby business, hitting up those they left behind for valuable information and favors.
Fowler used to be a lob­by­ist with the health insur­er Well­Point. Then she went to Capi­tol Hill as Sen­a­tor Max Bau­cus' health care reform archi­tect fol­lowed by some time at the Depart­ment of Health and Human Ser­vices and the Oba­ma White House. Now she's head­ed back to the pri­vate sec­tor, going to bat for the med­ical giant John­son & John­son where no doubt her deep insid­er knowl­edge of Wash­ing­ton will be worth every dollar.
We were remind­ed of the revolv­ing door again when Bill spoke with Tony Kush­n­er, the screen­writer of Lin­coln, on this week's edi­tion of Moy­ers & Com­pa­ny. Ear­ly in the film, Lin­coln tells his Sec­re­tary of State William Seward that he wants to ram through a lame duck House of Rep­re­sen­ta­tives the 13th Amend­ment, abol­ish­ing slav­ery. He needs sup­port from his oppo­si­tion, the Demo­c­ra­t­ic Par­ty. Seward says there's none to be had but the polit­i­cal­ly savvy Lin­coln reminds him that 64 Demo­c­ra­t­ic mem­bers have just lost re-elec­tion and will be look­ing for jobs. ​"If procur­ing votes with offers of jobs is what you intend," Seward replies, ​"I'll pro­cure from Albany the skulk­ing men who are suit­ed to this shady work." And so he does.
The more things change, the more they remain the same. The actu­al revolv­ing door may not have been invent­ed until 1888, more than 20 years after Lincoln's death, but the prin­ci­ple already was firm­ly in place back then and still turn­ing ​'round today, espe­cial­ly among depart­ing mem­bers of the House. They're look­ing for jobs and the siren call of K Street is irresistible.
Some didn't wait, and lined up their cushy lob­by­ing posi­tions even before their terms have offi­cial­ly end­ed. Out­go­ing House Rep­re­sen­ta­tive Jason Alt­mire, a Penn­syl­va­nia Demo­c­rat, was a health care lob­by­ist before being elect­ed in 2006. He opposed Oba­macare. Now he's hook­ing up with Flori­da Blue — they run that state's Blue Cross and Blue Shield — as senior vice pres­i­dent for pub­lic pol­i­cy, a fan­cy term for ​"lob­by­ist."
Con­gress­man Mike Ross, Demo­c­rat of Arkansas, fought hard against a rule cut­ting back on dan­ger­ous emis­sions from coal burn­ing pow­er plants. Now he's leav­ing the House and becom­ing senior vice pres­i­dent for gov­ern­ment affairs at South­west­ern Pow­er Pool — that's a group rep­re­sent­ing elec­tric util­i­ties that burn coal for ener­gy — and prof­it. Some coincidence.
Heath Shuler, Demo­c­ra­t­ic rep­re­sen­ta­tive of North Car­oli­na and for­mer NFL quar­ter­back, is help­ing lead the con­gres­sion­al effort to pre­vent a plunge over the so-called fis­cal cliff. Come Jan­u­ary, he moves on to be senior vice pres­i­dent of fed­er­al affairs for the biggest elec­tri­cal pow­er com­pa­ny in the coun­try, Duke Ener­gy. Duke has enjoyed exten­sive tax sub­si­dies and in the years 2008 – 2010 received tax refunds of $216 mil­lion while report­ing five and a half bil­lion dol­lars prof­it. Tim Car­ney, of the con­ser­v­a­tive Wash­ing­ton Exam­in­er news­pa­per, writes that Duke Ener­gy would have prof­it­ed nice­ly if Con­gress had passed cap-and-trade leg­is­la­tion that Duke Pow­er helped draft and Shuler sup­port­ed. So he'll still be work­ing for Duke, just mak­ing more money.
Anoth­er case of coin­ci­dence, appar­ent­ly, which is fun­ny because only a few months ago, Shuler was in total denial when inves­tiga­tive reporters Lee Fang and Ziad Jilani asked him about his future:
Fang: Are you plan­ning to become a lobbyist?
Shuler: No…
Jilani: What do you plan to do after you retire?
Shuler: Have a bet­ter job than you guys have, that's for sure.
In pur­suit of a so-called bet­ter job — a lob­by­ing job — even a House mem­ber who was eas­i­ly reelect­ed is aban­don­ing the ship of state. Repub­li­can Con­gress­woman Jo Ann Emer­son of Mis­souri just won her ninth term with a whop­ping 72 per­cent of the vote. Hard­ly had the vot­ers re-elect­ed Emer­son then she jilt­ed them. She's leav­ing to become head of the Nation­al Rur­al Elec­tric Coop­er­a­tive Asso­ci­a­tion, a lob­by­ing group which over the years — coin­ci­den­tal­ly, of course — has been her largest cam­paign contributor.
An edi­to­r­i­al in the Kansas City Star not­ed, ​"As a con­gress­woman, Emer­son was paid in cam­paign dona­tions to help rur­al elec­tric coop­er­a­tives avoid tough envi­ron­men­tal reg­u­la­tions and reap tax cred­its. As a soon-to-be over­seer of a large staff of lob­by­ists, she'll be paid even more hand­some­ly." We don't know what her new salary will be but the for­mer con­gress­man who had the job two years ago was paid $1.5 mil­lion, a num­ber which would boost Emerson's cur­rent pay­check by 862 percent.
Lobbying's the biggest busi­ness in Wash­ing­ton, after gov­ern­ment and tourism. Accord­ing to James Thurber of Amer­i­can Uni­ver­si­ty, the indus­try spends as much as $8 bil­lion a year and employs some 100,000 peo­ple, includ­ing for­mer gov­ern­ment staffers who make far more than they did on the pub­lic pay­roll. Pro­fes­sion­al head­hunters told the Wash­ing­ton news­pa­per The Hill that ​"for­mer Oba­ma cab­i­net mem­bers could start at $1 mil­lion, depend­ing on their promi­nence at law and lob­by firms." For­mer assis­tants to the pres­i­dent could start at half a mil­lion a year and spe­cial assis­tants could pull in an annu­al pay­check of more than $300,000.
It's a lucra­tive world through that revolv­ing door — no won­der that of the 119 mem­bers of Con­gress who left after the 2010 elec­tions, rough­ly a third wound up in the lob­by busi­ness, hit­ting up those they left behind for valu­able infor­ma­tion and favors. Oh, I know, there are rules now in place that say out­go­ing mem­bers and their staffs can't hit up their col­leagues in gov­ern­ment for a peri­od of time. But you know how it works: ex-Con­gress­man A fol­lows the let­ter of the law but says to his new lob­by­ing col­leagues, call my good friend Con­gress­man B, or Cab­i­net Sec­re­tary C. Tell him or her I said hel­lo. And the deed is done. The bid­ding of big busi­ness is obeyed and the vot­er left flat-foot­ed once again.
Abra­ham Lin­coln — Hon­est Abe — was a real­ist; in anoth­er life he'd been a lawyer serv­ing the inter­ests of the rail­roads. Much of this prob­a­bly wouldn't sur­prise him, and as we see in the movie, he wasn't above back­room deal­ing to achieve a lofti­er goal. The 13th Amend­ment is ​"the great­est mea­sure of the 19th cen­tu­ry," a char­ac­ter says in the film. ​"Passed by cor­rup­tion, aid­ed and abet­ted by the purest man in America."
But the extent of that back­room deal­ing now is stag­ger­ing, and what's espe­cial­ly enrag­ing is how it has become accept­ed, nor­mal behav­ior in Wash­ing­ton — the rich­est and most pow­er­ful cor­po­rate lob­by­ists are held in high­er esteem than those elect­ed to serve. If you're a pub­lic offi­cial — or work­ing for one — you can't keep your mind on the people's busi­ness when your eyes are on the exit — through the revolv­ing door — and the biggest pay­check available.
Reprint­ed with permission.
Bill Moy­ers is man­ag­ing edi­tor and Michael Win­ship is senior writer of the week­ly pub­lic affairs pro­gram Bill Moy­ers Jour­nal, which airs Fri­day night on PBS.