To Save the Soul of the Democratic Party, Rahm Emanuel and Debbie Wasserman Schultz Must Go
If Hillary Clinton wants to convince us she is a progressive, she should call for their resignations.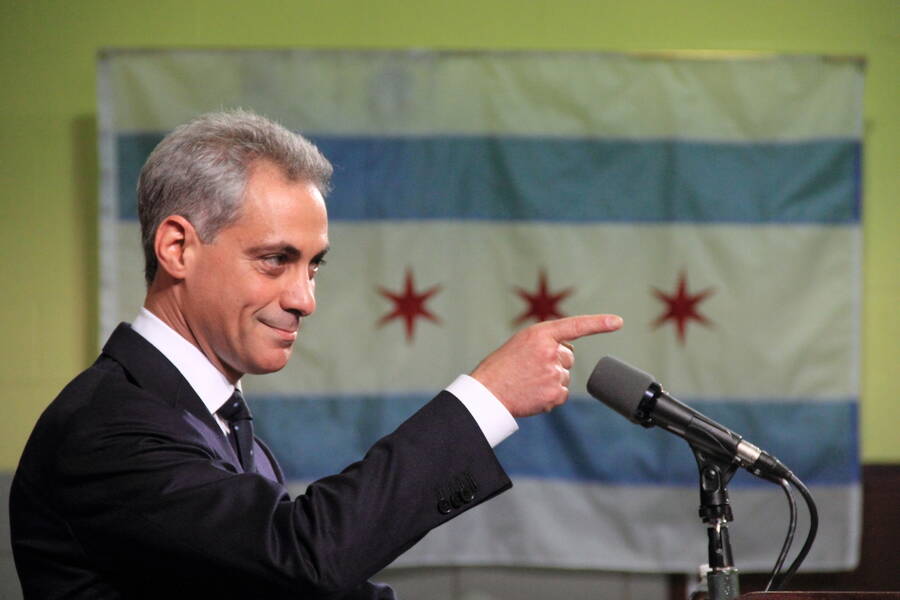 This arti­cle first appeared at Bill​Moy​ers​.com
While Senator Bernie Sanders, campaigning during the Illinois primary, said he would not seek and would not accept the mayor's endorsement, with Secretary Clinton it's business as usual. Emanuel has held fundraisers for her campaign since 2014 so chances are she'll stay mum, take the money and run.
There are two Democ­rats whose res­ig­na­tion from office right now would do their par­ty and coun­try a service.
Their dis­ap­pear­ance might also help Hillary Clin­ton con­vince skep­ti­cal Democ­rats that her nom­i­na­tion, if it hap­pens, is about the future, and not about res­ur­rect­ing and rat­i­fy­ing the worst aspects of the first Clin­ton reign when she and her hus­band rarely met a donor to whom they wouldn't try to auc­tion a sleep­over in the Lin­coln Bedroom.
In fact, while we're at it, and if Sec­re­tary Clin­ton real­ly wants us to believe she's no crea­ture of the cor­po­rate and Wall Street mon­ey machine—despite more than $44 mil­lion in con­tri­bu­tions from the finan­cial indus­try since 2000 and her $675,000 in speak­ing fees from Gold­man Sachs, not to men­tion sev­er­al mil­lion more paid by oth­er busi­ness inter­ests for an hour or two of her time — she should pick up the gaunt­let her­self and pub­licly call for the depar­ture of these two, although they are among her near­est and dear­est. And we don't mean Bill and Chelsea.
No, she should come right out and ask for the res­ig­na­tions of Chica­go May­or Rahm Emanuel and Demo­c­ra­t­ic Nation­al Com­mit­tee Chair — and Flori­da con­gress­woman — Deb­bie Wasser­man Schultz. In one mas­ter­stroke, she could sep­a­rate her­self from two of the most promi­nent of all cor­po­rate Demo­c­ra­t­ic elitists.
Each is a Clin­ton dis­ci­ple and devo­tee, each has prof­it­ed might­i­ly from the asso­ci­a­tion and each rep­re­sents all that is wrong with a Demo­c­ra­t­ic Par­ty that in the pur­suit of mon­ey from rich donors and pow­er­ful cor­po­ra­tions has aban­doned those it once so proud­ly rep­re­sent­ed — work­ing men and women.
Rahm Emanuel first came to promi­nence as head of the finance com­mit­tee for Bill Clinton's 1992 pres­i­den­tial cam­paign, brow­beat­ing ever-increas­ing amounts of mon­ey out of fat cat donors, and fol­low­ing Clin­ton into the White House as a senior advis­er attuned to the wish­es and prof­its of orga­nized wealth. Few pushed hard­er for NAF­TA, a treaty that would cost a mil­lion or more work­ing peo­ple their liveli­hood, or for the ​"three-strikes-and-you're-out" crime bill which Clin­ton lat­er admit­ted was a mis­take. After alien­at­ing most of Wash­ing­ton with his arro­gance and blus­ter Emanuel left in 1998 and went into invest­ment bank­ing in Chica­go, mak­ing more than $16 mil­lion in less than three years.
He came back to Wash­ing­ton as a three-term Illi­nois con­gress­man, chaired the fundrais­ing Demo­c­ra­t­ic Con­gres­sion­al Cam­paign Com­mit­tee (call­ing on his Wall Street sources to get in on the gravy by elect­ing so-called New Democ­rats over New Deal Democ­rats), and soon was back in the White House as Barack Obama's chief of staff. There, he infa­mous­ly told a strat­e­gy meet­ing of lib­er­al groups and admin­is­tra­tion types that the lib­er­als were ​"retard­ed" for plan­ning to run attack ads against con­ser­v­a­tive Democ­rats resist­ing Oba­macare. Classy. Writer Jane Hamsh­er described him as tough guy wannabe but real­ly ​"a brown nose for pow­er ready to rum­ble on behalf of the sta­tus quo."
And now he's may­or of Chica­go, reelect­ed last April for a sec­ond term, but, as his­to­ri­an Rick Perl­stein wrote in The New York­er a cou­ple of months ago, ​"Chicagoans — and Democ­rats nation­al­ly — are suf­fer­ing buyer's remorse."
Remem­ber that shock­ing dash­cam video of a black 17-year-old named Laquan McDon­ald being shot 16 times by a Chica­go police­man while he was walk­ing away? Of course you do; who can for­get it? Remem­ber, too, that for 400 days the police kept the exis­tence of the video secret and did noth­ing about the shoot­ing. Mean­while, the City of Chica­go paid five mil­lion dol­lars to McDonald's fam­i­ly, who at that point had not filed a law­suit. But despite the large sum of mon­ey coughed up by his own admin­is­tra­tion, Emanuel claims he nev­er saw the video. If that's true, he was guilty of dread­ful mis­man­age­ment; if he did know, he's guilty of far worse.
Only after his re-elec­tion was the cov­er-up of the mur­der revealed. In Perlstein's words, ​"Giv­en that he sure­ly would not have been reelect­ed had any of this come out before the bal­lot­ing, a recent poll showed that only 17 per­cent of Chicagoans believe him. And a major­i­ty of Chicagoans now think he should resign."
The Laquan McDon­ald mur­der is just one of the scan­dals on Emanuel's watch: crime and abuse by police run ram­pant, the city's pub­lic schools are a dis­as­ter, the tran­sit system's a mess. Yet while Emanuel has devot­ed lit­tle of his sched­ule to meet­ing with com­mu­ni­ty lead­ers, Perl­stein reminds us that he did, how­ev­er, ​"spend enor­mous blocks of time with the rich busi­ness­men, includ­ing Repub­li­cans, who had show­ered him with cash…" Now many of them have desert­ed him, includ­ing one of his rich­est Repub­li­can — yes, Repub­li­can—con­trib­u­tors, mul­ti­mil­lion­aire Bruce Rauner, who became gov­er­nor of Illinois.
Emanuel should go — and Hillary Clin­ton should say so. But while Sen­a­tor Bernie Sanders, cam­paign­ing dur­ing the Illi­nois pri­ma­ry, said he would not seek and would not accept the mayor's endorse­ment, with Sec­re­tary Clin­ton it's busi­ness as usu­al. Emanuel has held fundrais­ers for her cam­paign since 2014 so chances are she'll stay mum, take the mon­ey and run.
As for Rep. Deb­bie Wasser­man Schultz, she embod­ies the tac­tics that have erod­ed the abil­i­ty of Democ­rats to once again be the par­ty of the work­ing class. As Demo­c­ra­t­ic Nation­al Com­mit­tee chair she has opened the flood­gates for Big Mon­ey, brought lob­by­ists into the inner cir­cle and oiled all the mov­ing parts of the revolv­ing door that twirls between gov­ern­ment ser­vice and cushy jobs in the world of cor­po­rate influence.
She has played games with the party's vot­er data­base, been accused of restrict­ing the num­ber of Demo­c­ra­t­ic can­di­date debates and sched­ul­ing them at odd days and times to favor Hillary Clin­ton, and recent­ly told CNN's Jake Tap­per that super del­e­gates — strong­ly estab­lish­ment and pro-Clin­ton — are nec­es­sary at the party's con­ven­tion so deserv­ing incum­bent offi­cials and par­ty lead­ers don't have to run for del­e­gate slots ​"against grass­roots activists." Let that sink in, but hold your nose against the aro­ma of entitlement.
But here's just about the worst of it. Rep. Wasser­man Schultz — the people's rep­re­sen­ta­tive, right? — has aligned her­self with cor­po­rate inter­ests out to weak­en the Con­sumer Finan­cial Pro­tec­tion Bureau's effort to cre­ate nation­al stan­dards for the pay­day-lend­ing indus­try, a busi­ness that in par­tic­u­lar tar­gets the poor. Pay­day loans, as Yuka Hayashi writes at The Wall Street Jour­nal, ​"are quick cred­its of a few hun­dred dol­lars, with effec­tive annu­al inter­est rates rang­ing between 300 per­cent and 500 per­cent. Loans are due in a lump sum on the borrower's next pay­day, a struc­ture that often sends peo­ple into cycles of debt by forc­ing them to take out new loans to repay the old ones."
Accord­ing to the non­par­ti­san Amer­i­cans for Finan­cial Reform, this tail-chas­ing cycle of ​"turned" loans to pay off pre­vi­ous loans makes up about 76 per­cent of the pay­day loan busi­ness. The Pew Char­i­ta­ble Trust found that in Wasser­man Schultz's home state, the aver­age pay­day loan cus­tomer takes out nine such loans a year, which usu­al­ly has them mired in debt for about half a year.
No won­der radio host and finan­cial guru Dave Ram­sey describes the pay­day loan busi­ness, which loans $38.5 bil­lion a year, as ​"scum-suck­ing, bot­tom-feed­ing preda­to­ry peo­ple who have no moral restraint." The very peo­ple, it must be acknowl­edged, who now have an ally in the chair of the Demo­c­ra­t­ic Nation­al Com­mit­tee, who has so engi­neered the rules of the cur­rent Demo­c­ra­t­ic pri­ma­ry process so as to vir­tu­al­ly assure her unlim­it­ed access to a Clin­ton White House where she can walk in freely to press the case for her, ahem, ​"scum-suck­ing, bot­tom-feed­ing preda­to­ry" donors and pals.
So imag­ine now the Demo­c­ra­t­ic Nation­al Con­ven­tion this July. Pre­sid­ing over it will be, yes, Deb­bie Wasser­man Schultz, tri­bune for a par­ty of incum­ben­cy, mon­ey and crony cap­i­tal­ism. Fol­low her as she makes the rounds of pri­vate par­ties where zil­lion­aire donors, lob­by­ists and con­sul­tants trans­act the real busi­ness of pol­i­tics. Watch as she and Hiz­zon­er Rahm Emanuel of Chica­go greet and embrace. Then imag­ine those thou­sands of young peo­ple out­side the con­ven­tion hall who have arrived from long months of cam­paign­ing earnest­ly for reform of the par­ty they see as an instru­ment of their future, as well as mem­bers of Black Lives Mat­ter and oth­er peo­ple of col­or for whom Rahm Emanuel is the incar­na­tion of deceit and oppression.
This is why Emanuel and Wasser­man Schultz must go. To mil­lions, they are enablers of the one per­cent, per­pet­u­a­tors of the Wash­ing­ton men­tal­i­ty that the rest of the coun­try has grown to hate. What a mes­sage such ser­vants of plu­toc­ra­cy send: Democ­rats — a bridge to the past.
Bill Moy­ers is man­ag­ing edi­tor and Michael Win­ship is senior writer of the week­ly pub­lic affairs pro­gram Bill Moy­ers Jour­nal, which airs Fri­day night on PBS.