A Turning Point for Chinese Workers?
Amid a wave of strikes, hopes for lasting workplace reforms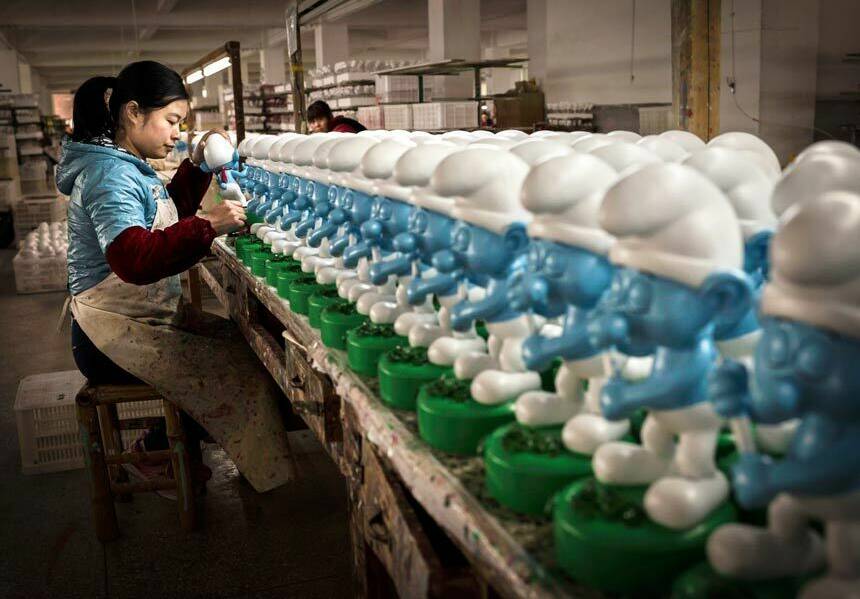 As unions have strug­gled and strikes have declined in the Unit­ed States in recent years, labor mil­i­tan­cy has surged in oth­er parts of the world — and nowhere more so than Chi­na. Since 2010, Chi­na has seen thou­sands of strikes and protests in a tide of col­lec­tive action that shows no sign of ebbing. Between Jan­u­ary 2011 and Jan­u­ary 2015, near­ly 2,900 strikes and protests occurred nation­wide, almost half of them in 2014 alone, accord­ing to the Hong Kong-based NGO Chi­na Labour Bul­letin (the Chi­nese gov­ern­ment does not report nation­al strike statistics).
The new militancy reflects the economic and social dislocations brought on in the last few decades with China's embrace of a capitalist model of development.
In May 2010, 2,000 work­ers struck for 17 days at the Nan­hai Hon­da auto trans­mis­sion plant near Guangzhou. The land­mark strike shut down deliv­ery of parts to all Hon­da assem­bly plants in Chi­na and ulti­mate­ly won wage hikes of up to 35 per­cent. A wave of work­er actions has fol­lowed: One of the largest occurred in April 2014 in the indus­tri­al city of Dong­guan, when tens of thou­sands of work­ers walked out at the Tai­wanese-owned Yue Yuen shoe fac­to­ry com­plex, mak­er of glob­al brands like Nike and Reebok.
But protests are not lim­it­ed to man­u­fac­tur­ing; teach­ers, taxi dri­vers, san­i­ta­tion work­ers and oth­ers have engaged in actions across the coun­try. The new mil­i­tan­cy reflects the eco­nom­ic and social dis­lo­ca­tions brought on in the last few decades with China's embrace of a cap­i­tal­ist mod­el of devel­op­ment. Work­ers have suf­fered as the country's author­i­tar­i­an insti­tu­tions have failed to stem increas­ing exploita­tion on the job.
The All-Chi­na Fed­er­a­tion of Trade Unions (ACF­TU) is the only legal­ly rec­og­nized union, a vast Com­mu­nist Par­ty bureau­cra­cy with more than a half-mil­lion full-time cadres. It is wide­ly seen as an inef­fec­tive con­sul­ta­tion body rep­re­sent­ing gov­ern­ment and employ­er inter­ests; at many enter­pris­es, union offices are filled by com­pa­ny human-resource man­agers. All of the recent strikes have been ini­ti­at­ed out­side the ACF­TU, but that has left work­ers with­out a broad­er orga­ni­za­tion­al struc­ture or coor­di­na­tion for their actions.
Now, how­ev­er, the move­ment appears to be start­ing to achieve sig­nif­i­cant insti­tu­tion­al reform. After years of leg­isla­tive wran­gling and stiff oppo­si­tion from employ­ers, last Sep­tem­ber the People's Con­gress of Guang­dong Province in South Chi­na passed ground­break­ing new ​"Reg­u­la­tions on Col­lec­tive Con­tracts for Enter­pris­es," which took effect in Jan­u­ary. The new rules estab­lish more demo­c­ra­t­ic forms of union rep­re­sen­ta­tion and a gen­uine sys­tem of col­lec­tive bargaining.
The rise of militancy
For decades, China's explo­sive eco­nom­ic growth was based on its abil­i­ty to pro­duce low-cost goods for export. This relied on a mas­sive migra­tion of cheap labor from the coun­try to the cities: In Dong­guan, almost 80 per­cent of its 8.3 mil­lion res­i­dents are migrants or their chil­dren. Under the government's huk­ou or house­hold reg­is­tra­tion sys­tem, migrant work­ers face dis­crim­i­na­tion in hous­ing, edu­ca­tion and wel­fare ben­e­fits, while earn­ing less than 60 per­cent of the month­ly wages of urban-born residents.
But as migra­tion has begun to slow, labor mar­kets are grow­ing tighter and­giv­ing work­ers more lever­age — which the younger migrant gen­er­a­tion is eager to use. Aid­ed by access to a mobile Inter­net and a flow­er­ing of work­er cen­ters and labor-ori­ent­ed NGOs, younger work­ers are more aware of their rights and less will­ing to accept con­di­tions their elders endured.
Until recent­ly, local author­i­ties quick­ly sup­pressed rank-and-file work­er upris­ings, but the cur­rent wave has been met with an ambiva­lent tol­er­ance. As it now tries to shift Chi­na from a low-wage to a con­sumer-led econ­o­my, the gov­ern­ment knows it must deliv­er a more broad-based pros­per­i­ty to raise pur­chas­ing pow­er and pre­serve its own legit­i­ma­cy. In a social­ist coun­try like Chi­na, ​"it's an extreme­ly unwise polit­i­cal choice to fol­low the labor poli­cies of ear­ly cap­i­tal­ism to deal with labor con­flicts and work­ers' strikes," Chang Kai, retired chair of labor stud­ies at Ren­min Uni­ver­si­ty and a legal advi­sor to the 2010 Hon­da strik­ers, wrote in a 2011 arti­cle in Cai­jing, a Chi­nese busi­ness magazine.
These pres­sures have led to a series of nation­al labor law reforms to reg­u­late employ­ment con­tracts and resolve indi­vid­ual work­er dis­putes. Local enforce­ment of the laws can vary great­ly, how­ev­er, and there is still no nation­al law to enable real col­lec­tive bar­gain­ing. Nor is there any nation­al law to either pro­tect or pro­hib­it the right to strike, leav­ing strikes among the few ways work­ers can express col­lec­tive griev­ances to man­age­ment, local gov­ern­ment or union officials.
A move­ment for reform
Yet changes are emerg­ing. The new Guang­dong reg­u­la­tions sig­nal the open­ness of some provin­cial ACF­TU lead­ers to the need for insti­tu­tion­al reform. "[Union lead­ers] must rep­re­sent the work­ers and not play the mid­dle­man," said Chen Weiguang, for­mer head of the Guangzhou Fed­er­a­tion of Trade Unions, in a 2010 inter­view. ​"In the event of a strike, even very short ones, the trade unions have to be on the side of the workers."
Under the new reg­u­la­tions, if at least 50 per­cent of a company's employ­ees sup­port a demand for col­lec­tive bar­gain­ing, the employ­er must respond to their pro­pos­als with­in 30 days. In addi­tion, the reg­u­la­tions pro­vide for demo­c­ra­t­ic elec­tion of employ­ee bar­gain­ing com­mit­tee mem­bers, require employ­ers to give work­er rep­re­sen­ta­tives time off for nego­ti­a­tions and for­bid man­age­ment retal­i­a­tion against them.
A key ques­tion, how­ev­er, is the right to strike. The rules effec­tive­ly ban strikes dur­ing nego­ti­a­tions; if bar­gain­ing reach­es an impasse, they impose a form of medi­a­tion between high­er lev­els of the union, busi­ness orga­ni­za­tions and local gov­ern­ment. Some activists doubt whether work­ers can tru­ly exer­cise pow­er in nego­ti­a­tions with­out a right to strike.
So far, the gov­ern­ment has tol­er­at­ed walk­outs by work­ers mak­ing strict­ly eco­nom­ic demands, but remains hos­tile to inde­pen­dent labor orga­ni­za­tions or any chal­lenges to its author­i­ty. That includes the labor-ori­ent­ed NGOs, long tar­gets of gov­ern­ment harass­ment. Activist groups have seen their lead­ers sum­moned for ques­tion­ing and their office land­lords pres­sured to shut off pow­er or evict them. These crack­downs may be grow­ing more vio­lent: In Decem­ber 2014, four uniden­ti­fied men entered the Panyu Migrant Work­ers Cen­ter in Guangzhou and phys­i­cal­ly assault­ed its direc­tor, Zeng Feiyang.
Mean­while, with Pres­i­dent Xi Jinping's recent push for ide­o­log­i­cal dis­ci­pline, Chi­nese uni­ver­si­ties have come under increas­ing Par­ty scruti­ny and con­trol. But that did not pre­vent more than 120 Chi­nese labor schol­ars and prac­ti­tion­ers from gath­er­ing in Bei­jing for a two-day con­fer­ence in Decem­ber 2014, joined by a small U.S. del­e­ga­tion (includ­ing the author) from the Amer­i­can Soci­o­log­i­cal Association's sec­tion on labor and labor move­ments. The con­fer­ence fea­tured frank and intense debates on what many of the par­tic­i­pants see as an his­toric junc­ture for China's labor relations.
All signs sug­gest that the move­ment in Chi­na will con­tin­ue to grow. Though Guangdong's estab­lish­ment of col­lec­tive bar­gain­ing and demo­c­ra­t­ic union rep­re­sen­ta­tion are lim­it­ed to the shop floor, they mark impor­tant steps for­ward. Else­where, includ­ing the Dalian Devel­op­ment Zone in north­east Chi­na, the restau­rant indus­try in Hubei province and the sweater indus­try in Wen­ling, Zhe­jiang province, efforts to move to region­al or sec­toral bar­gain­ing have been explored.
With the cur­rent slow­down in the Chi­nese econ­o­my, work­ers are also expand­ing their demands to include retire­ment, unem­ploy­ment and social ben­e­fits. The mas­sive Yue Yuen shoe fac­to­ry strike, for exam­ple, forced the com­pa­ny to make years of unpaid pen­sion con­tri­bu­tions. As these ben­e­fits are often admin­is­tered through the gov­ern­ment, such dis­putes may raise more open­ly polit­i­cal controversies.
All these fac­tors make the cur­rent moment a cru­cial one for the Chi­nese labor move­ment. Guang­dong is the ​"cut­ting edge place of Chi­nese indus­tri­al rela­tions," said Dr. Meng Quan, a labor schol­ar at the Cap­i­tal Uni­ver­si­ty of Eco­nom­ics and Busi­ness in Bei­jing and a par­tic­i­pant in the Decem­ber con­fer­ence. ​"The elec­tion of the work­place trade union will make a great dif­fer­ence on the effec­tive­ness of col­lec­tive bar­gain­ing in the fac­to­ry." Yet much still depends on work­ers' abil­i­ty to mobi­lize, he added, so ​"it is bet­ter for work­ers to learn how to con­duct more col­lec­tive actions."
Chris Rhomberg
is asso­ciate pro­fes­sor of soci­ol­o­gy at Ford­ham Uni­ver­si­ty and the author of
The Bro­ken Table: The Detroit News­pa­per Strike and the State of Amer­i­can Labor
.