We Forgot To End Poverty
Poverty remains at record highs. Is that because welfare reform failed, or because it succeeded all too well?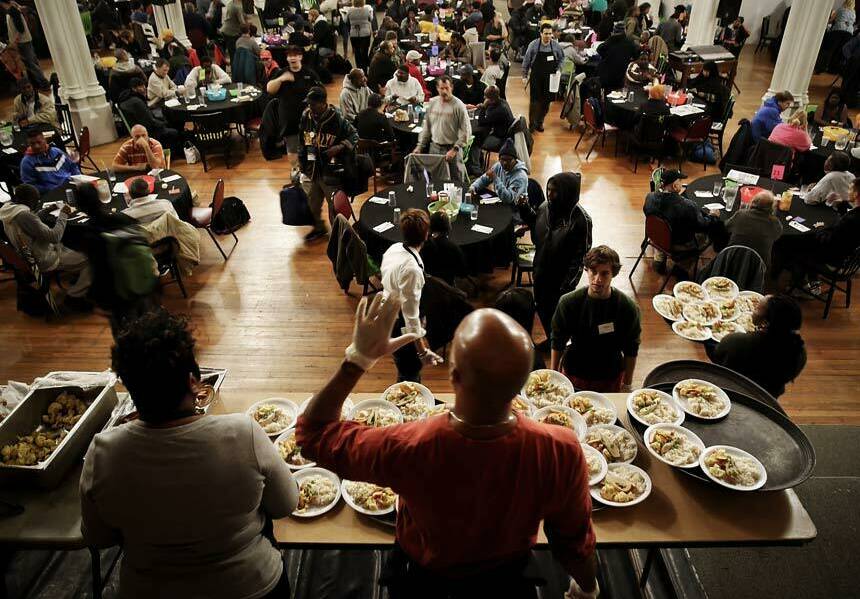 In Sep­tem­ber, the Cen­sus Bureau released the lat­est fig­ures on pover­ty in Amer­i­ca. You may not have noticed, because the report made bare­ly a rip­ple in the media or the midterms. It showed that from 2012 to 2013, the over­all pover­ty rate fell by half a per­cent­age point, to 14.5 per­cent — the first sta­tis­ti­cal­ly sig­nif­i­cant decline since 2006.
The mod­est turn­around might be cause for hope, but pover­ty still remains well above the pre-Great Reces­sion rate of 12.5 per­cent in 2007. In raw num­bers, 45.3 mil­lion peo­ple lived below the pover­ty thresh­old in 2013. That's close to the peak of 46.2 mil­lion in 2010, the great­est num­ber in the more than 50 years the gov­ern­ment has tracked the data.
That real­i­ty stands in stark con­trast to the polit­i­cal sup­port for our cur­rent pol­i­cy of 
​"wel­fare reform." The cor­ner­stone of that approach is the 1996 Per­son­al Respon­si­bil­i­ty and Work Oppor­tu­ni­ty Rec­on­cil­i­a­tion Act (PRWO­RA). The law elim­i­nat­ed the pre­vi­ous Aid to Fam­i­lies with Depen­dent Chil­dren pro­gram and replaced 
it with Tem­po­rary Assis­tance for Needy Fam­i­lies (TANF), which imposed work require­ments on recip­i­ents, set strict time lim­its
on eli­gi­bil­i­ty for cash ben­e­fits, and sanc­tioned fam­i­lies for fail­ing to com­ply with pro­gram rules.
The effect was dra­mat­ic. Wel­fare rolls fell by around half in the first few years, and employ­ment among
poor sin­gle moth­ers increased amid a strong late-1990s econ­o­my. ​"The debate is over," said Pres­i­dent Bill Clin­ton a year after sign­ing the law. ​"Wel­fare reform works." Con­ser­v­a­tives agree: In 2012, Rep­re­sen­ta­tive Paul Ryan called the pro­gram ​"an unprece­dent­ed suc­cess," and now Repub­li­cans want to make sim­i­lar changes to Med­ic­aid and food stamps.
As a social safe­ty net and path­way out of pover­ty, how­ev­er, TANF can­not now be regard­ed as any­thing but a dis­mal fail­ure. At best, less than two-thirds of pro­gram par­tic­i­pants are able to get a steady job when they leave the rolls. Many of those with­out work have sig­nif­i­cant bar­ri­ers to employ­ment, includ­ing lack of edu­ca­tion or work expe­ri­ence, to say noth­ing of the scarci­ty of jobs we have seen post-Great Recession.
Shock­ing­ly, despite the reces­sion-induced spike in pover­ty and the evi­dent lev­el of need, TANF pro­vides even less aid today than it ever has. In the past sev­er­al years, states have short­ened time lim­its, tight­ened eli­gi­bil­i­ty rules, and divert­ed wel­fare funds to pay for oth­er aid pro­grams in order to reduce their own bud­get deficits. Accord­ing to the Cen­ter on Bud­get Pol­i­cy and Pri­or­i­ties, more than half of all states had low­er case­loads at the end of 2013 than at the start of the reces­sion in Decem­ber 2007.
When TANF was first cre­at­ed 18 years ago, 68 out of every 100 U.S. fam­i­lies with chil­dren in pover­ty received cash assis­tance. That num­ber has now fall­en to just 26 out of every 100. Some fam­i­lies have been dis­qual­i­fied due to time lim­its, but the evi­dence sug­gests that many more are dis­cour­aged from even both­er­ing to apply.
It's worth recall­ing that the PRWO­RA was a com­pro­mise bill: Con­ser­v­a­tives got the empha­sis on moral val­ues ("per­son­al respon­si­bil­i­ty"), while lib­er­als got a lim­it­ed focus on job train­ing ("work oppor­tu­ni­ty"). Both sides attempt to ​"reform" poor par­ents to push them into the low-wage labor mar­ket, but nei­ther side ques­tions the fail­ure of that mar­ket to pro­vide fam­i­lies a secure way out of poverty.
Even as unem­ploy­ment edges down­ward, mil­lions of Amer­i­cans remain poor, expos­ing a basic flaw in the TANF approach: the lack of jobs that pay a liv­ing wage.
Indeed, almost 70 per­cent of poor chil­dren in 2013 lived in a fam­i­ly where some­one actu­al­ly worked. A sin­gle par­ent with a child can work a full-time job — 40 hours per week, 52 weeks a year — at the fed­er­al min­i­mum wage of $7.25 and still not earn enough to lift their fam­i­ly out of pover­ty. And many poor work­ers can­not get full-time work: Around 8.2 mil­lion or 15.8 per­cent of part-time or part-year work­ers were poor, the high­est lev­el since 1987.
Nev­er­the­less, across the polit­i­cal spec­trum, the law is wide­ly hailed as a suc­cess. Case­loads are down, states are spend­ing less, and the prob­lem has dis­ap­peared as a con­tro­ver­sial cam­paign issue. We suc­ceed­ed in end­ing wel­fare as we knew it. We just didn't both­er to end poverty.
Chris Rhomberg
is asso­ciate pro­fes­sor of soci­ol­o­gy at Ford­ham Uni­ver­si­ty and the author of
The Bro­ken Table: The Detroit News­pa­per Strike and the State of Amer­i­can Labor
.