After Protests, A Win for Illinois Graduate Students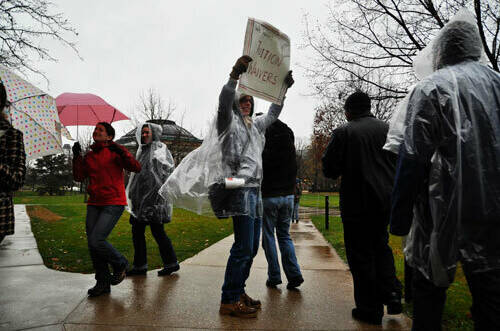 Grad­u­ate instruc­tors at the Uni­ver­si­ty of Illi­nois are back in the class­rooms Wednes­day fol­low­ing protests over tuition waivers that brought the Urbana-Cham­paign cam­pus to a near stand­still this week.
The Grad­u­ate Employ­ees Orga­ni­za­tion (GEO) unan­i­mous­ly vot­ed to
sus­pend
the two-day strike Tues­day night after ten­ta­tive­ly agree­ing to a new three-year con­tract with the uni­ver­si­ty ear­li­er in the day. Its deci­sion was the cul­mi­na­tion of more than six months of nego­ti­a­tions that came to a head Mon­day.
The new agree­ment secures all four ​"pil­lars" of the union's orig­i­nal con­tract tenets:
Pro­tec­tions for tuition waivers (the stick­ing point that prompt­ed the protests).
Two weeks of unpaid parental leave.
Increased health­care subsidies.
Min­i­mum salary rais­es total­ing

10

per­cent over three years.
The GEO, part of the Amer­i­can Fed­er­a­tion of Teach­ers, will meet in the com­ing days to rat­i­fy the con­tract, which will be passed onto the school for sig­na­tures to com­plete the deal.
"The ten­ta­tive agreement…represents a major vic­to­ry for labor in the state of Illi­nois and the Unit­ed States," the GEO said in a press release.
Talks between UIUC and the grad­u­ate union broke down over a pro­pos­al that threat­ened to reduce or elim­i­nate tuition waivers for out-of-state grad­u­ate instruc­tors. Stu­dents from oth­er states rep­re­sent a major­i­ty of the 2,500 mem­bers of the GEO, and many rely on waivers to fund their edu­ca­tion amid an aca­d­e­m­ic cli­mate with ris­ing stu­dent tuition.

​"With­out a tuition waiv­er, I can't pay for any­thing. I can't even apply for a cred­it card," grad­u­ate stu­dent Sarah Hen­nebohl told the Dai­ly Illi­ni, the school news­pa­per. ​"I don't want to have to dis­con­tin­ue my education."
But Emi­ly Isaac­son, a doc­tor­al stu­dent in the university's music school, says tuition waivers were nev­er in real dan­ger of being reduced or going extinct because they are a sta­ple of grad­u­ate edu­ca­tion and cru­cial to mak­ing a school com­pet­i­tive. If the waivers dis­ap­peared, Isack­son said, ​"UIUC would imme­di­ate­ly become a bot­tom-tier university…All good grad­u­ate stu­dents would go elsewhere."
Although she sup­port­ed the strike, Isaac­son wish­es the GEO had focused on liv­ing stipends. ​"UIUC grad­u­ate employ­ees are not only paid much less than the sur­round­ing uni­ver­si­ties, like Michi­gan, Iowa, and Wis­con­sin," she said. ​"We are not payed enough to live on. I'm dis­ap­point­ed this was not made more of an issue."

The uni­ver­si­ty main­tained that it could not make con­ces­sions due to a tight fis­cal bud­get. But Tues­day, UIUC and GEO final­ly agreed on tuition pro­tec­tions as long as grad­u­ate teach­ers hold­ing qual­i­fy­ing assist­ant­ships are in good aca­d­e­m­ic stand­ing and make progress towards grad­u­a­tion.

​"We val­ue the con­tri­bu­tions our grad­u­ate assis­tants make to the cam­pus, and we feel this ten­ta­tive agree­ment rep­re­sents the best pos­si­ble con­tract giv­en the finan­cial con­straints we face," said Robert East­er, the school's inter­im provost and inter­im chan­cel­lor.

Dur­ing the recent nego­ti­a­tions the uni­ver­si­ty and union trad­ed shots online. The school sent mass e‑mails to stu­dents and fac­ul­ty explain­ing their stance, while the GEO post­ed state­ments and rebut­tals on its home­page.

Nego­ti­a­tions had been ongo­ing since April. The union had been work­ing with­out a con­tract since August 15 lead­ing up to this week's strike.
On Mon­day, sev­er­al hun­dred grad­u­ate stu­dents gath­ered on the school's Quad as stu­dents pon­dered whether to cross the pick­et lines to attend class. Some pro­fes­sors resumed class­es in build­ings not owned by the uni­ver­si­ty.

Despite the dis­rup­tions, most of the stu­dent body sup­port­ed the protests. The new con­tract is sure­ly a boon for grad­u­ate stu­dents, but issues over low pay and scant ben­e­fits are hard­ly unique to the Uni­ver­si­ty of Illinois.
As In These Times has report­ed, uni­ver­si­ties are increas­ing­ly shift­ing toward prof­it-ori­ent­ed mod­els offer­ing lit­tle job growth. And the prob­lems have been has­tened by the finan­cial cri­sis. In the face of state bud­get cuts, grad­u­ate stu­dents and fac­ul­ty from the East to the West Coast have protest­ed over employ­ee fur­loughs and reduc­tions in health ser­vices.

As the uni­ver­si­ty increas­ing­ly tried to cut costs, the GEO was sus­tained by a net­work of sup­port­ers that extend­ed from stu­dents to aca­d­e­m­ic unions. In return, the GEO echoed the same sen­ti­ments toward oth­er insti­tu­tu­tions fac­ing sim­i­lar prob­lems.

​"The GEO stands with high­er edu­ca­tion labor unions across the nation oppos­ing the ongo­ing cor­po­ra­ti­za­tion and pri­va­ti­za­tion of our pub­lic high­er edu­ca­tion sys­tem. Pub­lic high­er edu­ca­tion must be acces­si­ble to all, regard­less of eco­nom­ic stand­ing," the union said.