Locked-Out American Crystal Workers to Meet With Co.—This Time With Federal Help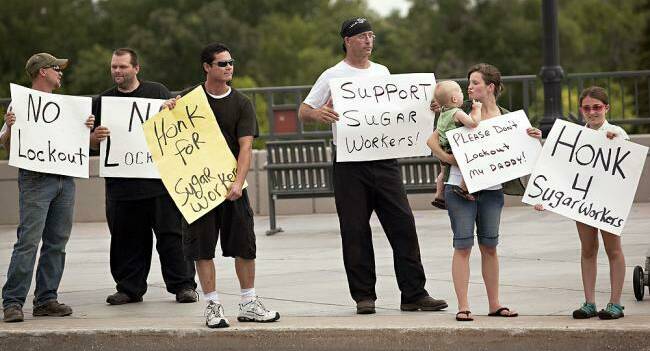 American Crystal Sugar Company and its unionized employees are scheduled to meet next Monday for only the second time since the labor impasse began more than two months ago. More than 1,300 union employees across five processing plants in North Dakota, Minnesota and Iowa have been locked out since August 1 after the two sides failed to reach an agreement.

A federal mediator will join the Monday meeting to help the two sides come to terms over a new collective bargaining deal. Workers say they are ​"cautiously optimistic" that there may be some compromise in what has been the first large labor dispute with the Minnesota company in 30 years.

The workers, represented by the Bakery, Confectionery, Tobacco Workers, and Grain Millers (BCTGM) International Union, voted to reject the company's final offer in the days before the contract expired.
The deal called for a 17-percent pay increase over five years. But 96 percent of the members voted against the contract because of higher employee healthcare contributions and a job security clause that the union says would allow outsourcing.

According to a local report, the company cites rising healthcare, higher energy costs for beet processing and price fluctuations of sugar as reasons to cut certain labor costs. American Crystal maintains that it has offered a favorable contract.

The company adds that the contract does not allow employment of subcontract workers that would result in layoffs. A closer look at the contract's final offer, however, does include language that would allow subcontracting work under certain conditions.

American Crystal is the largest processor of beet sugar in the country and accounts for about 14 percent of the overall U.S. sugar production, according to it's 2010 annual report. The Minnesota-based cooperative is owned by 2,800 shareholders in the Red River Valley who grow and process sugar beets.

The company generated $1.2 billion in net revenue for the fourth consecutive year, the 2010 report said. Management has cited price fluctuations in sugar that might decrease from trade agreements or cuts to federal farm subsidies as the reason to cut costs. But the company also has one of the largest political action committees in the agriculture sector, according to Minnesota Public Radio, spending considerable sums on lobbyists to maintain federal policies that keep sugar prices high and limits foreign competition.

The union says the company has ignored efforts to return to the bargaining table, but the National Labor Relations Board ruled otherwise. In late September, the NLRB dismissed a union complaint that alleged the company did not negotiate in good faith. The NLRB decision also read like a critique on the union's inaction during negotiations, stating that the union ​"repeatedly refused to consider the employer's proposals, and made virtually no counter proposals to try to address the employer's objectives."

The company was initially confident that the labor strife would not affect production. But there have been a number of hazardous incidents since the lockout began. In early September, three separate fires broke out at American Crystal plants in the span of 48 hours. The Occupational Safety and Health Administration has reportedly received three complaints from the North Dakota plants since the lockout. Previously, the OSHA had only received a total of 10 complaints about those plants in the past two decades.

The concerns grew further after a couple of replacement workers decided to leave the company because of unsafe work conditions. Two workers says their safety issues were ignored by plant managers and are planning on filing complaints.
"I've never felt this unnerved going to work not knowing whether I'm going home on the bus or in a body bag," one of the workers told the local Valley News Live. Union workers have criticized the company's decision to hire outside workers due to their lack of experience.

This is not the first time BCTGM has faced a lockout this year. The union's Iowa-based Local 48G was also involved in a separate 10-month lockout with Roquette America until this July, when workers ultimately voted for what they viewed as an unfavorable contract.
The union has signaled a willingness to modify contract language, but healthcare and the subcontracting issue look like sticking points. But with the rare meeting looming, perhaps both sides can finally find a way to reach an agreement.
Did you know?
Many nonprofits have seen a big dip in support in the first part of 2021, and here at In These Times, donation income has fallen by more than 20% compared to last year. For a lean publication like ours, a drop in support like that is a big deal.

After everything that happened in 2020, we don't blame anyone for wanting to take a break from the news. But the underlying causes of the overlapping crises that occurred last year remain, and we are not out of the woods yet. The good news is that progressive media is now more influential and important than ever—but we have a very small window to make change.

At a moment when so much is at stake, having access to independent, informed political journalism is critical. To help get In These Times back on track, we've set a goal to bring in 500 new donors by July 31. Will you be one of them?
Here's how you can help
In These Times is funded entirely by readers like you, but through the first half of 2021, reader donations are down 20% compared to last year. If that continues, it could spell real trouble for In These Times. We're running a short fundraising drive (from now until July 31) to get things back on track. Will you chip in?