Without More Jobs, Further Global Unrest Looms: ILO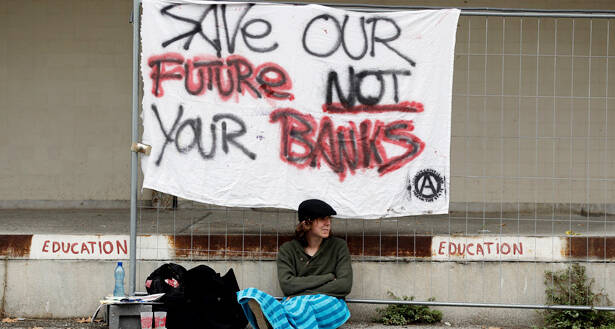 UN's International Labour Organization calls current economic climate the ​'moment of truth'
As world leaders gather in Cannes, France for the G-20 summit this week to find solutions to Europe's debt crisis, frustration among the global workforce continues to brew across borders.

With stalled economic recovery, harsh austerity plans and heavy-handed police crackdowns on Occupy protests, a new report by the International Labour Organization says there may be further social unrest unless measures are taken to prioritize job growth.

Raymond Torres, director of the ILO's International Institute for Labour Studies, referred to the current economic climate as the ​"moment of truth." Growth has slowed in recent months, most notably in Europe, raising prospects of a double-dip recession and stagnant job creation. And Greece's recent decision to hold a national referendum on a domestically unpopular austerity plan has raised more fears of uncertainty.
Among the findings, the study found that sizable majority are worse off compared to several years ago and many are increasingly lacking faith in their leaders. Unemployment is at its highest level ever at 200 million worldwide. Yet only half of the projected net jobs necessary to return to pre-crisis levels will be created. Advanced economies are projected to return to pre-crisis levels one year later than expected to 2016.
According to the report:
Approximately

80

million net new jobs will be needed over the next two years to re-attain pre-crisis employment rates (

27

million in advanced economies and the remainder in emerging and developing countries).
Out of

118

countries with available data,

69

countries show an increase in the percentage of people reporting a worsening of living standards in

2010

compared to

2006

.
Respondents in half of

99

countries surveyed say they do not have confidence in their national governments.
In

2010

, more than

50

per cent of people in developed countries report being dissatisfied with the availability of decent jobs.
The report added that policies have focused entirely too much on market policies. Adding jobs, meanwhile, have played a secondary role. In places like the United States, the financial sector's share of the overall economy has doubled over the last 20 years.

The International Trade Union Confederation is among those that stress world leaders must focus on the interests of workers instead of banks. The group will also be in Cannes to hold their own ​"Labour 20 Summit."

​"Public pressure for governments to act in the interests of people and not the bankers will grow and grow. People are angry," wrote Shannon Burrow, the General Secretary of the ITUC.

The ILO writes that Europe, Arab and Asian countries are most vulnerable to social unrest and writes that the ​"window of opportunity for leveraging job creation and income generation is closing."

They aren't the only ones sounding the alarm. An OECD briefing note by Secretary-General Angel Gurría noted that leaders must act ​"promptly and forcefully" to get the global economy on track. He added the situation would worsen if sovereign debt occurred in Europe or if fiscal policy become ​"excessively tight" in the United States, a forewarning those strong on U.S. austerity plans.

Yet if the world leaders fail to address core job concerns, the tension may intensify. There has been a link established between austerity measures and unrest. Researchers at the Centre for Economic Policy Research found a pattern in Europe of rising discontent and expenditure cuts in examining events from 1919-2009.

The attention to the financial sector instead of Main Street has been a linchpin of the Occupy protest movement's discontent in the United States. But the demonstrators have been met with harsh measures by authorities. The world saw the clashes in Oakland last week, and now thousands of police have reportedly been sent to areas surrounding Cannes to prevent protestors from disrupting the G-20.
It isn't clear what will happen when the meetings commence, but the ILO writes that decisions to clamp down on demonstrators instead of focusing on core concerns has only made things worse.
​"In countries where the state has resorted to excessive use of force (police and military) to tackle social upheavals instead of focusing on the actual causes of unrest, such actions have often exacerbated the situation," the report said.
Be one of the first
Help kick off the new era of In These Times! Without a media that brings people together and creates a written record of the struggles of workers, their voices will be fragmented and forgotten.
The mission of In These Times is to be that written record, and to guide and grow those movements.
We have a lot of work ahead of us, and that work starts today. Early support is the most valuable support, and that's why we're asking you to pitch in now. If you are excited for this new era of In These Times, please make a donation today.