94% of Indigenous Women in Seattle Have Experienced Sexual Violence. We Need To Tell Their Stories.
Abigail Echo-Hawk on a hidden epidemic.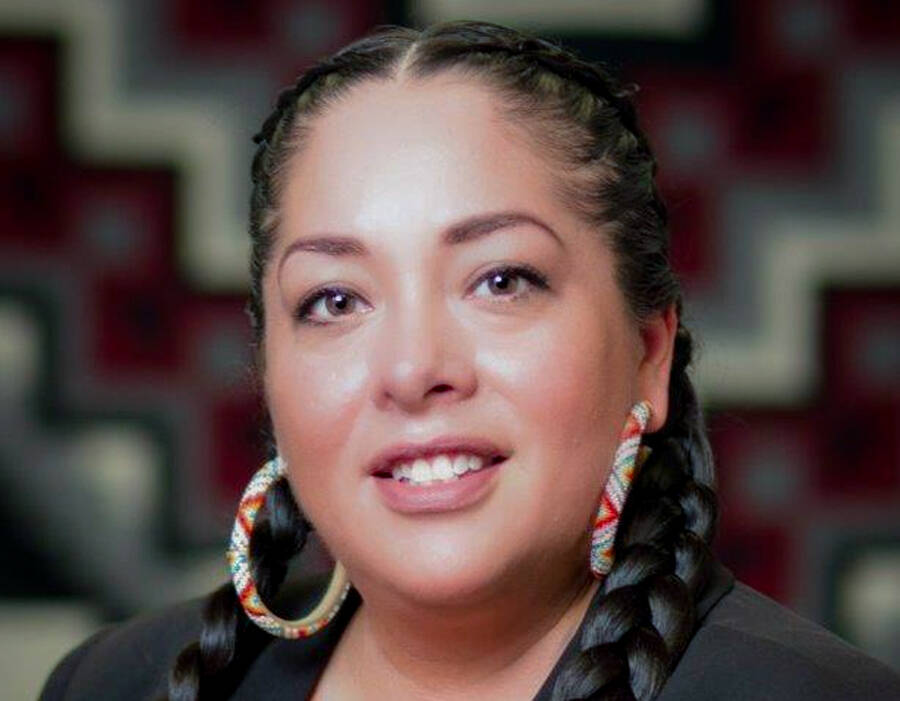 Abi­gail Echo-Hawk came across an unpub­lished study in 2016, short­ly after becom­ing direc­tor of the Urban Indi­an Health Insti­tute (UIHI). It showed that, of Amer­i­can Indi­an and Alas­ka Native women liv­ing in Seat­tle sur­veyed in 2010, 94 per­cent report­ed they had been raped or coerced into sex. More than half were with­out per­ma­nent hous­ing at the time.
As a result of colonialism, data has been gathered for us and about us that was actually never for us.
Some with­in UIHI were con­cerned about how the pub­lic would receive the data, but Echo-Hawk pushed for a report. It was released in August.
Why were some peo­ple wor­ried about releas­ing this data?
In the media — whether it be print, TV, movies — Native peo­ple are often por­trayed as vic­tims, as van­ish­ing. And so there was some hes­i­tan­cy that this kind of infor­ma­tion would just add to that.
How we can change that narrative?
As a vic­tim of sex­u­al vio­lence myself, I know what it means to ele­vate vic­tims' voic­es to show that we are not just sur­viv­ing but thriv­ing. I want­ed to hon­or the sto­ries of those who had shared their sto­ries of vic­tim­iza­tion in the sur­vey, to high­light their resilien­cy and the fact that they are still here.
The his­to­ry of col­o­niza­tion and geno­cide and attempts at era­sure have effec­tive­ly dehu­man­ized Amer­i­can Indi­ans and Alas­ka Native peo­ple to the larg­er soci­ety. There are pop­u­lar nar­ra­tives that exist — that we're drunk Indi­ans, that we have all these resources from casi­nos. Peo­ple have an idea of who they think Native peo­ple are, and it's all myth. These nar­ra­tives allow for the larg­er soci­ety to dehu­man­ize us, because they think we aren't using the resources that they think we have, or that it's our fault that we're expe­ri­enc­ing these dis­par­i­ties. It becomes some­thing jus­ti­fi­able that you can ignore. That is how our peo­ple are slip­ping through the cracks.
The answers are in our com­mu­ni­ty. We need to see fund­ing direct­ed to indige­nous orga­ni­za­tions that know how to help our peo­ple. The women in this study talk about his­tor­i­cal trau­ma. It's very hard for an out­side orga­ni­za­tion, an out­side enti­ty, to under­stand his­tor­i­cal trauma.
You've empha­sized that a data point is not a story.
Tra­di­tion­al West­ern aca­d­e­m­ic insti­tu­tions call me a researcher. That is not some­thing I asso­ciate myself with. I call myself a sto­ry­teller of health. That comes from the indige­nous val­ue that we have always had of gath­er­ing data, ana­lyz­ing data, con­duct­ing research and using it for the health and well­be­ing of our people.
How­ev­er, as a result of colo­nial­ism, data has been gath­ered for us and about us that was actu­al­ly nev­er for us. What I do is decol­o­nize data. Every piece of data is a moth­er, a grand­daugh­ter, a wife, a loved one.
In our com­mu­ni­ty, Native women are the car­ri­ers of the cul­ture. We have this idea of look­ing for­ward sev­en gen­er­a­tions. That is a view that the rest of Amer­i­ca could use. Sev­en gen­er­a­tions from now, I don't want a Native woman to have to talk to her daugh­ter about what to do when she is raped. And so we have passed these sto­ries on.
Andrew Schwartz
is an edi­to­r­i­al intern with In These Times. He was pre­vi­ous­ly a reporter for the Wal­la Wal­la Union-Bulletin.