"An Essential Procedure": How Abortion Providers Are Persevering Through the Pandemic
In the face of Covid-19, clinics are continuing to provide safe abortions at a safe distance.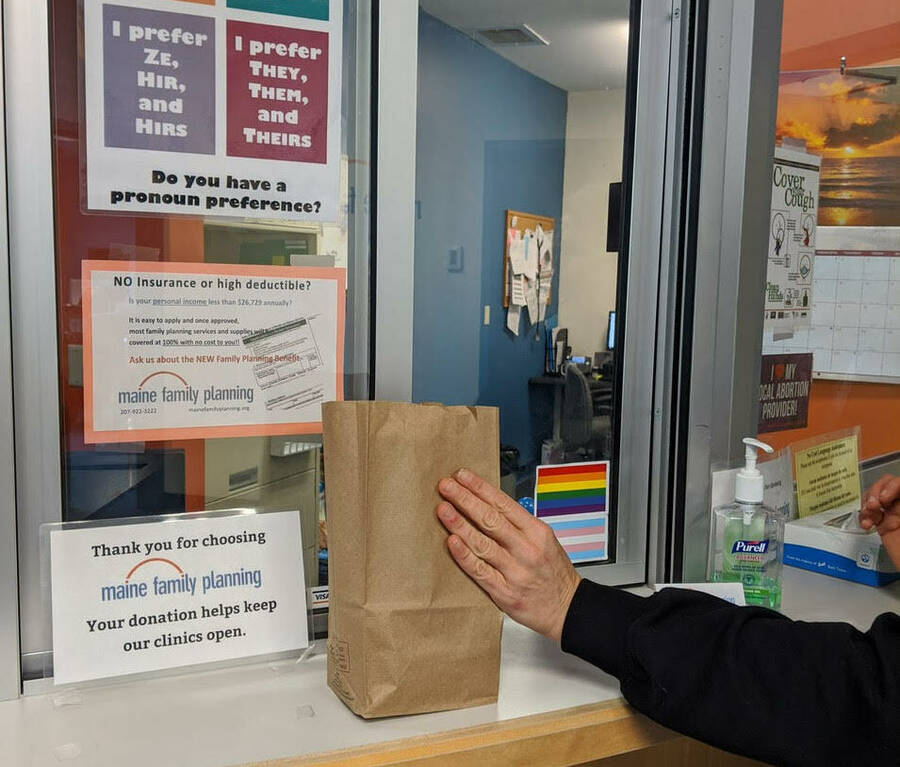 AUGUS­TA, MAINE — ​"Do I have to wor­ry about the virus there?" a patient asks Leah Coplon, pro­gram direc­tor at Maine Fam­i­ly Plan­ning (MFP), while call­ing about hav­ing an abor­tion in April. ​"I'm real­ly wor­ried about the virus."
Maine has been under a stay-at-home order since ear­ly April, sim­i­lar to most states. Schools and many busi­ness­es are closed, and state res­i­dents are direct­ed to only leave home for ​"essen­tial" jobs and neces­si­ties such as food, med­ica­tion and health­care — which, for some, includes abortions.
Some politi­cians, includ­ing the Repub­li­can gov­er­nors of Ten­nessee and Texas, have tried to restrict abor­tions dur­ing the coro­n­avirus pan­dem­ic by claim­ing the pro­ce­dures are nonessen­tial, defy­ing the advice of med­ical experts and pro­vok­ing court bat­tles. Some doc­tors are can­cel­ing rou­tine exams to reduce virus trans­mis­sion, but health­care pro­fes­sion­als like Coplon are adapt­ing ser­vices to con­tin­ue meet­ing urgent needs.
Since March 18, just days after offi­cials announced Maine's first COVID-19 case, MFP clin­ics have pro­vid­ed dozens of med­ica­tion-induced abor­tions through a new no-test pro­to­col. The pro­to­col uses the stan­dard drugs mifepri­s­tone and miso­pros­tol to end preg­nan­cies, but lim­its in-per­son con­tact by allow­ing patients to skip vagi­nal ultra­sounds, pelvic exams and blood tests typ­i­cal­ly con­duct­ed before and after an abortion.
"Research and expe­ri­ence have demon­strat­ed that these tests, which inher­ent­ly involve phys­i­cal con­tact between patient and health­care work­er, are usu­al­ly unnec­es­sary for safe and effec­tive" med­ica­tion abor­tions, accord­ing to an April arti­cle in the jour­nal Con­tra­cep­tion.
U.S. clin­ics gen­er­al­ly test to con­firm how far along in preg­nan­cy patients are, but med­ica­tion abor­tions with­out in-per­son super­vi­sion are not new. ​"Over the past 15 years, inter­na­tion­al orga­ni­za­tions have pro­vid­ed mifepri­s­tone and miso­pros­tol by mail to tens of thou­sands of patients screened only by his­to­ry," the arti­cle says, which Coplon co-authored with experts from Gynu­ity Health Projects, Nation­al Abor­tion Fed­er­a­tion, Planned Par­ent­hood and the Uni­ver­si­ty of Cal­i­for­nia, San Francisco.
Patients are also using a tele­health plat­form to com­plete paper­work and talk with providers. For MFP's no-test abor­tions, patients drop by a clinic's entrance to pick up brown paper bags con­tain­ing the abor­tion drugs and oth­er nec­es­sary mate­ri­als, detailed instruc­tions and a 24⁄7 phone num­ber. A med­ical assis­tant checks in by phone a week later.
Coplon tells In These Times that, although some states have coun­sel­ing, test­ing and wait­ing peri­od laws that could pre­vent clin­ics from ful­ly repli­cat­ing this mod­el, providers may still be able to incor­po­rate ele­ments of it.
"What we're find­ing is that most peo­ple seem real­ly grate­ful to have this option," Coplon says, ​"and most peo­ple are choos­ing it."
Since not every­one can avoid pro­ce­dures at the clin­ic dur­ing the pan­dem­ic, MFP has tak­en extra safe­ty pre­cau­tions for patients and staff at all of its 18 sites, includ­ing its Augus­ta loca­tion, where aspi­ra­tion abor­tions (which involve suc­tion) are still being offered.
Planned Par­ent­hood of North­ern New England's health cen­ter in Port­land, Maine — which offers med­ica­tion and in-clin­ic abor­tions — has also tak­en steps to reduce face-to-face inter­ac­tion. The orga­ni­za­tion is ​"max­i­miz­ing the use of tele­health to ensure appro­pri­ate coun­sel­ing," a spokesper­son tells In These Times.
Maine ​"is real­ly help­ing to set the stan­dard for the rest of the coun­try," says Car­ole Joffe, a pro­fes­sor of repro­duc­tive sci­ences at the Uni­ver­si­ty of Cal­i­for­nia, San Fran­cis­co. Joffe is co-author of the book Obsta­cle Course: The Every­day Strug­gle to Get an Abor­tion in America.
"None of it would be pos­si­ble if you didn't have a Demo­c­ra­t­ic gov­er­nor," Joffe adds, refer­ring to Gov. Janet Mills, who has worked to expand abor­tion access in Maine.
Joffe is crit­i­cal of some politi­cians' attempts to label abor­tions as nonessen­tial and their claims that new restric­tions would help stop the virus while pre­serv­ing the per­son­al pro­tec­tive equip­ment (PPE) in short sup­ply.
"It's a very disin­gen­u­ous, oppor­tunis­tic argu­ment," Joffe says, point­ing out that abor­tions are time-sen­si­tive and require less PPE than many oth­er med­ical procedures.
Joffe and Coplon note the pan­dem­ic is com­pelling some to seek abor­tions based on new health con­cerns, job loss­es and finan­cial or famil­ial con­straints. Fac­tors that can already make it hard­er to get an abor­tion — includ­ing child­care, time off work, the abil­i­ty to trav­el and mon­ey — are being ampli­fied and exacerbated.
"Every abor­tion that a per­son wants to have is an essen­tial pro­ce­dure," Coplon says. ​"I've talked to lots of peo­ple in the past month who have want­ed to have abor­tions and many of them have said to me … ​'I nev­er pic­tured choos­ing to have an abor­tion. But right now this is the best deci­sion for me.' "
Jes­si­ca Cor­bett
, a for­mer In These Times intern, is a Maine-based staff writer at Com­mon Dreams. Fol­low her on Twit­ter at @corbett_jessica.