Activists Deface 'Savage' Anti-Islam Ads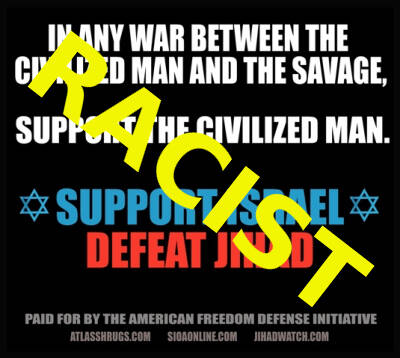 Yes­ter­day, anti-racist activists van­dal­ized
10
out­ra­geous­ly offen­sive pro-Israel ads scat­tered through­out the NYC sub­way sys­tem.
&
nbsp;The
46
x
30
-inch ads, which the
&
nbsp;Met­ro­pol­i­tan Trans­porta­tion Author­i­ty tried unsuc­cess­fu­ly
&
nbsp;to refuse,
&
nbsp;read, ​
"
In any war between the civ­i­lized man and the sav­age, sup­port the civ­i­lized man. Sup­port Israel. Defeat Jihad."Police word­less­ly increased their pres­ence in the
10
sta­tions where the ads were post­ed, includ­ing busy stops such as Grand Cen­tral and Times Square. How­ev­er, despite the height­ened secu­ri­ty, sev­er­al of the posters were van­dal­ized almost imme­di­ate­ly. Activists cov­ered the ads with stick­ers that read
&
ldquo;HATE SPEECH
&
rdquo; and
&
ldquo;RACIST." Mona Elta­hawy, an Egypt­ian-Amer­i­can writer and activist, sprayed pink paint on an ad at the Times Square sub­way sta­tion before being detained by police and charged with crim­i­nal mis­chief and graf­fi­ti-relat­ed crimes.
The ads are spon­sored by the anti-Mus­lim group Amer­i­can Free­dom Defense Ini­tia­tive (AFDI). With con­tin­ued riot­ing in the Mid­dle East over the anti-Islam­ic film Inno­cence of Mus­lims, some fear the sub­way ads could agi­tate an already tense sit­u­a­tion. But AFDI founder and exec­u­tive direc­tor Pamela Geller (who also head­ed a cam­paign oppos­ing an Islam­ic cul­tur­al cen­ter near Ground Zero) dis­missed con­cerns that her ad could ignite protests, say­ing, ​
"
What are you going to do? Are you going to reward Islam­ic extrem­ism? I will not sac­ri­fice my free­dom so as not to offend sav­ages."Mon­day, before the ads were post­ed, reli­gious lead­ers from Jew­ish, Mus­lim and Chris­t­ian com­mu­ni­ties ral­lied in New York to protest them. The Met­ro­pol­i­tan Trans­porta­tion Author­i­ty orig­i­nal­ly reject­ed the ads, but was forced to run them when fed­er­al judge Paul Engel­may­er ruled last month that the posters were pro­tect­ed under the First Amend­ment.
&
nbsp;The ads are framed as pro-Israel, but how does the Jew­ish com­mu­ni­ty in the U.S. feel about them? Most seem to con­demn the ads. Jew­ish New York­er Rebec­ca Klinger tells the New York Post that the ads are
&
ldquo;con­trary to Jew­ish teach­ings and Jew­ish philoso­phies
&
hellip; I find it appalling that any­one claim[ing] to be pro-Israel would sug­gest some human beings are sav­age and less than human. The Nazis tried to do the same thing to the Jews, to make them seem less than human.
&
rdquo;Over at CNN, Rab­bi Rachel Kahn-Troster called the ads
&
ldquo;deeply mis­guid­ed and dis­turb­ing,
&
rdquo; par­tic­u­lar­ly in the midst of the reli­gion's High Hol­i­days. She adds: It is also unfor­tu­nate that Geller choos­es to frame her mes­sage of hatred as one of sup­port for Israel. The com­pli­cat­ed strug­gle for peace in the Mid­dle East and against ter­ror­ism must not be reduced to a sim­plis­tic mes­sage of a war between good and evil. Although there is con­sid­er­able debate with­in the Jew­ish com­mu­ni­ty about how to best sup­port Israel and achieve peace with her neigh­bors, it is clear that part of our con­tri­bu­tion as Amer­i­cans is to show the world that reli­gious plu­ral­ism is both pos­si­ble and ben­e­fi­cial for a thriv­ing democ­ra­cy.Despite the flur­ry of dis­ap­proval, Geller and her orga­ni­za­tion are con­tin­u­ing their anti-Islam cam­paign. The AFDI already has sim­i­lar ads post­ed in San Fran­cis­co and has filed suit to force the Wash­ing­ton, D.C., tran­sit sys­tem to run them.