Karen Lewis Keeps the Haters at Bay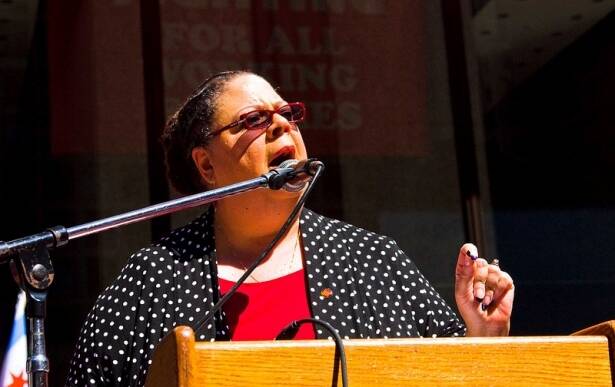 On Mon­day, edu­ca­tion his­to­ri­an Diane Rav­itch post­ed some thoughts on her blog con­cern­ing the hero­ism of the teach­ers of Sandy Hook Ele­men­tary, not­ing that they were union­ized. Some, such as David Rosen­berg, vice pres­i­dent of Teach for Amer­i­ca, were incensed by the piece, but Chica­go Teach­ers Union pres­i­dent Karen Lewis lept to Rav­itch's defense, writ­ing on Rav­itch's blog:Diane has been at the fore­front of the desire to lift up the belea­guered pro­fes­sion of teach­ing in each and every post. She has drawn the con­nec­tions between peo­ple who wouldn
&
rsquo;t think of send­ing their chil­dren to pub­lic schools and their poli­cies that are destroy­ing the com­mon good. Any­one who doesn
&
rsquo;t know that in the mar­row of their bones, doesn
&
rsquo;t read her blog.
The Rav­itch post that drew ire opened with heart­warm­ing praise for the teach­ers who
&
ldquo;react­ed with aston­ish­ing courage to the unthink­able, the ter­ri­fy­ing intru­sion of a man intent on mur­der­ing them and their stu­dents. With no thought of their own safe­ty, they defend­ed their chil­dren.
&
rdquo;But that
&
rsquo;s not what
&
rsquo;s caus­ing all the fuss. Rav­itch changed tone toward the end:Oh, and one oth­er thing, all these ded­i­cat­ed teach­ers belonged to a union. The senior teach­ers had tenure, despite the fact that
&
ldquo;reform­ers
&
rdquo; (led by Con­nCAN, Stu­dents­First, and hedge fund man­agers) did their best last spring to dimin­ish their tenure and to tie their eval­u­a­tions to test scores. [Con­necti­cut] Gov­er­nor [Daniel] Mal­loy said, mem­o­rably, to his shame, that teach­ers get tenure just for show­ing up. No one at Sandy Hook was just
&
ldquo;show­ing up.
&
rdquo;Some took Ravitch
&
rsquo;s state­ment as an attack on non-union teach­ers, or an impli­ca­tion that char­ter school teach­ers would not pro­tect their school­child­ren in the same way. Along with a bevy of com­menters accus­ing her of exploit­ing the mas­sacre to for­ward her cause, Rosen­berg
&
nbsp;took to Twit­ter
&
nbsp;to voice his dis­gust:In her defense of Rav­itch, Lewis took Rosen­berg to task: On the oth­er, the edu­crats who do not agree with her, read her posts, too so as to keep abreast of her thoughts and are ready to pounce if they see an open­ing. There might have been a time where
&
ldquo;politi­ciz­ing
&
rdquo; trag­ic events, espe­cial­ly mass shoot­ings was thought to be in poor taste. That has changed with the
24
⁄
7
news cycle that con­tin­ues to focus far too much time and ener­gy on the per­pe­tra­tor of the mas­sacre than that of our pre­cious vic­tims. Rosenberg
&
rsquo;s
&
ldquo;false out­rage
&
rdquo; needs to be checked. That same false out­rage should show itself when poli­cies his col­leagues sup­port kill and dis­en­fran­chise chil­dren from schools across this nation. We in Chica­go have been the vic­tims of their exper­i­ments on our chil­dren since the cur­rent sec­re­tary of Edu­ca­tion
&
ldquo;ran
&
rdquo; CPS.Lewis goes on to scold Rosen­berg for his
&
ldquo;para­noid rant,
&
rdquo; say­ing,
&
ldquo;If you had noth­ing of which to be guilty, those words would have rolled off your back.
&
rdquo;