Indigenous 'Idle No More' Movement Spreading Worldwide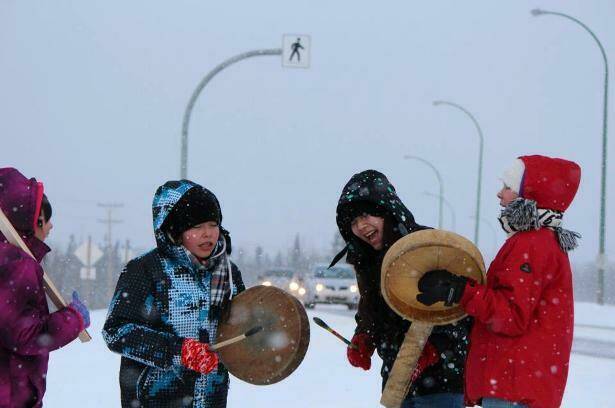 The past week has been a momen­tous one for Idle No More, a grass­roots abo­rig­i­nal move­ment work­ing to defend the envi­ron­ment and native peo­ples' treaty rights in Cana­da. Sup­port­ers have been tak­ing to the streets and pub­lic spaces across Cana­da to ral­ly against the recent changes to the fed­er­al Indi­an Act, par­tic­u­lar­ly the addi­tion of Bill C‑45, a bud­getary bill that the cam­paign says will infringe on Indi­an Reserve land rights and abate envi­ron­men­tal pro­tec­tions. Yes­ter­day, demon­stra­tors in Que­bec block­ad­ed a rail line by set­ting up a camp­site on the train tracks, say­ing they would remain indefinitely.
​"We're tar­get­ing the car­go rails, the trains which are trans­port­ing our resources that were exploit­ed here in our back­yard with lit­tle or no ben­e­fit to our peo­ple," a spokesper­son for the block­aders told the CBC. The move fol­lowed a sim­i­lar block­ade in Sar­nia, Ontario that began on Dec. 21, but was tak­en down ear­li­er today.
The move­ment was launched in Octo­ber by four women con­cerned about the upcom­ing leg­is­la­tion, but the cur­rent upsurge began on Dec. 4, when First Nations rep­re­sen­ta­tives were barred from the House of Com­mons, where they planned to voice their concerns.
In response, chief of Attawapiskat First Nation There­sa Spence has been on a hunger strike since Dec. 10, sub­sist­ing on only fish broth and water for more than three weeks. She's promised to starve to death unless Prime Min­is­ter Stephen Harp­er meets with First Nation lead­ers and the Gov­er­nor Gen­er­al to dis­cuss treaty rights and the country's rela­tion­ship with its indige­nous people.
Dec. 26, in addi­tion to being Box­ing Day in Cana­da, was a major push for­ward for the cam­paign. Flash mobs broke out at bustling shop­ping malls in Cal­gary, Edmon­ton, Rag­i­na, Saska­toon and oth­er loca­tions, fea­tur­ing hun­dreds of pro­test­ers, drums and tra­di­tion­al round dances. In a sep­a­rate ral­ly, pro­test­ers stopped pas­sage on the traf­fic-heavy Bur­rard and Rob­son Streets in Vancouver.
Today, Spence and oth­er First Nations lead­ers are meet­ing to clar­i­fy her demands and push for a res­o­lu­tion. While the Sar­nia block­ade has been dis­man­tled and Spence's request has so far gone unan­swered, one thing is clear — pro­test­ers aren't qui­et­ing down. Ral­ly­ing has con­tin­ued across Cana­da and tak­en off in the Unit­ed States, includ­ing flash mobs at Mall of Amer­i­ca in Min­neso­ta and at Des­tiny USA mall in New York. Protests have even spread as far as New Zealand and Australia.
In a report pub­lished in Decem­ber 2012, Amnesty Inter­na­tion­al called on the Cana­di­an gov­ern­ment to acknowl­edge and redress per­sis­tent abus­es of the rights of indige­nous peo­ple. The orga­ni­za­tion noted:
By every mea­sure, be it respect for treaty and land rights, lev­els of pover­ty, aver­age life spans, vio­lence against women and girls, dra­mat­i­cal­ly dis­pro­por­tion­ate lev­els of arrest and incar­cer­a­tion or access to gov­ern­ment ser­vices such as hous­ing, health care, edu­ca­tion, water and child pro­tec­tion, indige­nous peo­ples across Cana­da con­tin­ue to face a grave human rights crisis.