Adjunct Union Victory: Washington University Contingent Faculty Vote to Unionize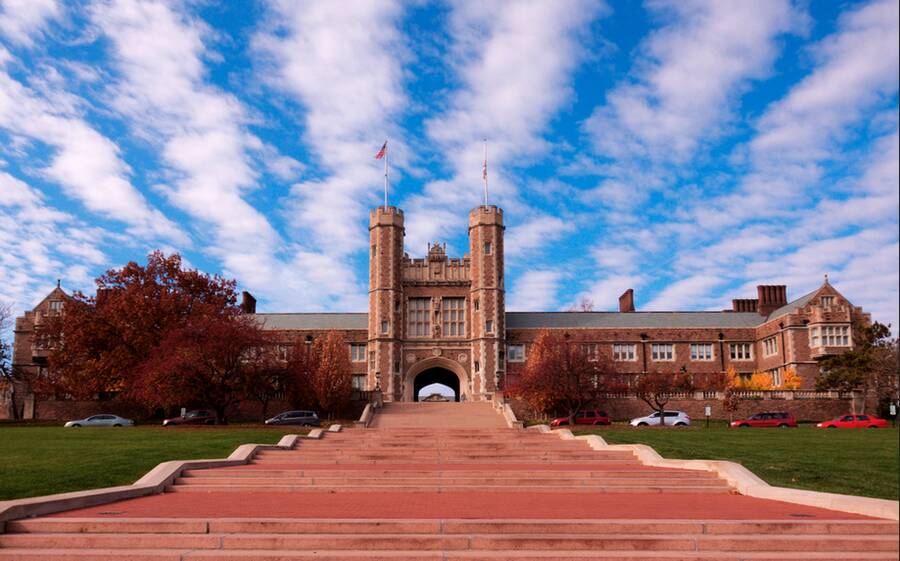 The vote was part of SEIU's Adjunct Action cam­paign, a push to orga­nize adjunct instruc­tors at the city­wide lev­el, not just through indi­vid­ual schools. The suc­cess­ful vote con­tin­ues a trend of part-time instruc­tors at major col­leges and uni­ver­si­ties orga­niz­ing to gain the pay and ben­e­fits enjoyed by their full-time col­leagues and push back against the increas­ing­ly pre­car­i­ous nature of aca­d­e­m­ic work.
Wash­ing­ton Uni­ver­si­ty employs over 400 adjunct pro­fes­sors in almost all sub­jects. Adjuncts typ­i­cal­ly teach part-time for low­er wages than full-time pro­fes­sors and are not eli­gi­ble for tenure. Often they work on semes­ter long con­tracts, not know­ing which, if any, cours­es they will teach the fol­low­ing term. If cours­es are cut due to lack of enroll­ment, or a full-time instruc­tor wants to teach it, adjunct instruc­tors will not get paid.
To com­bat these work­ing con­di­tions, adjunct instruc­tors have been active­ly orga­niz­ing in sev­er­al cam­paigns. Recent months have seen a num­ber of suc­cess­es for adjuncts around the coun­try. In April, adjuncts at Baltimore's Mary­land Insti­tute Col­lege of Art vot­ed to join SEIU Local 500. In Decem­ber, adjuncts at Tem­ple Uni­ver­si­ty in Philadel­phia vot­ed to orga­nize with the Amer­i­can Fed­er­a­tion of Teach­ers. Lat­er that same month, an NLRB rul­ing at Pacif­ic Luther­an Uni­ver­si­ty set the stage for instruc­tors at reli­gious insti­tu­tions to orga­nize. Adjunct orga­niz­ing cam­paigns are under way in 22 states around the coun­try.
In St. Louis, the Nation­al Labor Rela­tions Board will make the vote Wash­ing­ton Uni­ver­si­ty vote offi­cial in sev­en days. Dur­ing that time, the uni­ver­si­ty has the oppor­tu­ni­ty to file any chal­lenges or objec­tions to the process. Although 18 bal­lots are being con­test­ed, the vote was won by a 27-vote mar­gin, assur­ing union vic­to­ry for the adjuncts. A spokesman told the St. Louis Post-Dis­patch that the school would not com­ment until the vote was made official.
In a state­ment to employ­ees, the uni­ver­si­ty stat­ed, ​"With the elec­tion process now com­plete, the uni­ver­si­ty is com­mit­ted to work­ing with the union on mat­ters of mutu­al importance."
For the instruc­tors at WashU, the desire for a union was about more than pay and job secu­ri­ty. Michael O'Bryan, an adjunct Eng­lish instruc­tor, cit­ed improv­ing stu­dent learn­ing in a state­ment about the vote: ​"This vic­to­ry is an impor­tant step toward improv­ing the labor con­di­tions of uni­ver­si­ty fac­ul­ty and, con­se­quent­ly, the learn­ing expe­ri­ence of the stu­dents taught by those faculty."
SEIU's Adjunct Action cam­paign has won a num­ber of union dri­ves in its two years in cities such as Boston, Los Ange­les, and Wash­ing­ton, D.C. At North­east­ern Uni­ver­si­ty in Boston, the cam­paign won against an admin­is­tra­tion that hired Jack­son Lewis, the famed union-bust­ing law firm. And a recent adjunct con­tract at Tufts Uni­ver­si­ty could serve as a blue­print for Wash­ing­ton Uni­ver­si­ty, accord­ing to an instructor.
In St. Louis, the move­ment is already look­ing to expand after its recent vic­to­ry. The St. Louis Post Dis­patch con­firmed teach­ers had been con­tact­ed by union offi­cials at Lin­den­wood Uni­ver­si­ty, St. Louis Com­mu­ni­ty Col­lege at Mer­amec and St. Louis Uni­ver­si­ty to test inter­est in join­ing the campaign.
Kevin is an edu­ca­tor and free­lance writer in Chica­go. Fol­low him on Twit­ter at @kevinsolari_.