GOP Prez Candidate Carly Fiorina Forgets to Register URL, Gets Mercilessly Trolled for Mass Layoffs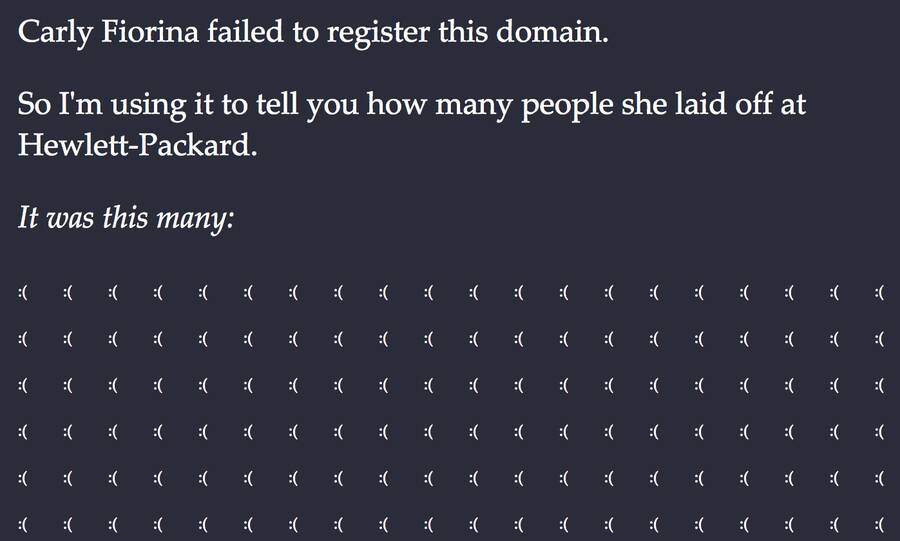 No soon­er had Car­ly Fio­r­i­na announced her bid for the Repub­li­can nom­i­na­tion for pres­i­dent this morn­ing that she faced an incred­i­ble trolling from some anony­mous denizen of the Inter­net. Fio­r­i­na and her cam­paign neglect­ed to reg­is­ter Car​ly​Fio​r​i​na​.org, and the site has become a soap­box high­light­ing her trag­ic tenure as CEO of Hewlett-Packard.
The web­site is sim­ple, say­ing ​"Car­ly Fio­r­i­na failed to reg­is­ter this domain. So I'm using it to tell you how many peo­ple she laid off at Hewlett-Packard. It was this many:" fol­lowed by 30,000 :( emoji.
After scrolling through the acres of sad faces, the web­site con­cludes ​"That's 30,000 peo­ple she laid off. Peo­ple with fam­i­lies. And what does she say she would have done dif­fer­ent­ly? ​'I would have done them all faster.' —Car­ly Fiorina"
Fio­r­i­na became famous for becom­ing the first female CEO of a For­tune 100 com­pa­ny in 1999. Her tenure at HP, one of the found­ing firms of Sil­i­con Val­ley, was con­tentious and includ­ed the lay­ing off of 30,000 employ­ees, stag­nant stock prices, and an ill-fat­ed merg­er with Com­paq. She was fired in 2005.
Fiorina's actu­al cam­paign web­site briefly touch­es on her time at HP, say­ing ​"her record as CEO speaks for itself." The site makes claims towards increased prof­its and cash flow, but does not dis­cuss her record on jobs while CEO.
This is not Fiorina's first for­ay into elec­toral pol­i­tics. She ran for the Sen­ate in 2010 against Bar­bara Box­er. She was sound­ly defeat­ed by near­ly 10 points.
Kevin is an edu­ca­tor and free­lance writer in Chica­go. Fol­low him on Twit­ter at @kevinsolari_.