GOP Prez Candidate Carly Fiorina Forgets to Register URL, Gets Mercilessly Trolled for Mass Layoffs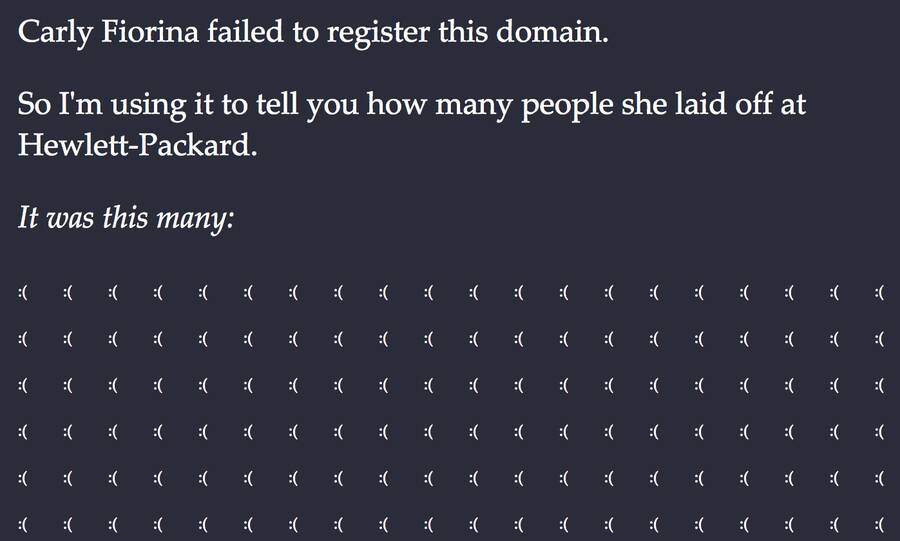 No sooner had Carly Fiorina announced her bid for the Republican nomination for president this morning that she faced an incredible trolling from some anonymous denizen of the Internet. Fiorina and her campaign neglected to register Car​ly​Fio​r​i​na​.org, and the site has become a soapbox highlighting her tragic tenure as CEO of Hewlett-Packard.
The website is simple, saying ​"Carly Fiorina failed to register this domain. So I'm using it to tell you how many people she laid off at Hewlett-Packard. It was this many:" followed by 30,000 :( emoji.
After scrolling through the acres of sad faces, the website concludes ​"That's 30,000 people she laid off. People with families. And what does she say she would have done differently? ​'I would have done them all faster.' —Carly Fiorina"
Fiorina became famous for becoming the first female CEO of a Fortune 100 company in 1999. Her tenure at HP, one of the founding firms of Silicon Valley, was contentious and included the laying off of 30,000 employees, stagnant stock prices, and an ill-fated merger with Compaq. She was fired in 2005.
Fiorina's actual campaign website briefly touches on her time at HP, saying ​"her record as CEO speaks for itself." The site makes claims towards increased profits and cash flow, but does not discuss her record on jobs while CEO.
This is not Fiorina's first foray into electoral politics. She ran for the Senate in 2010 against Barbara Boxer. She was soundly defeated by nearly 10 points.
Be one of the first
Help kick off the new era of In These Times! Without a media that brings people together and creates a written record of the struggles of workers, their voices will be fragmented and forgotten.
The mission of In These Times is to be that written record, and to guide and grow those movements.
We have a lot of work ahead of us, and that work starts today. Early support is the most valuable support, and that's why we're asking you to pitch in now. If you are excited for this new era of In These Times, please make a donation today.
Kevin is an educator and freelance writer in Chicago. Follow him on Twitter at @kevinsolari_.