After Hard-Fought Chicago Victory, Wal-Mart Eyes Urban Expansion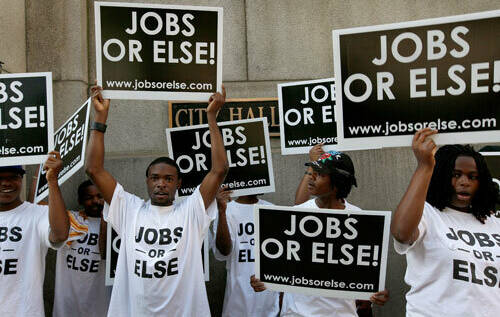 Community groups claim victory, but retail giant won't pay ​'living wage' unions wanted
Wal-Mart inched closer to fulfilling their urban expansion plans last Wednesday, after the retail giant received city approval to construct a second store in Chicago.

City Council members voted unanimously—though with some trepidation—to allow the world's largest retailer to build in the city's South Side, ending a six-year political battle that encountered strong opposition from local politicians and labor unions.

As part of the deal, Wal-Mart has promised to build the store with union workers, donate $20 million dollars to charity, and offer relatively higher wages to Chicago employees. The agreement foreshadows the company's plans to build ​"dozens" more throughout the city and is also a sign of larger expansion to urban markets.
This marks a giant step for Wal-Mart, which views Chicago as a blueprint to build stores in other major cities. The strategy of using public-relations campaigns and offering minimum union concessions is part of how the company targets low-income urban communities desperate to attract jobs and major businesses.

The Arkansas-based company made their fortunes by cornering rural and suburban markets. But Wal-Mart sales in the U.S. have continued to decline in part because the company says its working-class base is grappling with the recession and high gas prices.

As a result, they're looking to expand into cities like New York, Washington D.C. and Detroit, places that have shunned the company for its anti-union history.

The same was true in Chicago ever since Wal-Mart opened their first store on the West Side four years ago. The world's largest retailer faced major opposition for paying low wages, contributing to the loss of American manufacturing jobs, and its tendency to drive out small businesses. In 2006, the City Council tried to enact a ​"living wage" bill, which was ultimately vetoed by Mayor Richard Daley, an ardent supporter of Wal-Mart.

But with the help of public relations and a bad economy, the city had a change of heart. With employment figures in Chicago at 10.5 percent compared to the 9.7 percent national average, community leaders, ministers and city alderman eased their vitriol.

Wal-Mart has been able to capitalize on economically distressed areas with what looks to be a panacea on the surface: new stores could also add 12,000 jobs and bring in $500 million sales and property taxes. Proponents also say the inclusion of a grocery store can help to eliminate so-called ​"food deserts," depressed neighborhoods lacking supermarkets.

But as we've reported before, the existing Wal-Mart in Chicago hasn't led to new jobs or economic activity.

Still, community organizations like Southsiders Organizing for Unity and Liberation (SOUL) said the deal was a ​"significant victory." The Chicago Federation of Labor, the city's main union body, called the agreement ​"a victory for the community" after ostensibly securing better wages.

Workers are expected to make $8.75 an hour, fifty cents above the Illinois minimum wage, with 40 to 60 cent hourly raises after one year. While it is still higher than other Wal-Mart stores across the country, it falls short of the $11 an hour wage unions were hoping for several weeks ago.

But there are some caveats. Wal-Mart has not confirmed the figures to several outlets and only said they are committed to ​"competitive wages."

The company was also able to drum up support through ​"community action networks," which use local proponents of Wal-Mart through online campaigns, public demonstrations, and even donations to local leaders.

Labor professor Nelson Lichtenstein notes that the debate has had a racial undertone and has split many leaders in minority communities. He tells the Chicago Reader:
If you're going to employ the bottom half of the working class in America, you're going to employ a lot of Latinos and a lot of blacks, and they do. And they're very proud of that. They want to keep the bottom half of the working class at low wages and low benefits, and that affects blacks and Latinos. That's what some of these pro-Walmart ministers have to understand.
Lichtenstein notes that its nearly impossible to sustain a career at Wal-Mart, especially with its high turnover and emphasis on cutting costs. He notes that the bare minimum concessions offered in exchange for building rights will have national implications.
His premonitions may be coming to fruition. An article last week in the Washington Post quotes sources who say that Wal-Mart is expected to sign a lease in Washington D.C. this fall.

There have also been talks about a proposed store in New York City. Unions there have so far scoffed at a Chicago-like deal, but Wal-Mart can circumvent negotiations with unions and council members, according to Crain's.

Wal-Mart is in Chicago to stay. But labor and community leaders fell short of implementing the ​"living wage" ordinance to create city standards instead of an ad hoc deal where wage increases will only apply to the new store in the South Side's Pullman neighborhood. Obviously, a set wage would be a boon to potential employees — especially if more stores are built in the future.

For now, residents and politicians will be keeping a close eye on how the new Chicago project pans out.