After Janus, How to Tilt the Balance of Power Back to Workers
There's a simple fix to Janus's "free-rider" problem.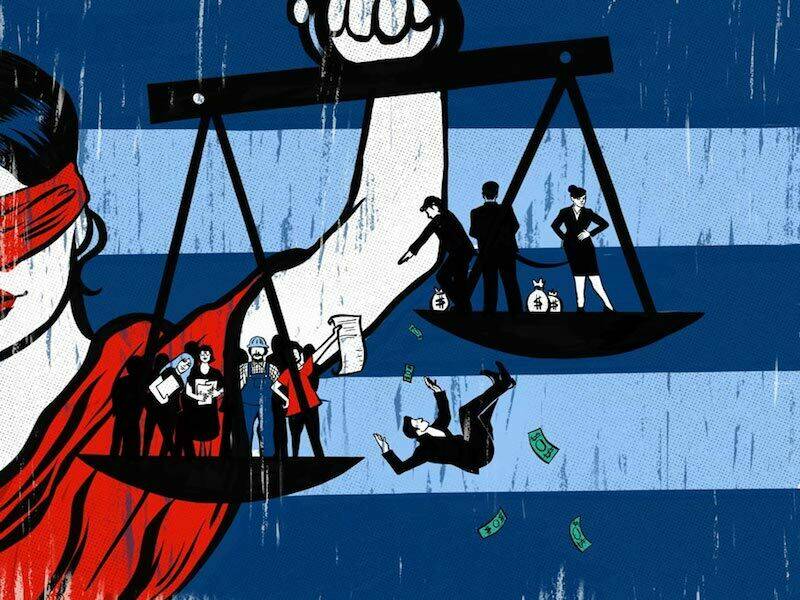 More than once dur­ing the ongo­ing cri­sis of orga­nized labor in the Unit­ed States, In These Times has won­dered whether this event or that is the nail in labor's cof­fin. Today, in the wake of the Supreme Court's June 27 Janus v. AFSCME deci­sion, we hear clods of earth hit­ting the lid. With pri­vate-sec­tor union mem­ber­ship at an all-time low of 7 per­cent, Janus threat­ens labor's last bas­tion: the 34-per­cent-union­ized pub­lic sector.
Lawmakers in Hawaii are already considering the creation of a statewide pot of money (think of it as a "Janus fund") to cover public-sector unions' bargaining expenses.
Many unions are wise­ly chan­nel­ing resources into deep mem­ber orga­niz­ing, but a strong bedrock of legal pro­tec­tions for orga­nized labor sure would help. As labor his­to­ri­an Nel­son Licht­en­stein wrote for In These Times' 40th anniver­sary anthol­o­gy, The Age of Inequal­i­ty, ​"Even the most cre­ative forms of rank-and-file mil­i­tan­cy could but rarely tri­umph against a free mar­ket-ori­ent­ed neolib­er­al legal and finan­cial régime." The Inter­na­tion­al Trade Union Con­fed­er­a­tion, in its annu­al work­ers' rights assess­ment, rou­tine­ly groups the U.S. with Iraq, Hon­duras and oth­er coun­tries where ​"fun­da­men­tal rights [are] under con­tin­u­ous threat."
The labor and employ­ment pro­tec­tions that do exist have been erod­ed for decades, often on the Democ­rats' watch. But unions and work­ers weary of bro­ken promis­es from cor­po­rate-cap­tured leg­is­la­tors may find a glim­mer of hope in the cur­rent rise of pro­gres­sive Democ­rats. To those can­di­dates and leg­is­la­tors look­ing for strong pro-labor pro­pos­als, we offer four con­crete poli­cies to bol­ster work­ers' rights. With one caveat: Leg­isla­tive change won't hap­pen with­out a groundswell of work­er action, root­ed in the con­vic­tion that we do not shed our rights when we clock into work.
—Jes­si­ca Stites
The Sim­ple Fix to Janus
If there is any agree­ment between Right and Left regard­ing the Supreme Court's deci­sion in Janus, it is that the rul­ing deliv­ers a poten­tial­ly crush­ing blow to pub­lic-sec­tor unions across the coun­try. Before Janus, small auto­mat­ic deduc­tions could be deb­it­ed from work­ers' pay­checks to cov­er union bar­gain­ing costs. After Janus, this is no longer an option: The Supreme Court has ruled that requir­ing union con­tri­bu­tions vio­lates the First Amendment.
So, as a mat­ter of law, all pub­lic-sec­tor work­ers are now free to opt out of pay­ing union dues while still retain­ing the ben­e­fits of union rep­re­sen­ta­tion. Experts esti­mate that any­where from 20 per­cent to 70 per­cent of those affect­ed will stop pay­ing — with sig­nif­i­cant neg­a­tive effects on unions' abil­i­ty to advo­cate for work­ers' interests.
This dooms­day sce­nario is entire­ly avoid­able, how­ev­er. Law­mak­ers in the 22 states that per­mit­ted pub­lic-sec­tor unions to col­lect fair-share fees before Janus can enact a sim­ple leg­isla­tive workaround that would neu­tral­ize essen­tial­ly all of Janus' impact. Most of these states are blue and osten­si­bly pro-labor, so they should jump at the opportunity.
Instead of deduct­ing union dues from pay­checks to reim­burse union bar­gain­ing-relat­ed costs, gov­ern­ment employ­ers — fire depart­ments, school dis­tricts, etc. — could be required to reim­burse those expens­es direct­ly. Work­ers who pre­vi­ous­ly object­ed would no longer have an issue, and unions would still enjoy the same, pre-Janus lev­el of resources need­ed to car­ry out their rep­re­sen­ta­tion­al activities.
It gets bet­ter. There is a hid­den ben­e­fit to this ​"direct reim­burse­ment" approach: Work­ers would actu­al­ly expe­ri­ence a small net pay increase. The pre-Janus approach cre­at­ed an extra tax bur­den that would be alle­vi­at­ed. Union fees for­mal­ly count­ed as wages (even though they nev­er made it into employ­ees' bank accounts), so work­ers were pay­ing tax­es on the mon­ey that fund­ed the union. The direct reim­burse­ment approach would elim­i­nate that odd­i­ty, result­ing in a rough­ly $200 tax cut for an unmar­ried work­er who earns $50,000 a year. (A work­er earn­ing $60,000 would get a $300 tax cut.)
If direct gov­ern­ment reim­burse­ment of union bar­gain­ing-relat­ed expens­es sounds far-fetched to you, it shouldn't. State law­mak­ers in Hawaii are already con­sid­er­ing a gov­ern­ment fund­ing bill that would cre­ate a statewide pot of mon­ey (think of it as a ​"Janus fund") to ensure that pub­lic-sec­tor unions have the resources they need to bar­gain. Some states may pre­fer a statewide response like Hawaii's; oth­ers, an employ­er-by-employ­er approach (which would be more sim­i­lar to the pre-Janus fair-share sys­tem).
One note of cau­tion: What­ev­er approach states choose, it will be impor­tant for leg­is­la­tors to enact pro­ce­dures to ensure unions remain ful­ly inde­pen­dent from their gov­ern­ment employ­ers at the bar­gain­ing table — even though those employ­ers are reim­burs­ing bar­gain­ing costs. For exam­ple, rather than let­ting employ­ers nego­ti­ate over union reim­burse­ment lev­els along­side wage increas­es, employ­ers could be required to reim­burse unions for all bar­gain­ing-relat­ed expens­es (the same costs that could be charged to all work­ers before Janus), with dis­putes resolved by a state Pub­lic Employ­ment Rela­tions Board.
I explore these design ques­tions and oth­ers — includ­ing propos­ing some mod­el leg­is­la­tion — in ​"Life After Janus," a full-length arti­cle post­ed on the Social Sci­ence Research Network.
The les­son is that Janus is only as big a prob­lem as pro­gres­sive law­mak­ers want it to be. There is a ready-made solu­tion — if only they are will­ing to act.
Jes­si­ca Stites is In These Times' Exec­u­tive Edi­tor. Before join­ing ITT, she worked at Ms. mag­a­zine and George Lakoff's Rock­ridge Insti­tute. Her writ­ing has been pub­lished in the Los Ange­les Review of Books, Ms., Bitch, Jezebel, The Advo­cate and Alter­Net.Aaron Tang (@AaronTangLaw) is Act­ing-Pro­fes­sor of Law at the Uni­ver­si­ty of Cal­i­for­nia-Davis School of Law. He is a grad­u­ate of Yale Col­lege and Stan­ford Law School and is a for­mer law clerk to Asso­ciate Jus­tice Sonia Sotomay­or of the Supreme Court of the Unit­ed States.