After Oklahoma Disaster, Give Thanks for 'Big Government'
Government--when working right--is the most powerful and reliable responder to large-scale emergencies.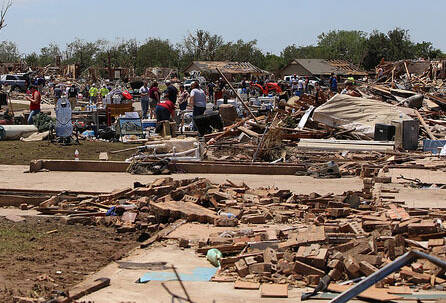 With­in hours of this week's tor­na­do dis­as­ter in Okla­homa, I (like many oth­ers) received emails from the pres­i­dent of the Unit­ed States and my U.S. Sen­a­tor. With impas­sioned lan­guage, they both claimed to care deeply about yet anoth­er com­mu­ni­ty dev­as­tat­ed by a cat­a­clysm, and then said the best way for Amer­i­ca to respond is to sup­port pri­vate charities.
When you find yourself riveted by disaster response coverage on television, what you are really watching underneath all the graphics and breathless punditry is footage of government in action.
The work of non-gov­ern­men­tal orga­ni­za­tions, no doubt, is crit­i­cal, and con­tribut­ing mon­ey to them is laud­able. But there is some­thing trou­bling about gov­ern­ment lead­ers ini­tial­ly imply­ing – if sub­tly – that a non-gov­ern­men­tal response is as sig­nif­i­cant as a gov­ern­men­tal one. And there is some­thing even more dis­turb­ing about that mes­sage being sent at a time when bud­get cuts and seques­tra­tions engi­neered by those very gov­ern­men­tal lead­ers threat­en to pre­vent a more effec­tive response to such dis­as­ters in the future.
It all sug­gests that the anti-gov­ern­ment zeit­geist in Amer­i­ca has become so pow­er­ful that pub­lic offi­cials now feel com­pelled to down­play the pub­lic sec­tor for fear of being tarred and feath­ered as a social­ist, a Marx­ist or an oppor­tunist undu­ly ​"politi­ciz­ing" a tragedy.
Of course, avoid­ing a dis­cus­sion of the gov­ern­men­t's role at times like these is, unto itself, a politi­cized deci­sion – one pro­mot­ing the illu­sion that we don't need gov­ern­ment. And no mat­ter how much anti-gov­ern­ment con­ser­v­a­tives deny it, that is an illusion.
Think about it: When you find your­self riv­et­ed by dis­as­ter response cov­er­age on tele­vi­sion, what you are real­ly watch­ing under­neath all the graph­ics and breath­less pun­dit­ry is footage of gov­ern­ment in action.
Think about it: Whether deal­ing with a hur­ri­cane on the East Coast, a fer­til­iz­er plant explo­sion in Texas or a tor­na­do in Okla­homa, gov­ern­ment remains the best, most pow­er­ful and most reli­able defend­er against and respon­der to large-scale emergencies.
Think about it: For every head­line-grab­bing sto­ry of a pri­vate cit­i­zen res­cu­ing anoth­er indi­vid­ual, there are scores of nev­er-told sto­ries of police offi­cers, fire­fight­ers, first respon­ders, pub­lic school teach­ers, gov­ern­ment-cre­at­ed warn­ing sys­tems, pub­lic hos­pi­tals and emer­gency man­age­ment agen­cies sav­ing hun­dreds of lives and/​or rebuild­ing whole com­mu­ni­ties. Those sto­ries, in fact, are rarely told because for all the petu­lant anti-gov­ern­ment whin­ing that dom­i­nates Amer­i­can pol­i­tics, we've come to so expect such a strong pub­lic sec­tor response that it's bare­ly even con­sid­ered newsworthy.
That expec­ta­tion, by the way, is not some­thing to lament. After all, while local, state and fed­er­al gov­ern­ments are just as imper­fect as cor­po­ra­tions and non-prof­its, they are – unlike those pri­vate sec­tor coun­ter­parts – pop­u­lar­ly con­trolled insti­tu­tions. That means in a demo­c­ra­t­ic soci­ety they should be a pri­ma­ry way we col­lec­tive­ly pre­pare for and respond to mass emer­gen­cies. Indeed, one of the most basic def­i­n­i­tions of the term ​"civ­i­liza­tion" – as opposed to anar­chy – is a soci­ety that sim­ply rec­og­nizes we're all in this togeth­er and con­se­quent­ly builds pub­licly run insti­tu­tions to hon­or that truism.
Though they refuse to pub­licly admit it, anti-gov­ern­ment con­ser­v­a­tives actu­al­ly seem to real­ize this tru­ism when they or their con­stituents are per­son­al­ly involved. Okla­homa pro­vides an illus­tra­tive example.
In the wake of the tor­na­do, you haven't seen Okla­homa's right-wing leg­is­la­tors mak­ing anti-"Big Gov­ern­ment" argu­ments to deride the fact that their state receives more fed­er­al tax dol­lars than it con­tributes as of 2010, the most recent data avail­able. Instead, you will like­ly – and right­ly – see them lob­by­ing to bring back dis­as­ter relief funds from Wash­ing­ton. Like­wise, you haven't see Okla­homa's arch­con­ser­v­a­tive dem­a­gogues like Repub­li­can Sen. Tom Coburn say­ing gov­ern­ment should­n't help respond to the lat­est tor­na­do. Instead, he's now insist­ing ​"there's a legit­i­mate role" for gov­ern­ment to play.
He's absolute­ly cor­rect. It just should­n't take a tragedy for him or any­one else to real­ize that this will always be the case – at least if Amer­i­ca is going to remain a tru­ly civ­i­lized society.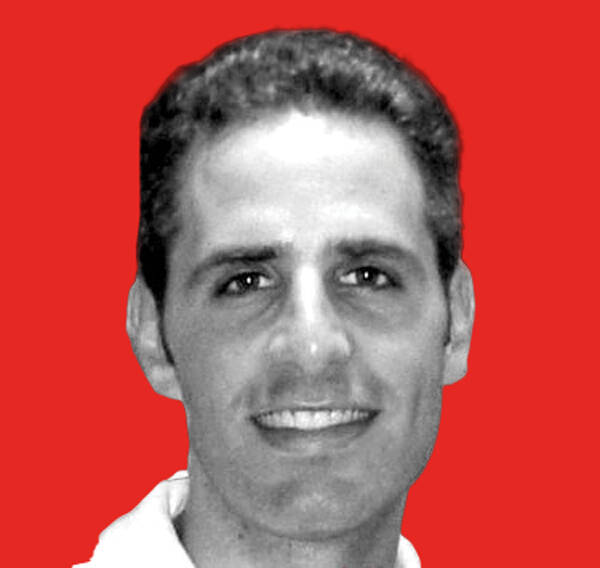 David Siro­ta
is an award­win­ning inves­tiga­tive jour­nal­ist and an
In These Times
senior edi­tor. He served as speech writer for Bernie Sanders'
2020
cam­paign. Fol­low him on Twit­ter @davidsirota.