After the Deluge
Big Easy organizers confront racial tensions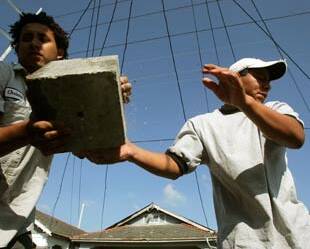 In New Orleans, the history of work in this country over the last 15 years was compressed into six months," says Saket Soni, an organizer for the New Orleans Worker Justice Coalition, one of several groups reaching out to workers in the post-flood city. To give workers a voice in its reconstruction, he says, the Coalition must somehow bring together new Latino immigrants with displaced New Orleanians, mostly African Americans, who are still struggling to return to the city.
Before the levees broke, Latinos made up three percent of New Orleans' population. Today, they've risen to 20 percent, as immigrants seeking work in demolition and construction have arrived from other U.S. cities and from south of the border. A study by Tulane University and the University of California, Berkeley found that nearly half the reconstruction workers in the area are Latinos.
As in the rest of the country, these two groups are mostly not talking to each other. According to a new report from the Advancement Project, which worked closely with the Coalition to interview more than 700 workers, ​"The perception is that workers of color are competing for jobs. The reality is that private contractors are competing for the cheapest labor." Both unions and social justice organizations say they will need to confront divisive stereotypes if they are to improve workers' conditions.
Contractors have welcomed immigrants because they are more easily exploitable. Ana Mendes, for example, from Guatemala by way of Arkansas, worked four weeks without pay until she and a dozen others tracked the contractor down at his home.
Meanwhile, displaced black residents – two-thirds of New Orleans' pre-flood population – have been excluded from a city where housing is scarce and rents have doubled or tripled.
Their problems stem partly from the poverty that was a fact of life in pre-Katrina New Orleans, which had the fourth-highest unemployment rate in the country and the worst schools. Tens of thousands of residents lived payday to payday on service industry wages.
"You cannot talk about doing any type of justice work," says Coalition member Kimberley Richards, a trainer with the People's Institute for Survival and Beyond, ​"without looking at those who were living in unjust conditions before the storm."
At Lee Circle, the city's largest corner for day laborer pick-ups, a young black man from Baton Rouge is angry at immigrants he perceives as doing better than he is. ​"They got Mexicans out here that are not even supposed to be here," he fumes.
"It's a pick and choose kind of thing. People feel like they can pay the Mexicans less and take more of them and get more work done. If they run up to a car where I'm at, I'm gonna beat ​'em up."
Debra Campbell, a black New Orleans homeowner living in Houston and working to return home, says the Mexicans ​"are doing pretty good construction work. They're bringing in their families, and they're going to take the houses because they have money to pay the rent. Let our youngsters learn the skills so they can do the work."
The stereotypes run rampant on both sides. Michael White, an African American day laborer from Atlanta, insists that it's not about race discrimination – contractors are thinking only of their bottom line. He worked on a crew with four Mexican immigrants to gut a ruined house, and he didn't come back the next day: ​"A black man is not going to work that hard," he says.
Ana Mendes has had jobs cleaning hotels and homes. She says, ​"When we work, we work. When we take lunch, we take lunch. They [black workers] are more like" – she mimes a relaxed drag on a cigarette.
To bridge the gulf caused by such perceptions, the Justice Coalition is working with both African-American organizations, like the People's Institute and the People's Hurricane Relief Fund, and with experienced Latino day laborer organizers. In July the National Day Labor Organizing Network, based in Los Angeles, sent in a team of Latino organizers to recruit leaders from the corners and train them in assessing organizing possibilities.
The Coalition has successfully pressured some employers to cough up unpaid wages and has wage-and-hour lawsuits pending. NAACP attorney Tracie Washington, a board member of the Coalition's fledgling Louisiana Workers Center, advocated on behalf of 200 Latino hotel workers to get them Louisiana state ID cards. She says, ​"They got the opportunity to see – ​'all we've heard is that black people don't like us, and here's this person on behalf of the NAACP who came to our aid.'"
Coalition members are working creatively to find ways to bring these communities together. When day laborer leaders came to town in April with the Day Laborer Run for Peace and Dignity, says Coalition activist Robert Caldwell, ​"we put the event in a black neighborhood with a deep history of struggle, and invited key people to the planning committee. We had food prepared by the best cook in the neighborhood." Almost 100 people, mainly African Americans, turned out.
As these grassroots efforts look for footing in the ravaged city, national unions are coming to New Orleans with ambitious programs, for what historically has been largely a non-union town.
In July the Laborers Union started free classes in construction basics, and in September the Service Employees International Union (SEIU) will offer classes for certified nurses' aides and home health aides. (Both unions are part of the Change to Win federation.) A spokesman for the two unions' Worker Resource Center said that graduates of the first one-day safety class were snapped up by employers the next day. The unions are counting on a construction boom when the government finally releases federal aid money to homeowners.
The AFL-CIO is coming at the jobs problem from a different angle: Two investment trusts sponsored by union pension funds will pump $700 million into construction of apartments, hotels and hospitals, as well as home mortgages. All construction will be union, and the federation's Building and Construction Trades Department will offer apprenticeships.
The AFL-CIO says its money is the first major infusion of private capital into the Gulf Coast since the flood. ​"If the community sees that the union has decided to be there for them in their fight to return and rebuild, they will see that a strong workers movement will benefit the whole of the community," says Gulf Coast Recovery Coordinator Arlene Holt Baker. ​"It won't be overnight that this will be a union town. We will be laying the foundations."
But who will get the jobs that are created? Although both unions say they are open to all, the programs are targeted at former Gulf Coast residents. Graduates of the first Laborers class were all African Americans. Rosana Cruz, Gulf Coast field organizer for the National Immigration Law Center, says, ​"For unions to come in now and just pay attention to Latinos, after decades of ignoring blacks in the South – ​'here's where we can increase our market share' – would be awful."
"We get past the tensions by recognizing that we don't have to fight over a $6 an hour job changing sheets in somebody else's hotel," Tracie Washington says. ​"The fight is to make that job a $10 an hour job, and to ultimately own the hotel."