Food Production is a Major Cause of Climate Change, but Farmers Can be Part of the Solution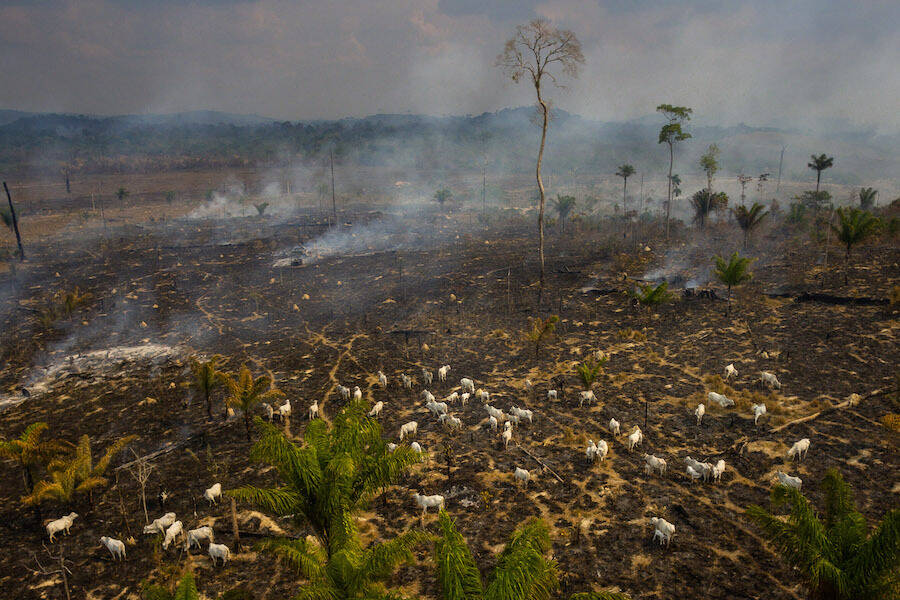 Edi­tor's Note: This sto­ry was orig­i­nal­ly pub­lished on The Mid­west Cen­ter for Inves­tiga­tive Reporting.
Farm­ing, more than any oth­er indus­try, might be the best hope for curb­ing cli­mate change.
The glob­al food pro­duc­tion sys­tem, which includes agri­cul­ture, accounts for more than a third of man-made green­house gas­es, accord­ing to an August report from the Unit­ed Nations' Inter­gov­ern­men­tal Pan­el on Cli­mate Change.
And while past focus has been on indus­tries such as fos­sil fuels and trans­porta­tion, new atten­tion is being put on agriculture's role in the cli­mate change solu­tion. On Sept. 18, a coali­tion rep­re­sent­ing 10,000 farm­ers and ranch­ers deliv­ered a let­ter to Con­gress sup­port­ing the Green New Deal, a con­gres­sion­al res­o­lu­tion to tran­si­tion the Unit­ed States to 100 per­cent clean ener­gy by 2030.
"Farm­ers and ranch­ers are on the front lines of the cli­mate cri­sis. Their liveli­hoods are put at risk by more intense droughts and storms and flood­ing, and extreme heat and humid­i­ty are endan­ger­ing the health of farm work­ers," said New Mex­i­co Con­gress­woman Deb Haa­land at a press con­fer­ence announc­ing the coali­tion. ​"It makes all the sense in the world that farm­ers and ranch­ers sup­port our Green New Deal resolution."
Haa­land cospon­sored the Green New Deal when it was intro­duced in Feb­ru­ary 2019.
The UN's August report warns that man-made emis­sions have already begun to threat­en the world's food security.
As the warn­ings of cli­mate change begin to be mea­sured in years and decades rather than half-cen­turies, chang­ing the way the world grows, dis­trib­utes and con­sumes food could help slow the effects, the report sug­gests. But some sci­en­tists say a slow roll­out of con­ser­va­tion prac­tices that min­i­mize soil ero­sion, defor­esta­tion and green­house gas emis­sions may be too lit­tle, too late.
"Ignor­ing cli­mate change will hurt agri­cul­ture in the long run," said Ben­jamin Houl­ton, direc­tor of the John Muir Insti­tute of the Envi­ron­ment at the Uni­ver­si­ty of Cal­i­for­nia, Davis.
The rapid defor­esta­tion of the Ama­zon rain­for­est high­lights the way the world's con­sump­tion can con­flict with the desire for conservation.
While the world's most pow­er­ful nations pledged $40 mil­lion to help stop fires from rag­ing in Brazil's Ama­zon rain­for­est, they failed to rec­og­nize that many of these fires were set to clear land for cat­tle pas­tures and soy­bean pro­duc­tion, accord­ing to the Ama­zon Watch, a non­govern­men­tal orga­ni­za­tion focused on pro­tect­ing the rain­for­est. Brazil's pres­i­dent, Jair Bol­sonaro, cam­paigned on a promise to bring eco­nom­ic devel­op­ment to the Ama­zon.
Even after Brazil's pres­i­dent insti­tut­ed a 60-day mora­to­ri­um on burn­ing in the rain­for­est, near­ly 4,000 new fires have been observed by Brazil's Nation­al Space Research Institute.
The trade war between U.S. and Chi­na may have con­tributed to these new fires.
Chi­na went from buy­ing near­ly 29 mil­lion met­ric tons of Amer­i­can soy­beans in 2017 to less than six mil­lion, an 80 per­cent drop.
The coun­try still need­ed much of that soy to feed its live­stock, so it turned to Brazil, which increased its soy­bean exports to Chi­na, from just more than 50 mil­lion met­ric tons in 2017 to 66 mil­lion last year.
As the trade war between the U.S. and Chi­na con­tin­ues to stall, Brazil­ian farm­ers see an oppor­tu­ni­ty to cap­ture the Chi­nese soy­bean mar­ket long term, said Jim Sut­ter, CEO of U.S. Soy­bean Export Council.
"Grow­ers in Brazil are get­ting a finan­cial sig­nal to grow more, because there's a mar­ket for it. I think they're ramp­ing up to grow more," he said.
Sut­ter said Brazil, with sup­port from Chi­nese state-run com­pa­nies like COF­CO, is build­ing infra­struc­ture like ports and roads, to more effi­cient­ly trans­port crops from South Amer­i­can to China.
Shift­ing the Focus to Agriculture
Much of the cli­mate change con­ver­sa­tion over the last 30 years has been focused on the trans­porta­tion and ener­gy sec­tors, said Jason Clay, senior vice pres­i­dent of mar­kets for the World Wildlife Fund. But that's not because they are the biggest sources of emissions.
"The most green­house gasses have always been in the food sec­tor. It's just too big and com­pli­cat­ed to actu­al­ly fig­ure out how to address it, through so many dif­fer­ent pro­duc­ers and so many dif­fer­ent sup­ply chains," Clay said.
Adjust­ing course in the way food is pro­duced could scale back the impacts of cli­mate change, and there are signs that some U.S. farm­ers and ranch­ers are already mak­ing strides to become more sustainable.
Clay says the fed­er­al gov­ern­ment isn't tak­ing the steps need­ed to curb the effects of cli­mate change on U.S. agri­cul­ture — news reports doc­u­ment the Trump admin­is­tra­tion's efforts to deny cli­mate sci­ence.and even repress stud­ies that don't align with its pro-busi­ness, anti-envi­ron­ment agenda.
"We don't know the extent of the prob­lem in the U.S. yet, because we haven't doc­u­ment­ed it well," he said. ​"They can't even men­tion the words ​'cli­mate change.' It's not going to be like­ly that they're ever going to col­lect the data."
Instead, the task of re-envi­sion­ing an agri­cul­tur­al mod­el that is more sus­tain­able is falling on the shoul­ders of indi­vid­ual farm­ers and agri­cul­tur­al businesses.
Mod­ern Ag Has Solved Some Prob­lems, Cre­at­ed Others
The UN report rec­og­nized the val­ue of mod­ern agri­cul­ture in feed­ing a grow­ing pop­u­la­tion. It not­ed that meat sup­ply per capi­ta has dou­bled since 1961, with cere­al crop pro­duc­tion up 240 percent.
But it also point­ed out that a third of all food is wast­ed, accord­ing to the UN's Food and Agri­cul­ture Orga­ni­za­tion.
Increased food pro­duc­tion has had an envi­ron­men­tal toll.
Agri­cul­ture accounts for as much as 70% of fresh-water usage glob­al­ly and leads to greater soil ero­sion and defor­esta­tion. Open soil heats up faster and lacks car­bon cap­tur­ing plants.
Clay said that, as more land is con­vert­ed to farm­land, more mar­gin­al soils pro­duce less food per acre.
"That sprawl is actu­al­ly a much big­ger threat to bio­di­ver­si­ty and ecosys­tems and cli­mate change," he said.
Kevin Ful­ton, a cat­tle ranch­er and crop farmer who runs around 800 acres near Litch­field, Nebras­ka, said he's found greater effi­cien­cy by scal­ing back the size of his oper­a­tion and intro­duc­ing sus­tain­able prac­tices like organ­ic farm­ing and grass-fed beef.
"The ani­mals are the most impor­tant part of the equa­tion," Ful­ton said. ​"They have to be on the land­scape, not in some con­cen­trat­ed ani­mal feed­ing oper­a­tion in a cor­ner, hav­ing all the feed hauled to them and hav­ing all the manure hauled back out. There's just tremen­dous inef­fi­cien­cies in those kind of systems."
Chang­ing Cli­mate May Look Dif­fer­ent Depend­ing on Where You Live
The UN report explained how cli­mate change will impact var­i­ous parts of the world, and not all are appar­ent­ly neg­a­tive. Areas near the equa­tor may see an expan­sion of desert-like con­di­tions, chal­leng­ing food pro­duc­tion. Fur­ther north may ini­tial­ly see an increase in grow­ing sea­sons and yields — a trend the U.S. Envi­ron­men­tal Pro­tec­tion Agency has also observed.
Those extra days in the field will include more extreme weath­er, like the 2019 grow­ing season.
"Cli­mate change has already affect­ed food secu­ri­ty," said the report. It warned of wild­fires, pest out­breaks, ​"increas­es in rain­fall inten­si­ty, flood­ing, drought fre­quen­cy and sever­i­ty, heat stress, dry spells, wind, sea-lev­el rise and wave action, per­mafrost thaw."
Kara Brew­er Boyd, who farms 1,300 acres around Baskerville, Vir­ginia, saw the volatil­i­ty of cli­mate change first-hand this spring. While flood­ing kept much of the Mid­west from plant­i­ng, drought kept her out of the fields.
"The ground was just so hard, you couldn't break ground to get things in it," she said. In the fall, it's inten­si­fied mois­ture from trop­i­cal storms — a phe­nom­e­non she said didn't affect her area decades ago. ​"There's been times when we've actu­al­ly lost crop because it's been too wet in the field, and we couldn't get it out. It rotted."
Accord­ing the the USDA Farm Ser­vice Agency's August 12 report, farm­ers were unable to plant 19.4 mil­lion acres this year. That's nine times the 1.8 mil­lion acres farm­ers left unplant­ed in 2018. For parts of the upper Mid­west and east coast, above aver­age mois­ture this fall could con­tin­ue to ham­per grow­ers as they pre­pare for harvest.
Rip­ple Effects
For parts of the world, the effects of cli­mate change aren't 10 to 15 years away. They're hap­pen­ing now.
The UN report said extreme weath­er will desta­bi­lize the food chain, ​"lead­ing to high­er food prices and increased risk of food inse­cu­ri­ty and hunger. The most vul­ner­a­ble peo­ple will be more severe­ly affected."
The cost of food will like­ly go up for every­one. As the abil­i­ty to grow cer­tain crops changes around the world, the need for inter­na­tion­al trade will also increase, as peo­ple rely on food grown out­side of their region.
"With­out trade, it's going to be very hard to address food secu­ri­ty issues at a glob­al lev­el," said Clay. ​"There's always going to be some places that are pro­duc­ing sur­plus­es, and many places that are pro­duc­ing at a deficit."
He said com­bat­ive trade poli­cies like that between the U.S. and Chi­na will exac­er­bate food inse­cu­ri­ty at home and abroad. The report warns that, as the food sys­tem becomes less depend­able, the chang­ing cli­mate could also increase migra­tion of affect­ed populations.
"Changes in cli­mate can ampli­fy envi­ron­men­tal­ly induced migra­tion both with­in coun­tries and across bor­ders," the report said. ​"Extreme weath­er and cli­mate or slow-onset events may lead to increased dis­place­ment, dis­rupt­ed food chains, threat­ened liveli­hoods, and con­tribute to exac­er­bat­ed stress­es for conflict."
That strain will rip­ple across rur­al Amer­i­ca and low income com­mu­ni­ties, impact­ing near­ly every­one. A 2018 cli­mate assess­ment by the U.S. Glob­al Change Research Pro­gram explained that, in addi­tion to agri­cul­tur­al chal­lenges, high­er tem­per­a­tures will dis­pro­por­tion­ate­ly impact small­er com­mu­ni­ties, where access to health­care can be more chal­leng­ing as rur­al hos­pi­tals strug­gle to remain solvent.
Aging or insuf­fi­cient water sys­tems or telecom­mu­ni­ca­tions infra­struc­ture are more sus­cep­ti­ble to fail­ure because of extreme weath­er caused by cli­mate change.
Ag Solu­tions
There are farm­ers and agri­cul­ture busi­ness­es mak­ing efforts to low­er their car­bon footprints.
Bay­er Crop Sci­ence is pro­mot­ing cov­er crop adop­tion and Cargill recent­ly announced it would reduce green­house gas emis­sions by 30 per­cent in the next decade. The plan includes emis­sions-reduc­ing mea­sures at sev­er­al stages of the food pro­duc­tion process, includ­ing feed grain pro­duc­tion and reduc­ing food waste.
But Ful­ton said he wor­ries it's not enough. By per­ma­nent­ly mov­ing his cat­tle from feed­lots to pas­tures, he said he's able to dras­ti­cal­ly reduce the car­bon emis­sions his farm puts out.
"Regen­er­a­tive agri­cul­ture real­ly is the solu­tion to this," he said. ​"We see that car­bon seques­tra­tion far exceeds car­bon emis­sions on farms like mine."
The ben­e­fits of small-scale ver­sus large agri­cul­tur­al oper­a­tions have been debat­ed at great length, and depend large­ly on how they are mea­sured. But Ful­ton said if reduc­ing cli­mate change is the mea­sure, more diverse farm­ing prac­tices are the best way to reduce green­house gasses.
"I under­stand that there's advan­tages to economies of scale and all that. But we need to look at how we mea­sure effi­cien­cies," he said.
There is some polit­i­cal will to spur cli­mate change reduc­tion efforts in agriculture.
In August, pres­i­den­tial can­di­date and New Jer­sey Sen­a­tor Cory Book­er announced leg­is­la­tion that will incen­tivize car­bon cap­ture on farms, through prac­tices like plant­i­ng cov­er crops, no-till farm­ing and plant­i­ng water­ways and con­ser­va­tion plots. The bill would also fund refor­esta­tion and restora­tion of wetlands.
Farmer sup­port for the Green New Deal is rel­a­tive­ly new. When the res­o­lu­tion came out in ear­ly 2019, sev­er­al state Farm Bureau orga­ni­za­tions crit­i­cized the move­ment as ​"vague," ​"unre­al­is­tic" and over­ly crit­i­cal of ani­mal agri­cul­ture.
The new coali­tion back­ing the cli­mate change res­o­lu­tion is also advo­cat­ing for more agri­cul­tur­al rep­re­sen­ta­tion in the Green New Deal.
"We believe these cli­mate goals are achiev­able," said the coalition's let­ter to Con­gress. ​"But only if the GND (Green New Deal) includes poli­cies that spur two large-scale tran­si­tions: the tran­si­tion away from fos­sil fuels toward renew­able ener­gy alter­na­tives, and the tran­si­tion away from indus­tri­al agri­cul­ture toward fam­i­ly farm-based organ­ic and regen­er­a­tive farm­ing and land-use prac­tices that improve soil health and draw down and sequester carbon."
Bri­an Dun­can, a corn, soy­bean and hog farmer in North­east Illi­nois, said he's always focused on con­ser­va­tion, but wor­ries stud­ies on cli­mate change such as the one from the Unit­ed Nations could lead to oner­ous reg­u­la­tions that sti­fle busi­ness with­out fix­ing the problem.
"I, like oth­er farm­ers, in response to weath­er pat­terns, con­tin­ue to adopt con­ser­va­tion prac­tices because it's the right thing to do," said Duncan.
There's some skep­ti­cism about cli­mate change among farm­ers, accord­ing to a 2012 study by Michi­gan State Uni­ver­si­ty. But many are real­iz­ing that there are things they can do to be part of the cli­mate change solution.
Clay said there's no easy solu­tion to reduc­ing emis­sions in the food sys­tem. Farm­ers can plant more trees and cov­er crops, but not at the rate forests and wet­lands are being plowed under in devel­op­ing coun­tries. They can prac­tice more sus­tain­able crop rota­tion, no-till farm­ing or restora­tive graz­ing for meat pro­duc­tion. But indi­vid­u­al­ly, these prac­tices won't mit­i­gate cli­mate change.
"None of these are suf­fi­cient by them­selves," said Clay. ​"What are the dif­fer­ent things you can do to add up to some­thing more meaningful?"
The Mid­west Cen­ter for Inves­tiga­tive Report­ing is a non­prof­it, online news­room offer­ing inves­tiga­tive and enter­prise cov­er­age of agribusi­ness, Big Ag and relat­ed issues through data analy­sis, visu­al­iza­tions, in-depth reports and inter­ac­tive web tools. Vis­it us online at www​.inves​ti​gatemid​west​.org
Christo­pher Wall­jasper
is an inves­tiga­tive reporter and audio pro­duc­er in Chica­go and across the Mid­west. He has cov­ered a vari­ety of issues, includ­ing rur­al Amer­i­ca, busi­ness, tech­nol­o­gy, real estate and nation­al security.