Slaughterhouses Offer Rural Communities Employment but Low Wages
Animal slaughtering and processing operations make up a large portion of the total jobs available in rural America, meaning these jobs are some of the best options for some Americans where steady, full-time work can be scarce.
Slaughterhouses employ a half-a-million workers in more than 7,000 facilities across the U.S., and 38 percent are classified by the Bureau of Labor Statistics as ​"butchers and other meat, poultry, and fish processing workers."
These are the people on the floor, taking live animals and turning them into the record amount of meat Americans are expected to consume in 2018. The USDA estimates more than 200 lbs. of read meat and poultry will be consumed per person this year.
While these jobs are available across the country, the largest employers operate facilities with thousands of employees in rural areas, what the BLS refers to as ​"nonmetropolitan areas."
The following maps and graphics offer some insights into where these jobs are located and how much workers are paid in those parts of the country.
Map: The biggest meat processing facilities. To view the interactive map and to learn about the processing facilities, view the original article.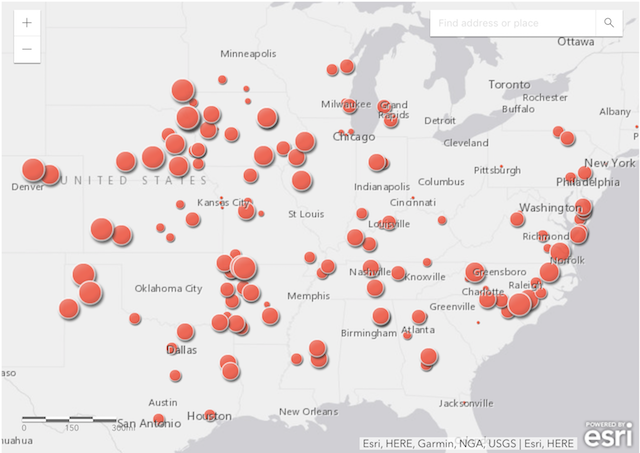 While big cities employ a large number of slaughterhouse workers, those jobs make up a relatively small share of the total employment opportunities.
Slaughterhouse workers - total employment
The parts of the U.S. that employ the most slaughterhouse workers include many major metro areas. But these jobs make up a relatively small portion of the total jobs available in big cities like Chicago and LA.


Slaughterhouse workers
In many of the locations where meat cutter, butcher, slaughterer, trimmer and packer jobs are most plentiful, the mean hourly wage trends at or below $15.00. That means where slaughterhouses provide a large portion of the available jobs, the pay is below the median hourly wage nationwide ($17.09).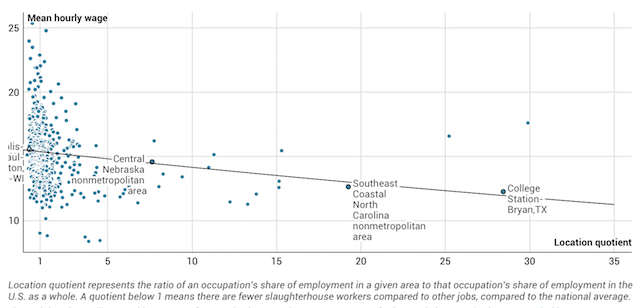 Southeast coastal North Carolina nonmetropolitan area is a good example. The top five occupations are food preparation (including servers and fast food), cashiers, retail sales, nursing assistants and slaughterers and meat packers. When the other two BLS classifications for slaughterhouse workers are included, processing jobs in Southeast North Carolina are second only to fast food and waiting tables.
Southeast North Carolina NonMetro area
Slaughterhouse work is one of the top employment sources in Southeast North Carolina - far higher than in other parts of the country (location quotient), and slightly better paying.



Wages for meat processors are stronger in some parts of America. Areas where the mean hourly wage is more than $20 per hour are mostly in New England or the west coast, with the exception of a couple locations in Wisconsin North Dakota. None of the areas paying that wage employ more than 250 people.
In areas where meat processing makes up a larger portion of total employment, mean hourly wage does improve, but is still well below the national average of $24.34.

For a limited time:
Donate $20 or more to In These Times and we'll send you a copy of Let This Radicalize You.
In this new book, longtime organizers and movement educators Mariame Kaba and Kelly Hayes examine the political lessons of the Covid-19 pandemic and its aftermath, including the convergence of mass protest and mass formations of mutual aid. Let This Radicalize You answers the urgent question: What fuels and sustains activism and organizing when it feels like our worlds are collapsing?
We've partnered with the publisher, Haymarket Books, and 100% of your donation will go towards supporting In These Times.
Christopher Walljasper
is an investigative reporter and audio producer in Chicago and across the Midwest. He has covered a variety of issues, including rural America, business, technology, real estate and national security.