With Thousands Marching in the Streets, Chicago Teachers Union Declares 'This Means War!'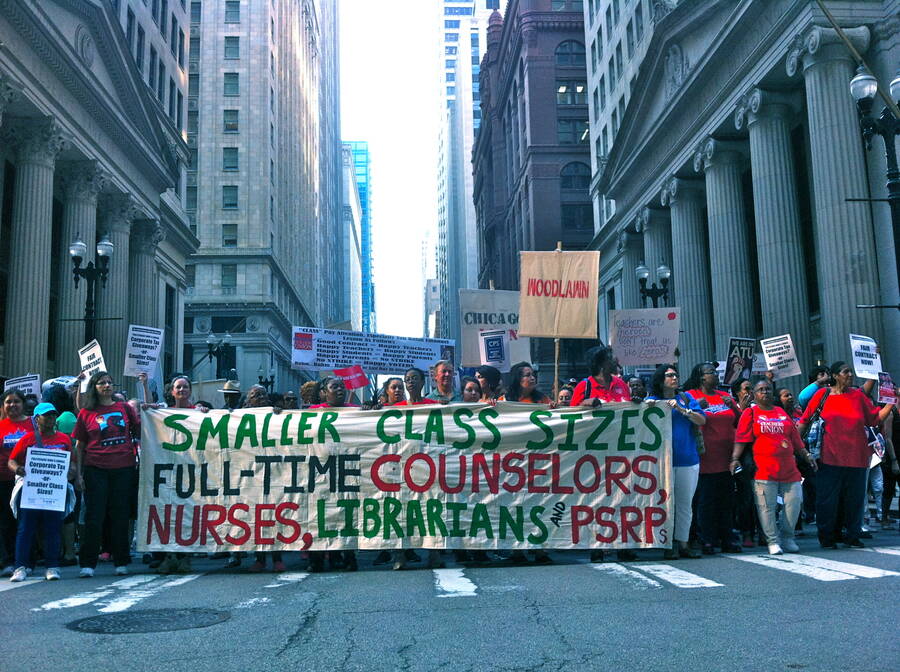 Cries of ​"this means war!" echoed through­out Chicago's finan­cial dis­trict this Tues­day as teach­ers demon­strat­ed against the Board of Edu­ca­tion ahead of union con­tract nego­ti­a­tions this summer.
They made for a for­mi­da­ble sight: led by a troupe of black-clad high school per­cus­sion­ists and hold­ing their fists up high, mem­bers of the Chica­go Teach­ers Union (CTU) and their sup­port­ers marched on Chicago's LaSalle Street yes­ter­day demand­ing ade­quate wages, ben­e­fits and resources for their stu­dents, insist­ing that the district's finan­cial woes are actu­al­ly a case of Chica­go Pub­lic Schools (CPS) being ​"broke on purpose."
The ral­ly, which began in front of Chicago's James R. Thomp­son cen­ter, served as an unof­fi­cial kick­off for the CTU's cam­paign to bar­gain a new con­tract with CPS's Board of Edu­ca­tion, which rep­re­sents 400,000 stu­dents and the country's third-largest school dis­trict. The cur­rent con­tract expires on June 30.
CPS cur­rent­ly faces a $1.1 bil­lion bud­get gap for the fis­cal year begin­ning on July 1, leav­ing doubt as to whether or not it will be able to pay the $634 mil­lion due to the Chica­go Teach­ers Pen­sion Fund on June 30. Fur­ther ham­per­ing nego­ti­a­tions between the CTU and CPS is the district's con­tention that Chica­go teach­ers will need to accept a 7% pay cut along with increas­es in health insur­ance premiums.
Rather than enact­ing bud­get cuts, the CTU is demand­ing that the city's wealth­i­est cor­po­ra­tions pay more in tax­es in order to fund small­er class sizes, less stan­dard­ized test­ing, fund­ing for school libraries and art class­es, and increased staffing of all schools with coun­selors and clin­i­cians. Teach­ers also demand­ed the pro­tec­tion of teach­ers' pen­sions and salaries.
Many of the demon­stra­tors car­ried signs that matched the evening's rhetoric in mil­i­tan­cy and suc­cinct con­dem­na­tion of the Chica­go city gov­ern­ment. ​"Pay­out? No thanks!" read a pop­u­lar sign. ​"Take the mon­ey from the banks!" ​"The 1% owes us," read anoth­er. Oth­ers remind­ed onlook­ers of the sac­ri­fices inher­ent in every pub­lic school teacher's life: " ​'I do this for the mon­ey,' said no teacher ever."
At the ral­ly, teach­ers spoke of the increas­ing­ly harsh con­di­tions they faced at work and their neg­a­tive impact on Chica­go students.
"We get [to school] at around 5 or 5:30 every sin­gle morn­ing," explained one teacher from Far­ragut Career Acad­e­my. ​"On Mon­days, I arrive a lit­tle bit late, around six and I usu­al­ly leave around five. When I go home, I work, and I work dur­ing the week­ends. And now they're going to take away 7% of my income."
Hol­ly Charles, a teacher from West Engle­wood, explained that many schools do not even have enough fund­ing to sup­port a jan­i­to­r­i­al staff. ​"I didn't get into teach­ing for the mon­ey," she said, not­ing that she had worked in the CPS sys­tem for 30 years. ​"I'm bring­ing toi­let paper from home, hav­ing to mop my own floor," she says. ​"There's not enough mon­ey for jan­i­tors. But I bet if you head into any of the CPS head­quar­ters, you'll find toi­let paper and clean floors there."
Anoth­er teacher, from Chicago's South Shore High School, said that his school's needs went far beyond a jan­i­to­r­i­al staff. ​"We don't even have libraries in the school," he said. ​"We need to reduce our class sizes, [but] they're increas­ing class sizes. If they increase class sizes teach­ers are going to be man­ag­ing stu­dents not teach­ing students."
Lim­it­ing class sizes was a pri­or­i­ty for most of the teach­ers I spoke to. ​"You have one teacher for every thir­ty kids," explained one teacher from Chicago's West Side. ​"We don't have enough staff. Thir­ty kids with one teacher is just crazy. Our spe­cial needs kids aren't get­ting service."
On May 6, the CTU filed an unfair labor prac­tice com­plaint against the Chica­go Board of Edu­ca­tion, alleg­ing that the board engaged in ​"reac­tionary and retal­ia­to­ry mea­sures" by pur­pose­ly stalling nego­ti­a­tions and requir­ing teach­ers to bear the bur­den of a man­u­fac­tured cri­sis. Cit­ing CPS's dam­ag­ing invest­ments in high-risk bonds and a $20.5 mil­lion con­tract to train school prin­ci­pals, CTU pres­i­dent Karen Lewis argued that ​"CPS is broke on pur­pose," and that the ​"Board has cre­at­ed a fis­cal cri­sis in order to jus­ti­fy its con­tin­ued attacks on our class­rooms and our communities."
Adding fric­tion to the already con­tentious rela­tion­ship between CPS and the CTU is a recent scan­dal involv­ing Bar­bara Byrd-Ben­nett, the for­mer CEO of CPS. Hired by May­or Rahm Emanuel in 2012, Byrd-Ben­nett resigned from her post on June 1, almost two months after fed­er­al inves­ti­ga­tors launched an inves­ti­ga­tion against her for alleged­ly award­ing a $20.5 mil­lion no-bid con­tract to a for­mer employer.
After con­gre­gat­ing at the James R. Thomp­son Cen­ter, teach­ers, par­ents, stu­dents and com­mu­ni­ty mem­bers marched on LaSalle Street, home to the Chica­go Board of Trade, the world's old­est futures and options exchange. The Chica­go Board of Trade now belongs to the CME Group, which also includes the Chica­go Mer­can­tile exchange and is one of the world's largest options and futures exchanges. Labeled ​"the biggest finan­cial exchange you have nev­er heard of" by The Econ­o­mist in 2013, the CME Group owns deriv­a­tives and futures exchanges in Chica­go and New York as well as the Dow Jones stock and finan­cial indexes.
The union's point was clear: the city gov­ern­ment should return the mon­ey it lost on LaSalle street to the peo­ple of Chicago.
"Whose city?" chant­ed the marchers as they walked towards the Board of Trade. ​"Our city!" was the evening's resound­ing cry.
Upon reach­ing the Board of Trade, Tara Stamps, a class­room teacher and city coun­cil can­di­date spoke not only to the con­cerns of par­ents, stu­dents and teach­ers, but to all Chicagoans of work­ing-class back­grounds. She likened the Chica­go Board of Trade to a group of degen­er­ate gam­blers play­ing a high-stakes game in which penal­ties are reserved for Chicago's poor and minor­i­ty populations.
"This is the Chica­go Board of Trade!" she exclaimed. ​"They have the mon­ey. They're the biggest gam­blers in the busi­ness and they're gam­bling with our babies' future! They're jail­ing us out, they're pri­va­tiz­ing us out and they're try­ing to get us out by any means necessary."
"This isn't just about black folks, or Lati­no folks," she told the crowd. ​"If you are poor, or work­ing class, they're try­ing to move you out of Chica­go. They don't want us here. Well I'll be damned if they try to move me out of my Chicago!"
Michael Brun­son, a Chica­go edu­ca­tor and the CTU's record­ing sec­re­tary, took the micro­phone after Stamps to call for a ​"LaSalle Street Tax," echo­ing a plan elab­o­rat­ed by Karen Lewis in 2014 that called for tax­ing buy­ers and sell­ers of futures, futures options and secu­ri­ties option con­tracts trad­ed on the Chica­go Mer­can­tile Exchange and the Chica­go Board of Options trade. Last year, Lewis argued her pro­pos­al could cre­ate $2 bil­lion in annu­al rev­enue for the city of Chica­go and more than $10 bil­lion for Illi­nois, mit­i­gat­ing the effects of Chicago's pen­sion crisis.
"Every year we hear, ​'we have no mon­ey,' " Brun­son began. But ​"CPS is broke on pur­pose! … CPS owes half a bil­lion dol­lars in tox­ic loans. We are going to change that. This is where it is! The Chica­go Board of Trade. We can get over ten bil­lion dol­lars if they tax these trades."
The ral­ly and the sub­se­quent march on the Chica­go Board of Trade served as a direct chal­lenge to the poli­cies of May­or Emanuel, with whom the CTU has repeat­ed­ly clashed over the past three years. In 2013, Emanuel admin­is­tered the clos­ing of 50 Chica­go pub­lic schools — most­ly in poor minor­i­ty neigh­bor­hoods — for ​"under­per­for­mance" and ​"under­uti­liza­tion." The pre­vi­ous year, Chica­go teach­ers held the first teach­ers' strike in 25 years to con­test Rahm's edu­ca­tion poli­cies, which includ­ed exten­sions to the school day and the expan­sion of char­ter schools, which receive pub­lic fund­ing but are not sub­ject to many of the oper­ate out­side the pub­lic school sys­tem. The strik­ing teach­ers also demand­ed bet­ter pay, increased job secu­ri­ty, fund­ing for arts class­es and ​"wrap­around ser­vices" that sup­port under­priv­i­leged stu­dents includ­ing social work­ers, coun­selors and nurses.
"Show us the mon­ey, that's what we want," a Taft High School teacher said as the crowd pre­pared to march on the Chica­go Board of Trade. ​"Open the books and let us see how broke you real­ly are."
Refer­ring to the city's elect­ed lead­er­ship, he said, ​"The peo­ple of Chica­go elect­ed you. Now what you need to do is take care of the peo­ple instead of your friends — the banks and the big com­pa­nies. We are Chica­go, not those banks."
Mar­tin de Bour­mont
is a Sum­mer
2015
edi­to­r­i­al intern at In These Times. He grad­u­at­ed from Dick­in­son Col­lege with a bachelor's in polit­i­cal sci­ence and pre­vi­ous­ly worked as an edi­to­r­i­al intern for La Croix in France.