Airport Workers Paid $9 an Hour and At Risk of Ebola Go on Strike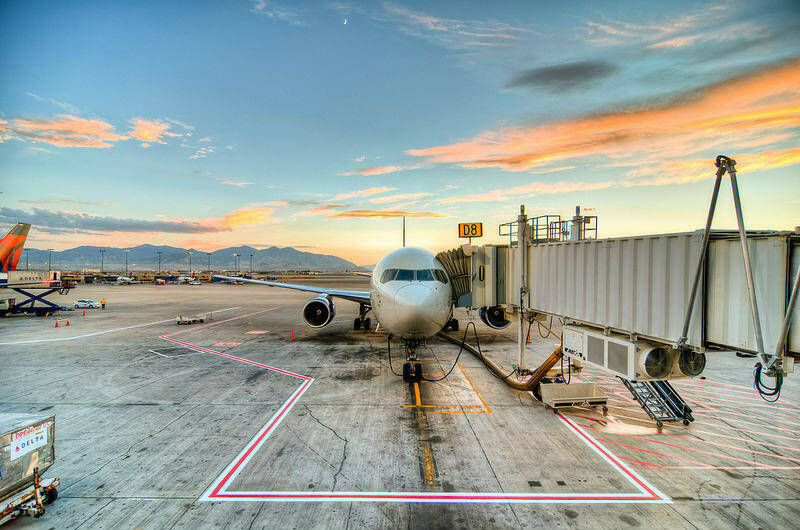 Since the Center for Disease Control and Prevention confirmed the nation's first diagnosis of Ebola on September 30, the Federal Aviation Administration and the National Academy of Sciences have demanded that airlines begin screening passengers arriving from African countries most affected by the pandemic for the disease. While this might contain the virus, it does so within the confines of each plane — leaving airline workers with increased exposure risks.
Dangers like this led LaGuardia airport workers to go on strike last week, demanding better health and safety protections.
Justin Bachman at Bloomberg Businessweek writes:
As many as 200 workers at New York's LaGuardia Airport began striking late Wednesday as part of their efforts to gain a contract with Atlanta's Air Serv, an airport contractor for Delta Air Lines, using the attention Ebola has received as a way to address the nastier aspects of their jobs. The workers, who earn an average of $9 per hour, are seeking more durable gloves, as well as goggles and face masks for certain jobs that involve exposure to urine and feces.
Workers claim they often encounter hypodermic needles, vomit and blood. According to an SEIU spokesperson Amity Paye quoted in the article, ​"At least once per week an employee is sprayed with lavatory sewage from a plane, a mishap workers dub a ​'baptism.'"
The strike lasted for 24 hours and was part of SEIU Local 32BJ's efforts to represent the workers. Paye told Bloomberg Businessweek that ​"This strike is solely over health and safety conditions. … It's not over Ebola." Still, with concerns about the disease reaching a fever pitch at airports around the country, it's hard to imagine Ebola not being on workers' minds.
Between worries about Ebola and those weekly ​"baptisms," it sounds like LaGuardia workers had a variety of allegedly disgusting and dangerous work conditions that could drive them to the picket line.
Giving Tuesday: Support Progressive Journalism
Today is the single biggest day of the year for giving to nonprofits—last year, individual donors collectively gave more than $2.5 billion to nonprofit organizations in the U.S. alone on Giving Tuesday.
For In These Times, today also marks the kick-off of one of our most important fundraising drives ever.

Giving Tuesday began nearly a decade ago as a way to harness the power of collective giving and highlight the important work of nonprofit organizations. For In These Times, being a nonprofit is more than just a financial model. It is central to our very mission.
The traditional, for-profit news model was built on a foundation of corporate ad dollars. From the beginning, this has been a devil's bargain that limits what can be published by corporate media outlets and inevitably warps what they do print. In These Times is not beholden to any corporate interest.
Who are we beholden to? You—our community of readers. Support from readers allows In These Times to maintain our independence and speak truth to power. It is how we are able to continue publishing the stories readers—like you—want to read, and the voices that need to be heard in this political moment.

This Giving Tuesday, support independent, progressive journalism by making a tax-deductible donation to In These Times.
Jordan McCurdy
is a fall
2014
In These Times editorial intern. She graduated from the University of Texas-Austin with degrees in English and German.
Giving Tuesday: Support Progressive Journalism