The 14-Year-Old Voice of the Climate Change Generation
Xiuhtezcatl Martinez is calling on both the young and the old to save our planet.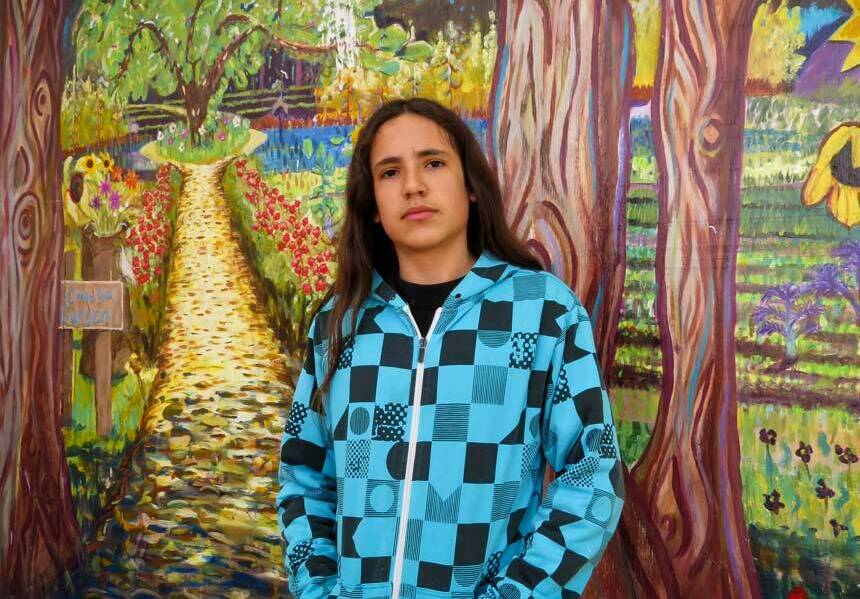 When oth­er kids were expe­ri­enc­ing the tra­vails of first grade, 6‑year-old Xiuhtez­catl Mar­tinez was con­cerned about threats to the world's ecosys­tem. Mar­tinez, now 14, is the youth direc­tor of the non­prof­it envi­ron­men­tal orga­ni­za­tion Earth Guardians and one of the youngest peo­ple to speak on a Unit­ed Nations pan­el.
'This problem is happening so humanity can come together, rebuild, reconnect, recreate and rebirth a new world.'
Mar­tinez, a res­i­dent of Boul­der, Col­orado, cred­its his world­view to the Aztec teach­ings of his father and the envi­ron­men­tal activism of his mother.
In Octo­ber, in his keynote address to the 2014 Nation­al Bioneers Con­fer­ence in San Rafael, Cal­i­for­nia, he told the assem­bled crowd, ​"In the light of a col­laps­ing world, what bet­ter time to be born than now? Because this gen­er­a­tion gets to rewrite his­to­ry, gets to leave our mark on this earth. … We will be known as the gen­er­a­tion, as the peo­ple on the plan­et, that brought forth a healthy, just, sus­tain­able world for every gen­er­a­tion to come. … We are the gen­er­a­tion of change."
In Decem­ber, HBO will debut the music video ​"Be the Change," by Mar­tinez' hip-hop group, Voice of Youth.
In These Times spoke to Mar­tinez about how to stop cli­mate change.
You gave your first speech at a cli­mate change ral­ly when you were 6. At age 12, you were among the youngest speak­ers at the Rio+20 Unit­ed Nations Sum­mit. How is it that you became an envi­ron­men­tal activist?
One fac­tor was the indige­nous teach­ings passed on to me by my father and ances­tors: that all life is sacred and con­nect­ed to each of us; that as peo­ple on earth we have a respon­si­bil­i­ty to be care­tak­ers of the world. I also watched Leonar­do DiCaprio's doc­u­men­tary, The 11th Hour, when I was 6. I was dev­as­tat­ed. I saw that my world — the world that my and future gen­er­a­tions will be left with — is being destroyed by our lifestyles. There's such a lack of con­scious­ness on our plan­et. We're overus­ing our resources to an extent that every liv­ing sys­tem on earth is dying.
I couldn't not do some­thing. The call­ing to cre­ate, to build and to inspire a rev­o­lu­tion was so great that I couldn't sit still. Through that empow­er­ment, I found my voice — my inspi­ra­tion — and took action.
Accord­ing to for­mer NASA sci­en­tist James Hansen, the lev­el of atmos­pher­ic CO2 needs to decrease to 350 parts per mil­lion (ppm) or less to avoid a glob­al cat­a­stro­phe. What are some ways peo­ple can help?
It's impor­tant to not only focus on the prob­lems, but to focus on solu­tions. Sus­tain­abil­i­ty is not a solar pan­el — it's a lifestyle. Before we go out there to change the world, we've got to start with our­selves. What can we improve on? What can we do bet­ter? Turn off the lights when you're not using them. While you're brush­ing your teeth, turn the water off. Bike and walk to school as much as you can. Use pub­lic tran­sit. Recy­cle. Com­post. We've got to con­sid­er the way we're using prod­ucts and the com­pa­nies we're buy­ing from.
It starts with sim­ple day-to-day actions. Then, maybe, you can get a lit­tle big­ger. Get involved in your com­mu­ni­ty: start a youth group, get involved with an envi­ron­men­tal or ani­mal rights group — what­ev­er you're pas­sion­ate about.
From 1958 to 2014, atmos­pher­ic CO2 increased from 315.71 ppm to 401.78 ppm: Do you think Hansen's mod­el is achievable?
We won't be able to stop it overnight, but we can slow it down and, even­tu­al­ly, with a lot of hard work, rebuild the world we've destroyed. If every sin­gle per­son on our plan­et stopped dri­ving their car for one day, we could save so much ener­gy. Imag­ine if we did that for a week! Imag­ine if we didn't buy plas­tic bot­tles for three days! The solu­tion lies in the col­lec­tive pow­er peo­ple have around the world. Gov­ern­ments sign­ing a paper that says they're not going to release any­more car­bon into the atmos­phere isn't going to fix our prob­lems, because we will not have learned anything.
This prob­lem is hap­pen­ing so human­i­ty can come togeth­er, rebuild, recon­nect, recre­ate and rebirth a new world. The tech­nol­o­gy is here, but we're not going to wait for gov­ern­ment action. We're not going to set this on their shoul­ders and be like, ​"Okay, you guys, fig­ure it out," while we con­tin­ue with our lives. This is going to take every per­son on the plan­et: peo­ple unit­ing and col­lab­o­rat­ing. The peo­ple are more pow­er­ful than any­thing we've ever seen.
Nat­ur­al gas is now being mar­ket­ed to Amer­i­cans as ​"the clean fos­sil fuel." Do you believe there is such a thing?
Nat­ur­al gas com­pa­nies, oil indus­tries, even Pres­i­dent Barack Oba­ma is telling us that nat­ur­al gas is the bridge away from fos­sil fuel: It cuts our out­put of car­bon, and it's not as bad for the atmos­phere as burn­ing coal and oil. They tell us that it'll help us get off for­eign oil and that we need it. The truth is, much of the nat­ur­al gas drilled in this coun­try is being shipped to Chi­na, India or oth­er places over­seas. They're build­ing enor­mous ports in Texas to ship this nat­ur­al gas because pro­duc­tion is grow­ing faster than demand in the U.S.
Peo­ple say that nat­ur­al gas is bet­ter for cli­mate change. Over a short­term peri­od, nat­ur­al gas extrac­tion pro­duces less car­bon, but over a 20- year peri­od, methane is believed to be more than 50 times more potent than car­bon. If we con­tin­ue to devel­op the nat­ur­al gas indus­try, it's going to be game over for the cli­mate. Nat­ur­al gas is not — I repeat, not — a clean-burn­ing fos­sil fuel. There is no such thing as a clean-burn­ing fos­sil fuel.
What would you say to peo­ple who sup­port fracking?
I would chal­lenge peo­ple who don't believe that frack­ing is harm­ful to come out to Col­orado, Penn­syl­va­nia or South Dako­ta, where I know kids that have con­stant nose­bleeds and headaches; where ani­mal pop­u­la­tions are dying; where there's sick­ness; where there's con­t­a­m­i­nat­ed waters; where peo­ple can set their wells on fire. Some­times, when we're learn­ing about a new issue, we can't think about it from our point of view because it won't make sense. We have to view it from some­one else's perspective.
You are a plain­tiff in suits against the state of Col­orado and the fed­er­al gov­ern­ment. What are those about?
We're not ask­ing for mon­ey. We're ask­ing them to put cli­mate recov­ery plans into place and mas­sive­ly refor­est our coun­try and states so that our gen­er­a­tion and future gen­er­a­tions to come will inher­it a healthy, safe, sus­tain­able plan­et. The Pub­lic Trust Doc­trine says that the gov­ern­ment must pre­serve and pro­tect nat­ur­al resources for pub­lic use, for future gen­er­a­tions, and that they can­not be used or hoard­ed by one enti­ty, cor­po­ra­tion or gov­ern­ment. So, we're argu­ing that the cli­mate is an impor­tant resource that doesn't belong to any­body but affects every­one. We're demand­ing cli­mate recov­ery plans that ensure a healthy, sus­tain­able atmosphere.
Sev­er­al major fos­sil fuel com­pa­nies in the world have signed on as co-defen­dants with the state and the coun­try. It doesn't look like we have a shot if you look at it that way, but we're mak­ing head­way. We've already won in Texas, and it looks like we're going to win in New Mex­i­co. That's huge. And the fed­er­al law­suit is going real­ly well. We're tak­ing it up to the next high­est lev­el of court because the judge who was hear­ing it said, ​"I don't have juris­dic­tion in this mat­ter, this is too big for me to decide." Even if we don't win, the state­ments and media cov­er­age we're get­ting — kids suing their coun­try over cli­mate change — is huge. The peo­ple that it's bring­ing togeth­er and the move­ment it's build­ing are aston­ish­ing. I'm hon­ored to be part of it.
You've found­ed a hip-hop group called Voice of Youth. How does pre­sent­ing your advo­ca­cy through music affect its interpretation?
If I present myself as an envi­ron­men­tal activist, only a cer­tain group of peo­ple are going to lis­ten to me. But if I present myself as a 14-year-old hip-hop artist, a new group of peo­ple will hear my mes­sage. Music has the pow­er to touch people's hearts, wake peo­ple up.
Where do you see your­self in 10 years?
Let's hope that I'm not still doing this. Not because I don't want to, but because I hope that in 10 years we won't need con­stant super­vi­sion of human lifestyles. As long as there's a prob­lem, though, I'm going to be on the front­lines. I'm going to be spend­ing every minute I have fight­ing for what is right and for my voice to be heard.
Jor­dan McCur­dy
is a fall
2014
In These Times edi­to­r­i­al intern. She grad­u­at­ed from the Uni­ver­si­ty of Texas-Austin with degrees in Eng­lish and German.