Alabama's Anti-Abortion Architects
Amidst uproar over a new law threatening three clinics, a fourth was quietly shut down.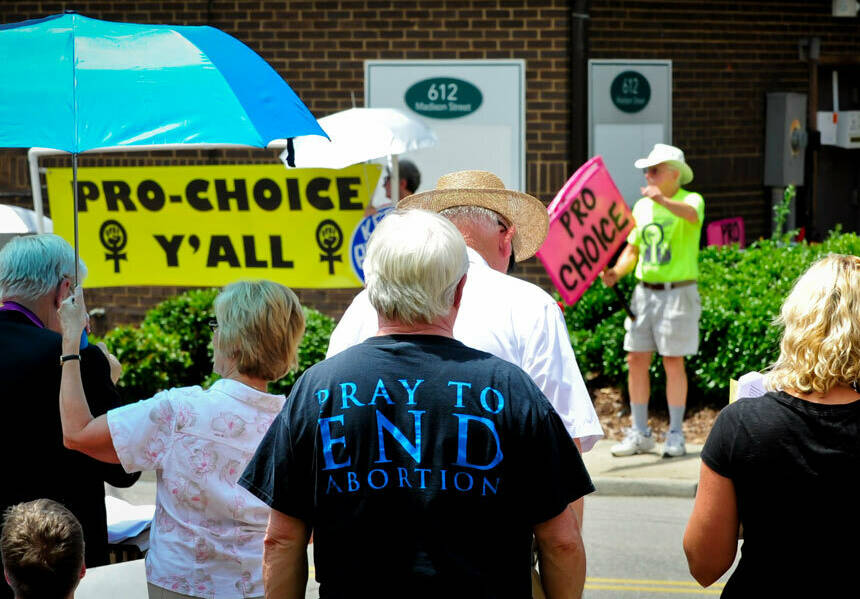 Ear­ly this sum­mer, the eyes of the nation's abor­tion-rights sup­port­ers and oppo­nents were locked on Mont­gomery, Alaba­ma. The ACLU of Alaba­ma and clin­ic own­ers were attempt­ing to per­suade a fed­er­al judge that a new require­ment that abor­tion clin­ics have admit­ting priv­i­leges at local hos­pi­tals was a naked attempt to shut down most of the clin­ics in the state. We won't learn until the end of July whether the judge will uphold the low­er court's block on that rule. If it is allowed to go into effect, only two of Alabama's five abor­tion clin­ics will remain operational.
As of June 30, the city of Huntsville was without an abortion provider, leaving pregnant people with no place to seek an abortion between Tuscaloosa, Alabama, and Memphis, Tennessee—a stretch of some 230 miles.
Or maybe just one.
While most of the atten­tion has been focused on the three clin­ics that are unable to obtain (med­ical­ly unnec­es­sary) admit­ting priv­i­leges at near­by hos­pi­tals, there is anoth­er por­tion of the state's new Tar­get­ed Reg­u­la­tion of Abor­tion Providers (TRAP) law that wasn't chal­lenged in court: a set of new, expen­sive and med­ical­ly mean­ing­less build­ing stan­dards for clin­ics. These, which went into effect on July 1, include reg­u­la­tions on the set-up of stair­wells, even if only admin­is­tra­tive offices are above the first floor.
Most clin­ics could adhere to the new build­ing require­ments but couldn't get admit­ting priv­i­leges. The Alaba­ma Women's Cen­ter for Repro­duc­tive Alter­na­tives in Huntsville had the oppo­site prob­lem. The clinic's physi­cians have ties to the local Crest­wood Hos­pi­tal, and hos­pi­tal admin­is­tra­tors dis­missed out­right a bid by local anti-abor­tion group Chris­t­ian Coali­tion of Alaba­ma to pres­sure the hos­pi­tal into sev­er­ing them.
But the build­ing and zon­ing require­ments were impos­si­ble to meet in their cur­rent build­ing. For one thing, if they widened halls to meet the spec­i­fi­ca­tions, then exam rooms would be too small. For anoth­er, sim­ply bring­ing the build­ing up to stan­dard would cost an esti­mat­ed $200,000, accord­ing to clin­ic admin­is­tra­tor Dal­ton John­son. Instead, the own­ers pur­chased a new build­ing that needs min­i­mal updates to meet the code. They shut­tered the doors of their old build­ing on June 27, turned in their license on June 30, and are prepar­ing to move their prac­tice and apply for a new license from the Alaba­ma Depart­ment of Health — at least, that is, if abor­tion oppo­nents will let them.
Local anti-abor­tion groups are try­ing to pres­sure the state Depart­ment of Pub­lic Health into refus­ing the clin­ic a new license, and simul­ta­ne­ous­ly to con­vince the City Coun­cil to rezone the clinic's new home so that it can't operate.
Ten­sions between the clin­ic and the local abor­tion oppo­nents have been high for years. In 2012, a clin­ic escort filed assault charges after a pro­test­er sprayed ​"holy water" on her. Pro­test­ers lat­er filed sep­a­rate charges claim­ing a dif­fer­ent escort had assault­ed them while try­ing to get a patient through the gaunt­let and into the clinic.
While ani­mos­i­ty lingers between the pro- and anti-abor­tion-rights groups, actu­al inter­ac­tion has dwin­dled since the city allot­ted sep­a­rate spaces to the two sides, with the clin­ic sup­port­ers win­ning a per­mit to con­gre­gate on the side­walk in front of the clin­ic while pro­test­ers must remain fur­ther down the street, keep­ing phys­i­cal con­tact to a minimum.
There are no such restric­tions in front of the prob­a­ble site for the new clin­ic, and abor­tion pro­test­ers are tak­ing advan­tage of that fact. Led by the Chris­t­ian Coali­tion of Alabama's Rev. James Hen­der­son, abor­tion oppo­nents have been protest­ing the still-unof­fi­cial site, which is locat­ed near a mid­dle school, ever since news of the pur­chase broke. The pro­test­ers jus­ti­fy their efforts by say­ing the neigh­bor­hood needs to be pre­pared for what will hap­pen if the clin­ic is allowed to open.
Clin­ic sup­port­ers have been undaunt­ed by Hen­der­son and his allies' attempts to per­suade the state to refuse the clin­ic a license and the city to rezone the area. They have worked with local police to cre­ate a paint­ed line on the side­walks delin­eat­ing how close pro­test­ers can get to the new build­ing itself. And Huntsville police offi­cers have already issued writ­ten warn­ings to a few reg­u­lar pro­test­ers about the con­se­quences of trespassing.
Huntsville clin­ic escorts say that bat­tling Hen­der­son at the new site is no dif­fer­ent from bat­tling him at the old build­ing. ​"From the time we first start­ed vol­un­teer­ing at the clin­ic, we've fought against James Hen­der­son and the groups who would try to close it down," says Huntsville activist Anathalee San­dlin. ​"Every time we've encoun­tered a prob­lem we've met it head-on, either by meet­ing with the author­i­ties or coun­ter­ing neg­a­tive press, and pre­vailed. I don't see that this time will be any different."
Advo­cates are doing more than just work­ing with the police in prepa­ra­tion for the new open­ing; they're work­ing with the media and the com­mu­ni­ty as well. Where Hen­der­son has sought to have abor­tion oppo­nents con­tact the health depart­ment or local City Coun­cil mem­bers, the new­ly formed Alaba­ma Repro­duc­tive Rights Advo­cates (ARRA) has begun its own pub­lic rela­tions cam­paign on behalf of the Huntsville clin­ic, reach­ing out to local media with let­ters and state­ments bat­tling the idea that abor­tion is a form of ​"black geno­cide" — as the Chris­t­ian Coali­tion is claim­ing — or that their move will dis­rupt local schools, who would nev­er even real­ize they were there if abor­tion oppo­nents didn't insist on pick­et­ing the clin­ic with graph­ic, bloody signage.
Their sto­ry has gone nation­al, get­ting men­tions from blogs, news sites and the Rev. Al Sharp­ton on his MSNBC show, Pol­i­tic­sNa­tion. They've even gath­ered sig­na­tures of sup­port­ers who want to see the clin­ic reopened, with near­ly 600 sig­na­tures gath­ered in just 24 hours, which the group intends to take to the mayor's office to bol­ster their case.
​"The Alaba­ma Leg­is­la­ture may have thought they were going to wear us down by attempt­ing to close our clin­ics, but they only made us stronger," says Mia Raven, ARRA's direc­tor of leg­isla­tive affairs. ​"Out of their machi­na­tions we formed ARRA, and we are more ded­i­cat­ed than ever to give every Alaba­ma woman a voice for choice."
As of June 30, the city of Huntsville was with­out an abor­tion provider, leav­ing preg­nant peo­ple with no place to seek an abor­tion between Tuscaloosa, Alaba­ma, and Mem­phis, Ten­nessee — a stretch of some 230 miles. But if all goes well, with­in a few weeks the blue­prints on the new clin­ic will be approved, the cer­tifi­cate of occu­pan­cy obtained and the new license issued, and legal, safe abor­tion will be an option once again.
Robin Mar­ty

is an activist, speak­er and free­lance reporter cov­er­ing abor­tion access. She is the author of the forth­com­ing

Hand­book for a Post-Roe Amer­i­ca

(Sev­en Sto­ries Press, Jan­u­ary

2019

) and

Crow After Roe: How Wom­en's Health Is the New ​

"

Sep­a­rate But Equal" and How to Change That

. Robin's arti­cles have appeared at

Bitch Mag­a­zine, Rolling Stone, Ms.

Mag­a­zine,

Truth Out, Alter­Net, BlogHer, RH Real­i­ty Check

and Care

2

​.org, and she has spo­ken at train­ings and con­fer­ences for NOW, NAR­AL, the Nation­al Con­fer­ence for Media Reform and Net­roots Nation.