Alias Grace Is Even More Relevant to Trump's America Than The Handmaid's Tale
The Handmaid's Tale is used as a catch-all feminist allegory. But it's the specificity of Alias Grace, Netflix's latest Margaret Atwood adaptation, that makes it so pertinent.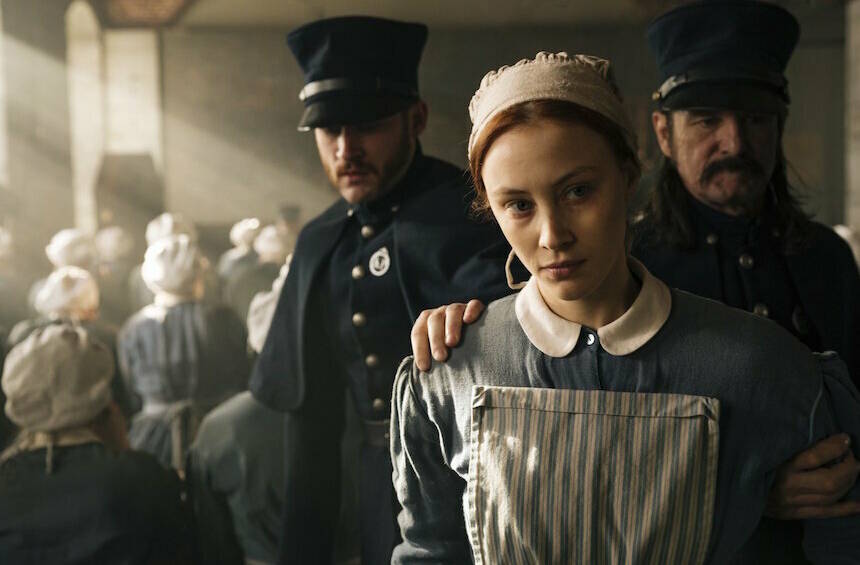 Mar­garet Atwood is blessed and/​or cursed with the cred­it for 2017's go-to fem­i­nist anal­o­gy. Any time our leg­is­la­ture moves to defund Planned Par­ent­hood, any time we hear a bizarre bill about ​"fetal per­son­hood" or a hor­rif­ic court case about women being forced to give their rapists cus­tody, any time an old white man makes it clear that women are best kept silent and preg­nant, some­one says that it's ​"just like The Handmaid's Tale."
Grace Marks is vulnerable because she is a woman, yes. But, more to the point, she is vulnerable because she is a poor woman, and because she is an immigrant woman. (At one point, she takes exception to a document where she's described as Irish "by her own admission;" one admits crimes, and "being Irish, so far as I know, is not a crime.")
Atwood's 1986 dystopia pro­vides an instant­ly leg­i­ble meme for today's pro­test­ers. More than one sign at last January's Women's March read ​"Make Mar­garet Atwood Fic­tion Again." Oth­er Hand­maid-derived protest slo­gans have been around for what feels like decades: Nolite te bas­tardes car­borun­do­rum (Latin for ​"don't let the bas­tards get you down," which I used to find carved into bath­room stalls in col­lege) and ​"The Handmaid's Tale is not an instruc­tion man­u­al." In a queasy mix of protest and mar­ket­ing, Hulu sent women dressed as real-life hand­maids to wan­der around the South by South­west fes­ti­val in Austin, Texas — and, in short order, fem­i­nists whipped up their own hand­maid cos­tumes to taunt anti-choice state leg­is­la­tures in Texas and elsewhere.
All this is well-deserved. The Handmaid's Tale is a great book, one that reclaimed the moral high ground for repro­duc­tive jus­tice. In the mid-'80s, repro­duc­tive rights activists were on the defen­sive; they'd for­sak­en the sex­u­al rad­i­cal­ism of the ​'70s, and were fram­ing their points in the ano­dyne lan­guage of ​"choice" so as to evade the ever-heav­ier stig­ma of abor­tion. The Handmaid's Tale was a cry from the gut, and made it impos­si­ble to for­get that we were talk­ing about women's lives.
It is also — and I hate to have to point this out — not the only book Mar­garet Atwood has ever writ­ten. Treat­ing it as such under­mines the com­plex­i­ty of her thought, and makes her seem less rel­e­vant and prophet­ic than she is. Case in point: The new Net­flix series based on her 1997 nov­el, Alias Grace, adapt­ed for the screen by Sarah Pol­ley and direct­ed by the leg­endary Mary Har­ron (I Shot Andy Warhol, Amer­i­can Psy­cho). Not only is it a suc­cess on all lev­els, it's an even bet­ter fit than Hand­maid for the sex­u­al pol­i­tics of the Trump era.
The plot of Alias Grace is drawn from the 1843 mur­der tri­al of Grace Marks, a 17-year-old Irish-Cana­di­an domes­tic work­er. She was con­vict­ed of col­lud­ing with anoth­er ser­vant, James McDer­mott, to blud­geon and stran­gle house­keep­er Nan­cy Mont­gomery before shoot­ing their mutu­al employ­er, Thomas Kin­n­ear. McDer­mott insist­ed the mur­ders had been Marks' idea; Marks claimed McDer­mott had forced her to par­tic­i­pate; the pub­lic was cap­ti­vat­ed by the sala­cious nature of the case (Mont­gomery had been sleep­ing with Kin­n­ear, and liv­ing basi­cal­ly as his wife) and by ​"some doubt over whether the female pris­on­er had been a will­ing or reluc­tant par­tic­i­pant in the mur­der." It helped that Grace Marks was, by all accounts, extreme­ly pret­ty. The case was sort of a dry run for the 20th and 21st century's econ­o­my of mur­der-as-media-spec­ta­cle; on the day of her tri­al, so many peo­ple crowd­ed into the court­room that author­i­ties were wor­ried the floor would collapse.
Alias Grace pre­serves the ambi­gu­i­ty at the heart of Marks' case; we enter the sto­ry uncer­tain of her guilt, and we leave with the same uncer­tain­ty, though our rea­sons have changed. Nor do we see much of that famous tri­al. As with I Shot Andy Warhol—the Har­ron project that feels like a direct fore­bear of this one — the crime is not the point of this true-crime nar­ra­tive. What Alias Grace does, more than any­thing, is to de-sen­sa­tion­al­ize Grace Marks by putting her in context.
Through her con­ver­sa­tions with a fic­tion­al psy­chi­a­trist, we learn about Grace's trau­mat­ic immi­gra­tion from Ire­land; the tor­ture she expe­ri­enced, both in prison and in the men­tal asy­lum where she was at one point sent in lieu of incar­cer­a­tion; and, most per­ti­nent­ly, the intense sex­u­al pre­car­i­ty of life as a house­maid. Grace is sex­u­al­ly abused, first by her father, then by a series of male employ­ers — but then, every female domes­tic in this sto­ry, includ­ing Nan­cy Mont­gomery, was seen as both a ser­vant and a poten­tial sex­u­al out­let. In telling her sto­ry, Grace con­tin­u­al­ly returns to one of her fel­low house­maids, Mary Whit­ney, who slept with her master's son and died as the result of a botched abor­tion. Grace was paid to keep qui­et, and Mary's sto­ry becomes a sort of tal­is­man for the injus­tices that have direct­ed the course of her life: The vast pow­er imbal­ances between ser­vants and mas­ters, the secrets women are asked to keep for men, the ques­tion of who becomes a ​"cel­e­brat­ed mur­der­ess" and whose crimes go unre­port­ed and unpunished.
There are strong echoes of The Handmaid's Tale here. House­maids and hand­maids both con­sti­tute a sex­u­al­ly dis­pos­able female under­class, and the preda­to­ry master's son calls to mind the queasy ​"flir­ta­tion" between Offred and her des­ig­nat­ed rapist, Fred. At one point, Grace explains that she didn't know what a par­tic­u­lar man looked like because her bon­net blocked her view, and ​"I'd've had to turn my head," which would have been unla­dy­like; the gaze-block­ing effect of female head­gear is the sub­ject of one of the most mem­o­rable pas­sages in Hand­maid. The dif­fer­ence is that this time, the set­ting is real, and the injus­tices depict­ed are his­tor­i­cal fact. Atwood famous­ly claimed that, in The Handmaid's Tale, she "[did] not include any­thing that human beings had not already done in some oth­er place or time, or for which the tech­nol­o­gy did not already exist." But those long-ago cru­el­ties, like Grace Marks her­self, ben­e­fit from being put in context.
The Handmaid's Tale has retained its pow­er as a metaphor in part because it boils all social pow­er dynam­ics down to the sim­ple math of male = oppres­sor and female = oppressed, with only creepy patri­archy-enabling Ser­e­na Joy stand­ing as an avatar of women's abil­i­ty to par­tic­i­pate in oppres­sive sys­tems. The nar­ra­tor, Offred, is well-edu­cat­ed, upper-mid­dle-class, and white; the shock comes from see­ing a woman with every advan­tage being reduced to chat­tel. But in 2017, this has the trou­bling effect of mak­ing Atwood's sto­ry seem blind to inter­sec­tion­al­i­ty, espe­cial­ly giv­en that lots of the atroc­i­ties Offred endures — insti­tu­tion­al­ized rape, hav­ing chil­dren sold or tak­en away, abuse by a jeal­ous mis­tress — are import­ed direct­ly from Amer­i­can slav­ery. Atwood is too smart to over­look racism; in her nov­el, white suprema­cy shows its head when the ​"Chil­dren of Ham" (peo­ple of col­or) are mys­te­ri­ous­ly dis­posed of in purges. Still: Offred's sto­ry has an alarm­ing amount of unac­knowl­edged over­lap with, say, Har­ri­et Jacobs'. As Evan Nar­cisse wrote for io9, the sto­ry ​"invokes the speci­fici­ty of oppres­sions that peo­ple of col­or have faced in Amer­i­can his­to­ry, only it applies them almost exclu­sive­ly to white women."
Alias Grace is still extreme­ly white, with none of the race-blind cast­ing of Hulu's series. (And none of the visu­al audac­i­ty, either; with the excep­tion of a few jar­ring jump-cuts, Alias Grace could pass as an episode of Down­ton Abbey, which some­how makes the hor­ror stark­er by com­par­i­son.) But its ground­ing in real his­to­ry, and in a real woman's life, forces us to con­sid­er the mul­ti­ple dimen­sions of her suf­fer­ing. Grace Marks is vul­ner­a­ble because she is a woman, yes. But, more to the point, she is vul­ner­a­ble because she is a poor woman, and because she is an immi­grant woman. (At one point, she takes excep­tion to a doc­u­ment where she's described as Irish ​"by her own admis­sion;" one admits crimes, and ​"being Irish, so far as I know, is not a crime.") Lat­er in the sto­ry, she's vul­ner­a­ble because she is an incar­cer­at­ed woman, and (as one wrench­ing sequence set in the asy­lum proves) because she is a woman with a disability.
Vic­to­ri­an Cana­da and Trump-era Amer­i­ca are a lot clos­er than we think. The series focus on Marks' sex­u­al exploita­tion nev­er wavers; the sto­ry is already being called a fic­tion­al reflec­tion of the #MeToo move­ment. But the sto­ry also speaks to our present-day xeno­pho­bia, class prej­u­dice, or cuts in health­care that cru­el­ly tar­get the dis­abled; it asks us to con­sid­er how those, too, con­spire to ren­der women dis­pos­able and eas­i­ly silenced. If we can empathize with Grace Marks, the series implic­it­ly insists, we should be able to empathize with all the oth­er women our soci­ety ren­ders invis­i­ble. We should be pre­pared to see our­selves, not in the hero­ine of the piece, but in Nan­cy Montgomery's cru­el­ly self-absorbed climb up the class lad­der, or in the lady of the house, pay­ing off the house­maid to con­ceal cer­tain truths about her son.
In its final hour — beau­ti­ful­ly shot by Her­ron, and even more beau­ti­ful­ly act­ed by Sarah Gadon as Marks—Alias Grace tilts into full-fledged hor­ror. The twist, which I won't spoil here, involves where women's voic­es go when we refuse to hear them, and what hap­pens to women who bury their rage. It's sheer luck, I sup­pose, that this hour aired in a moment when women's rage and hurt is sur­fac­ing so explo­sive­ly, and when we're see­ing sto­ry after sto­ry of pow­er­ful male preda­tors and the women they've kept qui­et. But even as Grace Marks' pain feels uni­ver­sal, this sto­ry reminds us that much about it — and about the sto­ries of the women most hurt by our cur­rent dystopia, many of whom will live and die with­out a pub­lic plat­form — remains whol­ly par­tic­u­lar. In the minis­eries' final, heart-stop­ping shot, Grace Marks' gaze rests on us, a reminder that she has nev­er told us every­thing she knows. Know­ing every­thing about Grace Marks is not the point. The point is that we can see her — and that, by doing so, we have com­mit­ted our­selves to being seen.