Aliens Like Us
Anthropologist Scott Littleton believes the truth is out there, somewhere.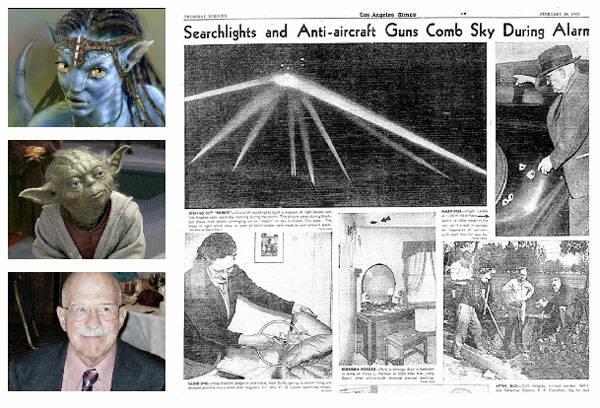 "To my math­e­mat­i­cal brain, the num­bers alone make think­ing about aliens per­fect­ly ratio­nal," says Stephen Hawk­ing, in the new Dis­cov­ery Chan­nel series Into the Uni­verse with Stephen Hawk­ing. ​"The real chal­lenge is to work out what aliens might actu­al­ly be like." Hawk­ing is the author of the 1988 best-sell­er A Brief His­to­ry of Time.
"We only have to look at our­selves to see how intel­li­gent life might devel­op into some­thing we wouldn't want to meet," he says. ​"I imag­ine they might exist in mas­sive ships, hav­ing used up all the resources from their home plan­et. Such advanced aliens would per­haps become nomads, look­ing to con­quer and col­o­nize what­ev­er plan­ets they can reach."
But try­ing to make con­tact with alien races is ​"a lit­tle too risky," he says. ​"If aliens ever vis­it us, I think the out­come would be much as when Christo­pher Colum­bus first land­ed in Amer­i­ca, which didn't turn out very well for the Native Americans."
But maybe Hawk­ing is being a lit­tle sim­ple – or hasn't seen Avatar. Regard­less, Lord Mar­tin Rees begs to dif­fer with the world's most famous the­o­ret­i­cal physicist.
In Jan­u­ary, Rees, astronomer to the Queen and a pro­fes­sor of cos­mol­o­gy and astro­physics in the Insti­tute of Astron­o­my at Cam­bridge, spoke at the Roy­al Soci­ety of Lon­don con­fer­ence, ​"The Detec­tion of Extra-ter­res­tri­al Life and the Con­se­quences for Sci­ence and Society."
Rees, pres­i­dent of the Roy­al Soci­ety, which cel­e­brat­ed its 350th anniver­sary this year, said: ​"I sus­pect there could be life and intel­li­gence out there in forms we can't con­ceive. Just as a chim­panzee can't under­stand quan­tum the­o­ry, it could be there are aspects of real­i­ty that are beyond the capac­i­ty of our brains. They could be star­ing us in the face and we just don't rec­og­nize them. The prob­lem is that we're look­ing for some­thing very much like us, assum­ing that they at least have some­thing like the same math­e­mat­ics and technology."
So, what's up with all this talk about aliens? Scott Lit­tle­ton, an expert on Arthuri­an leg­end and pro­fes­sor emer­i­tus of anthro­pol­o­gy at Occi­den­tal Col­lege in Los Ange­les, has some answers.
You were eight years old and grow­ing up in Her­mosa Beach, when, in the ear­ly hours of Feb. 25, 1942, you wit­nessed what came to be known as the ​"Bat­tle of Los Ange­les." What happened?
First, remem­ber, this was soon after Pearl Har­bor, and two days after the Elwood Oil instal­la­tion off San­ta Bar­bara had been shelled by a Japan­ese sub­ma­rine that had sur­faced there. Any­way, I'm sleep­ing, when sud­den­ly I heard the anti-air­craft guns going. This was about 3:15 a.m. I noticed the sky was very bright, so I look out the win­dow and I see search­light beams and shells explod­ing over­head. Some­thing crazy was going on. My father said, ​"I bet­ter see what is going on, this might be the real thing." So he threw on his air war­den gear and went out. My father soon ran back in and says, ​"Every­body get down in the bomb shel­ter." So we all go into the base­ment, in these old cramped quar­ters. And my moth­er was there for about 30 sec­onds, then she hus­tles out this lit­tle door and I snuck out behind her and we saw prac­ti­cal­ly over­head – and I swear to this day it was hov­er­ing – this lozenge-shaped object like an elon­gat­ed sil­ver bug direct­ly over­head. And out­lined by sev­en or eight search­light beams. They had it pin­point­ed. But it was glow­ing in addi­tion to the search­light beams. And it was sur­round­ed by explod­ing shells that were falling on the beach.
How long did you and your moth­er observe this thing?
We were out­side for ten min­utes or so. It was hov­er­ing direct­ly over­head. Then it began to lose alti­tude and veered inland over Rodan­do Beach and we lost sight of it.
If, as some peo­ple have sug­gest­ed, it was a bar­rage bal­loon that had drift­ed, these anti-air­craft shells would have torn it to pieces. My guess is that it was sur­round­ed by a force­field of some sort that pro­tect­ed it – like some­thing out of Star Wars.
How long did it take you to start think­ing of it as a UFO and not just an unex­plained phenomenon?
Decades. Not until the late ​'70s. After­wards, Frank Knox, the sec­re­tary of the Navy, held a press con­fer­ence and said it was a ​"false alarm" due to ​"war nerves." To this day that is the offi­cial inter­pre­ta­tion. [Edi­tors note: A Long Beach Inde­pen­dent edi­to­r­i­al put it this way:"There is a mys­te­ri­ous ret­i­cence about the whole affair and it appears that some form of cen­sor­ship is try­ing to halt dis­cus­sion on the matter."]
But there is not just that one dra­mat­ic sight­ing, there are scores and scores of such sight­ings. Peo­ple see things fly­ing around in the atmos­phere. And you think these are objects that have come from some­where else. As an anthro­pol­o­gist, what is your expla­na­tion for this?
I wish I had an expla­na­tion. The UFO phe­nom­e­non has been around for at least 10,000 years. A case can be made that our ear­li­est ances­tors not­ed them on cave walls in the Late or Upper Paleolithic.
Some peo­ple are con­vinced that the crea­tures who fly the things are respon­si­ble for bio­engi­neer­ing the human race. That's ridicu­lous. You don't need aliens to account for the evo­lu­tion of homo sapi­ens.
I do think that they're probes. At the begin­ning of the Ice Age, they dis­cov­ered crea­tures who were intel­li­gent but vast­ly more prim­i­tive than them­selves. And – here I'm pro­ject­ing my thoughts into their heads – they were curi­ous and want­ed to see what would hap­pen to these creatures.
For all we know, these crea­tures and their craft are the equiv­a­lent of a mechan­i­cal rab­bit at a dog track. We don't know what's being shown to us.
I see that, but I do think that you have to pay atten­tion to the vast amount of anec­do­tal evi­dence. Nobody to my knowl­edge has a real pic­ture of an alien. Nev­er­the­less, there seem to be sev­er­al vari­eties. And my hunch is – using the prin­ci­ple of par­si­mo­ny, Occam's razor – it's bet­ter to assume that they orig­i­nate in this uni­verse and in this galaxy and prob­a­bly in this cor­ner of this galaxy. That is, with­in a sev­er­al hun­dred light-year range.
If they're using some type of tech­nol­o­gy that allows them to trav­el at light speed, then one has to think that at some point in the devel­op­ment of the uni­verse some race devel­oped this tech­nol­o­gy and at some point would have prop­a­gat­ed it so that an inter­galac­tic civ­i­liza­tion would be not just a few thou­sand years ahead of us, but a mil­lion years ahead of us.
I under­stand that hypoth­e­sis. But if they're vast­ly supe­ri­or to us, why were they hav­ing so many crash­es in the late ​'40s and ear­ly ​'50s? Some­body that far ahead, you wouldn't expect to have oper­a­tional fail­ures. That's what intrigues me.
As a for­mer bureau­crat, I'd say that even in a bureau­cra­cy that's been around for a while you're going to have things that don't work as often as they do work.
Well yeah, tech­nol­o­gy isn't infallible.
So you've got some­body dri­ving around who doesn't know how to fix it, some­thing goes wrong. There could be a lot of dif­fer­ent explanations.
Fly­ing under the influence?
Yeah. [Laughs.]
I would peg them at thou­sands of years ahead of us rather than millions.
You have the hypoth­e­sis that there is a sort of Star Trek prime direc­tive where the inter­galac­tic civ­i­liza­tion is not sup­posed to con­tact the prim­i­tive world, and that then you have some races of aliens who are break­ing these rules.
I'm skep­ti­cal of peo­ple who sug­gest that they built the pyra­mids or built Stone­henge. On a whim, some­one might have vio­lat­ed the rules and helped nudge a stone into place and was called on the car­pet for it. But we have some inter­est­ing mytho­log­i­cal ways to think about this. One of those involves the ​"rebel deity."
Prometheus is the arche­type, the god who is a cul­ture-bear­er but then goes away. In fact, Mon­tezu­ma thought that Cortez was that deity com­ing back. He found out lat­er that that was incor­rect. And Lucifer, the rebel angel that comes down and gives human beings wis­dom. He does the same thing that Prometheus does, but the only dif­fer­ence from the Hel­lenic tra­di­tion is that Prometheus is a hero and in the Bib­li­cal tra­di­tion Lucifer is a villain.
You have had a long and dis­tin­guished teach­ing career. At what point did you start talk­ing pub­licly about UFOs?
The point at which I couldn't be fired. A num­ber of well-known aca­d­e­mics involved in this sub­ject have suf­fered from retal­i­a­tion. There was an unsuc­cess­ful attempt to remove tenure from the late John Mack, who was a psy­chi­a­trist at Har­vard Med­ical School and a Pulitzer Prize-win­ning author [in 1977 for A Prince of Our Dis­or­der: The Life of T E. Lawrence]. Oth­ers have not been so lucky. So I start­ed to come out of the UFO clos­et by the end of my teach­ing career. But I con­fess: I was a lit­tle ret­i­cent to do so.
I inter­viewed Edgar Mitchell once, the sixth man to walk on the moon. He believes in UFOs. He is also from Roswell [N.M., the site of the alleged UFO crash in June or July 1947]. Did you know that?
Yes, I did in fact.
This exchange was adapt­ed from a pod­cast inter­view on Elec​tricPol​i​tics​.com.
George Ken­ney
, a for­mer career U.S. for­eign ser­vice offi­cer, resigned in
1991
over U.S. pol­i­cy toward the Yugoslav con­flict. He is now a writer in Wash­ing­ton, and host and pro­duc­er of the pod­cast
Elec­tric Pol­i­tics
.