First They Came for the Federal Workers…
The GOP government shutdown prefigures an attack on the working class.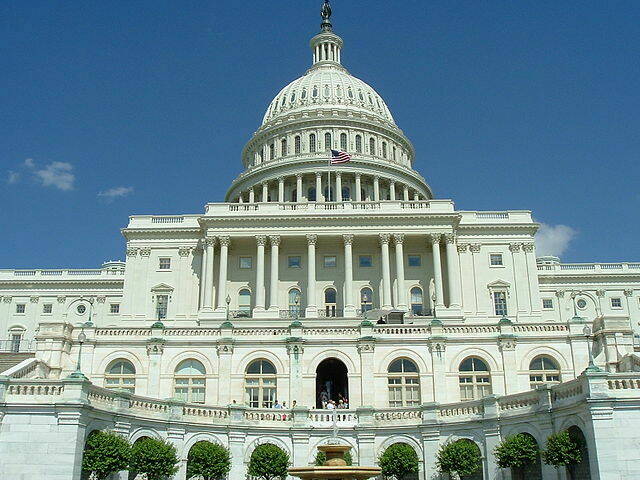 My partner, a federal worker, is locked out of his job because the Tea Party Caucus wants more spending cuts. By stranding 800,000 federal employees without pay, the billionaire-backed fraction of Congress's extreme right wing is sending a clear message: they are not accountable to any working Americans, and they are coming for all of our jobs.

Rather than assuming that federal workers and their families will recover quickly from the lockout, other working families would do well to sit up and pay attention to what is happening to us during this shutdown. Cutting off wages to federal employees and their families, shuttering national parks and halting routine workplace safety and mine safety inspections — all these comprise merely an opening gambit. Because the Republicans' likely next move is to refuse to raise the nation's debt limit, the struggle to make do with less will impact everyone in much more permanent ways if we don't take action now to resist the lockout of federal workers.

As we have seen from the sequester, which prompted budget cuts to Head Start, Meals on Wheels and other programs that help a wide range of vulnerable Americans, the Republicans are prepared to injure a large number of people to get what they want. And what they want is what the corporations and individuals who funded their campaigns want: austerity spending cuts, tax cuts for the rich, perks for fossil fuel industries, cuts to women's health care and food stamps, and the like. (ThinkProgress helpfully rounds up the full list here.)
As we have seen from the sequester, which prompted budget cuts to Head Start, Meals on Wheels and other programs that help a wide range of vulnerable Americans, the Republicans are prepared to injure a large number of people to get what they want.
An example of one family they don't mind hurting is my own. My husband works full-time at a federal agency; I work part-time as a freelancer and parent our two kids. We own our home and have health insurance, but we live paycheck to paycheck and we come up short in paying bills more often than not. Without his paycheck, we will likely have to apply for a modification on our mortgage loan, or cut back on paying for the child care that allows me to do my work.
It might strike some as odd to be defending government workers. The public perception that government employees are overpaid and lazy has roots in the Reagan ​"welfare queen" narrative, and Republicans are trading on that perception in order to attack these workers with impunity. As Philip Bump noted in the Atlantic back in March, ​"In conservative circles, that concept — that some decent percentage of government payment recipients are lazy freeloaders — has been extended to government employees." In other words, Republicans are counting on those who may subsist on less than we do, or who have experienced household calamities as a result of the recession, to be fine with seeing us suffer through a lockout and miss a mortgage payment or maybe have to take our toddler out of daycare. Our family has been through tough times in the past, and know that it is difficult not to resent those who appear to have more stability or cash. But viewing one another as ​"other," or as an acceptable target for austerity measures (measures that are rooted in a ​"less government" ideology instead of economic necessity) is just what the Republicans want from all of us. It distracts us from the damage they are preparing to cause.
As the families of the 800,000 locked-out federal workers, we are the canaries in the coal mine of right-wing austerity. Even if the Republicans retreat, they are setting the place up to explode; the fate of federal workers will serve as an example of what's to come. The looming fight over the debt limit, which the government has until October 17 to raise, will spread the hurt of the government shutdown to a much wider swathe of the population. Hitting the debt ceiling would impose a 32 percent federal spending cut. It would also mean defaulting on some national debts, since the Treasury would no longer be able to borrow in order to meet its obligations — such as paying out Social Security checks to seniors and people with disabilities. A recent article in the Atlantic explains that this level of cutting would damage all of us in ways that are not precisely predictable but are nonetheless predictably bad. Without exaggerating the risk, one can imagine: federal jobs disappearing into thin air, taking with them the consumer spending that keeps businesses operating in communities; a massive wave of defaults on household debt triggered by job losses and a spike in short-term interest rates; and many more families (especially children) made homeless and food-insecure.
It is an outrage that House Republicans are willing to use the well-being of all working families as a bargaining chip to get what they want. However, it's not particularly surprising, given that Tea Party Republicans have had their campaigns funded largely by billionaires like real estate magnate Howie Rich and global industry tycoon brothers Charles and David Koch, and they see themselves as representing the billionaires' interests in Washington.
Moreover, based on past practices, it's likely that their corporate funders have promised them lobbyist jobs with incomes in the mid-six figures when they leave office, in exchange for cutting government spending and fulfilling an industry-friendly wish list. Thus, the House Republicans who are making demands in exchange for not detonating the US economy may see themselves as accountable to their former campaign funders and future bosses, not to their constituents. This would explain why they are willing to take such draconian measures to ensure their agenda moves forward.
Fortunately, there is something we can do. People are already taking action to resist the Republican hostage-takers, and everyone can participate. Opportunities include: sharing the AFL-CIO's online message exhorting Republicans to ​"Get a Grip;" attending local demonstrations in support of government workers; calling and writing to members of Congress and the President; and participating in anti-austerity actions that may soon take place locally around the country. One AFL-CIO staffer assured me this morning that they are compiling a database of planned actions around the country, so you can stay tuned to their website for details. American workers must not succumb to the belief that they are immune from government funding cuts just because they are not federally employed. This is all one fight, and we are all going to need each other.
UPDATE: The AFL-CIO has put together this clickable map of rallies, marches and demonstrations planned all around the country for issues from ending the government shutdown to immigration reform (this Saturday, October 5, will be a big day to show support for that) to raising the minimum wage. Groups of people demanding rational action from Congress on any of these issues could help tip the balance back toward a functioning government. If you know of an action or rally being planned in your area that isn't on this map, click on the ​"Add a Local Action" button at the far right and follow the instructions.