First They Came for the Federal Workers…
The GOP government shutdown prefigures an attack on the working class.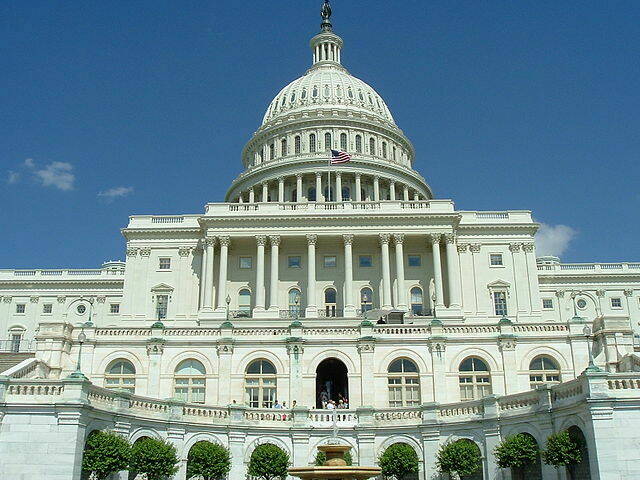 My part­ner, a fed­er­al work­er, is locked out of his job because the Tea Par­ty Cau­cus wants more spend­ing cuts. By strand­ing 800,000 fed­er­al employ­ees with­out pay, the bil­lion­aire-backed frac­tion of Congress's extreme right wing is send­ing a clear mes­sage: they are not account­able to any work­ing Amer­i­cans, and they are com­ing for all of our jobs.

Rather than assum­ing that fed­er­al work­ers and their fam­i­lies will recov­er quick­ly from the lock­out, oth­er work­ing fam­i­lies would do well to sit up and pay atten­tion to what is hap­pen­ing to us dur­ing this shut­down. Cut­ting off wages to fed­er­al employ­ees and their fam­i­lies, shut­ter­ing nation­al parks and halt­ing rou­tine work­place safe­ty and mine safe­ty inspec­tions — all these com­prise mere­ly an open­ing gam­bit. Because the Repub­li­cans' like­ly next move is to refuse to raise the nation's debt lim­it, the strug­gle to make do with less will impact every­one in much more per­ma­nent ways if we don't take action now to resist the lock­out of fed­er­al workers.

As we have seen from the sequester, which prompt­ed bud­get cuts to Head Start, Meals on Wheels and oth­er pro­grams that help a wide range of vul­ner­a­ble Amer­i­cans, the Repub­li­cans are pre­pared to injure a large num­ber of peo­ple to get what they want. And what they want is what the cor­po­ra­tions and indi­vid­u­als who fund­ed their cam­paigns want: aus­ter­i­ty spend­ing cuts, tax cuts for the rich, perks for fos­sil fuel indus­tries, cuts to women's health care and food stamps, and the like. (ThinkProgress help­ful­ly rounds up the full list here.)
As we have seen from the sequester, which prompted budget cuts to Head Start, Meals on Wheels and other programs that help a wide range of vulnerable Americans, the Republicans are prepared to injure a large number of people to get what they want.
An exam­ple of one fam­i­ly they don't mind hurt­ing is my own. My hus­band works full-time at a fed­er­al agency; I work part-time as a free­lancer and par­ent our two kids. We own our home and have health insur­ance, but we live pay­check to pay­check and we come up short in pay­ing bills more often than not. With­out his pay­check, we will like­ly have to apply for a mod­i­fi­ca­tion on our mort­gage loan, or cut back on pay­ing for the child care that allows me to do my work.
It might strike some as odd to be defend­ing gov­ern­ment work­ers. The pub­lic per­cep­tion that gov­ern­ment employ­ees are over­paid and lazy has roots in the Rea­gan ​"wel­fare queen" nar­ra­tive, and Repub­li­cans are trad­ing on that per­cep­tion in order to attack these work­ers with impuni­ty. As Philip Bump not­ed in the Atlantic back in March, ​"In con­ser­v­a­tive cir­cles, that con­cept — that some decent per­cent­age of gov­ern­ment pay­ment recip­i­ents are lazy free­load­ers — has been extend­ed to gov­ern­ment employ­ees." In oth­er words, Repub­li­cans are count­ing on those who may sub­sist on less than we do, or who have expe­ri­enced house­hold calami­ties as a result of the reces­sion, to be fine with see­ing us suf­fer through a lock­out and miss a mort­gage pay­ment or maybe have to take our tod­dler out of day­care. Our fam­i­ly has been through tough times in the past, and know that it is dif­fi­cult not to resent those who appear to have more sta­bil­i­ty or cash. But view­ing one anoth­er as ​"oth­er," or as an accept­able tar­get for aus­ter­i­ty mea­sures (mea­sures that are root­ed in a ​"less gov­ern­ment" ide­ol­o­gy instead of eco­nom­ic neces­si­ty) is just what the Repub­li­cans want from all of us. It dis­tracts us from the dam­age they are prepar­ing to cause.
As the fam­i­lies of the 800,000 locked-out fed­er­al work­ers, we are the canaries in the coal mine of right-wing aus­ter­i­ty. Even if the Repub­li­cans retreat, they are set­ting the place up to explode; the fate of fed­er­al work­ers will serve as an exam­ple of what's to come. The loom­ing fight over the debt lim­it, which the gov­ern­ment has until Octo­ber 17 to raise, will spread the hurt of the gov­ern­ment shut­down to a much wider swathe of the pop­u­la­tion. Hit­ting the debt ceil­ing would impose a 32 per­cent fed­er­al spend­ing cut. It would also mean default­ing on some nation­al debts, since the Trea­sury would no longer be able to bor­row in order to meet its oblig­a­tions — such as pay­ing out Social Secu­ri­ty checks to seniors and peo­ple with dis­abil­i­ties. A recent arti­cle in the Atlantic explains that this lev­el of cut­ting would dam­age all of us in ways that are not pre­cise­ly pre­dictable but are nonethe­less pre­dictably bad. With­out exag­ger­at­ing the risk, one can imag­ine: fed­er­al jobs dis­ap­pear­ing into thin air, tak­ing with them the con­sumer spend­ing that keeps busi­ness­es oper­at­ing in com­mu­ni­ties; a mas­sive wave of defaults on house­hold debt trig­gered by job loss­es and a spike in short-term inter­est rates; and many more fam­i­lies (espe­cial­ly chil­dren) made home­less and food-insecure.
It is an out­rage that House Repub­li­cans are will­ing to use the well-being of all work­ing fam­i­lies as a bar­gain­ing chip to get what they want. How­ev­er, it's not par­tic­u­lar­ly sur­pris­ing, giv­en that Tea Par­ty Repub­li­cans have had their cam­paigns fund­ed large­ly by bil­lion­aires like real estate mag­nate Howie Rich and glob­al indus­try tycoon broth­ers Charles and David Koch, and they see them­selves as rep­re­sent­ing the bil­lion­aires' inter­ests in Washington.
More­over, based on past prac­tices, it's like­ly that their cor­po­rate fun­ders have promised them lob­by­ist jobs with incomes in the mid-six fig­ures when they leave office, in exchange for cut­ting gov­ern­ment spend­ing and ful­fill­ing an indus­try-friend­ly wish list. Thus, the House Repub­li­cans who are mak­ing demands in exchange for not det­o­nat­ing the US econ­o­my may see them­selves as account­able to their for­mer cam­paign fun­ders and future boss­es, not to their con­stituents. This would explain why they are will­ing to take such dra­con­ian mea­sures to ensure their agen­da moves forward.
For­tu­nate­ly, there is some­thing we can do. Peo­ple are already tak­ing action to resist the Repub­li­can hostage-tak­ers, and every­one can par­tic­i­pate. Oppor­tu­ni­ties include: shar­ing the AFL-CIO's online mes­sage exhort­ing Repub­li­cans to ​"Get a Grip;" attend­ing local demon­stra­tions in sup­port of gov­ern­ment work­ers; call­ing and writ­ing to mem­bers of Con­gress and the Pres­i­dent; and par­tic­i­pat­ing in anti-aus­ter­i­ty actions that may soon take place local­ly around the coun­try. One AFL-CIO staffer assured me this morn­ing that they are com­pil­ing a data­base of planned actions around the coun­try, so you can stay tuned to their web­site for details. Amer­i­can work­ers must not suc­cumb to the belief that they are immune from gov­ern­ment fund­ing cuts just because they are not fed­er­al­ly employed. This is all one fight, and we are all going to need each other.
UPDATE: The AFL-CIO has put togeth­er this click­able map of ral­lies, march­es and demon­stra­tions planned all around the coun­try for issues from end­ing the gov­ern­ment shut­down to immi­gra­tion reform (this Sat­ur­day, Octo­ber 5, will be a big day to show sup­port for that) to rais­ing the min­i­mum wage. Groups of peo­ple demand­ing ratio­nal action from Con­gress on any of these issues could help tip the bal­ance back toward a func­tion­ing gov­ern­ment. If you know of an action or ral­ly being planned in your area that isn't on this map, click on the ​"Add a Local Action" but­ton at the far right and fol­low the instructions.