The U.S. Chamber of Secrets
Who's funding the Chamber of Commerce and its attacks on workers' rights groups? No one knows.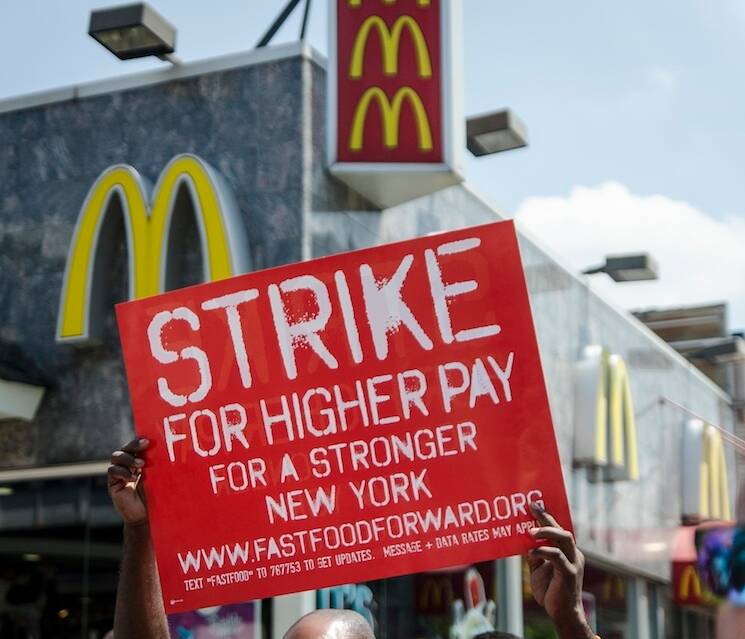 The U.S. Cham­ber of Commerce's stat­ed mis­sion is ​"rep­re­sent­ing the inter­ests of more than 3 mil­lion busi­ness­es of all sizes, sec­tors, and regions," but watch­dog groups say the U.S. Cham­ber rep­re­sents the inter­ests of a select few big indus­try groups that want to crush work­er orga­niz­ing. In some states, where the local Cham­ber of Com­merce and local busi­ness lead­ers tend to oper­ate from the same play­book as the U.S. Cham­ber, anti-work­er cam­paigns tend to pro­lif­er­ate. The Cal­i­for­nia Cham­ber of Com­merce, for exam­ple, has been active­ly lob­by­ing to pre­vent the state leg­is­la­ture from pass­ing a bill that would help to pre­vent wage theft.
The National Guestworkers Alliance ... won more than $200,000 in back wages and damages for a group of McDonald's employees who had been forced to live in a manager's basement and were paid sub-minimum wages and denied overtime.
But iden­ti­fy­ing who is — and isn't — part of the U.S. Cham­ber can be a chal­lenge. Unlike many local Cham­bers of Com­merce, the U.S. Cham­ber keeps its mem­ber and donor lists secret. Despite its claim to rep­re­sent three mil­lion busi­ness­es, watch­dog groups have doc­u­ment­ed that its actu­al mem­ber­ship hov­ers around 300,000. What's more, local cham­bers of com­merce have pub­licly denounced or left the U.S. Cham­ber by the dozens in recent years. U.S. Cham­ber­Watch report­ed that near­ly 60 Cham­bers have done so since 2009. Though it does not dis­close its donors, OpenSe­crets has been able to track major dona­tions to the U.S. Cham­ber from indus­try groups such as the Amer­i­can Petro­le­um Insti­tute, the Asso­ci­at­ed Gen­er­al Con­trac­tors of Amer­i­ca, and the Free­dom Part­ners Cham­ber of Com­merce, itself a hard-line, right-wing busi­ness association.
These and oth­er indus­try groups are fund­ing a broad­er, coor­di­nat­ed push to pre­serve the low wages and exploita­tive work­ing con­di­tions that now char­ac­ter­ize many indus­tries. Their tar­gets include groups such as ROC Unit­ed, which is a nation­al net­work of work­er cen­ters that is chal­leng­ing the Amer­i­can mod­el of low-wage ser­vice sec­tor employment.
ROC Unit­ed ​"real­ly care­ful­ly looked at the restau­rant indus­try and thought about what it would take to improve wages and work­ing con­di­tions and stan­dards," said Jan­ice Fine, a schol­ar of labor stud­ies and work­er cen­ters at Rut­gers Uni­ver­si­ty. ​"They are doing a num­ber of inter­est­ing inno­v­a­tive things." These include sur­veys of restau­rant work­ers to find out what their wages and work­ing con­di­tions actu­al­ly are; a code of con­duct that employ­ers can adopt to take the ​"high road" and treat work­ers bet­ter; pick­et­ing bad-actor employ­ers; and pro­mot­ing ​"high road" employ­ers to social­ly-con­scious diners.
For their efforts, ROC Unit­ed has been sub­ject­ed to con­sis­tent and intense attacks from indus­try, and has fought back dou­bly hard. A Jan­u­ary 16 New York Times arti­cle exposed the restau­rant industry's PR cam­paign against ROC: ​"A promi­nent Wash­ing­ton lob­by­ist, Richard Berman, has run full-page ads attack­ing the Restau­rant Oppor­tu­ni­ties Cen­ter, accus­ing it of intim­i­dat­ing oppo­nents," accord­ing to the piece. ​"He has even set up a sep­a­rate web­site, ROC​ex​posed​.com, to attack the group." Restau­rant own­ers have also filed mer­it­less law­suits against ROC, aim­ing to force ROC to spend mon­ey and time fight­ing in court instead of organizing.
In one 2005 case involv­ing ROC's New York chap­ter, reports the Nation­al Employ­ment Law Project (NELP):
Three restau­rants filed a charge with the Nation­al Labor Rela­tions Board claim­ing that ROC-NY's activ­i­ties made it a labor orga­ni­za­tion sub­ject to the Nation­al Labor Rela­tions Act. If ROC-NY were sub­ject to the Act, it would also be sub­ject to a series of require­ments… and poten­tial­ly jeop­ar­dize its tax exempt sta­tus. The restau­rants said that ROC-NY's fil­ing of lit­i­ga­tion, and seek­ing set­tle­ments that pro­vid­ed for improve­ments in work­ing con­di­tions… such as pro­mo­tion poli­cies or lan­guage access poli­cies, made ROC a labor union.
Such law­suits are anoth­er attempt to shut down new work­er for­ma­tions by call­ing them unions and seek­ing to restrict their activ­i­ties accordingly.
​"It's a sign of their effec­tive­ness," Fine said. And, indeed, the work­ers' groups are win­ning in court. The Nation­al Guest­work­ers Alliance, a net­work that advo­cates for tem­po­rary work­ers who are brought in from oth­er coun­tries to work for a spe­cif­ic employ­er, won more than $200,000 in back wages and dam­ages for a group of McDonald's employ­ees who had been forced to live in a manager's base­ment and were paid sub-min­i­mum wages and denied over­time. ROC Unit­ed, accord­ing to an issue brief from the Unit­ed Work­ers Con­gress, also has had a sig­nif­i­cant track record of court vic­to­ries on behalf of work­ers: ​"The Restau­rant Oppor­tu­ni­ties Cen­ter has won 18 cam­paigns against exploita­tion in large, high-pro­file restau­rant cor­po­ra­tions that result­ed in high­er wages and bet­ter ben­e­fits for these work­ers, as well as $9 mil­lion in recouped wages."
Even if these num­bers don't sig­nif­i­cant­ly affect the bot­tom line of mega-cor­po­ra­tions such as Wal­mart or Dar­d­en Restau­rants (which owns the Long­Horn Steak­house and Olive Gar­den chains), Fine said, the unde­ni­able pow­er of work­ers win­ning back their right­ful­ly earned wages is pulling pub­lic opin­ion over to the work­ers' side. ​"Before, they might have been irri­tants, but not enough to raise the ire of big, cor­po­rate dark-mon­ey groups like the Nation­al Restau­rant Asso­ci­a­tion and the U.S. Cham­ber of Commerce."
Excerpt­ed with per­mis­sion from a Polit­i­cal Research Asso­ciates report. Read the full sto­ry here.