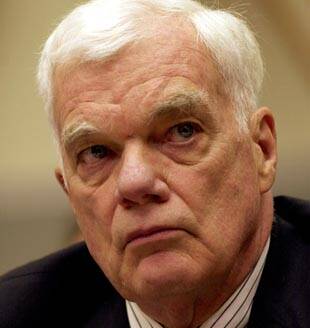 Now retired, Thomas P. Christie has served the U.S. gov­ern­ment as an influ­en­tial mil­i­tary ana­lyst and man­ag­er. After hold­ing senior posi­tions at the Pen­ta­gon on and off from 1973, Christie worked as direc­tor of Oper­a­tional Test and Eval­u­a­tion from 2001 – 2005, the Pentagon's chief weapons tester, the high­est rank­ing civ­il ser­vice appoint­ment in the Pen­ta­gon. Though large­ly unknown out­side the Pen­ta­gon, Christie was a key fig­ure in some of the biggest bat­tles over mil­i­tary spend­ing in recent years.
'And the other thing that's interesting -- tragic is more the word for it -- is we don't know where the hell all this money is!'
He reg­u­lar­ly dis­proved con­trac­tors' claims about new weapons sys­tems, though some of the most unec­es­sary have con­tin­ued to be devel­oped nonethe­less. A mas­ter bureau­crat, tall, white-haired, soft-spo­ken, Christie rose through the ranks, pro­vid­ing lead­er­ship and insti­tu­tion­al cov­er for an infor­mal group of like-mind­ed indi­vid­u­als con­cerned with Pen­ta­gon defi­cien­cies across the board, from tac­tics and strat­e­gy to tech­nol­o­gy and economics.
More vocal than ever in retire­ment, Christie's insights remain essen­tial to dis­cus­sions about how to con­trol break­away mil­i­tary spending.
The Pen­ta­gon spends enor­mous­ly. The Defense bud­get for fis­cal year ​'09 is $519 bil­lion – $129 bil­lion for per­son­nel, $180 bil­lion for oper­a­tions and main­te­nance, $104 bil­lion for pro­cure­ment, $80 bil­lion for research and devel­op­ment, $24 bil­lion for mil­i­tary con­struc­tion and $2 bil­lion for management.
But that doesn't come close to how much mon­ey even­tu­al­ly will be spent on the mil­i­tary. That doesn't include the [$165 bil­lion] sup­ple­men­tal [bill to fund the wars in Iraq and Afghanistan]. So you're eas­i­ly up to $700 bil­lion in this com­ing fis­cal year. And a large part of the bud­get is over in the Depart­ment of Ener­gy – all the nuclear stuff. The Veteran's Admin­is­tra­tion is car­ry­ing a bur­den asso­ci­at­ed with our veterans.
So I don't know how much is being spent. But a lot of that mon­ey is going into sys­tems that Defense Sec­re­tary Bob Gates has crit­i­cized quite frankly – sys­tems that were start­ed and jus­ti­fied based on what was going on dur­ing the Cold War.
What jus­ti­fies spend­ing more on mil­i­tary mat­ters than the rest of the world com­bined?
Take a look at what's in the bud­get in the con­text of mod­ern­iza­tion. The F‑22 fight­er plane is a clas­sic exam­ple. That pro­gram goes back to the ear­ly to mid-'80s. At one time, the Air Force was going to buy 700. We're buy­ing 180 now, and the Air Force wants to buy more.
And Sec­re­tary Gates' point is those sys­tems aren't play­ing any role in the sit­u­a­tions we're involved in – in Afghanistan and Iraq – nor will they.
So we are pos­tu­lat­ing now that the Chi­nese are the threat of the future, or peer com­peti­tors, or what­ev­er we call them. We're grasp­ing at straws in order to jus­ti­fy this amount of mon­ey. The stuff we're spend­ing mon­ey on – some of the Navy ships, nuclear attack sub­marines or the F‑22 – can they real­ly be jus­ti­fied when you look at the future and see a world that is going to be sim­i­lar to what we have today? You've got two things hap­pen­ing: First, every­thing we're devel­op­ing and buy­ing is cost­ing an arm and a leg. And sec­ond, you're jus­ti­fy­ing it based on a ques­tion­able pro­ject­ed threat.
I real­ly despair about get­ting a han­dle on this because it isn't just the Defense Depart­ment, it's also Con­gress. It's a mil­i­tary-indus­tri­al and con­gres­sion­al com­plex that is going full steam, and any attempt to draw back on that will be met with defeat, unfor­tu­nate­ly. And I don't care which admin­is­tra­tion comes in. Once you've got all this stuff going down the pike, these big sys­tems – they are jobs programs.
Is it intel­lec­tu­al­ly respectable to argue in favor of, say, a 50 per­cent cut in mil­i­tary spend­ing? Can one defend that position?
I think so. That would be doable. You're talk­ing def­i­nite­ly about small­er forces. Of course, man­pow­er, and the oper­at­ing and sup­port costs are what's eat­ing our lunch today.
And the oth­er thing that's inter­est­ing – trag­ic is more the word for it – is we don't know where the hell all this mon­ey is! We can't track where our mon­ey is going. And we've known this for 20 or 30 years. We've had Pen­ta­gon comp­trol­ler after comp­trol­ler say, ​"Okay, we're gonna get it fixed," and then they throw their arms up in despair.
We need to stop where we are, aside from con­tin­u­ing to do what­ev­er we're doing in Iraq and Afghanistan, fin­ish that off to the extent we can – just stop every­thing for a year or so until we get our finan­cials into some shape.
We need to get a real inde­pen­dent group to look at where we should be going in the Defense Depart­ment in the future: What are the real threats? How should we struc­ture our forces? What sys­tems should we be look­ing to devel­op and buy? And then take a look at what we need in the way of the defense budget.
Unfor­tu­nate­ly, an arbi­trary cut like 50 per­cent – even though I think you could ratio­nal­ize it – cer­tain­ly would nev­er sell.
The dif­fer­ence between U.S. spend­ing and every­body else's is that oth­er coun­tries bal­ance their pri­or­i­ties. They've got health­care pro­grams, edu­ca­tion, infra­struc­ture. If the mil­i­tary is soak­ing up all this wealth, there's noth­ing left over.
You got it. The infra­struc­ture of this coun­try is in very sad shape. Part of the prob­lem is the huge defense bud­get. Even with lit­tle or no spend­ing on the infra­struc­ture, we're still run­ning up these huge deficits. You shake your head and won­der. Look at the health sit­u­a­tion in this coun­try. Something's got to be done there. We're pay­ing no atten­tion to it.
Two years ago, the coun­try elect­ed a dif­fer­ent Con­gress. They've been in pow­er for a year and a half now. What have they done differently?
Not much.
Not much! It's a stalemate.
Are you opti­mistic that if Oba­ma were elect­ed, that he would be able to escape the influ­ences of this mil­i­tary indus­tri­al and con­gres­sion­al complex?
No, I'm not opti­mistic. The Clin­ton admin­is­tra­tion came in and caused a lot of the prob­lems with this acqui­si­tion reform busi­ness. We cut way back on the peo­ple that over­saw acqui­si­tion pro­grams, and it was like, ​"Let the con­trac­tor do his thing, and we'll accept what we got." We are still suf­fer­ing from that régime.
When I was being inter­viewed by for­mer Defense Sec­re­tary Don­ald Rums­feld to take the job that I did in 2001, Rums­feld and his tran­si­tion team were right on when they said, ​"We have got to get con­trol of the mil­i­tary. We have got to exer­cise civil­ian con­trol of the mil­i­tary. It's been total­ly absent dur­ing the pre­vi­ous admin­is­tra­tion." And that was true.
But we end­ed up still going off on a bunch of big mod­ern­iza­tion pro­grams with lit­tle or no over­sight. And we've had these mon­strous cost over­runs that have been com­ing to light for the last sev­er­al years. Now we're faced with a lack of peo­ple who can com­pe­tent­ly look into what is being done in these devel­op­ment pro­grams or the con­trac­tors and be able to see before the cost over­runs or tech­ni­cal prob­lems surface.
Were clus­ter bombs and land­mines weapons that you dealt with at all?
Oh yeah. Par­tic­u­lar­ly clus­ter weapons. You have what looks like a bomb that opens up and flings out 200 or 300 of base­ball-sized bomblets. We flung them all over Bosnia and Koso­vo and all over the desert. And when you're fling­ing out thou­sands of these things and you have less than 90 per­cent reli­a­bil­i­ty, you've got a big prob­lem. So, the world has react­ed. And our mil­i­tary is just wed­ded to this stuff.
As far as land­mines, that's a dif­fer­ent sit­u­a­tion, but it's sim­i­lar. You've got this prob­lem with civil­ians afterwards.
We haven't acced­ed to the treaty on land­mines. Is that right?
That's true. We learned in Viet­nam that they had these reli­a­bil­i­ty prob­lems all along, but we nev­er stopped to think that once the con­flict is over, then what? It's hap­pened over and over. So the world is react­ing. And I guess the Unit­ed States recent­ly tried to sab­o­tage the deal in Dublin to ban clus­ter bombs.
That's an agree­ment which we're not part of.
And that makes us look bad.
Is there any­thing I didn't ask you that you want­ed to talk about?
It's very dis­turb­ing. I've seen good peo­ple in the Pen­ta­gon, good peo­ple in the mil­i­tary, all the way to the top, just throw their hands up in frus­tra­tion: ​"No way we can turn this ship around and get it in the right direc­tion." And that's unfor­tu­nate. You just got­ta come in and scrap the whole process.
In a bureau­cra­cy, you have to often make deci­sions about whether you're going to make incre­men­tal changes or rad­i­cal changes. But most impor­tant changes can't be made on an incre­men­tal basis. It would take a strong pres­i­dent to do that.
And a strong Sec­re­tary of Defense. And lead­er­ship on the Hill that will sup­port it. As well as so-called ​"indus­try titans." And get­ting all of that to come togeth­er at one time – that's the problem.
What needs to be done can't be done bit by bit. It's got to be revolutionary.
George Ken­ney
, a for­mer career U.S. for­eign ser­vice offi­cer, resigned in
1991
over U.S. pol­i­cy toward the Yugoslav con­flict. He is now a writer in Wash­ing­ton, and host and pro­duc­er of the pod­cast
Elec­tric Pol­i­tics
.