Alleging Labor Abuses, U.S. and Mexican Workers Call for Boycott of Driscoll's Berries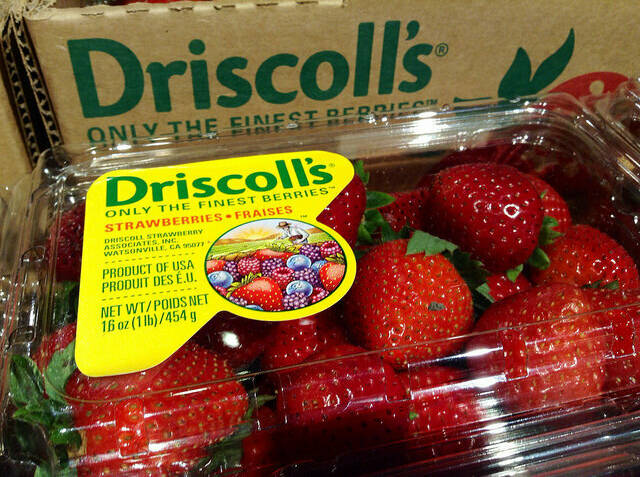 Driscoll's may be the U.S.'s most rec­og­niz­able brand name on straw­ber­ry, rasp­ber­ry, blue­ber­ry and black­ber­ry car­tons. Its con­ven­tion­al and organ­ic berries can be found year-round every­where from Sam's Club to Whole Foods. To keep its berries stocked far and wide, the com­pa­ny uses a vast sup­pli­er net­work stretch­ing from Cana­da to Argentina.
But some of those sup­pli­ers are com­ing under fire for alleged­ly abus­ing work­ers, in the U.S. and Mex­i­co. One Driscoll's grow­er has spent weeks embroiled in a major farm­work­er protest, while a near­ly two-year boy­cott against anoth­er grow­er recent­ly inten­si­fied. Work­ers in both dis­putes have called for a boy­cott against the company.
Pover­ty wages in Baja
While Driscoll's is a fam­i­ly-owned com­pa­ny, it's no mom-and-pop oper­a­tion. Accord­ing to its web­site, over 40,000 peo­ple are involved in its berry pro­duc­tion world­wide. The com­pa­ny has a code of con­duct for its sup­pli­ers, called the ​"Promise for Work­force Wel­fare," which includes obey­ing min­i­mum legal require­ments and avoid­ing egre­gious labor vio­la­tions like human traf­fick­ing and con­di­tions ​"pos­ing imme­di­ate risk to life or limb." Driscoll's says it is com­mit­ted to hir­ing sup­pli­ers that ​"show a sin­cere com­mit­ment" to such principles.
But Boni­fa­cio Mar­tinez ques­tions whether those require­ments are enough. Mar­tinez picked straw­ber­ries and black­ber­ries des­tined for Driscoll's box­es for 10 years. Now he's a leader in the farm­work­er move­ment that erupt­ed last month in the fields of San Quintin, in the Mex­i­can state of Baja Cal­i­for­nia. Thou­sands of farm labor­ers pick­ing mul­ti­ple crops stopped work for near­ly two weeks, demand­ing high­er wages and legal­ly required ben­e­fits, among oth­er pro­tec­tions.
"The prin­ci­pal demand is for [grow­ers] to actu­al­ly respect the work­ers' rights," says Mar­tinez. He wants them to hon­or labor laws that are, at the moment, he says, just ​"dead words." Those include health ben­e­fits and free­dom from sex­u­al harassment.
Many of the San Quintin pro­test­ers are indige­nous peo­ple from some of Mexico's poor­est states, like Oax­a­ca and Guer­rero. Indige­nous peo­ple make up more than half of Mexico's agri­cul­tur­al workers.
The strik­ing pick­ers ini­tial­ly want­ed wages increased to 300 pesos a day, then low­ered the demand to 200 pesos, about $13. Most of them earned $7 to $8 a day before the strike.
Protests turned acri­mo­nious when demon­stra­tors threw rocks at gov­ern­ment vehi­cles and police respond­ed with tear gas and rub­ber bul­lets, report­ed the Los Ange­les Times. Work­ers also blocked 56 miles of the Trans-Penin­su­lar High­way. By April, the strike had effec­tive­ly end­ed after grow­ers signed agree­ments rais­ing wages 15 per­cent — far less than the pick­ers demanded.
The lead­ers of the move­ment reject­ed the mea­ger increase, say­ing the unions that signed those agree­ments, which are affil­i­at­ed with the Par­tido Rev­olu­cionario Insti­tu­cional (PRI), which held pow­er for near­ly three-quar­ters of the 20th cen­tu­ry and has strong con­nec­tions to many unions through­out the coun­try, do not rep­re­sent work­ers. The work­ers con­tin­ue protest­ing even as many have returned to the fields.
Although the dis­pute involved var­i­ous crops and grow­ers, a pri­ma­ry tar­get of the strike was BerryMex, one of Driscoll's largest sup­pli­ers in the region. Last week, on the anniver­sary of the death of agrar­i­an rev­o­lu­tion­ary Emil­iano Zap­a­ta, the farm­work­ers called for a boy­cott against Driscoll's and ​"all the com­pa­nies that make a prof­it by exploit­ing our labor."
Accord­ing to state­ments by Driscoll's and BerryMex, fol­low­ing the strike BerryMex increased the ​"earn­ing oppor­tu­ni­ty" for its more than 4,000 work­ers to $5 to $9 an hour — well above the strik­ers' demands and the grow­ers' con­ces­sions. ​"This pay increase means that each indi­vid­ual now has an aver­age earn­ing poten­tial of six to 10 times of Mexico's min­i­mum Fed­er­al wage and as much as 16 times for high­er per­form­ing work­ers," the state­ments read.
"This is a ter­ri­ble lie," says Mar­tinez. He says BerryMex has raised its wages more than some of its peer grow­ers, but only to 180 pesos a day, about $12. That's a far cry from $5 to $9 dol­lars an hour. Oth­ers famil­iar with the protests expressed skep­ti­cism of the cal­cu­la­tion as well. Pick­ers are paid based on how much they pick, not by hour. That means hourly rates for fast pick­ers under opti­mum con­di­tions can far exceed aver­age rates. In that case, the ​"earn­ing oppor­tu­ni­ty" will not be the earn­ing real­i­ty for most laborers.
BerryMex is not just any Driscoll's sup­pli­er. It is part of Reit­er Affil­i­at­ed Com­pa­nies (RAC), which says it is ​"the largest fresh, mul­ti-berry pro­duc­er in the world." Driscoll's is RAC's only cus­tomer. And RAC's CEO, Gar­land Reit­er, is the broth­er of Driscoll's CEO Miles Reiter.
From San Quintin to Skag­it County
Driscoll's respond­ed swift­ly to the BerryMex fra­cas. But it was not as quick to act to resolve a dis­pute that esca­lat­ed while the San Quintin protests raged: a bit­ter labor fight in Burling­ton, Washington.
Famil­ias Unidas por la Jus­ti­cia (FUJ), which says it rep­re­sents over 400 berry pick­ers, has been locked in a labor strug­gle with Driscoll's sup­pli­er Saku­ma Broth­ers Farms since 2013. FUJ has long held a boy­cott against Saku­ma berries and its largest cus­tomers, Driscoll's and Häa­gen-Dazs. On March 24, it dou­bled down on the boy­cott when the fair trade advo­ca­cy orga­ni­za­tion Fair World Project sent a let­ter to Driscoll's, signed by near­ly 10,000 con­sumers, ask­ing it to sus­pend buy­ing from Saku­ma Broth­ers until the dis­pute is resolved. The sig­na­to­ries pledged not to buy Driscoll's berries until then.
FUJ's list of com­plaints is long: poor wages, squalid labor camps, fir­ing and retal­i­at­ing against work­ers for orga­niz­ing and hir­ing guest­work­ers from Mex­i­co to replace FUJ's mem­bers. The H‑2A guest­work­er pro­gram Saku­ma Broth­ers par­tic­i­pat­ed in is meant to be used only when there aren't enough work­ers domes­ti­cal­ly. FUJ says it had plen­ty of will­ing work­ers, but that Saku­ma Broth­ers used guest­work­ers to avoid hir­ing back FUJ's members.
"The only thing we want is a fair con­tract for both of us," says FUJ pres­i­dent Ramon Torres.
Saku­ma Broth­ers denies that FUJ rep­re­sents the berry pick­ers, call­ing them ​"out­side agi­ta­tors" who ​"have attempt­ed to fab­ri­cate the impres­sion that this is a work­er move­ment." Dan­ny Wee­den began his tenure as the company's CEO just this year and says FUJ's cam­paign is hard to understand.
"We're real­ly doing every­thing and more than what they're ask­ing, but they just con­tin­ue to mis­rep­re­sent the facts," he says.
Wee­den says that start­ing this sea­son, the com­pa­ny will pay work­ers $10 an hour plus a gen­er­ous bonus for each pound of berries picked. He says the hous­ing is con­tin­u­al­ly upgrad­ed and that the com­pa­ny does suf­fer from a labor shortage.
After near­ly two years of dead­lock, the Fair World Project and its near­ly 10,000 con­sumer sig­na­tures final­ly prompt­ed Driscoll's to respond. In a state­ment, the com­pa­ny said it had hired ​"an inde­pen­dent, lead­ing work­er wel­fare orga­ni­za­tion" to audit Saku­ma Broth­ers, and that the final audit showed that the com­pa­ny had ​"prop­er­ly addressed any poten­tial claims" of work­er mistreatment.
Felimon Pine­da, FUJ's vice pres­i­dent, doubts the audit's accu­ra­cy. ​"If it's true that peo­ple from Driscoll's came to check Saku­ma farms, the first thing they should have done was ask the farm­work­ers," he says. ​"Because they're the ones who feel the pain. They're the ones who know the work­ing conditions.
Pine­da, who is from Oax­a­ca, is a link between San Quintin and Burling­ton. For him, the con­nec­tion between them runs deep­er than boy­cotting Driscoll's. He got his start pick­ing straw­ber­ries at the age of 13 in a town in Baja Cal­i­for­nia right next to the cur­rent protests. ​"I'm in sol­i­dar­i­ty with these peo­ple because they're my peo­ple," he says.
Like many of the Baja work­ers, Pine­da is indige­nous. ​"The val­ley of San Quintin is full of peo­ple from Oax­a­ca and Guer­rero who speak Mix­te­co like me," he says, refer­ring to an indige­nous lan­guage spo­ken in the region. He says his own broth­er is part of the protests in Mex­i­co. ​"I remem­ber my peo­ple because I also suf­fer from the com­pa­ny. … It didn't seem right that the folks in San Quintin would be on strike and I would just be quiet."
The con­nec­tion makes sense, says Gas­par Rivera, a bina­tion­al advi­sor to the Frente Indi­ge­na de Orga­ni­za­ciones Bina­cionales and researcher at the UCLA Labor Cen­ter. Indige­nous peo­ple have a his­to­ry of pick­ing berries, one of the hard­est and least desir­able farm jobs. Once they acquired berry-pick­ing know-how in Mex­i­co, many migrat­ed all the way up to Wash­ing­ton to do the same work.
"They're work­ing on both sides of the bor­der for this inter­na­tion­al com­pa­ny," Rivera says. ​"Driscoll's has man­aged to devel­op a pro­duc­tion sys­tem that extends from Baja Cal­i­for­nia all the way to Wash­ing­ton to be able to sup­ply the U.S. mar­ket, and oth­er mar­kets, with straw­ber­ries all year round."
Work­ers on both sides of the bor­der are now lead­ing boy­cotts against Driscoll's, but it's unclear whether the company's actions will go beyond issu­ing state­ments. Although Driscoll's requires its sup­pli­ers to com­mit to the Promise for Work­force Wel­fare, it says it will not inter­vene in labor negotiations.
"Driscoll's does not have a role in any labor nego­ti­a­tions between farm­ers and farm­work­ers," the com­pa­ny says. ​"Our focus and respon­si­bil­i­ty is on work­er wel­fare and ensur­ing legal com­pli­ance is adhered to by all our inde­pen­dent grow­ers." The com­pa­ny says it has nev­er ter­mi­nat­ed a sup­pli­er for labor violations.
Rivera thinks Driscoll's hands-off approach is disin­gen­u­ous. ​"It's more like the Wal­mart mod­el of shift­ing the risk to these grow­ers," he says. ​"This has been Driscoll's line, [that it is] not respon­si­ble about the work­ing con­di­tions. Which is par­tial­ly true but par­tial­ly false. Ulti­mate­ly they have a lot of pow­er over these grow­ers because they can say, Hey, if you don't shape up and employ work­ers in a fair way, we're going to stop buying."
Rachel Luban
is a writer liv­ing in Mary­land. She con­tributes to Full Stop and her work has appeared on Jezebel, The Rum­pus, and In Our Words. Fol­low her on Twit­ter: @rachelcluban.