Congress Is Debating Whether or Not To Make It Easier for Bosses to Cheat Guestworkers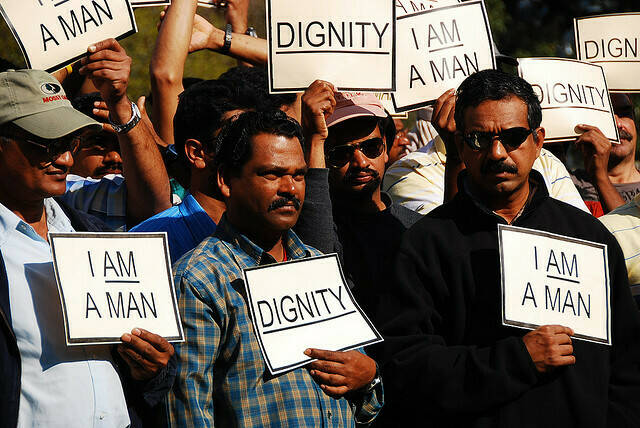 In June, In These Times report­ed that indus­try groups have filed a law­suit against new gov­ern­ment-issued work­er pro­tec­tions for H‑2B guest­work­ers. That's not their only strat­e­gy, how­ev­er: new pro­posed rid­ers on a Sen­ate appro­pri­a­tions bill could block some of the new pro­tec­tions — and some old ones — no mat­ter the out­come of the lawsuit.
Many employ­ers were out­raged when the Oba­ma admin­is­tra­tion passed new rules reg­u­lat­ing the H‑2B visa pro­gram, which brings in for­eign work­ers to do tem­po­rary, low-skill, nona­gri­cul­tur­al jobs like land­scap­ing and seafood pro­cess­ing when there are pur­port­ed short­ages of U.S. work­ers. Pro­posed rid­ers to the Labor and Health and Human Ser­vices, Edu­ca­tion and Relat­ed Agen­cies Sen­ate appro­pri­a­tions bill seek to hob­ble the pro­vi­sions most galling to H‑2B employers.
Those indus­try bug­bears include a guar­an­tee that work­ers get paid for at least three-fourths of the hours in their job orders, require­ments that U.S. work­ers doing the same jobs as H‑2B work­ers receive the same wages and ben­e­fits and lim­its on the use of pri­vate wage sur­veys to deter­mine H‑2B wage lev­els. One of the rid­ers also defunds audits of appli­ca­tions for the tem­po­rary labor cer­ti­fi­ca­tion required to obtain H‑2B labor, which the Depart­ment of Labor uses to iden­ti­fy and pun­ish employ­ers fraud­u­lent­ly attempt­ing to get workers.
Last week, guest­work­er advo­cates met to brief Capi­tol Hill staffers on the leg­isla­tive attacks. Rep­re­sen­ta­tive Lois J. Frankel, a Flori­da Demo­c­rat, orga­nized the meet­ing, where Cen­tro de los Dere­chos del Migrante, the South­ern Pover­ty Law Cen­ter, the Glob­al Work­ers Jus­tice Alliance, the Nation­al Guest­work­er Alliance and the Labor­ers Inter­na­tion­al Union of North Amer­i­ca (LiU­NA) were all represented.
Jim Knoepp of the South­ern Pover­ty Law Cen­ter point­ed to a case of years-long fraud in the H‑2B pro­gram to illus­trate the fol­ly of elim­i­nat­ing audits. Craig Stan­ford ​"Stan" Eury, Jr., own­er of the North Car­oli­na-based Inter­na­tion­al Labor Man­age­ment Cor­po­ra­tion and a major force in procur­ing guest­work­ers for employ­ers, recent­ly plead­ed guilty to fraud and obstruct­ing gov­ern­ment func­tion for play­ing dirty with H‑2B appli­ca­tions. Fed­er­al offi­cials found that his com­pa­ny helped request 150 snow­mak­ers for North Car­oli­na ski slopes. Once the ​"snow­mak­ers" arrived, most were sent to com­plete­ly dif­fer­ent jobs.
The U.S. gov­ern­ment said Eury and his asso­ciates fab­ri­cat­ed com­pa­nies in order to cre­ate pools of H‑2B work­ers to farm out to employ­ers who hadn't been approved for work­ers, got around statu­to­ry caps on H‑2B work­ers by peti­tion­ing for H‑2A work­ers (the agri­cul­tur­al coun­ter­part of H‑2B work­ers) and send­ing them to H‑2B jobs, col­lect­ed ille­gal fees from their client com­pa­nies and instruct­ed employ­ers on how to avoid hir­ing U.S. work­ers. (Since the H‑2B pro­gram is meant to be used only in labor short­ages, employ­ers must hire qual­i­fied U.S. work­ers before seek­ing guest­work­ers.) In at least one case, they helped an employ­er under­pay work­ers by bring­ing them in for low­er-paid jobs than the ones they actu­al­ly performed.
Eury defraud­ed employ­ers, guest­work­ers, U.S. work­ers and the gov­ern­ment. What, Knoepp won­dered, could be the jus­ti­fi­ca­tion for pre­vent­ing audits that uncov­er egre­gious vio­la­tions like this one? To guest­work­er advo­cates, it's fur­ther evi­dence that ​"low-road employ­ers" want access to an exploitable source of labor.
Knoepp also crit­i­cized the chal­lenges to the ​"three-fourths guar­an­tee," which says that H‑2B work­ers must be paid for at least three-fourths of the hours in their job orders. Under the new rule, that means an aver­age of at least 26 hours a week. Accord­ing to Knoepp, that's already a com­pro­mise. ​"Per­son­al­ly, I think they should get a four-quar­ter wage guar­an­tee," he said, point­ing out that most work­ers expect to get the full num­ber of hours in their contract.
JJ Rosen­baum of the Nation­al Guest­work­er Alliance said she want­ed to clar­i­fy that guest­work­er advo­cates sup­port small busi­ness­es. ​"We have a real vision that work­ers and small busi­ness own­ers can work togeth­er for decent stan­dards," she said, adding that she want­ed ​"to debunk that myth that employ­ers will go out of busi­ness" if they fol­low the new rules. The new rules were designed to keep the H‑2B pro­gram from erod­ing wages and work­ing con­di­tions for all work­ers, includ­ing the 24 mil­lion Amer­i­cans Rosen­baum said work along­side guest­work­ers. Like the oth­er advo­cates, she struck a tone of increduli­ty, not­ing, ​"I think if I didn't work in this area, I would take for grant­ed that work­ers have these protections."
In its recent com­ment on the new rules, the U.S. Cham­ber of Com­merce told the Depart­ments of Labor and Home­land Secu­ri­ty that the three-fourths guar­an­tee is ​"anoth­er unnec­es­sary bur­den for employ­ers to shoul­der." It said that employ­ers can­not be expect­ed to ​"accu­rate­ly pre­dict months in advance what their exact tem­po­rary labor needs will be."
The Amer­i­can Immi­gra­tion Lawyers Asso­ci­a­tion, in its com­ment on the rule, rec­om­mend­ed that the def­i­n­i­tion of ​"full-time" be changed back to 30 hours per week from the new rule's 35, in part because of the ​"sig­nif­i­cant bur­den" imposed on employ­ers by the three-fourths guar­an­tee. If ​"full-time" were defined as 30 hours a week, the three-fourths guar­an­tee would ensure under 23 hours a week for guestworkers.
While rid­ers to the appro­pri­a­tions bill do not actu­al­ly alter reg­u­la­tions, they can ham­string them by depriv­ing them of fund­ing. In this case, while the rules may remain intact, the rid­ers spec­i­fy that ​"none of the funds in this Act shall be used to enforce the def­i­n­i­tion of cor­re­spond­ing employ­ment … or the three-fourths guar­an­tee rule definition."
The appro­pri­a­tions bills have plen­ty of nego­ti­a­tions to under­go before becom­ing law, how­ev­er, and these rid­ers may be removed in the process. Oba­ma will sure­ly not want to sign into law pro­vi­sions that block his own administration's reg­u­la­tions. But there's enough horse-trad­ing in these bills that no one can pre­dict what com­pro­mis­es will be made. Indeed, sim­i­lar rid­ers defund­ed sim­i­lar rules the Oba­ma admin­is­tra­tion issued in 2012.
Rachel Luban
is a writer liv­ing in Mary­land. She con­tributes to Full Stop and her work has appeared on Jezebel, The Rum­pus, and In Our Words. Fol­low her on Twit­ter: @rachelcluban.