Proposed House and Senate Bills Would Roll Back New Worker Protections in Guestworker Program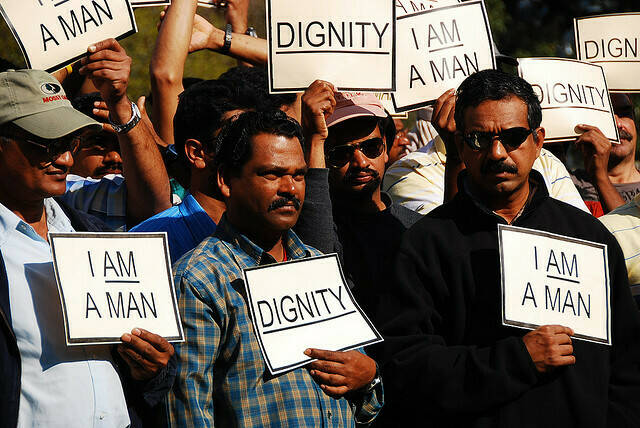 After years of legal bat­tles, the H‑2B guest­work­er pro­gram final­ly acquired offi­cial rules in April. For the first time, work­ers in the pro­gram were guar­an­teed basic pro­tec­tions like min­i­mum hours and local aver­age wages. But now those rules are being chal­lenged in sev­er­al Con­gres­sion­al bills. The pro­posed bills could dra­mat­i­cal­ly alter the pro­gram, cut­ting pro­tec­tions for U.S. and for­eign work­ers alike, and remov­ing the Depart­ment of Labor (DOL) from its tra­di­tion­al over­sight role.
The H‑2B visa pro­gram brings for­eign work­ers to the U.S. tem­porar­i­ly to fill labor short­ages in low-skill, nona­gri­cul­tur­al work. H‑2B visa hold­ers work as land­scap­ers and car­ni­val atten­dants, seafood proces­sors and soc­cer coach­es. A years-long stand­off between pro­gram reg­u­la­tions issued under the Bush admin­is­tra­tion and those issued under the Oba­ma admin­is­tra­tion appeared to come to an end ear­li­er this year. In April, DOL and the Depart­ment of Home­land Secu­ri­ty (DHS) joint­ly issued pro­gram rules very sim­i­lar to the orig­i­nal Oba­ma reg­u­la­tions. The rules afford­ed pro­tec­tions such as giv­ing work­ers a con­tract in a lan­guage they under­stand, guar­an­tee­ing them at least three-fourths of the hours in the con­tracts and reim­burs­ing their trav­el costs to and from the U.S.
Many of those pro­tec­tions are now being chal­lenged in Con­gress — both in sub­stan­tive leg­is­la­tion and in the murki­er appro­pri­a­tions process.
The more imme­di­ate chal­lenges are being staged in rid­ers to appro­pri­a­tions bills. Rid­ers are pro­posed addi­tions to bills that may have noth­ing to do with the bills them­selves. Poli­cies may be attached to bills as rid­ers to push them through Con­gress when they would not pass on their own. Most of the H‑2B rid­ers are attached to the Depart­ment of Labor, Health and Human Ser­vices Appro­pri­a­tions Act — a ​"must-pass" bud­get bill whose dead­line is this Friday.
The pro­posed rid­ers include defund­ing enforce­ment of the ​"three-fourths guar­an­tee," which ensures work­ers are paid for at least three-fourths of the hours in their con­tracts. This pro­vi­sion is designed to keep employ­ers from over-recruit­ing work­ers and then bench­ing them when hours become scarce.
"We were promised that there would be plen­ty of work," says one work­er in a video by migrant work­er advo­ca­cy group Cen­tro de los Dere­chos del Migrante (CDM). ​"We trav­eled to the U.S. with the dream of hav­ing greater finan­cial sta­bil­i­ty, … but in the end we were not giv­en as many hours as we had been promised." H‑2B work­ers often go into debt to recruiters to secure Amer­i­can jobs. Once in the U.S., they are not allowed to work for any­one but the employ­er who spon­sors their visa, even if that employ­er can't or won't give them full-time work. Then they may not be able to pay back their debts, much less bring mon­ey home.
Nao­mi Tsu, a staff attor­ney at the South­ern Pover­ty Law Center's Immi­grant Jus­tice Project, empha­sized the con­nec­tion between debt and exploita­tion on the job. ​"You'd have these low-wage work­ers who are bear­ing hun­dreds or thou­sands of dol­lars in costs and I'm pret­ty con­cerned about how vul­ner­a­ble that leaves the work­er once she arrives," she said, cit­ing labor abus­es like a human traf­fick­ing case involv­ing H‑2B work­ers ear­li­er this year. ​"She's got to keep work­ing for the same employ­er no mat­ter how bad things are because it's either that or else go home to the debt."
Anoth­er rid­er would change the way H‑2B work­ers' wages are deter­mined so that employ­ers could use ​"pri­vate wage sur­veys" to deter­mine the wage the work­ers should be paid. This method­ol­o­gy, inval­i­dat­ed by a fed­er­al court, leads to wages sig­nif­i­cant­ly below those pro­vid­ed by the Bureau of Labor Statistics.
While rolling back work­er pro­tec­tions, the rid­ers would dra­mat­i­cal­ly expand the visa pro­gram. That could inflame con­cerns about guest­work­ers' com­pet­ing with U.S. work­ers for jobs — espe­cial­ly if new wage rules mean employ­ers can pay guest­work­ers less. As of now, H‑2B visas are capped at 66,000 a year, with a few excep­tions. But one rid­er would exempt from that cap those who had worked in the U.S. in the past three years — poten­tial­ly expand­ing the pro­gram to over 200,000 guest­work­ers a year.
The Eco­nom­ic Pol­i­cy Insti­tute (EPI) found in 2011 that ​"the H‑2B pro­gram puts down­ward pres­sure on Amer­i­can wages." It also found high unem­ploy­ment and stag­nat­ing wages in top H‑2B occu­pa­tions. The pro­gram is sup­posed to be used for domes­tic labor short­ages, but these sta­tis­tics sug­gest employ­ers are using it to bypass nor­mal labor mar­ket pres­sures. Con­cern about Amer­i­can work­ers has unit­ed some on the Right with those on the Left con­cerned about migrant work­ers — con­ser­v­a­tive out­let Bre­it­bart, for instance, has report­ed dis­ap­prov­ing­ly on the H‑2B pro­gram and efforts to expand it.
But those efforts also have bipar­ti­san sup­port. One of the most vocal cham­pi­ons of the pro­gram is Demo­c­ra­t­ic Sen­a­tor Bar­bara Mikul­s­ki (D‑MD), who is also Vice Chair­woman of the Sen­ate Appro­pri­a­tions Com­mit­tee — a posi­tion of influ­ence over the appro­pri­a­tions rid­ers. Mikul­s­ki has long gone to bat for the Mary­land seafood indus­try, which uses H‑2B work­ers as crab-pick­ers, oys­ter-shuck­ers and oth­er seafood proces­sors. A report by CDM and Amer­i­can Uni­ver­si­ty found low wages, errat­ic hours and dan­ger­ous work­ing con­di­tions among Maryland's H‑2B crab work­ers, who are legal­ly allowed to be paid below min­i­mum wage. Anoth­er Demo­c­ra­t­ic sen­a­tor, Mark Warn­er (D‑VA), signed a let­ter with Thom Tillis (R‑NC) to Mikul­s­ki and Com­mit­tee on Appro­pri­a­tions Chair­man Thad Cochran (R‑MS) ask­ing them to keep the riders.
But some ques­tion whether the appro­pri­a­tions process is the right place to make immi­gra­tion pol­i­cy. Anoth­er group of sen­a­tors, includ­ing Dick Durbin (D‑IL), Eliz­a­beth War­ren (D‑MA) and Bernie Sanders (D‑VT), signed a duel­ing let­ter ask­ing Cochran and Mikul­s­ki to nix the riders.
"As you know," the let­ter reads, ​"Demo­c­ra­t­ic Con­gres­sion­al lead­er­ship has made it clear that they will not agree to spend­ing mea­sures with ide­o­log­i­cal pol­i­cy rid­ers. … The appro­pri­a­tions process should not be used to bypass the leg­isla­tive process or make sub­stan­tive changes to immi­gra­tion law."
A coali­tion of pro­gres­sive groups, from the AFL-CIO to the Sier­ra Club, has sent a ​"no rid­ers" let­ter to Pres­i­dent Oba­ma and Con­gress oppos­ing all ide­o­log­i­cal pol­i­cy rid­ers. One of the most con­tro­ver­sial is the rid­er defund­ing Planned Par­ent­hood, but the let­ter lists over a dozen oth­ers as exam­ples. It notes that pol­i­cy rid­ers are often ​"mea­sures that the pub­lic oppos­es, and the Pres­i­dent would like­ly veto as stand­alone legislation."
What will hap­pen with any of the rid­ers remains unclear, as the appro­pri­a­tions process is closed and there is still time for change. Con­gress could pass a con­tin­u­ing res­o­lu­tion keep­ing the agen­cies fund­ed while delay­ing pass­ing a new bud­get — and post­pon­ing the rid­ers debate. If the Sen­ate does pass an omnibus bill, how­ev­er, the evi­dence is strong that Vice Chair­woman Mikul­s­ki sup­ports the H‑2B riders.
Sen­a­tor Mikul­s­ki also co-spon­sored a bill with Sen­a­tors Tillis, Warn­er, and Bill Cas­sidy (R‑LA) that would change H‑2B reg­u­la­tions even more dra­mat­i­cal­ly than the appro­pri­a­tions rid­ers. The Save Our Small and Sea­son­al Busi­ness­es Act of 2015 con­tains some of the same pro­vi­sions pro­posed as rid­ers — expand­ing the pro­gram, chang­ing wage cal­cu­la­tions, elim­i­nat­ing the three-fourths rule — but removes even more of the work­er pro­tec­tions includ­ed in the Oba­ma rules. (An equiv­a­lent bill has been intro­duced in the House.)
Most strik­ing­ly, it would remove the DOL alto­geth­er from its tra­di­tion­al over­sight role. Rules for the H‑2B pro­gram have his­tor­i­cal­ly come from DOL, not from leg­is­la­tion. In the past few years, H‑2B indus­try groups have begun chal­leng­ing DOL's author­i­ty to reg­u­late the pro­gram, as DHS is respon­si­ble for immi­gra­tion. To avoid the ques­tion of which agency has rule­mak­ing author­i­ty, DOL and DHS joint­ly issued the lat­est pro­gram reg­u­la­tions. Indus­try groups have com­plained of bureau­crat­ic red tape and unnec­es­sary delays in coor­di­nat­ing between the two agencies.
CDM's pol­i­cy direc­tor Eliz­a­beth Mauldin does­n't buy that the new reg­u­la­tions are need­ed to stream­line the pro­gram. ​"They're using com­plaints about pro­cess­ing delays as a means to strip work­er pro­tec­tions from the pro­gram and seek to restruc­ture it com­plete­ly," she said. ​"There are much more obvi­ous and con­crete ways to solve the pro­cess­ing delays they've expe­ri­enced that don't involve mov­ing over­sight of the pro­gram from the Depart­ment of Labor to the Depart­ment of Home­land Secu­ri­ty and strip­ping work­er pro­tec­tions from the program."
Rachel Luban
is a writer liv­ing in Mary­land. She con­tributes to Full Stop and her work has appeared on Jezebel, The Rum­pus, and In Our Words. Fol­low her on Twit­ter: @rachelcluban.