The Most Hated Woman on the Internet
Haters--myself included--have pummeled Amanda Palmer so far beyond recognition that it's disconcerting to hear her actual voice in her new memoir, The Art of Asking.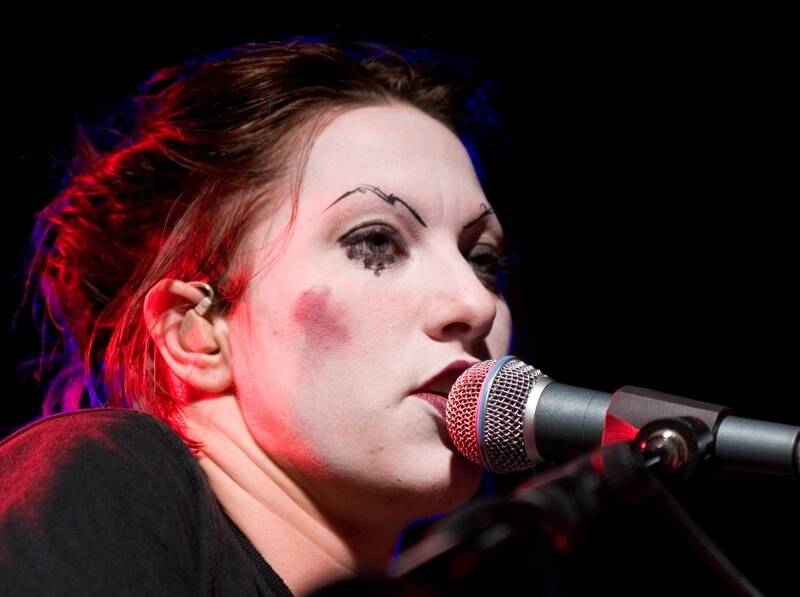 What, exact­ly, did we prove by hat­ing Aman­da Palmer?
Palmer has been portrayed so consistently as a human black hole, a sucking moral and intellectual void from which no shred of human worth can emanate, that it's probably necessary, in some way, to be confronted with the actual sound of her voice.
This was what I found myself won­der­ing as I plowed through the 15 hours of Palmer's new mem­oir/­self-help book/­man­i­festo/­self-apolo­gia The Art of Ask­ing: How I Learned to Stop Wor­ry­ing and Let Peo­ple Help. For rea­sons of masochism and/​or incom­pe­tence (take your pick) I was only able to get my hands on the audio­book ver­sion, which meant there was no skip­ping ahead: I spent near­ly one full day lis­ten­ing to Aman­da Palmer speak­ing direct­ly to me, and fre­quent­ly speak­ing about the fact that jour­nal­ists hat­ed her. I was once one of those jour­nal­ists. And I found myself, by around Hour Sev­en, won­der­ing what on Earth I had accom­plished by dis­lik­ing her. What any of us had. What hat­ing Aman­da Palmer actu­al­ly did.
For those not up on the human blog-con­tro­ver­sy-gen­er­a­tor that is Aman­da Palmer, she emerged in 2003 as the front­woman for the Dres­den Dolls, a weird punk-slash-goth-slash-yes-they're-wear­ing-mime-make­up band that attract­ed very lit­tle main­stream notice but earned a base of devot­ed fans, most of whom seemed like the kind of sen­si­tive, sweet odd­balls who might put a lot of thought into what to wear to the next Rocky Hor­ror Pic­ture Show screen­ing. This, for a while, worked out; she was famous with­out real­ly being famous. If you liked her, you prob­a­bly knew about her, and if you dis­liked her, she was­n't ubiq­ui­tous enough for you to mind. (Some­one rec­om­mend­ed the Dres­den Dolls to me in 2004. I lis­tened once or twice, thought it sound­ed too much like musi­cal the­ater, and essen­tial­ly did­n't think about Palmer again for the next six years.) Then, in 2011, she mar­ried the author Neil Gaiman, who is just plain famous. The rela­tion­ship cat­a­pult­ed Palmer into the spot­light. Her approach did not adapt to meet the cir­cum­stances. Things unrav­eled from there.
The Dres­den Dolls live at Bon­na­roo in 2006
I was an ear­ly adopter of Palmer-hate. In 2010, on my blog Tiger Beat­down, I ran a piece by Anna­ham of FWD/​Feminists With Dis­abil­i­ties that detailed the ugly fall-out of an inter­ac­tion with Palmer. Anna­ham was an ardent Aman­da Palmer fan her­self, a fan who was dis­ap­point­ed Palmer's offen­sive and insen­si­tive choice to play half of a con­joined-twin duo in her cabaret act Eve­lyn Eve­lyn. (I mean, the insen­si­tiv­i­ty was not sub­tle: The ​"twins" played ​"Love Will Tear Us Apart" as part of the act.) Aman­da Palmer respond­ed by laugh­ing about ​"dis­abled fem­i­nists" on TV. Aman­da Palmer's fans, mean­while — the ded­i­cat­ed, com­pas­sion­ate ​"fam­i­ly" Palmer con­sid­ers her great­est accom­plish­ment — react­ed by sub­ject­ing their fel­low fan to a tor­rent of harass­ment and abuse, includ­ing instruc­tions to ​"just fuck­ing die" and ​"fuk u die slow."
Annaham's essay was an impor­tant piece. It was by and about some­one Palmer had demon­stra­bly harmed. It was about the pow­er celebri­ties wield, and their oblig­a­tion to exer­cise that pow­er respon­si­bly. It deserved atten­tion. But it wasn't the one that stuck. It was only in 2012, after a few more years, and a few more offens­es, that the main­stream press got into the idea of hat­ing Aman­da Palmer.
The actu­al con­tro­ver­sies — the $1.2 mil­lion Kick­starter album; the implau­si­ble album bud­get which peo­ple (includ­ing some musi­cians) fre­quent­ly sus­pect­ed of con­ceal­ing much more take-home pay for Palmer than the $100,000 she ini­tial­ly claimed; the offers to pay local musi­cians in beer and hugs; the spec­tac­u­lar­ly ill-con­ceived and ill-timed ​"Poem for Dzhokar," which, by Palmer's own admis­sion, she did not spend more than nine min­utes think­ing about before post­ing — are so well-known it's hard­ly worth talk­ing about them. The thing to remem­ber is the head­lines. So, so many head­lines: ​"Aman­da Palmer Is An Idiot." ​"Aman­da Palmer Stoops To New Low." ​"Aman­da Palmer: vision­ary or ego­tist?" Gawk­er called her a ​"grifter" and ​"a delud­ed and oppor­tunis­tic nar­cis­sist who sells rhetor­i­cal snake oil to peo­ple too full of unearned self-regard to join an actu­al cult." Buz­zfeed list­ed ​"7 Times Aman­da Palmer Pissed Peo­ple Off." WIRED and New York mag­a­zine pub­lished lengthy pieces ("The Art of Ask­ing Why We Hate Aman­da Palmer," and ​"The Aman­da Palmer Prob­lem," respec­tive­ly) that are actu­al­ly not Aman­da Palmer hate pieces; they rep­re­sent the ulti­mate solid­i­fi­ca­tion of media con­sen­sus, pieces writ­ten about the fact that so many peo­ple had writ­ten about hat­ing Aman­da Palmer.
Giv­en all of this, The Art of Ask­ing prob­a­bly works best in audio­book form. It is, after all, adapt­ed from a speech — a wild­ly pop­u­lar TED talk Palmer deliv­ered in 2013 — and Palmer is pri­mar­i­ly a per­former. Put blunt­ly, there's a rea­son why Palmer's speech­es and songs attract ardent fans, where­as her blog posts attract PR crises: Her prose style (uncap­i­tal­ized, or ALL CAP­I­TAL­IZED, with unnec­es­sary line breaks and a heart­break­ing depen­dence on excla­ma­tion points) fre­quent­ly makes her seem more over­bear­ing and less artic­u­late than she prob­a­bly is. Half of Palmer's rep­u­ta­tion as a woman who spends her day lit­er­al­ly scream­ing for your atten­tion could be fixed with some decent copy edit­ing. But, most of all: Palmer has been por­trayed so con­sis­tent­ly as a human black hole, a suck­ing moral and intel­lec­tu­al void from which no shred of human worth can emanate, that it's prob­a­bly nec­es­sary, in some way, to be con­front­ed with the actu­al sound of her voice. To hear her, to get the inflec­tions and breaths and emo­tion­al sub­text, so that you can stop react­ing to ​"Aman­da Palmer," and start lis­ten­ing to a person.
Palmer's TED Talk
Her voice is much qui­eter than you would think. It's more lev­el. Aman­da Palmer is not actu­al­ly shout­ing at you all the time. She laughs at her own jokes — I always thought Aman­da Palmer would laugh at her own jokes, didn't you? — but not that loud­ly. She laughs at her­self. In one pas­sage, she describes her band, the Dres­den Dolls, with one of those trade­mark incred­i­bly-pre­ten­tious-yet-over­whelm­ing­ly-dorky phras­es that can spark a life­long Aman­da Palmer hatred, ​"Brecht­ian punk-cabaret duo." But, shock­ing­ly, she does this with one of the most audi­ble eye-rolls I've ever heard, as if she some­how knows exact­ly how sil­ly the phrase ​"Brecht­ian punk-cabaret duo" is. Aman­da Palmer sounds, in a word, normal.
There's also the mat­ter of what she says. For most of this book, Aman­da Palmer is talk­ing about the one thing she is known least for: Mak­ing music. How she formed her band, how she pro­mot­ed her band, why she signed to a major label, why she left it.
More to the point, she has actu­al points about music, which I found myself agree­ing with whole­heart­ed­ly: ​"Punk-cabaret duo," for exam­ple, comes in the con­text of a sto­ry about how her label cut one album's pro­mo­tion­al bud­get because radio-play experts didn't ​"hear a hit." She says it while explain­ing that a Brecht­ian punk-cabaret duo, almost by def­i­n­i­tion, is nev­er going to pro­duce any­thing that radio-play experts will con­sid­er ​"a hit." It will also not be pur­chased by peo­ple who want to hear hits from the radio. It will be pur­chased by peo­ple who want to hear Brecht­ian punk-cabaret albums, and the point of a bud­get is to find them: ​"We didn't need a fuck­ing hit," Palmer insists. ​"Our audi­ence loved us pre­cise­ly for all the weird radio-unfriend­ly shit we did."
Aman­da Palmer, as it turns out, is argu­ing for the right to make very spe­cif­ic, poten­tial­ly alien­at­ing records that some peo­ple love, rather than mak­ing very broad, very safe albums that every­body likes. This point is cor­rect, nec­es­sary and impor­tant. Musi­cians should be mak­ing it. The prob­lem is that the per­son mak­ing it is Aman­da Palmer.
By 2012, as Nit­suh Abebe point­ed out in ​"The Aman­da Palmer Prob­lem," most peo­ple "[knew] Aman­da Palmer only nom­i­nal­ly as a musi­cian." The most shock­ing thing I found out in the course of research­ing this piece is that The­atre is Evil—the actu­al album part of Aman­da Palmer's Kick­starter album con­tro­ver­sy — had received some glow­ing reviews. Not just from Palmer's fans, either: Rolling Stone called it one of the best rock records of 2012. I lis­tened to it. It may not be to your taste, and it's not to mine ("bom­bas­tic" is an under­state­ment) but it's also not bad. As it turns out, all of that fight­ing was about an hour's worth of high-gloss, gui­tar-dri­ven, Ric-Ocasek-inflect­ed pop-punk that sounds a lot like Char­li XCX, and even more like this year's Ex Hex album. It's fun­ny, until you real­ize how incred­i­bly sad it is that, in anoth­er world, with a dif­fer­ent set of deci­sions, Aman­da Palmer might be Char­li XCX, or at least Mary Tim­o­ny; if any­one had lis­tened to this album, it would have been popular.
"The Killing Type," a track from The­atre is Evil
But instead, she became Aman­da Palmer. And what the album sound­ed like nev­er became part of the conversation.
The oth­er thing one learns from this book is that 2012 and 2013 near­ly broke this woman. Not always for the rea­sons you'd think, either: She got unex­pect­ed­ly preg­nant and had an abor­tion on the advice of her doc­tor. She hit a rough patch in her mar­riage as the result of her post-abor­tion depres­sion. Her best friend was diag­nosed with leukemia. While on the The­atre is Evil tour, she was sex­u­al­ly assault­ed by a fan. And, oh, yeah, she had a blog. So, in the midst of all this, and while we were wring­ing our hands about the insen­si­tiv­i­ty of writ­ing a poem about the Boston Marathon Bomb­ing, she was field­ing strangers' offers to ​"shove a bomb up her cunt."
On one lev­el, this is pure guilt trip: All of this hap­pened to me, and you still held me account­able for my words and actions, you mon­sters. Through­out the book, Palmer stead­fast­ly refus­es to admit hav­ing done any­thing wrong; indeed, in a twist that I can't avoid read­ing as manip­u­la­tive, she refus­es to talk about the ​"dis­abled fem­i­nists" con­tro­ver­sy, but tells sev­er­al lengthy sto­ries about how nice she was to a par­tic­u­lar fan who had a disability.
Yet the facts are what they are: I dis­liked Aman­da Palmer because she was care­less with her pow­er and that care­less­ness result­ed in some­one get­ting harassed and told to ​"fuck­ing die." But I was part of build­ing the media con­sen­sus against Aman­da Palmer, which made hat­ing her both com­mon and accept­able. And at the end of that process, Aman­da Palmer got abuse and death threats. Care­less use of pow­er cuts both ways, as it turns out.
It's hard to see how this was a vic­to­ry for fem­i­nism. Or for music. Or for media: The fact of the mat­ter is, a woman in her mid-thir­ties wrote, per­formed and released an album that was musi­cal­ly rel­e­vant and prob­a­bly her best work to date; we respond­ed by talk­ing about her body, her per­son­al­i­ty and who she was sleep­ing with. We called her too loud, too self-assured, too ambi­tious. We won­dered why she couldn't sim­ply live off her rich husband's income, as if that isn't a ques­tion that fem­i­nism has been in the process of answer­ing for the past five decades. We affirmed that the artist's per­sona mat­tered more than the qual­i­ty of their work, and we affirmed that female ambi­tion or self-con­fi­dence was a crime: That if you were a loud or aging or dif­fi­cult woman, and you wouldn't let us ignore you, we would turn our atten­tion on you full-force, in order to burn your life down to its foundation.
The hatred for Palmer was unique­ly gen­dered. There are male celebri­ties who achieve some­thing like her lev­el of noto­ri­ety — Justin Bieber, Robin Thicke — but they tend to be both more out­ra­geous and more famous (Thicke per­formed the most-played song of 2013). Aman­da Palmer got dropped by her label and self-released an album, but she man­aged to get just as much dis­ap­prov­ing press, if not more. For a man to be so reviled that it's con­sid­ered wrong to sup­port him — and make no mis­take, it is con­sid­ered quite offen­sive in many cir­cles to have any pos­i­tive reac­tion to Palmer — he usu­al­ly has to be accused of a real and vio­lent crime, like Woody Allen, Roman Polan­s­ki or Bill Cos­by. Aman­da Palmer, mean­while, was most­ly just accused of being annoy­ing. The con­ver­sa­tion was about her per­son­al­i­ty and looks (so loud! so over­bear­ing! so needy! and those eye­brows!), with a tone of deri­sion that even the creepi­est, weird­est-look­ing or most irri­tat­ing of male rock stars (Rivers Cuo­mo, Ed Sheer­an, Bono) nev­er man­age to attract. It was also, yes, about the fact that she was offen­sive and had bad pol­i­tics — but Eminem has made an entire career out of being moral­ly and per­son­al­ly rep­re­hen­si­ble, and we're not pub­lish­ing think­pieces on ​"Why Every­one Hates Eminem." Every­one doesn't. Eminem is a leg­end. Palmer is roadkill.
Dur­ing all this, some great writ­ers tried to keep a focus on the real issues and point out that Aman­da Palmer did and said hurt­ful, exploita­tive and flat-out offen­sive things. It's true that she did those things and that they were wrong. But it's also true that we now have almost no chance of chang­ing her behav­ior: A woman who has been told, over and over, for years, that she is an idiot, a nar­cis­sist, tal­ent­less, worth­less, unwor­thy of being paid or lis­tened to, unwor­thy of being any­thing oth­er than hat­ed, will almost cer­tain­ly not become more recep­tive to crit­i­cism. She will become hos­tile to it, or at least immune. She must pet­ri­fy, or shat­ter. It's not any one person's fault that the sig­nal-to-noise ratio got out of pro­por­tion, but the fact remains: We didn't change any­thing by hat­ing Aman­da Palmer. Espe­cial­ly not Aman­da Palmer, who is now giv­ing inter­views about the ​"vio­lent, rad­i­cal brand of fem­i­nism" that is out to get her.
The days of the Aman­da Palmer free-for-all are over. Palmer con­tro­ver­sies don't sum­mon the same mass out­rage they did in pre­vi­ous years. The reviews of her book have been crit­i­cal, but gen­tly so. It's not that she changed. It's that we found new women to hate. We turned our atten­tion to Kim Kar­dashi­an, Miley Cyrus, Lana Del Rey, Lena Dun­ham. Some of these women are almost as infu­ri­at­ing as Palmer; some are more so. But they are all women; all strange, unac­cept­able, uncom­fort­able women, accept­able for us to mock in order to raise our own profiles.
Which is the ques­tion that real­ly wor­ried me, as I lis­tened to The Art of Ask­ing: When we hat­ed Aman­da Palmer, were we even react­ing to Aman­da Palmer at all? Was it real­ly her that was the issue? Or was it just a mat­ter of pick­ing on that year's girl?