Amazon Threatens to Cancel New York City Headquarters if It Doesn't Receive $3 Billion in Subsidies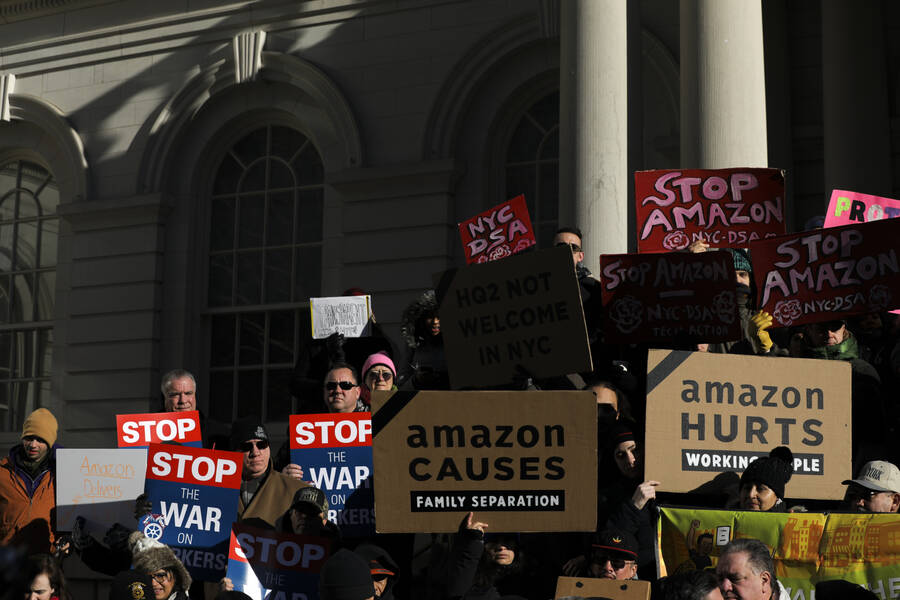 Fear­ful of los­ing near­ly $3 bil­lion in sub­si­dies for its expan­sion in New York City, Ama­zon has moved to a new strat­e­gy, one involv­ing threats. The Wash­ing­ton Post (owned by Ama­zon CEO Jeff Bezos) report­ed on Fri­day that the com­pa­ny is ​"recon­sid­er­ing" its plan to place an office facil­i­ty for up to 25,000 employ­ees in Long Island City, Queens. In doing so, Ama­zon is sig­nal­ing that it will squeeze oppo­nents of the deal polit­i­cal­ly unless they sup­port the mas­sive sub­sidy package.
New York City law­mak­ers who weren't inti­mate­ly involved with the ​"HQ2" bid to bring in Ama­zon have been sharply crit­i­cal of giv­ing bil­lions in tax­pay­er dol­lars to the world's most valu­able cor­po­ra­tion, so it can add to an already exist­ing pres­ence in the region. The deal bypassed city coun­cil approval, adding to the consternation.
Any major multi­na­tion­al would have mul­ti­ple rea­sons to expand in New York City, giv­en its high­ly skilled work­force and sta­tus as a hub for the tech­nol­o­gy, enter­tain­ment and adver­tis­ing indus­tries — all areas where Ama­zon is expand­ing. That makes the bil­lions in sub­si­dies seem gratuitous.
"Ama­zon has been grow­ing into the largest com­pa­ny we'll ever see," says Jonathan West­in of New York Com­mu­ni­ties for Change, one of the groups lead­ing the charge against the Ama­zon deal. ​"The idea that we need to sub­si­dize them in any way blows our mind." West­in has helped ral­ly oppo­si­tion to the deal from labor unions, com­mu­ni­ty groups and promi­nent politi­cians like Rep. Alexan­dria Oca­sio-Cortez, whose dis­trict is adja­cent to the pro­posed site.
Sev­er­al oth­er issues have inspired out­rage over what crit­ics call the #HQ2scam. Even before these sub­si­dies, New York City has been strug­gling to fund accept­able pub­lic trans­porta­tion and afford­able hous­ing. Plus, adding 25,000 high-pay­ing jobs to this cor­ner of Queens will only make gen­tri­fi­ca­tion worse, activists warn. ​"I think any­one who's mid­dle class is not going to be able to live in Long Island City much longer," West­in says.
Final­ly, at a City Coun­cil meet­ing last week, the com­pa­ny refused to agree to remain neu­tral if Ama­zon work­ers attempt­ed union­iza­tion in New York City, a red flag for a labor-friend­ly city. The HQ2 project has actu­al­ly split the city's labor move­ment. The Retail, Whole­sale, and Depart­ment Store Union and the Team­sters are against the project, while the Build­ing and Con­struc­tion Trades Coun­cil that would build the HQ2 facil­i­ty, and the SEIU local 32BJ that would staff the build­ing for secu­ri­ty and cus­to­di­al work, have come out in favor. Coun­cil Speak­er Corey John­son crit­i­cized Ama­zon last week for pit­ting work­ers against one another.
Ama­zon can see its grasp on $2.808 bil­lion in sub­si­dies slip­ping away. This week, the State Sen­ate rec­om­mend­ed the appoint­ment of Sen. Michael Gia­naris, a bit­ter crit­ic of the deal, to the Pub­lic Author­i­ties Con­trol Board, which reviews and approves state-based eco­nom­ic devel­op­ment sub­si­dies. About $1.5 bil­lion of the grants for HQ2 come from the state and could go before this board, and the way the board is struc­tured, Gia­naris would have an effec­tive veto over those funds.
Demo­c­ra­t­ic Gov­er­nor Andrew Cuo­mo, a sup­port­er of the deal who offered to change his name to Ama­zon Cuo­mo if the com­pa­ny agreed to choose New York City, would have to approve Gia­naris, but that would cre­ate a stand­off between the gov­er­nor and the leg­is­la­ture, reflect­ing the ten­sions that have accom­pa­nied the Ama­zon deal.
While all of that is hap­pen­ing, Ama­zon float­ed this pull­back from New York, cit­ing how ​"wel­com­ing" politi­cians in Vir­ginia and Nashville, Ten­nessee have been in hand­ing over pub­lic mon­ey for its site loca­tions. Embat­tled Vir­ginia gov­er­nor Ralph Northam, weath­er­ing a scan­dal over black­face pic­tures in his med­ical school year­book, found time to qui­et­ly sign off on $750 mil­lion in sub­si­dies for a 25,000-employee facil­i­ty near Arling­ton, which the leg­is­la­ture advanced with lit­tle oppo­si­tion. Nashville is get­ting a 5,000-person oper­a­tions cen­ter, and though the city bud­get is so strapped pub­lic work­ers were denied a promised raise, this week offi­cials passed a $15 mil­lion infra­struc­ture grant for the area Ama­zon will occu­py, the first of $117 mil­lion in sub­si­dies for the project.
Ama­zon is like­ly threat­en­ing this pull­out to con­cen­trate minds among New York politi­cians, in an effort to pin blame on them for ​"los­ing" Ama­zon. The com­pa­ny is hir­ing lob­by­ists and a ​"com­mu­ni­ty affairs man­ag­er" in New York, so it's clear­ly still com­mit­ted to the deal at some level.
Ama­zon may also have a Plan B. One of the twen­ty final­ists for HQ2 was Newark, New Jer­sey, just across the bor­der from New York City. It was one of the rich­est sub­sidy offers of the entire process – up to $7 bil­lion from the city and state to lure Ama­zon. The com­pa­ny could cer­tain­ly skip over to Newark and re-open talks to place its offices there, if only to loosen resis­tance in New York City.
What­ev­er the out­come, Amazon's gam­bit shows how much the HQ2 sweep­stakes has back­fired. What start­ed as a vir­tu­al cel­e­bra­tion of Amazon's promi­nence has trans­formed into con­dem­na­tion over a big com­pa­ny using its clout to extract tax­pay­er dol­lars and dis­rupt com­mu­ni­ties. Even Michael Bloomberg is denounc­ing tax gifts to Amazon.
More broad­ly, the Ama­zon farce has shone a spot­light on the sor­did process of eco­nom­ic devel­op­ment deals, which cost cities and states up to $90 bil­lion annu­al­ly while local ser­vices suf­fer from a lack of funds. Deals that would receive almost no scruti­ny, like U.S. Steel win­ning $47 mil­lion in tax breaks from impov­er­ished Gary, Indi­ana, now make head­lines. By mak­ing the spec­ta­cle so pub­lic, Ama­zon may have ruined this gravy train for the rest of cor­po­rate America.