Some on the Left Want To Nationalize Amazon. Breaking It Up Is a Safer Bet.
Antitrust action has worked in the past. We can use the same model against Amazon.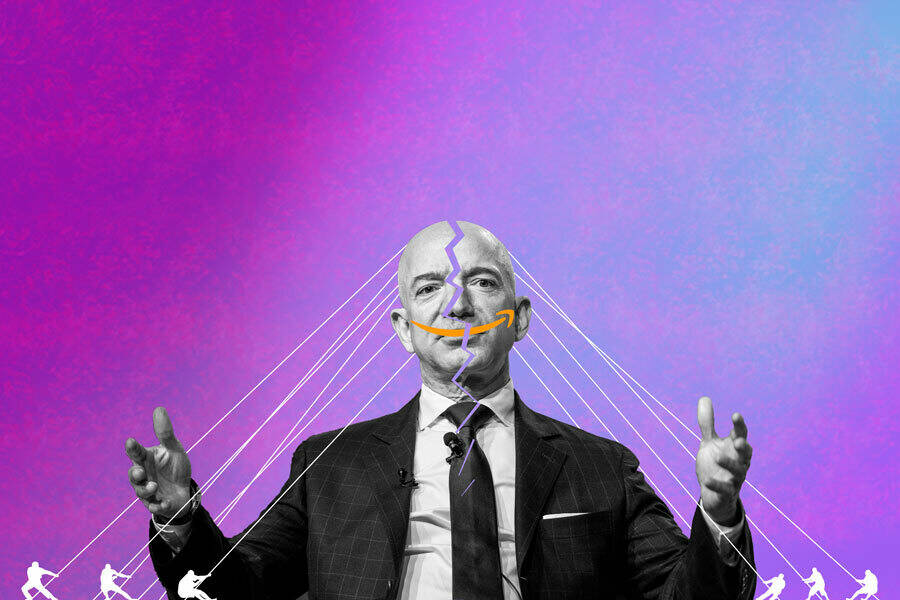 For anoth­er per­spec­tive, read ​"Break­ing Up Ama­zon Doesn't Go Far Enough — We Must Put It Under Pub­lic Control."
We must eliminate Amazon's dominance at the center of all these economic transactions.
Nine­ty years ago, reg­u­la­tors were con­sid­er­ing what to do about the Great Atlantic & Pacif­ic Tea Com­pa­ny, which you might remem­ber as A&P. By 1930, A&P had almost 16,000 gro­cery stores around the coun­try — near­ly four times as many U.S. stores as Wal­mart has today, serv­ing a U.S. pop­u­la­tion about a third as large.
A&P used its tremen­dous size to force sup­pli­ers to sell to it for less, then priced its items arti­fi­cial­ly low to destroy its com­pe­ti­tion. It bought a milk com­pa­ny and a bak­ery and owned its own whole­sale oper­a­tion, known as ACCO, to sell fruit and veg­eta­bles to both A&P and its com­peti­tors. Food sell­ers paid kick­backs, known as ​"adver­tis­ing allowances," for the priv­i­lege of being stocked on A&P shelves. A&P was vicious­ly anti-union, clos­ing all its Cleve­land stores after work­ers went on strike.
It all sounds a lot like Ama­zon today, with its buy­ing pow­er, preda­to­ry pric­ing, union-bust­ing and ver­ti­cal inte­gra­tion. So how did the gov­ern­ment han­dle A&P? By split­ting it up. The Robin­son-Pat­man Act of 1936 banned chain stores like A&P from pur­chas­ing inven­to­ry from sup­pli­ers at low­er prices than oth­er retail­ers, and from ask­ing for adver­tis­ing allowances. The Miller-Tyd­ings Act fur­ther pre­vent­ed preda­to­ry pric­ing. Some states imple­ment­ed chain store tax­es, and a fed­er­al com­ple­ment almost passed Con­gress. After decades of pur­suit, pros­e­cu­tors won a crim­i­nal antitrust case against A&P in 1946, result­ing in fines; a civ­il antitrust case end­ing in con­sent decree led to A&P dis­solv­ing ACCO in 1954.
The same breakup mod­el could work for Ama­zon: We could sue for anti-com­pet­i­tive prac­tices under cur­rent preda­to­ry pric­ing statutes, split off Amazon's prod­uct lines from its mar­ket­place busi­ness (as Eliz­a­beth War­ren has sug­gest­ed), and lop off unre­lat­ed busi­ness lines (such as Ama­zon Web Ser­vices) and the com­pet­ing busi­ness­es it absorbed (such as Zap­pos) — the way Bell Tele­phone Com­pa­ny was split up in the 1980s.
Oth­ers on the Left pro­pose nation­al­iz­ing Ama­zon instead, putting its size and plan­ning prowess toward the pub­lic good, but I am skep­ti­cal the coun­try would benefit.
Ama­zon is def­i­nite­ly a logis­ti­cal mar­vel, capa­ble of deliv­er­ing any of a mil­lion prod­ucts to any­where in the U.S. with­in days (if not hours). If the Sovi­et Union failed at pro­duc­ing enough goods, the the­o­ry goes, then mod­ern social­ism could instead just pig­gy­back on Amazon's effi­cient sys­tems and direct them through pub­lic ownership.
But this takeover would also mean co-opt­ing how Ama­zon makes its sys­tem work: bul­ly­ing sup­pli­ers, third-par­ty sell­ers, work­ers and part­ners. In par­tic­u­lar, forc­ing low­er mar­gins onto sup­pli­ers seems to be a fea­ture of any large effi­cient orga­ni­za­tion, from Ama­zon to Wal­mart. If the gov­ern­ment isn't get­ting into the processed food and sun­dries pro­duc­tion busi­ness, then it will have to deter­mine what to pay those sup­pli­ers — many of which cur­rent­ly out­source man­u­fac­tur­ing abroad under har­row­ing con­di­tions, pay­ing work­ers next to noth­ing. Do we want a state-owned Ama­zon at the wheel of such misery?
Per­haps the Unit­ed States of Ama­zon could reverse the process, pay sup­pli­ers rea­son­ably, refuse to do busi­ness with sweat­shops, and trans­form the glob­al sup­ply chain through its dom­i­nance. But would it be able to repli­cate the enter­prise with the same advan­tages of low prices and rapid deliv­ery? Or is exploita­tion built into, and unsev­er­able from, this sys­tem of logis­tics? Could a pub­lic-con­trolled Ama­zon even function?
There's a bet­ter known option out there, built upon his­tor­i­cal evi­dence. Most of the things we may not like about Ama­zon — its treat­ment of work­ers, its car­bon emis­sions, its use of low-wage labor, its fan­tas­tic rich­es for exec­u­tives — could be dealt with through reg­u­la­to­ry action and com­pe­ti­tion pol­i­cy. Some politi­cians have already fig­ured this out, as when Bernie Sanders pres­sured Ama­zon into pay­ing its work­ers better.
Qual­i­ty doesn't have to suf­fer in the absence of Amazon's exploita­tive mod­el. While a state-owned Ama­zon would be torn between the com­pet­ing imper­a­tives of low prices and bet­ter con­di­tions for work­ers and sup­pli­ers, per­haps com­pe­ti­tion between a panoply of sell­ers — with guardrails to pre­vent exploita­tion — could find an equi­lib­ri­um with every­one shar­ing the benefits.
To get there, we must elim­i­nate Amazon's dom­i­nance at the cen­ter of all these eco­nom­ic trans­ac­tions. We can cre­ate a play­ing field that gives work­ers and sup­pli­ers a fair chance at a rea­son­able wage for their goods and ser­vices with­out pay­ing crip­pling rent to a middleman.
Because, ulti­mate­ly, that's what Ama­zon is: an inter­me­di­ary. There may be a case for the gov­ern­ment to run a list­ing web­site for dis­trib­u­tors to sell and ship direct­ly to buy­ers, but that wouldn't real­ly be a nation­al­ized Ama­zon so much as a nation­al­ized dig­i­tal mall. At that point, you're talk­ing about break­ing up Ama­zon anyway.
There are cer­tain­ly sec­tors where the pub­lic pro­vi­sion of goods would be supe­ri­or. I sup­port gov­ern­ment-pro­vid­ed health insur­ance for every­one, a pub­lic option for bank­ing, and some­thing like Sanders' plan to give work­ers at large busi­ness­es a reg­u­lar div­i­dend from prof­its and some own­er­ship of busi­ness stock. None of these ideas require the gov­ern­ment to run a large logis­ti­cal oper­a­tion, hire cus­tomer ser­vice staff to han­dle com­plaints, man­age the chaos of 2.5 mil­lion prod­uct sell­ers, man­u­fac­ture devices, and so on. Maybe it's bet­ter that way.
For a response to this piece, see ​"Break­ing Up Ama­zon Doesn't Go Far Enough — We Must Put It Under Pub­lic Control."