Jeff Bezos's Corporate Takeover of Our Lives
How Amazon's relentless pursuit of profit is squeezing us all—and what we can do about it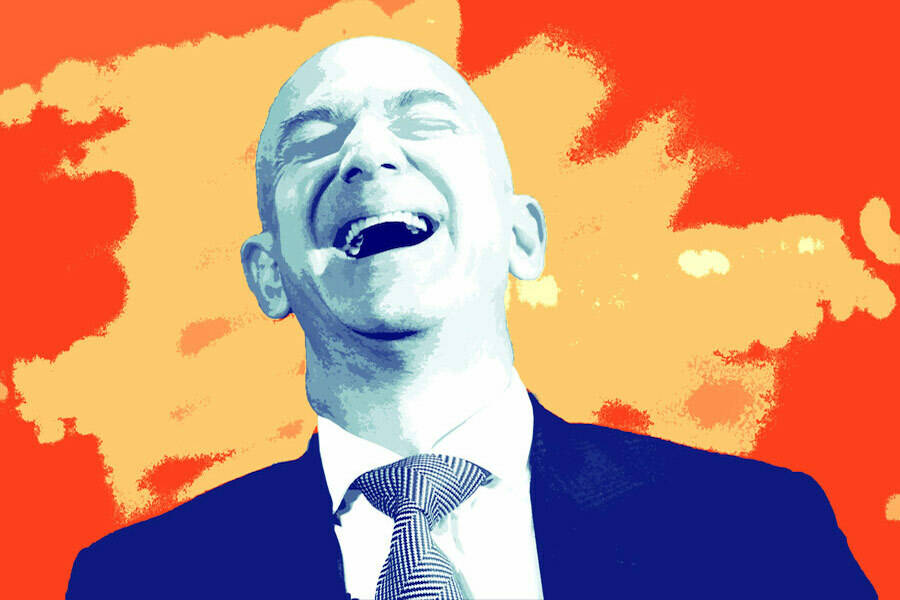 Ama­zon is an online retail­er. It also runs a mar­ket­place for oth­er online retail­ers. It's also a ship­per for those sell­ers, and a lender to them, and a ware­house, an adver­tis­er, a data man­ag­er and a search engine. It also runs brick-and-mor­tar book­stores. And gro­cery stores.
In a future where Amazon broadens its control over our lives and governments have no other way to function, then who actually holds the power in our society?
There are over 100 mil­lion Ama­zon Prime sub­scribers in the Unit­ed States — more than half of all U.S. house­holds. Ama­zon makes 45% of all e‑commerce sales. Ama­zon is also a prod­uct man­u­fac­tur­er; its Alexa con­trols two-thirds of the dig­i­tal assis­tant mar­ket, and the Kin­dle rep­re­sents 84% of all e‑readers. Ama­zon cre­at­ed its own hol­i­day, Prime Day, and the surge in demand for Prime Day dis­counts, fol­lowed by a drop after­ward, skewed the nation's retail sales fig­ures with a 1.8% bump in July 2017.
Oh, it's also a major tele­vi­sion and film stu­dio. Its CEO owns a nation­al news­pa­per. And it runs a stream­ing video game com­pa­ny called Twitch. And its cloud com­put­ing busi­ness, Ama­zon Web Ser­vices, runs an aston­ish­ing por­tion of the Inter­net and U.S. finan­cial infra­struc­ture. And it wants to be a logis­tics com­pa­ny. And a fur­ni­ture sell­er. It's angling to become one of the nation's largest online fash­ion design­ers. It recent­ly picked up an online phar­ma­cy and part­nered with JPMor­gan Chase CEO Jamie Dimon and War­ren Buf­fett to cre­ate a health­care com­pa­ny. And at the same time, it's com­pet­ing with JPMor­gan, push­ing Ama­zon Pay as a dig­i­tal-based alter­na­tive to cred­it cards and Ama­zon Lend­ing as a source of cap­i­tal for its small busi­ness mar­ket­place partners.
To quote Lib­er­ty Media chair John Mal­one, him­self a bil­lion­aire titan of indus­try, Ama­zon is a ​"Death Star" mov­ing its super-laser ​"into strik­ing range of every indus­try on the plan­et." If you are engag­ing in any eco­nom­ic activ­i­ty, Ama­zon wants in, and its posi­tion in the mar­ket can dis­tort and shape you in vital ways.
Eliz­a­beth Warren's pro­pos­al to break up Ama­zon and oth­er tech giants has spurred a con­ver­sa­tion on the Left about the over­whelm­ing pow­er of these com­pa­nies. No enti­ty has held the poten­tial for this kind of dom­i­nance since the rail­road tycoons of the first Gild­ed Age were brought to heel. Whether you share con­cerns about Amazon's eco­nom­ic and polit­i­cal pow­er or you just like get­ting free ship­ping on cheap toi­let paper, you should at least know the impli­ca­tions of liv­ing in Amazon's world — so you can assess whether it's the world you want, and how it could be different.
Book­sellers were the first to find them­selves at the tip of Amazon's spear, at the company's found­ing in 1994. Years of Ama­zon ped­dling books below cost shut­tered thou­sands of book­stores. Today, Ama­zon sells 42 per­cent of all books in America.
With such a large share of the mar­ket, Ama­zon deter­mines what ideas reach read­ers. It ruth­less­ly squeezes pub­lish­ers on whole­sale costs; in 2014, it delib­er­ate­ly slowed down deliv­er­ies of books pub­lished by Hachette dur­ing a pric­ing dis­pute. By stock­ing best-sell­ers over inde­pen­dents and back­list copies, and giv­ing pub­lish­ers less mon­ey to work with, Ama­zon homog­e­nizes the mar­ket. Pub­lish­ers can't afford to take a chance on a book that Ama­zon won't keep in its inven­to­ry. ​"The core belief of book­selling is that we need to have the ideas out there so we can dis­cuss them," says Seat­tle inde­pen­dent book­seller Robert Sin­de­lar. ​"You don't want one com­pa­ny decid­ing, only based on prof­itabil­i­ty, what choice we have."
These issues in just the book sec­tor are a micro­cosm of Amazon's effect on commerce.
The term ​"retail apoc­a­lypse" took hold in 2017 amid bank­rupt­cies of estab­lished chains like The Lim­it­ed, RadioShack, Pay­less Shoe­Source and Toys ​"R" Us. Accord­ing to fre­quent Ama­zon crit­ic Sta­cy Mitchell, ​"more peo­ple lost jobs in gen­er­al-mer­chan­dise stores than the total num­ber of work­ers in the coal indus­try" in 2017.
Ama­zon isn't the only cause; pri­vate equi­ty loot­ing must share much of the blame, and a shift to e‑commerce was always going to hurt brick-and-mor­tar stores. But Ama­zon trans­formed a diverse col­lec­tion of web­site sales into one mam­moth busi­ness with the logis­ti­cal pow­er to per­form rapid deliv­ery of mil­lions of prod­ucts and a strat­e­gy to under­price every­one. That trans­for­ma­tion accel­er­at­ed a decline going back to the Great Reces­sion (and much ear­li­er for book­sellers). Ana­lysts at Swiss bank UBS esti­mate that every per­cent­age point e‑commerce takes from brick-and-mor­tar trans­lates into 8,000 store clo­sures, and right now e‑commerce only has a 16% mar­ket share.
Take Har­ry Copeland (or, as he calls him­self, ​"Crazy Har­ry") of Harry's Famous Flow­ers in Orlan­do, Fla., at one time a 40-employ­ee retail/​wholesale busi­ness. Rev­enue at his oper­a­tion has shrunk by half since 2008, equal to mil­lions of dol­lars in gross sales. ​"The inter­net … killed us," Har­ry says. ​"I was in a Kroger, this guy walks up and says, ​'I want to apol­o­gize. It's so easy to go on the inter­net.' I said, ​'I did your wed­ding, I did flow­ers for your babies, and you're buy­ing [flow­ers] on the inter­net?' " Even Harry's own employ­ees receive Ama­zon pack­ages at the shop every day. In Jan­u­ary, tired of the fight, Har­ry sold his shop after 36 years in business.
Ama­zon was par­tic­u­lar­ly dead­ly to the orig­i­nal ​"every­thing stores," the depart­ment stores like Sears and J.C. Pen­ney that anchor malls. When the anchor stores shut down, foot traf­fic slows and small­er shops strug­gle. Retail­ers are plan­ning to close more than 4,000 stores in 2019; the 41,201 retail job loss­es in the first two months of this year were the high­est since the Great Recession.
Dead malls trig­ger not only blight but also prop­er­ty tax loss­es. The broad­er shift to online shop­ping also trans­fers eco­nom­ic activ­i­ty from local busi­ness­es to cor­po­rate cof­fers, like Amazon's head­quar­ters in Seattle.
Some of these failed retail spaces have been scooped up, iron­i­cal­ly, by Amazon's suite of phys­i­cal stores, such as Whole Foods. Ama­zon also skill­ful­ly pits cities against one anoth­er and wins tax breaks for its ware­house and data cen­ter facil­i­ties, starv­ing local bud­gets even more.
Ama­zon, of course, argues it is the best friend small busi­ness ever had. Jeff Bezos' 2019 annu­al let­ter indi­cat­ed that 58% of all sales on the web­site are made by over 2 mil­lion inde­pen­dent third-par­ty sell­ers, who are most­ly small in size. In this ren­der­ing, Ama­zon is just a mall, open­ing its doors for the lit­tle guy to access bil­lions of poten­tial cus­tomers. ​"Third-par­ty sell­ers are kick­ing our first-par­ty butt," Bezos exclaimed.
It was a line I repeat­ed to sev­er­al mer­chants, most­ly to snick­ers. Take Crazy Har­ry. In late 2017, Ama­zon reached out with the oppor­tu­ni­ty for Harry's Famous Flow­ers to sell through its web­site. Sales rep­re­sen­ta­tives promised instant suc­cess. ​"We went live in Novem­ber," he says. ​"I made three trans­ac­tions, [includ­ing] one on Valentine's Day and one on Christ­mas." The clos­est deliv­ery to his shop was 34 miles away. By the time Har­ry paid his $39.99 month­ly sub­scrip­tion fee for sell­ing on Ama­zon and a 15% cut of sales, his check came to $6.92. ​"The gas was $50," he says.
It wasn't hard to find the source of the trou­ble: When Har­ry searched on Ama­zon under ​"flow­ers in Orlan­do," his shop didn't come up. With­out includ­ing his name in the search, there was no way for cus­tomers to find him. Before long, Har­ry closed his Ama­zon account.
Crazy Harry's trou­bles could be a func­tion of Ama­zon run­ning a plat­form that's too big to man­age. Two mil­lion Amer­i­cans, close to 1% of the U.S. pop­u­la­tion, sell goods on Ama­zon. ​"There's so much at stake for these sell­ers," says Chris McCabe, a for­mer Ama­zon employ­ee who now runs the con­sult­ing site eCom​merceChris​.com. ​"They've left jobs [to sell on Ama­zon]. They are sup­port­ing them­selves and their families."
Third-par­ty sell­ers have been a great deal for Ama­zon — unsur­pris­ing­ly, since Ama­zon sets the terms. Sell­ers pay a flat sub­scrip­tion fee and a per­cent­age of sales, and an extra fee for ​"Ful­fill­ment by Ama­zon," for which Ama­zon han­dles cus­tomer ser­vice, stor­age and ship­ping through its vast logis­tics net­work. Fee rev­enue grew to near­ly $43 bil­lion in 2018, equal to more than one out of every four dol­lars that third-par­ty sell­ers earned.
In oth­er words, Ama­zon is col­lect­ing rent on every sale on its web­site. This strat­e­gy increas­es selec­tion and con­ve­nience for cus­tomers, but the sell­ers, who have nowhere else to go, can get squeezed in the process. Once on the web­site, sell­ers are at the mer­cy of Amazon's algo­rith­mic place­ment in search results. They must also nav­i­gate rivals' dirty tricks (like fake one-star reviews that sink sell­ers in search results) and coun­ter­feit prod­ucts. And if you get past all that, you must fight the boss lev­el: Ama­zon, which has 138 house brands. Armed with all the data on sell­ers' busi­ness­es, Ama­zon can eas­i­ly fig­ure out what's hot and what can be cheap­ly pro­duced, and then out-com­pete its own sell­ers with low­er prices and pri­or­i­tized search results.
Any fail­ure to fol­low Amazon's always-chang­ing rules of the road can get a sell­er sus­pend­ed, and in that case, Ama­zon not only stops all future sales, but refus­es to release funds from pri­or sales. And all sell­ers must sign manda­to­ry arbi­tra­tion agree­ments that pre­vent them from suing Ama­zon. Sev­er­al con­sul­tants I inter­viewed talked of sell­ers cry­ing on the phone, find­ing them­selves trapped after upend­ing their lives to sell on Amazon.
While retail work­ers lose jobs, Ama­zon picks up some of the unem­ploy­ment slack, hir­ing per­son­nel to assem­ble its pack­ages, make its elec­tron­ics, and deliv­er its goods, with a U.S. work­force of more than 200,000, and anoth­er 100,000 sea­son­al work­ers — though 2018 research from the Con­fer­ence Board con­firmed the jobs cre­at­ed by e‑commerce com­pa­nies like Ama­zon do not make up for the loss of mil­lions of retail jobs.
Plus, the expe­ri­ence of being a cog in Amazon's great machine is, shall we say, unhealthy. We know much about the hor­rors of being an Ama­zon ware­house work­er in the Unit­ed States. These work­places are aggres­sive­ly anti-union. Ama­zon sets quo­tas for how many orders are ful­filled, mon­i­tor­ing a worker's every move. Poor per­form­ers may be fired, typ­i­cal­ly over email. The dai­ly monot­o­ny and pres­sure to per­form has pushed work­ers to sui­ci­dal despair. A Dai­ly Beast inves­ti­ga­tion found 189 instances between Octo­ber 2013 and Octo­ber 2018 of 911 calls sum­mon­ing assis­tance to deal with sui­cide attempts or oth­er men­tal-health emer­gen­cies at Ama­zon ware­hous­es. And even these grunt jobs are inse­cure; Ama­zon had to reas­sure peo­ple this year that it wouldn't turn over all ware­house jobs to robots, even as it rolled out machines that box orders.
Amazon's oth­er jobs, while less scru­ti­nized than the ware­house work­ers, can be just as bru­tal. Thou­sands of deliv­ery dri­vers wear Ama­zon uni­forms, use Ama­zon equip­ment and work out of Ama­zon facil­i­ties. But they are not tech­ni­cal­ly Ama­zon employ­ees; they work for out­side con­trac­tors called deliv­ery ser­vice part­ners. These work­ers do not qual­i­fy for the guar­an­teed $15 min­i­mum wage Bezos announced to much fan­fare last year.
Con­tract­ing work out lets Ama­zon dodge lia­bil­i­ty for poor labor prac­tices, a trick used by many cor­po­ra­tions. At one such con­trac­tor in the mid-Atlantic, TL Trans­porta­tion, one for­mer employ­ee (who request­ed anonymi­ty) described the work as ​"run­ning, run­ning, run­ning, rush­ing. There was no break time." Accord­ing to pay stubs, TL built two hours of over­time into its base rate, which is ille­gal under U.S. labor law. Oth­er work­ers report­ed they always worked longer than the time on their pay stubs. Dri­ver Tyhee Hick­man of Penn­syl­va­nia tes­ti­fied to hav­ing to uri­nate into bot­tles to main­tain the schedule.
Ama­zon runs plen­ty of air freight these days as well, through an ​"Ama­zon Air" fleet of planes brand­ed with the Ama­zon logo — but these are also con­tract­ed out. At Atlas Air, one of three car­go car­ri­ers with Ama­zon busi­ness, pilots have been work­ing with­out a new union con­tract since 2011. Atlas pays pilots 30% to 60% below the indus­try stan­dard, accord­ing to Cap­tain Daniel Wells, an Atlas Air pilot and pres­i­dent of the Air­line Pro­fes­sion­als Asso­ci­a­tion Team­sters Local 1224. Planes are under­staffed. ​"We've been crit­i­cal­ly short of crews," Wells says. ​"Every­one is scram­bling to keep oper­a­tions going."
The go-go-go sched­ule leaves lit­tle time for mechan­ics; planes go out with stick­ers indi­cat­ing deferred main­te­nance. One Atlas Air flight car­ry­ing Ama­zon pack­ages crashed in Texas in Feb­ru­ary, killing three work­ers.
Even while dri­ving work­ers at a fre­net­ic pace, Ama­zon doesn't always deliv­er on its promise of con­ve­nience and effi­cien­cy. Many prod­ucts no longer arrive in 48 hours under Prime's guar­an­teed two-day ship­ping. It's so chal­leng­ing to reach cus­tomer ser­vice that Ama­zon sells a book on its web­site about how to do that. Whole Foods shop­pers who have gro­ceries deliv­ered get bizarre food sub­sti­tu­tions with­out warning.
Even as two-day ship­ping is creak­ing, Ama­zon has announced a move to one-day ship­ping, which will strain its sys­tems even fur­ther while forc­ing com­peti­tors to adjust. Amazon's one-day ship­ping announce­ment alone caused retail stocks to plum­met on April 26, before any changes were implemented.
This feed­back effect reveals how Ama­zon is not mere­ly rid­ing the wave of online retail's con­ve­nience; only a com­pa­ny with ambi­tions as vast as Amazon's could influ­ence For­tune 500 busi­ness mod­els across America.
Some retail­ers have giv­en in. Wal­mart quick­ly announced its own next-day ship­ping. Kohl's sells Ama­zon Echo devices. Tar­get has bought up com­peti­tors to com­pete with Ama­zon on a larg­er scale. Call it con­cen­tra­tion creep; one giant busi­ness trig­gers the need for oth­ers to get big, too. Cor­po­rate Amer­i­ca is at once ter­ri­fied of Ama­zon and reshap­ing itself to imi­tate it.
Take Amazon's ever more sophis­ti­cat­ed ploys to mod­i­fy con­sumer behav­ior. With ​"per­son­al­ized pric­ing," Ama­zon uses the data of what some­one has paid in the past to test what that per­son is will­ing to pay. The price of an item fea­tured in the ​"buy" box on Amazon's web­site may change mul­ti­ple times per day, and can be tai­lored to indi­vid­ual shop­pers. Ama­zon has charged more for Kin­dles based on a buyer's loca­tion, and has steered peo­ple to high­er-priced prod­ucts where it makes a greater prof­it, rather than cheap­er ver­sions from out­side sellers.
Now, even big-box stores have elec­tron­ic price tags that retail­ers can ​"surge price" when demand increas­es. Amazon's Whole Foods stores have become a test­ing ground for advanc­ing this tech­nique. Prices shown on elec­tron­ic tags are test­ed, com­bined with dis­counts for Prime mem­bers, and relent­less­ly tweaked.
The poten­tial dam­age to soci­ety from per­son­al­ized pric­ing is sig­nif­i­cant, notes Mau­rice Stucke, a pro­fes­sor at the Uni­ver­si­ty of Ten­nessee. ​"It's not just price dis­crim­i­na­tion, but also behav­ioral dis­crim­i­na­tion," he says. ​"Get­ting peo­ple to buy things they might not have oth­er­wise pur­chased, at the high­est price they're will­ing to pay."
Ama­zon has plen­ty of options for this behav­ioral nudg­ing, from list­ing a fake high­er price and cross­ing it out to make it look like the cus­tomer is get­ting a deal, to its work on a facial recog­ni­tion sys­tem using phone or com­put­er cam­eras to authen­ti­cate pur­chas­es. With this tool, Ama­zon could the­o­ret­i­cal­ly read faces and increase prices when some­one shows excite­ment about a prod­uct. Ama­zon has already licensed facial recog­ni­tion soft­ware to local police units for crim­i­nal inves­ti­ga­tions, to out­cry from pri­va­cy groups.
Then there's Alexa, Amazon's dig­i­tal assis­tant, a pow­er­ful tool for manip­u­la­tion. Alexa was designed to ​"be like the Star Trek com­put­er," said Paul Cutsinger, Amazon's head of voice design edu­ca­tion, at a devel­op­er con­fer­ence ear­li­er this year. Users can ask Alexa to play music and pod­casts, answer ques­tions, run health and well­ness pro­grams, set appoint­ments, make pur­chas­es, even raise the tem­per­a­ture in the shower.
Psy­chol­o­gist Robert Epstein, who has pio­neered research into search engine manip­u­la­tion, has done pre­lim­i­nary stud­ies on Alexa. ​"It looks like you can very eas­i­ly impact the think­ing and deci­sion-mak­ing and pur­chas­es of peo­ple who are unde­cid­ed," Epstein says. ​"That unfor­tu­nate­ly gives a small num­ber of com­pa­nies tremen­dous pow­er to influ­ence peo­ple with­out them being aware." For exam­ple, Alexa can sug­gest a wine to go with the piz­za you just ordered. It can also encour­age you to set up a recur­ring pur­chase, the price of which may then go up based on Amazon's list price.
The influ­ence only increas­es as Alexa takes in more data. We know that Alexa is con­stant­ly watch­ing and lis­ten­ing to users, tran­scrib­ing what it hears and even trans­mit­ting some of that data back to a team of human lis­ten­ers at Ama­zon, who ​"refine" the machine's com­pre­hen­sion. The sur­veil­lance doesn't only hap­pen on Alexa, but in the smart home devices it inte­grates with, and on the web­site where Ama­zon tracks search and pur­chase activ­i­ty. Ama­zon even has a Ring door­bell and in-home mon­i­tor, which sends infor­ma­tion back to Ama­zon. There is no escape. ​"Devices all around us are watch­ing every­thing we do, talk­ing to each oth­er, shar­ing data," Epstein says. ​"We're embed­ded in a sur­veil­lance network."
Even as it's influ­enc­ing our behav­ior, Ama­zon is trans­form­ing our phys­i­cal world. José Hol­guín-Veras, a logis­tics and urban freight expert at Rens­se­laer Poly­tech­nic Insti­tute, esti­mates that in 2009, there was one dai­ly inter­net-derived deliv­ery for every 25 peo­ple. By 2017, he cal­cu­lates, this had tripled. ​"The num­ber of deliv­er­ies to house­holds is now larg­er than the num­ber of deliv­er­ies to com­mer­cial estab­lish­ments," Hol­guín-Veras says. ​"In sky­scrap­ers in New York City where 5,000 peo­ple live, it's 750 deliv­er­ies a day."
Think of the dif­fer­ence between one trip to the gro­cery store for the week, and five or ten trips from the ware­house to your house. Our streets are too nar­row and our traf­fic too plen­ti­ful to han­dle that addi­tion­al traf­fic with­out crip­pling con­ges­tion. Plus, every idling car, and every extra deliv­ery truck on the road, spews more car­bon into the atmos­phere. Our cities are not designed for the lev­el of freight that instant deliv­ery demands.
More deliv­er­ies also means more peo­ple stay­ing indoors. ​"One thing I think about is how much we over­look the com­mu­ni­ty and democ­ra­cy val­ue of run­ning errands," says Sta­cy Mitchell of the Insti­tute for Local Self-Reliance. ​"These exchanges — chat­ting with some­one in line, bump­ing into a neigh­bor on the street, talk­ing with the store own­er — may not be all that sig­nif­i­cant per­son­al­ly. But this kind of inter­ac­tion pays off for us col­lec­tive­ly in ways we don't think about or mea­sure or account for in policy-making."
In These Times asked Frank McAn­drew of Knox Col­lege, who has researched social iso­la­tion, whether Amazon's per­fect effi­cien­cy could be alien­at­ing. He wasn't ready to make a defin­i­tive state­ment but did see some red flags. ​"I do think we're sort of wired to inter­act with real peo­ple in face-to-face sit­u­a­tions," McAn­drew says. ​"When most of our inter­ac­tions take place vir­tu­al­ly, or with Alexa, it's not going to be satisfying."
For most of our his­to­ry, Amer­i­cans didn't require a per­son­al dig­i­tal assis­tant to answer our every whim. Why are we now reorder­ing our social and eco­nom­ic lives, so one man can accu­mu­late more mon­ey than any­one in the his­to­ry of the planet?
One answer is that Ama­zon has paid as much atten­tion to cap­tur­ing gov­ern­ment as it has to cap­ti­vat­ing cus­tomers. Amazon's lob­by­ing spend­ing is among the high­est of any com­pa­ny in Amer­i­ca. After win­ning a nation­wide pro­cure­ment con­tract, over 1,500 cities and states can buy office items through the Ama­zon Busi­ness por­tal; a fed­er­al pro­cure­ment plat­form is on the way. Ama­zon Web Ser­vices has the inside track on a $10 bil­lion cloud con­tract to man­age sen­si­tive data for the Pen­ta­gon, some­thing it already does for the CIA. That's part of the rea­son why Ama­zon moved its sec­ond head­quar­ters (after an absurd, game show-style bid­ding war that gave the com­pa­ny access to valu­able data on hun­dreds of cities' plan­ning deci­sions) to a sub­urb of Wash­ing­ton, D.C., the seat of nation­al power.
Mak­ing the direc­tors of the reg­u­la­to­ry state depen­dent on your ser­vices is a genius move. What polit­i­cal fig­ure would dare crack down on the behav­ior of a trust­ed part­ner like Amazon?
In fact, Ama­zon has relied on gov­ern­ment largesse since day one. No sales tax­es for online pur­chas­es gave it a pric­ing advan­tage over oth­er sell­ers (while a 2018 Supreme Court rul­ing changed that, the dam­age had been done). No car­bon tax­es helped Ama­zon build ener­gy-inten­sive busi­ness­es depen­dent on fos­sil fuels for trans­porta­tion and serv­er farms. A lack of antitrust enforce­ment cre­at­ed a path for Ama­zon to super-size into an e‑commerce monop­oly. Weak fed­er­al labor rules let Ama­zon stamp out col­lec­tive bar­gain­ing and rely on inde­pen­dent con­trac­tors. Manda­to­ry arbi­tra­tion locked third-par­ty sell­ers inside Amazon's pri­vate appeals process. Favor­able tax law allowed Ama­zon to apply annu­al loss­es in pre­vi­ous years to its past two tax returns, pay­ing no fed­er­al tax­es on bil­lions in income.
Of course, these rules helped all cor­po­rate giants and made exec­u­tives filthy rich, often at the expense of work­ers. But Ama­zon tests the lais­sez-faire sys­tem in unique ways. In a future where Ama­zon broad­ens its con­trol over our lives such that cit­i­zens have nowhere else to shop, busi­ness­es have nowhere else to sell, work­ers have nowhere else to toil, and gov­ern­ments have no oth­er way to func­tion, then who actu­al­ly holds the pow­er in our soci­ety? Avoid­ing that dark future requires lead­ers with the polit­i­cal will to stop it.
Eliz­a­beth Warren's plan to break up Ama­zon would rein in what she sees as unfair com­pe­ti­tion by pre­vent­ing Ama­zon from sell­ing prod­ucts while host­ing a web­site plat­form for oth­er sell­ers. War­ren also sug­gests split­ting off Whole Foods and the online retail­er Zap­pos, which Ama­zon bought in 2017 and 2009, respec­tive­ly.
Fos­ter­ing com­pe­ti­tion is a good start, but reg­u­la­tion must also pre­vent Ama­zon from bul­ly­ing sup­pli­ers and part­ners. Law­mak­ers must force Ama­zon to pay for the exter­nal­i­ties asso­ci­at­ed with its car­bon-inten­sive deliv­ery net­work. The com­pa­ny must pay a liv­ing wage to its work­ers, includ­ing its so-called inde­pen­dent con­trac­tors. It must be account­able to the legal sys­tem rather than a cor­po­rate-friend­ly arbi­tra­tion process. It must not prof­it from spy­ing on its customers.
If Ama­zon has caused this much upheaval today, when online shop­ping is still only 16% of retail sales, the future is lim­it­less and grim. We have time to reverse this trans­fer of pow­er and make it our world instead of Amazon's. It's an oppor­tu­ni­ty we can­not afford to squander.