Amazon Is One Step Closer To Taking a Cut on Literally Every Economic Transaction
In a $5.5 billion sweetheart deal, Amazon has inserted itself between local businesses and local governments.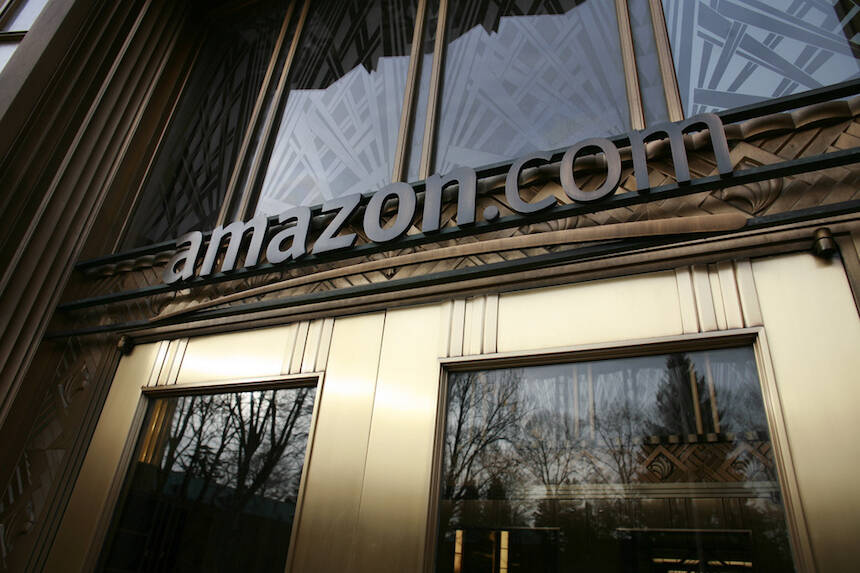 The paper the forms are print­ed on at City Hall. The desk your child sits at in math class. The books in your local library. Ama­zon has begun to prof­it from all of these prod­ucts, extend­ing its busi­ness from con­sumer retail into gov­ern­ment pro­cure­ment, accord­ing to a new report released today.
Cities and states could end up overpaying for basic supplies, with Amazon profiting on the back end.
As detailed by Sta­cy Mitchell and Olivia LaVec­chia of the non­prof­it Insti­tute for Local Self-Reliance (ILSR), Ama­zon won a nation­wide con­tract last year to sup­ply up to $5.5 bil­lion in com­mer­cial items for states, cities, and school dis­tricts through its Ama­zon Busi­ness plat­form. Already over 1,500 juris­dic­tions have adopt­ed the con­tract, despite the fact that it doesn't guar­an­tee fixed-rate prices or vol­ume dis­counts, as is typ­i­cal with gov­ern­ment pur­chas­ing agree­ments. This means cities and states could end up over­pay­ing for basic sup­plies, with Ama­zon prof­it­ing on the back end.
Local and region­al office sup­pli­ers (an under-the-radar indus­try that pio­neered many cus­tomer con­ve­niences, such as next-day deliv­ery, more com­mon­ly asso­ci­at­ed with Ama­zon) can still sell to munic­i­pal gov­ern­ments under the deal — but only if they join Amazon's plat­form, and pay the 15 per­cent share of rev­enue that Ama­zon takes for access. This under­scores Amazon's real goal — to levy a tax on all eco­nom­ic activ­i­ty, as mar­ket ana­lyst Ben Thomp­son put it last year. Busi­ness­es large and small are induced into join­ing the Ama­zon mar­ket­place when there's no oth­er way to reach cus­tomers. Who­ev­er makes the sale, Ama­zon takes a cut.
With annu­al spend­ing of close to $2 tril­lion, state and local gov­ern­ment pro­cure­ment is a log­i­cal next mar­ket for Ama­zon. Says Mitchell, one of the report's co-authors, "[Ama­zon CEO] Jeff Bezos' vision comes out of Wall Street: How can I make a bit of mon­ey on everything?"
The con­tract is part of a broad­er strat­e­gy by Ama­zon to grab a chunk of pub­lic spend­ing. The com­pa­ny hired Anne Rung, once the Chief Acqui­si­tions Offi­cer for the White House, to head up its gov­ern­ment divi­sion. An ​"Ama­zon amend­ment" in last year's defense autho­riza­tion bill would allow defense pro­cure­ment offi­cials to use the plat­form for off-the-shelf com­mer­cial items. Amazon's rivals have warned that the Defense Depart­ment is poised to award the com­pa­ny a $10 bil­lion cloud com­put­ing con­tract.
A con­tract tai­lor-made for Amazon
In Jan­u­ary 2017, Ama­zon secured the five-year con­tract, which car­ries the poten­tial for six more years of renewals, through U.S. Com­mu­ni­ties, which facil­i­tates joint pur­chas­ing agree­ments for its 55,000 mem­bers, in exchange for a small piece of the rev­enue. Through this set­up, gov­ern­ment agen­cies of any size pool their pur­chas­ing pow­er and get bet­ter terms on long-term contracts.
Or, at least that's the the­o­ry. But it only works if there's a com­pet­i­tive bid­ding process to extract the most favor­able deal. In this case, the request for pro­pos­al (or RFP) for the con­tract was so spe­cial­ized that only one com­pa­ny appeared able to meet it. ​"We thought, ​'This is absolute­ly spec'd to Ama­zon,'" said Gor­don Thrall of Guernsey, an office sup­pli­er that was part of the coali­tion that won the pre­vi­ous U.S. Com­mu­ni­ties con­tract in 2010.
U.S. Com­mu­ni­ties solicit­ed bid­ders who could run online mar­ket­places offer­ing 10 dif­fer­ent prod­uct cat­e­gories, some­thing only Ama­zon was able to meet. The RFP attract­ed only five eli­gi­ble bids, three from com­pa­nies that only sell spe­cif­ic items like musi­cal instru­ments or com­mer­cial print­ing ser­vices. A nor­mal RFP attract­ing so few respon­sive bids would often get redone; but Ama­zon won the contract.
Who needs price con­trols? Trust the free hand of the Ama­zon marketplace
One-stop shop­ping for every item a local pub­lic agency might need is cer­tain­ly attrac­tive. But gov­ern­ments gave up plen­ty to Ama­zon in the exchange. At the heart of these deals is usu­al­ly a fixed price guar­an­tee, which allows for con­sis­tent bud­get­ing. ​"It's the bedrock of pub­lic pro­cure­ment," says Mitchell. ​"Typ­i­cal­ly a city would say, here are the 1,000 items we buy the most of, you have to guar­an­tee the price. The risk is on you if the price goes up." Sup­pli­ers accept that risk in return for a long-term, high-vol­ume contract.
This con­tract gave no pric­ing instruc­tions at all; no guar­an­teed fixed rates, no vol­ume dis­counts. Instead, U.S. Com­mu­ni­ties assert­ed that, because Ama­zon Busi­ness is a ​"mar­ket­place" with numer­ous sell­ers, com­pe­ti­tion would ensure the low­est price. Pur­chasers can freeze the price on any item they order for sev­en days. But oth­er­wise, as U.S. Com­mu­ni­ties wrote in a response to the report's authors, ​"Pric­ing on Ama­zon Busi­ness is dynam­ic through their com­pet­i­tive marketplace."
An Ama­zon spokesper­son tells In These Times that the con­tract pro­vides ​"fea­tures and ben­e­fits that help sim­pli­fy the pro­cure­ment process and increase effi­cien­cy for buy­ers." The com­pa­ny also not­ed that pub­lic agen­cies will be able to ​"ensure com­pet­i­tive­ness and best-val­ue pric­ing … we have seen great progress to date."
Accord­ing to the report, how­ev­er, U.S. Com­mu­ni­ties didn't appear to test whether prices were actu­al­ly low­er on Ama­zon with any­thing more rig­or­ous than a spot-check. In webi­na­rs to pub­lic agen­cies, Ama­zon and U.S. Com­mu­ni­ties have stressed the upside of this arrange­ment. But prices also can increase, and often do; After all, that's what infla­tion is.
The report com­pared 57 goods pur­chased by a Cal­i­for­nia school dis­trict over two weeks in Jan­u­ary to prices on Ama­zon. The school dis­trict paid $1,205 with free next-day deliv­ery; Ama­zon would have charged at least 10 per­cent more — 12 per­cent with com­pa­ra­ble ship­ping speeds. A sep­a­rate study from the Naval Post­grad­u­ate School of items pur­chased by the Air Force found that the cur­rent e‑commerce plat­form cre­at­ed by the Gen­er­al Ser­vices Admin­is­tra­tion beat Ama­zon on price for ​"most items."
This makes sense, because sell­ers on the plat­form have to pay that 15 per­cent fee to Ama­zon. It's impos­si­ble for them to do that and also offer the low­est price, espe­cial­ly on a pub­lic agency con­tract, where dis­counts are usu­al­ly guar­an­teed and prof­it mar­gins are very slim.
Though we think of Ama­zon as the unpar­al­leled leader in speedy deliv­ery, this con­tract also offers worse ser­vice. Inde­pen­dent office sup­pli­ers have pro­vid­ed free next-day ship­ping for decades, and that was guar­an­teed in the pre­vi­ous U.S. Com­mu­ni­ties con­tract. Ama­zon offers no guar­an­tee on ship­ping, and only pro­vides two-day ship­ping if cities sign up for Ama­zon Busi­ness Prime for $499 a year.
Final­ly, Ama­zon altered the contract's terms and con­di­tions, includ­ing giv­ing itself the abil­i­ty to inter­vene in and redact pub­lic records requests to ensure that infor­ma­tion sought by the pub­lic about the con­tract nev­er gets dis­closed. The RFP's orig­i­nal terms stressed that all com­mu­ni­ca­tions relat­ed to the con­tract ​"shall be open to the inspec­tion of any cit­i­zen, or any inter­est­ed per­son, firm or corporation."
In oth­er words, Ama­zon land­ed a con­tract where they will offer worse ser­vice at a high­er price than inde­pen­dent sup­ply stores. ​"Ama­zon waltzed into this sec­tor and secured a con­tract not by out-com­pet­ing, but by using its pow­er and pull," Mitchell says.
The cities that resist
Push­ing into state and local pro­cure­ment expands the num­ber of trans­ac­tions upon which Ama­zon can levy a tax. But some cities have oth­er ideas. Though cities already use Ama­zon for var­i­ous off-con­tract pur­chas­es, some to dis­turb­ing extremes (Denver's pub­lic schools spent $1.6 mil­lion on odds and ends in 2016), Phoenix only spent $700 on the plat­form in 2016. The City Coun­cil instead cre­at­ed a Local Small Busi­ness Enter­prise Pro­gram in 2012 to pri­or­i­tize its pur­chas­ing. Spend­ing with small busi­ness jumped from $50,000 to $2.3 mil­lion in two years. And those dol­lars cir­cu­lat­ed with­in the local econ­o­my, rather than Amazon's cor­po­rate trea­sury. A spokesper­son for the city financ­ing depart­ment told In These Times that Phoenix hasn't signed onto the Ama­zon con­tract because of con­cerns about its small busi­ness program.
Mitchell believes that, with local busi­ness­es already being so dra­mat­i­cal­ly under­cut by Ama­zon, cities should resist hand­ing them pub­lic pur­chas­ing as well. ​"Not only is Ama­zon set­ting up a con­tract to take advan­tage of pub­lic dol­lars, but they're insert­ing them­selves as a gate­keep­er between local gov­ern­ment and local busi­ness­es," she says. ​"This is a way for local offi­cials to talk about the dan­gers of monopoly."