How European Workers Coordinated This Month's Massive Amazon Strike—And What Comes Next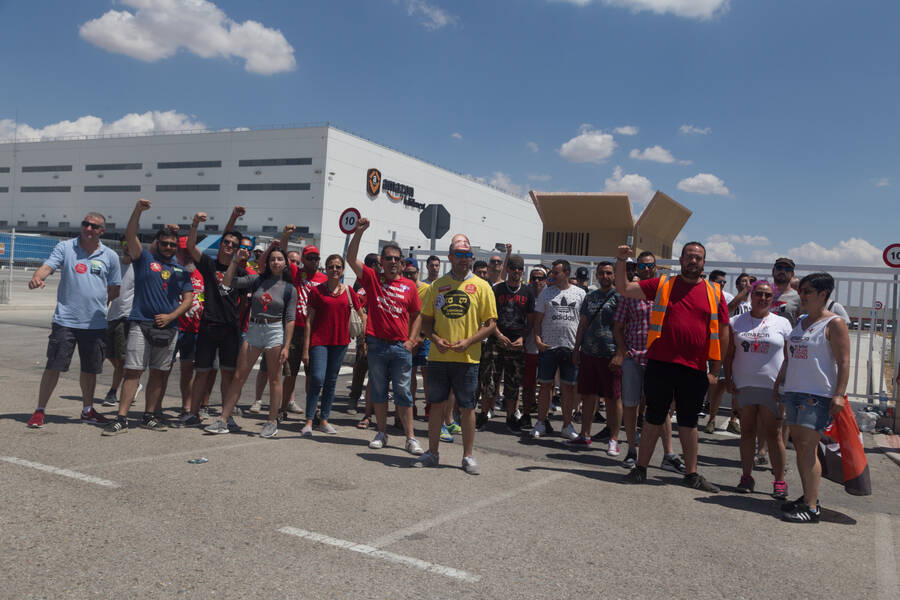 As Ama­zon CEO Jeff Bezos' net worth topped $150 bil­lion last week, mak­ing him the rich­est man in mod­ern his­to­ry, thou­sands of Ama­zon work­ers across Europe went on strike.
The work stop­page, which last­ed three days at some facil­i­ties, was one of the largest labor actions against Ama­zon to date, and the first to receive wide­spread cov­er­age in the U.S. media. But the strikes and protests in Spain, Ger­many and Poland were just the lat­est in an esca­lat­ing series of actions against Ama­zon in Europe, where work­ers belong­ing to both con­ven­tion­al unions and mil­i­tant work­ers' orga­ni­za­tions are forg­ing a transna­tion­al move­ment against the inter­net juggernaut.
In Ger­many, which is Ama­zon's sec­ond-biggest mar­ket after the Unit­ed States, work­ers at the company's ful­fill­ment cen­ters waged the first-ever strike against Ama­zon in 2013. ​"In the begin­ning, it was pure­ly about wages, about being able to pay for the cost of liv­ing," says Lena Wid­mann, a fed­er­al sec­re­tary and spokesper­son for the Ger­man ser­vices union Ver­di. ​"Now it's also about respect, and about being heard."
After the first strikes, Ama­zon began to give Ger­man work­ers reg­u­lar rais­es. It also made improve­ments to ven­ti­la­tion and light­ing in some of its ware­hous­es, and, in response to work­er com­plaints about the phys­i­cal and psy­cho­log­i­cal toll of on-the-job require­ments, added a ​"fruit day" with com­pa­ny-fur­nished fruit baskets.
But Ama­zon has refused to cod­i­fy even these mod­est changes through a col­lec­tive bar­gain­ing agree­ment. The union esti­mates that approx­i­mate­ly 2,400 work­ers at six of the company's ful­fill­ment cen­ters in Ger­many par­tic­i­pat­ed in last week's three-day strike, out of about 16,000 that Ama­zon employs in Ger­many. Orga­niz­ers will con­tin­ue push­ing to incor­po­rate more work­ers in shop-floor orga­ni­za­tion, to con­tact new facil­i­ties that Ama­zon has opened in the past year, and, ulti­mate­ly, to win a union contract.
"We're talk­ing about a long fight ahead — it's not going to be solved by Christ­mas, and our mem­bers are very aware of this," says Wid­mann. ​"But more and more peo­ple are join­ing the movement."
In a state­ment respond­ing to the strikes, an Ama­zon spokesper­son said, ​"Ama­zon is a fair and respon­si­ble employ­er and as such we are com­mit­ted to dia­logue, which is an insep­a­ra­ble part of our cul­ture. We are com­mit­ted to ensur­ing a fair coop­er­a­tion with all our employ­ees, includ­ing pos­i­tive work­ing con­di­tions and a car­ing and inclu­sive environment."
In 2014, Ama­zon began to open ware­hous­es in Poland, where wages are low­er and labor laws are lax­er. A chap­ter in the 2018 book Choke Points: Logis­tics Work­ers Dis­rupt the Glob­al Sup­ply Chain describes work­ing con­di­tions in the Pol­ish warehouses:
Most employ­ees have to work stand­ing or walk­ing (some for sev­er­al miles dur­ing one shift), and many jobs involve high­ly repet­i­tive move­ments, lift­ing heavy goods and box­es, or push­ing heavy carts. Ama­zon wants the ware­hous­es run­ning day and night. There­fore, work­ers in Poland have to work four 10-hour shifts per week, with an addi­tion­al unpaid 30 min­utes break. The shifts sched­ule changes every month from day shift. Such a shift sys­tem and shift rota­tion dis­turbs work­ers' sleep­ing rhythm and leads to seri­ous health prob­lems. In addi­tion, it makes it dif­fi­cult to organ­ise a pri­vate life.

To bring down the sick­ness rate, Ama­zon Poland hired a com­pa­ny in spring 2017 which checks whether work­ers are at home dur­ing sick leave. A work­er who was dis­missed because of a sick leave wrote: ​"At Ama­zon we hear about safe­ty every day, about health, but the real­i­ty is dif­fer­ent. Not every­one can keep up the race at Ama­zon. Peo­ple are treat­ed like machines. But even machines fail and stand still. We are not allowed to do that."
More­over, Amazon's expan­sion into East­ern Europe threat­ened to under­cut the effec­tive­ness of strikes being waged by Ger­man work­ers. So in 2015, rank-and-file activists Ger­many and Poland held the first of what became a series of cross-bor­der meet­ings of Ama­zon work­ers. Pol­ish work­ers have orga­nized with­in Inic­jaty­wa Pra­cown­icza (Work­ers' Ini­tia­tive), a rad­i­cal trade union that uses the black sabo-tab­by as its logo.
The birth of Work­ers' Ini­tia­tive in 2004 was a ​"reac­tion to the cri­sis of the Pol­ish offi­cial union move­ment – to its bureau­cra­cy, pas­siv­i­ty and links with the anti-work­er gov­ern­ment," Mag­da Mali­nows­ka, a mem­ber of the group, tells In These Times over e‑mail. Since then, Work­ers' Ini­tia­tive has orga­nized in the logis­tics indus­try as well as the health­care, edu­ca­tion and cul­ture sectors.
Pol­ish labor law impos­es a restric­tive bar on strike actions — more than half of an entire work­force must par­tic­i­pate in a strike vote — but Pol­ish Ama­zon work­ers have car­ried out a series of slow­downs to coin­cide with ongo­ing strikes in Germany.
"
We [did not want to be] used as scabs, with health and safe­ty laws and our rights neglect­ed, so that Ama­zon could ignore the strikes in oth­er ful­fill­ment cen­ters," says Malinowska.
Through its ​
"
safe pack­age" actions, Work­ers' Ini­tia­tive has car­ried out what are effec­tive­ly work-to-rule strikes, leaflet­ting employ­ees to remind them of the risk of injury from Ama­zon's speed-ups.
"
We want to draw the atten­tion of all employ­ees to work above all safe­ty, in accor­dance with health and safe­ty reg­u­la­tions, and not under pres­sure from the employ­er to ​
'
beat ship­ping records,' because they will not get any rewards for their ded­i­ca­tion," says Mali­nows­ka. She adds that since ware­hous­es opened in Poland, ship­ping tar­gets have increased sev­er­al times.
Coor­di­na­tion between Ama­zon work­ers in dif­fer­ent coun­tries — tak­ing place through cross-bor­der meet­ings of rank-and-file work­ers, as well as the labor fed­er­a­tion UNI—has played an impor­tant role in ramp­ing up strike action else­where in Europe. When Ital­ian Ama­zon work­ers first went on strike in Novem­ber 2017, they were joined by Ver­di mem­bers for a two-day work stop­page dur­ing Black Fri­day. Soon after, Ama­zon signed its first-ever col­lec­tive bar­gain­ing agree­ment with Ital­ian unions, which intro­duced new sched­ul­ing pro­tec­tions and wage increas­es for overnight shifts.
The call for a Europe-wide strike dur­ing Prime Day was issued by Span­ish Ama­zon work­ers, who first struck in March at the country's logis­tics cen­ter in Madrid. The Span­ish labor union­Con­fed­eración Sindi­cal de Comi­siones Obr­eras (CCOO), which is the major­i­ty union for Ama­zon work­ers at a nation­al lev­el, declared the strike a ​"com­plete suc­cess," with a report­ed 98 per­cent of the 2,000-person work­force tak­ing part.
How­ev­er, the strike also report­ed­ly led to reprisals and fir­ings of tem­po­rary work­ers, and in May a group of Madrid work­ers issued a call for a Europe-wide strike under the name ​"Ama­zon en Lucha."
"We know that Ama­zon is using its logis­tic net­work in Europe to counter the effect of our respec­tive strikes," wrote its authors. ​"We in Madrid believe that only if we strug­gle togeth­er will we gain recog­ni­tion for our demands. Sim­i­lar­ly, only with a joint action at a Euro­pean lev­el will work­ers orga­nize in those places where there is no union rep­re­sen­ta­tion yet."
In addi­tion to strikes and slow­downs in Spain, Ger­many and Poland, Ama­zon work­ers in Great Britain marched over the week­end in a fes­ti­val cel­e­brat­ing the birth of trade union­ism, hold­ing signs read­ing ​"We Are Humans, Not Robots." An esti­mat­ed 87 per­cent of U.K. Ama­zon work­ers have back or neck prob­lems, accord­ing to a sur­vey by the trade union GMB.
"Ama­zon is a glob­al com­pa­ny and uses glob­al tac­tics," GMB offi­cial Mick Rix told El Pais. ​"We have to do the same."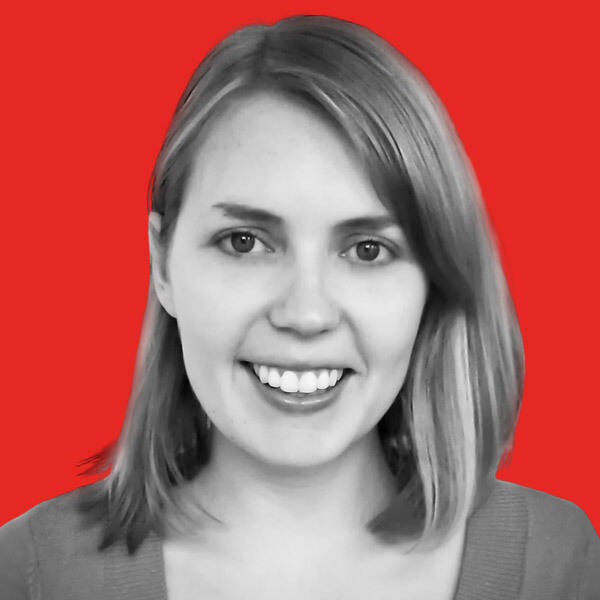 Rebec­ca Burns
is an award-win­ning inves­tiga­tive reporter whose work has appeared in The Baf­fler, the Chica­go Read­er, The Inter­cept and oth­er out­lets. She is a con­tribut­ing edi­tor at In These Times. Fol­low her on Twit­ter @rejburns.